When it comes to key organizers there isn't much to innovate on – they either hold keys sufficiently or they don't. Trayvax's Keydex key holder does this without a problem and accommodated any traditional key that I threw at it. As per usual, Trayvax steps up the bar with added functionality by including an integrated stainless-steel pry bar. I just wish there were additional customization options to choose different materials, colors and metal finishes.
Materials: Black G10 front plate & stainless steel
Capacity: 12 keys depending on key shape, size, and use of washers
Full Review: Keydex Key Organizer by Trayvax
Novel Carry is reader-supported. When you buy through links on our site, we may earn an affiliate commission.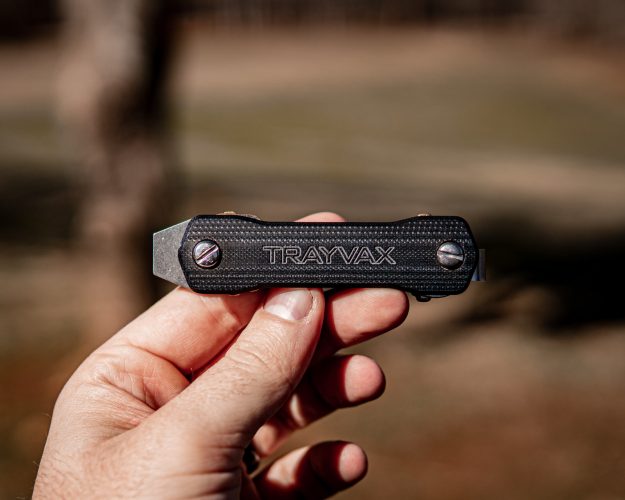 There are 3 things that nearly every guy carries at all times: a wallet, his phone, and keys. Of the three, keys are often overlooked in terms of fashionable or functional gear. Enter key organizers like KeyBar, KeySmart and OrbitKey and now keys can be fashionably organized for convenience and added functionality. Trayvax's Keydex hits all these points well, but how does it compare to the competition? Read on to find out!
Key organizers are really simple products and there are only a few ways to design them without making them overly cumbersome to use. It's best to keep them simple, especially since you're interacting with them multiple times a day for only a few seconds at a time. The Keydex follows this trend and doesn't tread too far from the pack in terms of overall design and functionality.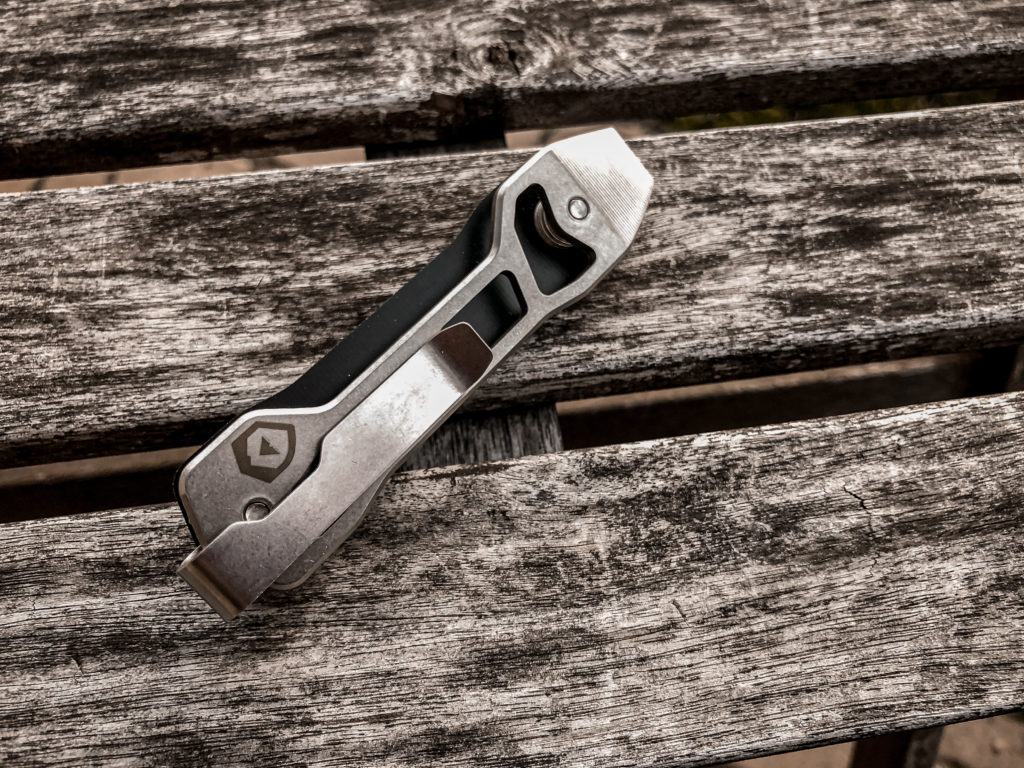 Essentially, many of these key organizers are two plates (in various materials) held together with a couple of screws. Sandwiched between those two plates are your keys which are threaded onto the same screws holding together the outer plates. Trayvax does this but then adds a prybar for a little extra utility.
In terms of included hardware, you'll find 3 pairs of screws (each pair accommodating a different number of keys), some washers, and rubber O-rings. Also included in the package is a deep carry pocket clip and attachment point for some added carry flexibility. I was happy to see Trayvax include different screw lengths and a plentiful number of washers. The added hardware made it super easy to organize my keys since I didn't have to worry about running out of room on a particular screw length or not having enough washers to fill leftover gaps.
Nearly all key organizers come with (or offer the ability to purchase) accessories that offer different carry options and features. In the case of the Keydex, you'll find an attachment point (for a key ring, lanyard, or keychain) and a deep carry pocket clip. The pocket clip specifically is a great addition that I love to see on key organizers. Trayvax claims that the Keydex can hold up to 12 keys, but I only found this possible if you didn't install the attachment point, washers, and pocket clip. If you use washers and a pocket clip, you'll max out at 10 keys (which still a lot of keys).
Note to the reader: Our Keydex has the original design with textured G10 and a slightly different shape. Since we received ours, Trayvax has made some small tweaks to the overall design. If you purchase the Keydex today, the G10 plate will be finished smoothly (instead of textured) and shaped more narrowly. The new width of the G10 plate only makes it a little easier to access keys (which is a good thing). I don't really like the new smooth G10 finish – but that's just a personal preference.
How to Assemble Your Trayvax Keydex
Even though the Keydex's design is simple, there are a few tricks that you can be aware of that make setting it up easier. Trayvax doesn't include very detailed instructions either, so I hope the below steps will be helpful!
Steps to assemble:
Photo of screws through G10 with O-ring
Step 1:
Insert both screws through G10 side and secure one screw into steel prybar plate.
Tip: Don't forget your O-rings, which are necessary to keep your screws from backing out during use.
Photo of keys on screws
Step 2:
Thread keys onto the non-secured screw. Use this time to find the 'perfect' screw length for the number of keys you plan to carry.
Tip 1: I find it best to put the keys' teeth all the same direction on one side and the opposite on the other side of the Keydex.
Tip 2: Make sure to put a washer between each key so they move smoothly.
Tip 3: If you want to install the attachment point, I suggest putting it on bottom of one of your key stacks, directly against the G10 plate.


Photo of other side of prybar screw
Step 3:
Thread the screw that you've just filled with keys into the steel prybar plate and repeat steps 1 and 2 for the other screw.
Tip: If you plan to use the included pocket clip, be sure to install it to the steel plate on the opposite side from the prybar (this is the only place it can be installed).
Photo of washers filling gap
Step 4:
Use extra washers to fill gaps between the top of your keys and the stainless plate.
Tip: If you have an uneven number of keys on each side, use washers to even out each stack of keys (otherwise the top and bottom plates will note be even).
The Keybar and Keydex both hold the same number of keys and offer similar build quality, design, and price points. Keybar comes in many more design options with materials including steel, titanium, and carbon fiber. Keybar also offers several accessories to add to their product while Trayvax's Keydex does not. There is not a Keybar option that includes a built-in prybar.
The Orbitkey and Keydex are fundamentally different designs. The Keydex has two sides to mount keys while Orbitkey only has one. Thus, the maximum key capacity for Trayvax's Keydex is nearly double that of Orbitkey. Since the Orbitkey is made of leather, it's a better option for those who want something more traditionally styled. The Keydex is a better choice over the Orbitkey if you want something with more utility that will last a long time.
Keydex and KeySmart are both two-screw designs. Keysmart can hold 2 more keys at max capacity than Keydex. KeySmart also offers a version with Tile® technology, which is a great addition for those who frequently misplace their keys. KeySmart comes in different colors and design options but none of theirs look as tactical or durable as Trayvax's Keydex. KeySmart also offers a rugged option that includes a dedicated bottle opener (but no prybar options like Trayvax's product)
I've been using the Keydex daily since I got it 6 weeks ago and through that time I've found it really intuitive to use. It's really convenient to have all my keys organized into a super small profile. Speaking of the profile, the Keydex is the perfect side to fit into your pants' coin pocket – which is great if your main pockets are a bit too full with phone, a knife, and other things. In addition, I found the pocket clip's shape really nice which made it really easy to blindly stuff into my pocket and clip onto my pants.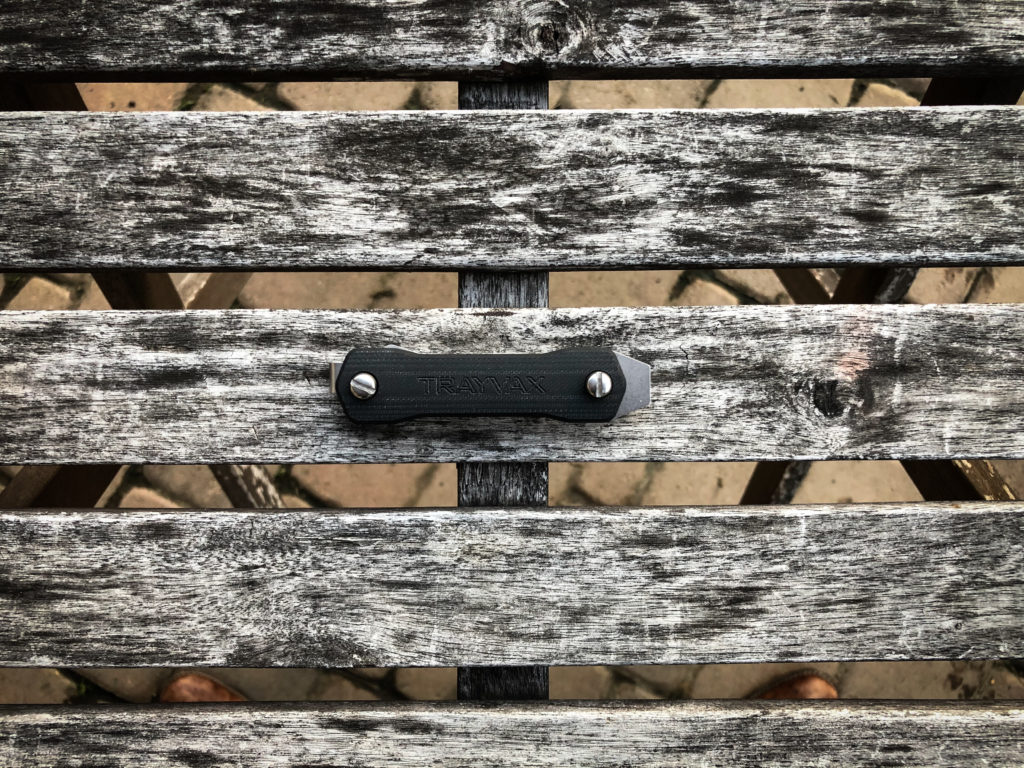 In terms of utility, the integrated prybar is small but packs a good punch. The hardened steel plate is strong and doesn't flex at all when applying pressure during prying activities. My only gripe in terms of utility is the lack of a dedicated bottle opener (but prybar enthusiasts all know that you can open a bottle with a prybar anyways). Even though it's possible to open bottles without a dedicated tool, it's nice to see the added utility when it's there.
Lastly, I hope that Trayvax has plans to offer up accessories for their Keydex soon. Competitors like KeyBar have all sorts of different accessory options (such as a beard comb, bottle opener, and mini utility blade) which add a little bit of extra practicality for those of us who need just a little more.
I found the Keydex to be a super durable and well-made product (which is the norm for all Trayvax products I've reviewed). Being made of hardened steel and G10, you'll find that that it can hold up to pretty much anything you through at it.
Though, it should be noted that the pocket clip is made of a thinner gauge of steel which makes it liable for overbending when clipping onto thicker materials. I haven't experienced this myself, but I have seen comments from other people in the community that have experienced this. At least if this does happen, you can rest assured that Trayvax will take care of you since this product is backed by their industry-leading 65-year heirloom warranty.
Final Thoughts on Trayvax's Keydex Key Holder
There isn't much to key organizers – they need to hold keys, be easy to access, and hold up to everyday use. Trayvax's Keydex does this plus a little more with its built-in prybar functionality. Pick up the Keydex if you want something low-tech, ultra-durable, and functional.