REVIEW: Roebuck Watch Co. – Diviso
I've mentioned this before, but I was lucky enough to be able to attend the District Time event in Washington, DC held in October of 2019. This event is a showcase for microbrand watch companies and often the place in which new models and brands are unveiled. One of the companies that was present at this event was Roebuck Watch Co., and while I unfortunately did not have the pleasure of meeting the owner and founder Guy Roebuck at the event, he recently reached out and inquired if I would be willing to look at his newest model and conduct a review. Naturally, I was more than happy to oblige and received the Roebuck Watch Co. Diviso earlier this week.
Guy Roebuck is a New Zealand native who found himself transplanted to Round Rock, Texas after more than a decade in London. Guy spent 20 years in the field of architecture as a residential drafter but found that this profession wasn't giving him the opportunities to explore his inner designer/artist. Guy also admits that he has been fascinated with watches since his early teens and has bought and sold many watches since then. In 2014 he turned to the internet to further this hobby and joined the Watchuseek forums, losing many an hour browsing there (oh boy, do I know the feeling!). While scrolling through the forums on Watchuseek, he came across posts from some who had started their own watch companies which greatly interested him. The information provided in these posts was in-depth and it percolated through in his mind over the next year or so.
During one visit home to New Zealand in 2015, Guy had a conversation with some friends in which he had an "ah-ha" moment. This conversation (which I'm sure took place over several rounds of beers), revolved around one simple question – what would Guy like to do if money were no object? Guy realized that the answer to this question provided the perfect opportunity to not only support his decades-long watch hobby, but also satisfy his desire to explore his inner designer/artist, and in 2015 Roebuck Watch Co. was born. Roebuck Watch Co. is driven by four fundamental elements of design: shape, color, texture, and quality. Guy states his mission is to craft watches that stand out from the pack, watches that not only look great but stand the test of time as well, and I believe that Roebuck's Diviso embodies all the above.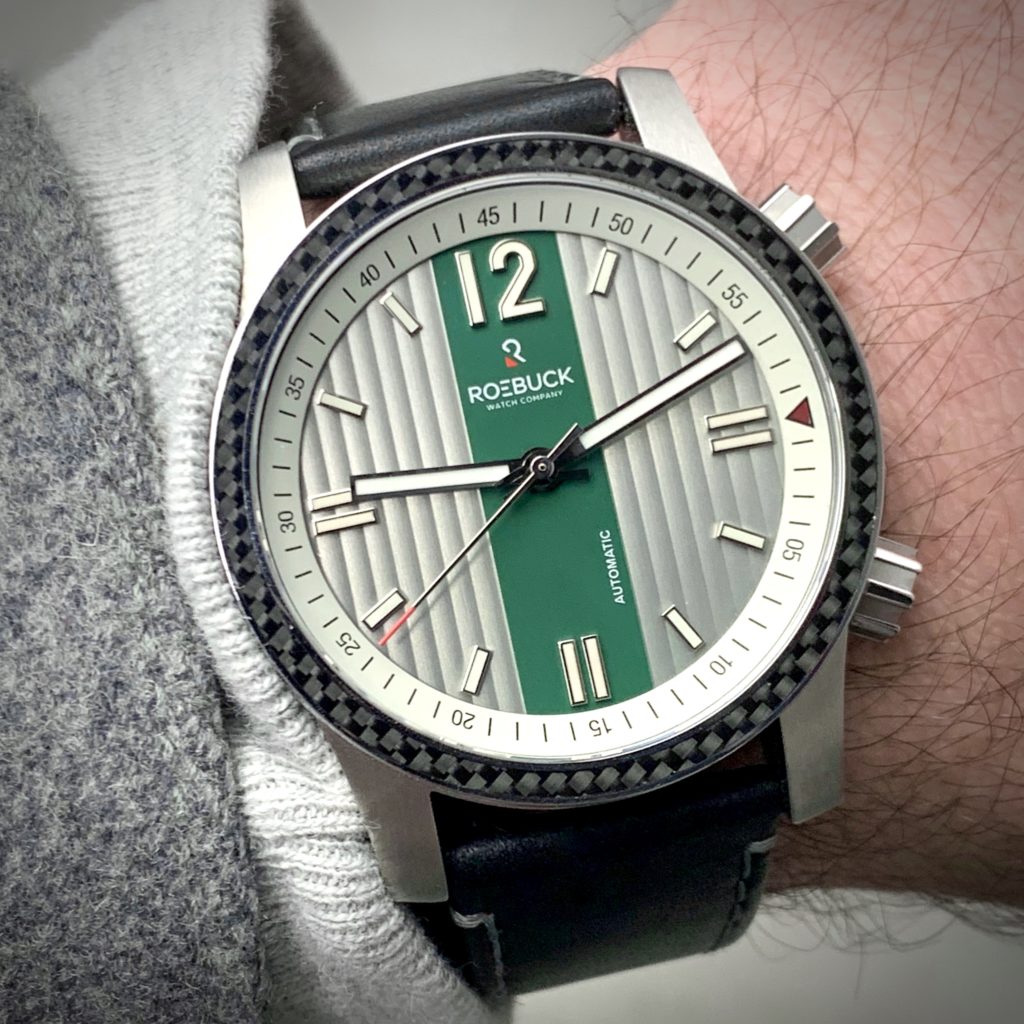 "Diviso" is Italian for "split" and this namesake can be found in numerous design elements of the watch. Much like James McAvoy's character in the movie sharing the same title, the watch seems to have multiple personalities all fighting for dominance. Is it a compressor-style dive watch? One could certainly think so with the styling of the case and the two crowns. Or, on second thought, is it a race-inspired design? The killer racing stripe down the middle of the bezel certainly screams it (especially in the Gulf inspired color variant). No matter which way you slice it one thing can be said, this is a damn good-looking watch!
The Diviso comes in at 42mm in diameter with a 12mm thickness and a lug-to-lug measurement of nearly 50mm. This is a larger sports watch and sat decently on my 7.25" wrist. While it was good for the most part, I found it to wear a little flat and long on the wrist due to the style of the lugs and the case dimensions. This is perhaps one of the few things I found myself not liking about this watch and I think that a shorter lug-to-lug length, a more pronounced curve to the aforementioned lugs, and a smaller diameter of around 40mm would have improved the feel on the wrist.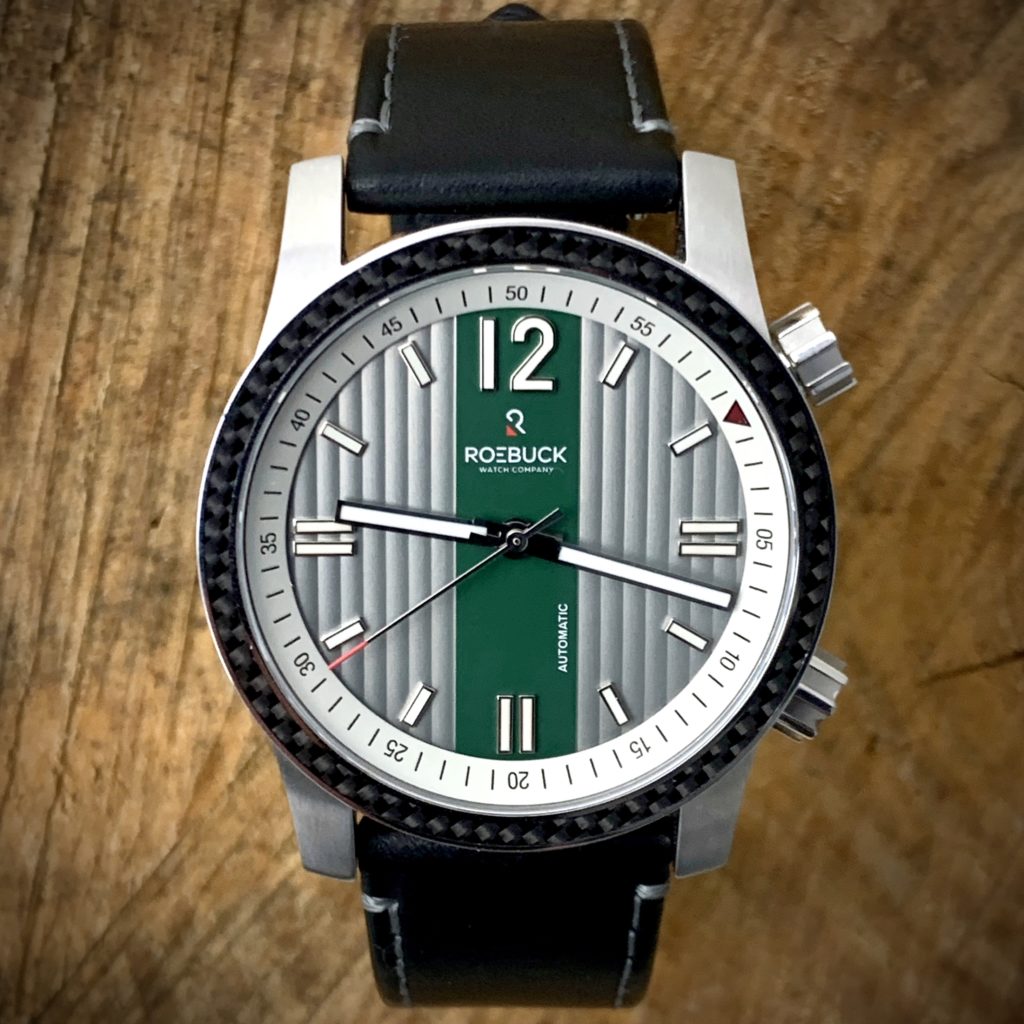 The bezel is finished with a mock carbon fiber pattern which adds to the race-inspired design elements and nicely frames the dial. The dial itself I found to be one of the more pleasing parts of the watch and is emblazoned with a racing stripe down the middle and neighbored by a louver-style finish on either side. My particular variant had great visual pop thanks to the pairing of the dark green racing stripe and the reflective traits of the silver louvers that surround. The indices and numerals are applied and done very nicely. I personally would have opted to have an applied Arabic numeral for the 3, 6, and 9 to accompany the 12, but mark this down to personal preference. Super-Luminova BG-W9 is applied to the hands and markers that help the watch shine in the dark. The dial is topped with a scratch-resistant sapphire crystal and anti-reflective coating to the underside and I had zero issue with legibility. The watch sports 100m of water resistance thanks to the screw-down caseback and a nifty rotating inner chapter ring which allows for timing things (who says you need a chronograph!?). While the rotating inner chapter ring is a cool feature, I found the crown that controlled its rotation to be very sensitive and somewhat annoying as it was easily adjusted by simply brushing up against things while wearing the watch.
While the dial design is pretty fantastic, the real star of this watch is the case finishing. The combination of finishes that Guy was able to achieve with this watch is superb and speaks of higher price-points and quality. A well-executed polished edge accents brushed recesses in the case sides. The embossed crowns are given the same treatment and showcase a combination of brushed and polished accents. I found that the finishing of this watch allowed it to catch the light in a multitude of ways that helped it toe the line between a sports watch and a dress watch despite the fact that no one would mistake this watch for a dress watch. The solid screw-down caseback sports an engraved logo of a water tower with Round Rock proudly displayed on it as an homage to his now hometown in Texas.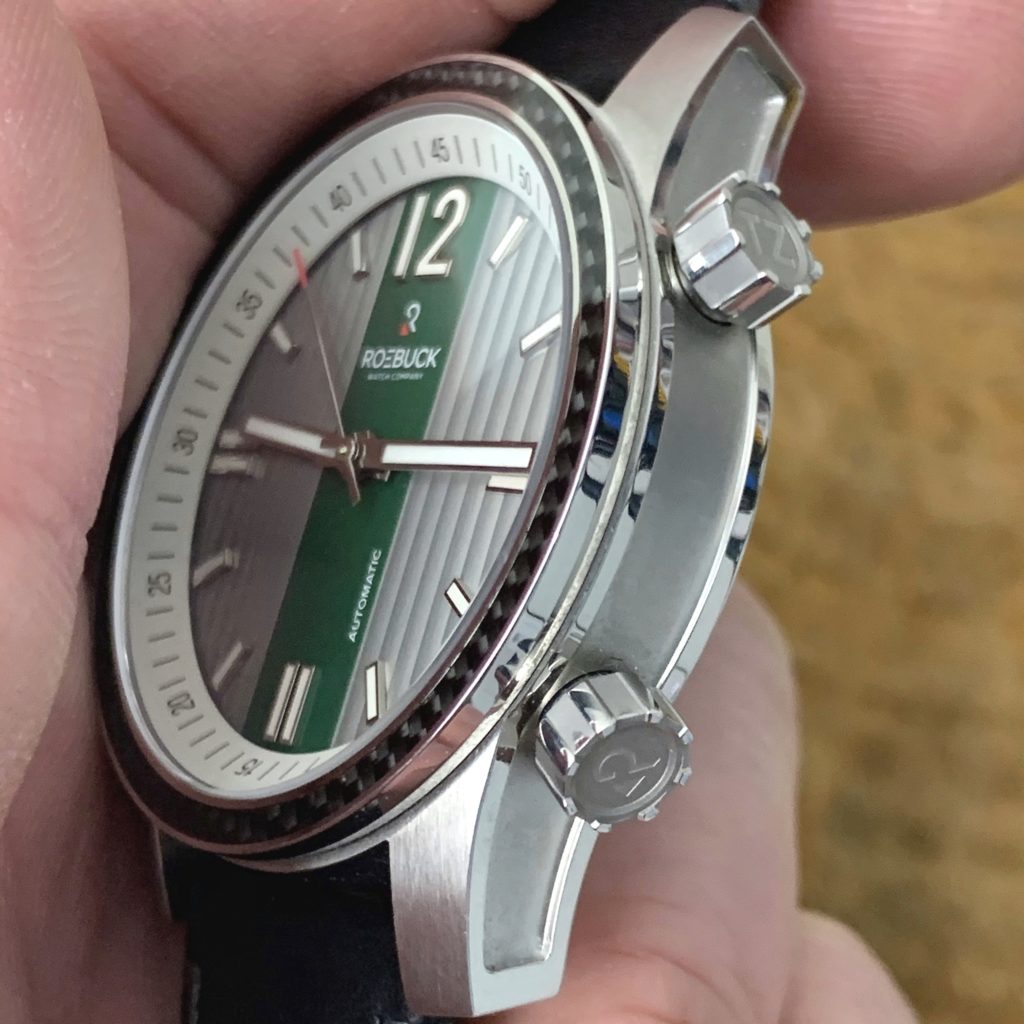 Guy chose to utilize the 24 jewel Miyota 9039 automatic no-date movement to power the Diviso. I think this was a very good choice as this movement is reliable and allows the watch to come in thin at 12mm without the date function. I think a date window would clutter the dial and am glad it was left out. I have previously owned watches equipped with Miyota movements and honestly prefer their smooth sweep as compared to the typical NH35 movements one finds in most microbrands. The watch comes with a quick-release style 22mm Italian black leather strap that is accented with muted gray stitching that ties back to not only the carbon fiber bezel, but also the louvred dial in the case of my Green/Gray variant. The strap was actually very nice for a stock offering and tapered to 20mm at the buckle which was engraved with the "R" for Roebuck's logo. I did not have the opportunity to try out the Diviso with other straps but would be willing to bet that it would look perfectly at home on any number of NATO or leather strap combos.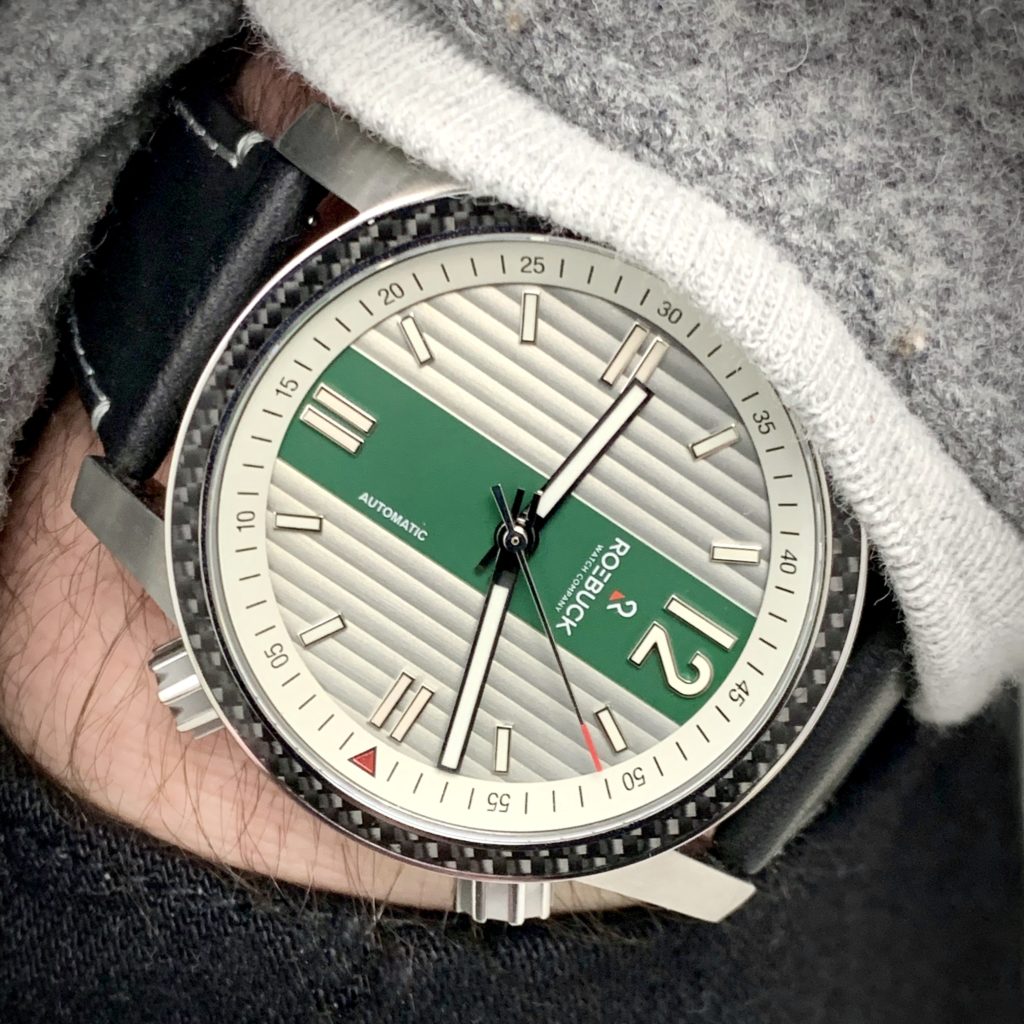 I must admit that I am quite impressed with Roebuck's first release. There are a few items that bother me slightly such as the dimensions of the case (specifically the lug-to-lug length) and the inner rotating bezel which I found myself accidentally adjusting constantly, but the dial and case finishing is top-notch for microbrand watches in this price segment. Combine this with the fact that the watch is equipped with a reliable automatic Miyota movement that is easily serviceable, and I think Roebuck is on to something with their initial launch the Diviso. The Diviso is currently available via Roebuck's website in four color variants for a retail price of $600, and while I personally feel that a price point of under $500 would have been the sweet spot, I still think you are getting a lot of watch for the money. Setting aside my minor complaints, you simply cannot deny that this is a great watch if you're in the market for a modern sports watch that flies under the radar and offers some fantastic styling. I for one am excited to see what Roebuck comes out with next as Guy continues to fine-tune his inner designer!