REVIEW: Winfield Watch Co.'s Mission Timer One
I originally came upon Winfield Watch Co. on Instagram about six months ago when some of the more well-known people in the EDC and watch communities began posting teaser pics of a new prototype. It seemed that even without following Winfield that my feed had a new image of their Mission Timer One on at least a weekly basis. I decided to give Winfield a follow to stay in the loop with their development of their first watch, and as time progressed and their initial launch approached, my interest was piqued. I took a chance and decided to reach out to Winfield via a DM, and this is when I was first introduced to Mark Miller. Ironically, it turns out that Mark was present for the microbrand workshop portion of the District Time event in Washington, DC I attended earlier in October of this year. Unfortunately, we did not cross paths at the event, but Mark and his ambitions for Winfield Watch Co. were very clear throughout our conversations on social media.
Mark Miller is a self-proclaimed man of action. A military veteran that served ten years in Naval Intelligence supporting field missions in Iraq. Mark was always interested in watches and began crafting custom Seiko's, a popular past-time for more hands-on watch enthusiasts. Using his learnings from these early mods, he moved on to creating custom flight watches for friends in family while honing his techniques.  In 2019, Mark decided to take the plunge and started his own watch brand, Winfield Watch Co. Staying true to his background, Mark wanted to create something with his initial launch that captured the "form meets function" principle, which is evident in his new Mission Timer One.
The Mission Timer One is laden with modern takes on vintage military design. The case itself comes in at 41mm in width and a very nice 13mm thick, which allowed it to sit nicely on my 7.25" wrist. The case is constructed of stainless steel and has a bead-blasted and heat-treated finish which adds to the rugged look of the watch and provides protection against whatever you can throw at it. The makeup of the case gave me the notion that I could grab a machete and go clear a path to the mountain top when I had it on the wrist! The MT1 comes with a 20mm lug width which is a blessing as it allows for plenty of alternate options to the stock leather strap.  In all honesty, I found myself avoiding the stock leather strap that came with the watch. While I liked the look of the strap and the red-stitched accents, it was quite stiff and just didn't feel right, especially for offerings in this price range. Thankfully, the MT1 comes with a pretty good NATO strap which I found myself wearing regularly during my time with the watch.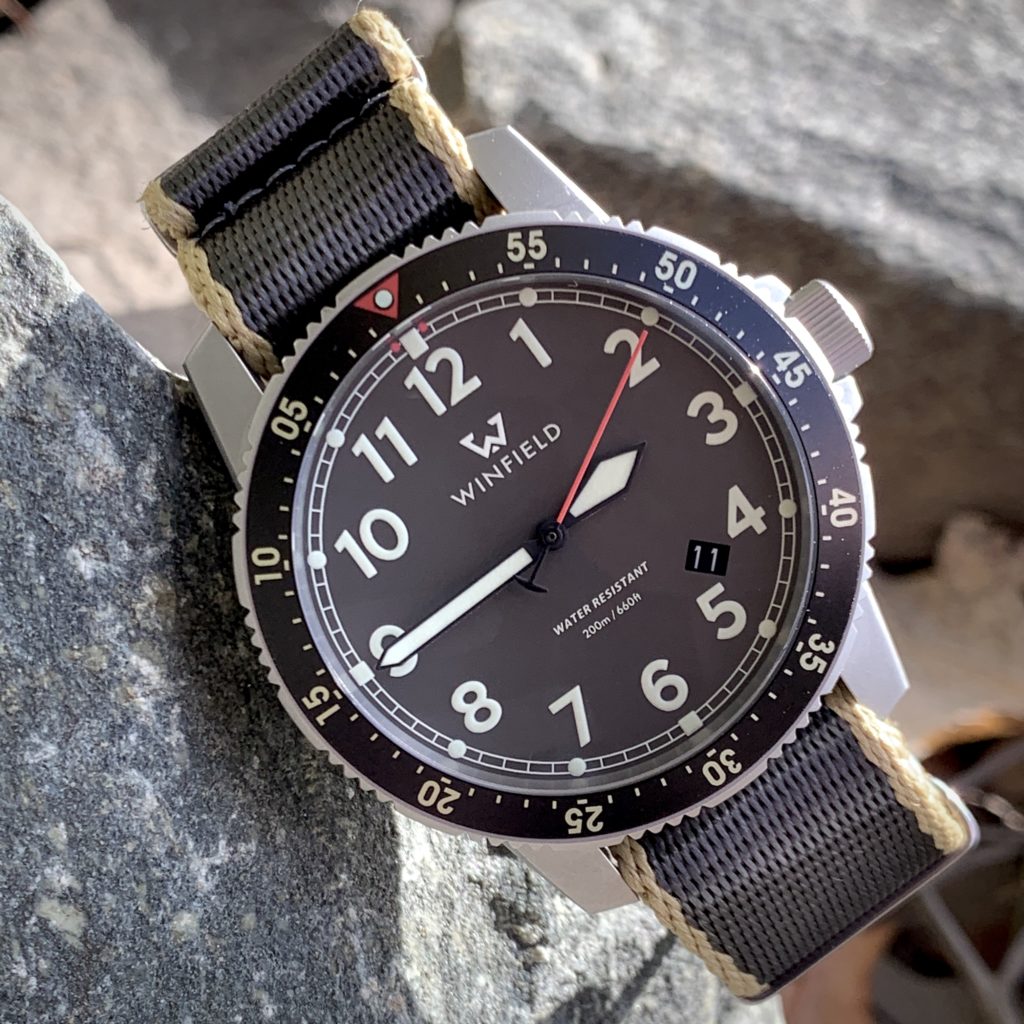 The MT1 has a screw down crown that offers 200M water resistance and is embossed with the company logo, a nice touch in my opinion. In a nod to his military background, Mark also equipped the watch with a 120-click unidirectional bezel for instances in which you want to track times between incoming bomber runs or enemy fire – or regular everyday things for those of us not in the combat zone. The bezel functioned quite nicely and has a solid feel like the rest of the watch. Underneath the double-domed AR-coated sapphire crystal – which is designed to take a beating – is a dial with a dark-charcoal matte finish, Arabic numerals, and a minute track with lumed pips at 3, 6, 9, and 12. The hour and minute hands are sword shaped and accompanied by a red second hand which all contrasts the dial nicely and makes the entire thing extremely legible.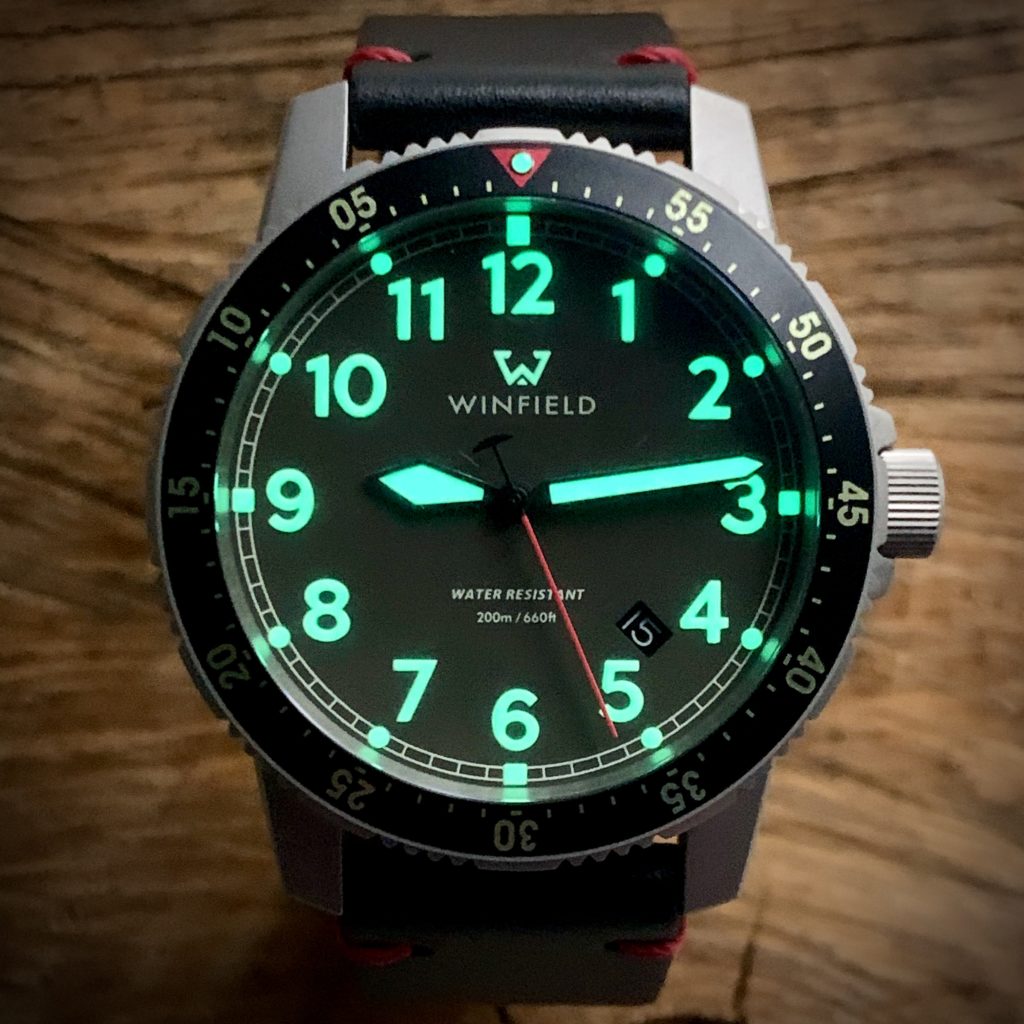 The watch is treated with a heavy dose of Super-LumiNova C3 which makes this puppy visible in even the darkest of settings – you know, for when you have a stealth mission to the fridge at night. The one thing I do not appreciate about the dial itself is the date window. I am not a fan of 4:30 date windows and this is no exception. I think the addition of a date window actually takes away from the simplicity of the dial, no matter what position it's located in and wish that Mark would have opted to leave it out entirely. All things considered, I think overall the dial is executed very well.
Like other watches that are designed for ruggedness and adventure in this market segment, Mark chose to utilize a quartz-based movement.  Powering the watch is a 5-jewel Swiss Ronda 715Li quartz movement that is antimagnetic, shock-resistant, and comes with a robust 10-year battery life.  It's a solid movement that provides excellent accuracy and durability which aligns with the overall theme of the MT1.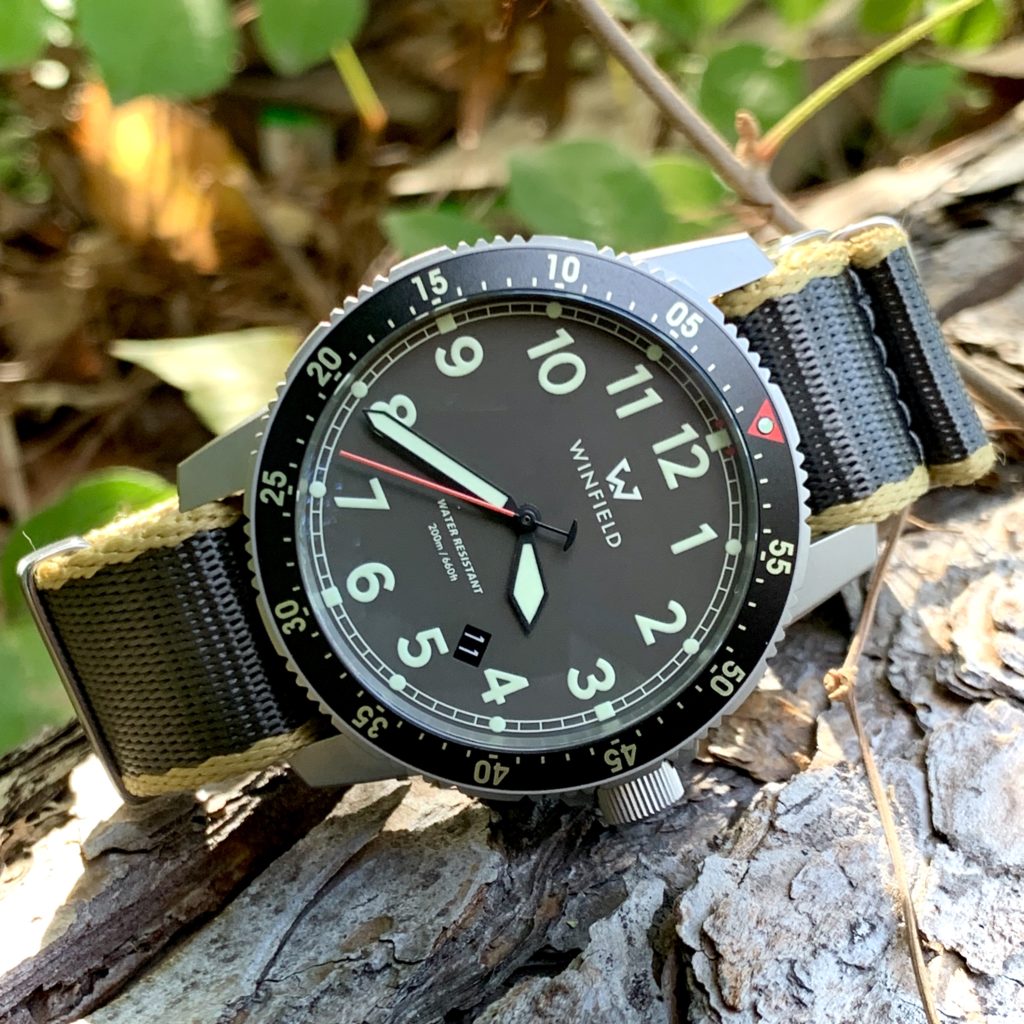 In my opinion, the Mission Timer One is a very good initial launch from Winfield Watch Co. Sure, there are things I don't like about the watch like the date window and the stock leather strap, but all things considered, I think that the MT1 takes all the right elements of classic military design and packages them in an extremely rugged and durable offering. The MT1 has a suggested retail price of $450 which includes both a leather and a NATO strap, as well as a waxed canvas watch roll which is quite nice. I think it's a great option for those looking for a watch that can withstand the elements and any abuse you can throw at it.