The Impulse is a beast of a folder – it's not made for someone looking for a knife that'll sit quietly in their pocket. In fact, with all the customization options available at purchase you'll be eager to pull this knife out to show all your friends. The knife is made well, has a fantastic Tanto blade shape, and is made of premium materials throughout. A solid purchase option for any blade enthusiast looking for a large folder.
Blade Steel: M390
Blade Finish: Hand Rubbed, Belt Satin, Stone Washed
Blade Style: Tanto
Blade stock thickness: 4mm
Handle Material: Stonewashed Titanium w/anodization options
Clip Material: Stonewashed Titanium w/anodization options (including Timascus)
Blade Length: 3.67"
Open Length: 8.63"
Cutting Edge: 3.5"
Full Review: Vero Engineering - Impulse
Novel Carry is reader-supported. When you buy through links on our site, we may earn an affiliate commission.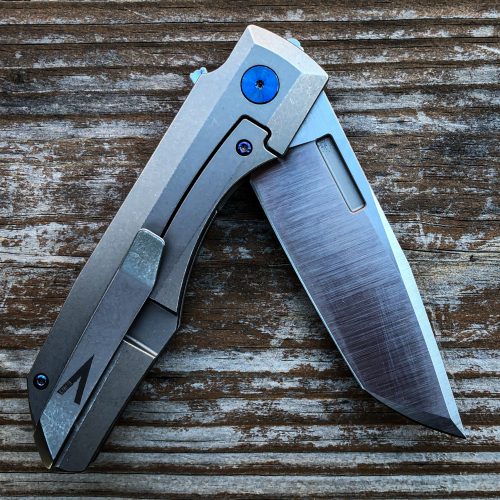 I first stumbled upon Vero Engineering after seeing some photos of the Impulse prototypes make the rounds on Instagram. My interest was immediately piqued when I learned that a limited run of knives, that could be custom anodized in any flavor imaginable, was about to be available. I jumped at the first opportunity to purchase the Impulse and haven't looked back since.
When I asked whether this was a full-time or part-time operation, Joseph explained that this was a passion project and that he spends his days as a Mechanical Engineer designing drone tech for law enforcement (which sounds totally awesome). Taking one look at the Impulse you'll see tons of engineering-first design influence.
In fact, when I posted a photo of this knife on /r/EDC one of the commenters referenced the Impulse as the 'Cybertruck of Knives". To some, that comment may seem silly – but to me, that comment strikes a sense of truth toward Joseph's personality and drive. Just like Elon's Cybertruck, the Impulse puts engineering first in its industrial design and function. And as a result, you get a well-engineered no-compromise product that'll find tons of pocket time.
As of writing this article, you will only find the first 100ish knives on the secondhand market (though, I suggest you signup for Vero Engineering's newsletter to receive updates on any future production runs). If you're shopping, I'd suggest perusing /r/knife_swap or the 'Gram under #veroengineering. When an owner has one available, you'd better jump quick because these knives are highly sought after and will be purchased in minutes.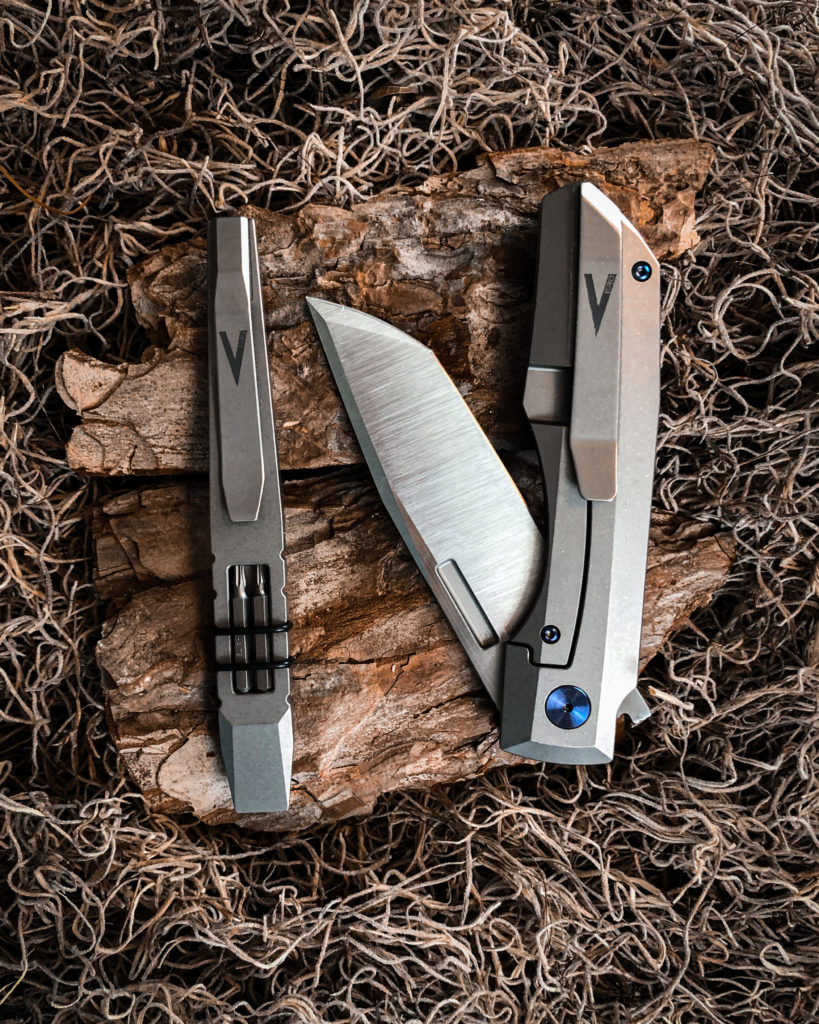 Vero Engineering has these retailed at $285 with several buy-up anodization options for the pivot, hardware, and clip. At $285, this puts the knife squarely in the neighborhood of other premium knife manufacturers such as Benchmade, Zero Tolerance, and GiantMouse. At this price, you expect to see nothing but the best materials and build quality and I'm happy to report that Vero Engineering's Impulse delivers on this demand with Titanium throughout, an M390 blade, and superb build quality.
In your package, you'll receive an authenticity card, a nice branded zipper pouch, a few stickers, large branded microfiber cloth, and a Velcro patch with a matching serial number to your knife. All this leads to a delighting unboxing experience, I could tell thought went into each package.
The Impulse is a limited-run production knife manufactured by Bestech Knives in Guandong, China. Some knife enthusiasts cringe at the thought of Chinese made knives, but in recent years manufacturers like WE and Reate have been changing that negative connotation. Bestech may not be considered a 'premium' knife manufacturer but they are certainly fully capable of producing high-quality knives (and the Impulse Is evidence of that).
Overall, the Impulse is put together expertly. There's zero lateral blade play, the lock-up is solid (roughly 30-40% on my unit), and the milling is finished smoothly. The blade runs on bearings and as expected, the knife drops closed with little-to-no resistance. My only issue with the overall fit and finish of the knife is that the detent could be just a tad tighter. But, that's more of a personal preference of mine and nothing more.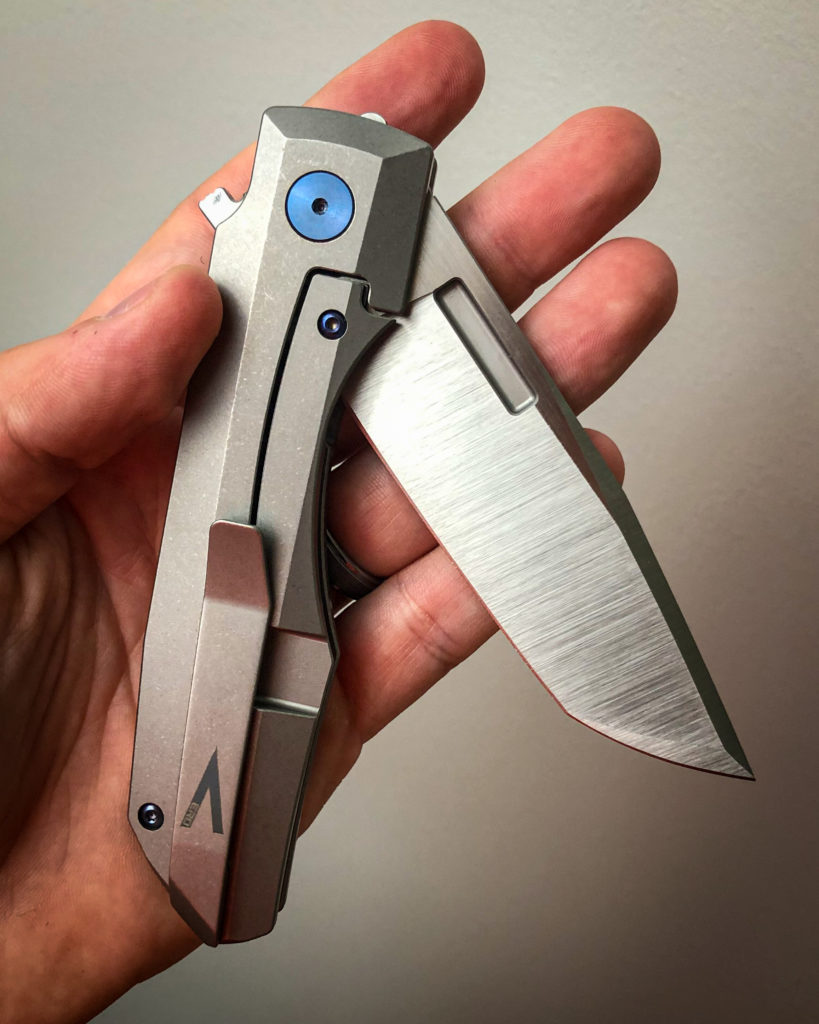 Lastly, the blade came with a reasonably sharp edge but could use a little love to get it truly hair-splitting razor-sharp. To be honest, I've yet to receive an M390 blade straight from a factory that's as sharp as S30V. Perhaps, that's why knife makers like Chris Reeve and Benchmade make the majority of their knives with S30V or S35V? That said, I'm happy Joseph chose M390.. once you get a razor edge on this thing it's going to last a looong time.
One of the coolest aspects of this knife is its leveraged low-profile flipper. The way Joseph has designed the pivot and flipper is ingenious. It's small enough that it doesn't bulge out away from the frame but just large enough to easily apply pressure to break the ball detent. It also doesn't take much pressure to get the blade to fly open. In fact, in my testing, it was actually difficult to get the knife to not open all the way.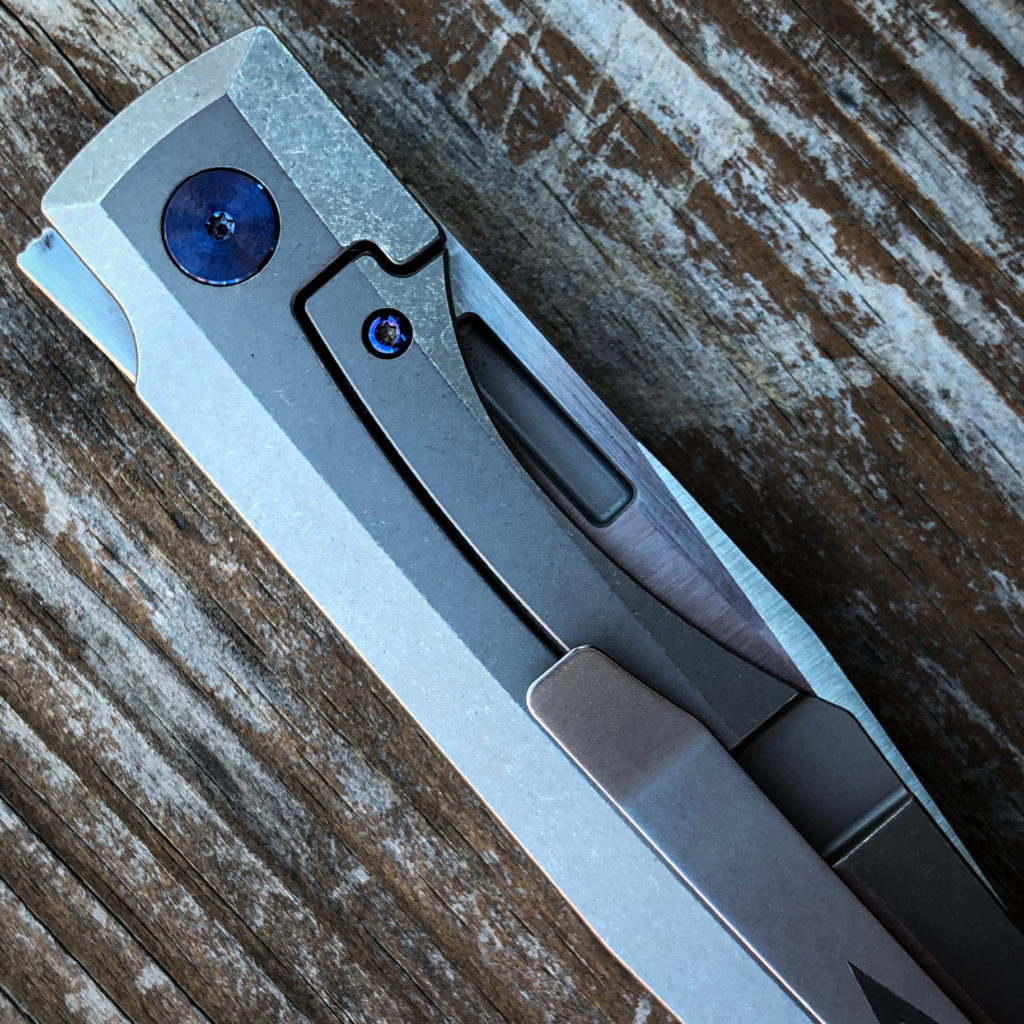 But, that's not all: because of the flipper's low-profile design, you're also able to fully choke up on the knife when the blade is opened. The flipper tab nests itself neatly inside the frame of the knife which means there's nothing getting in your way if you need to slide your hand up the handle toward the blade for more controlled cutting uses. To further drive this home, on the spine of the blade you'll find some nice jimping to also aid in better knife control.
This is a big knife. For comparison purposes, the Impulse is roughly the same size as Chris Reeve's Umnumzaan or Benchmade's Barrage®. Thus, you will not be happy with this knife if you're looking for something to be lightweight (like the Bugout). If you're looking for a large knife, the Impulse is worth taking a look at.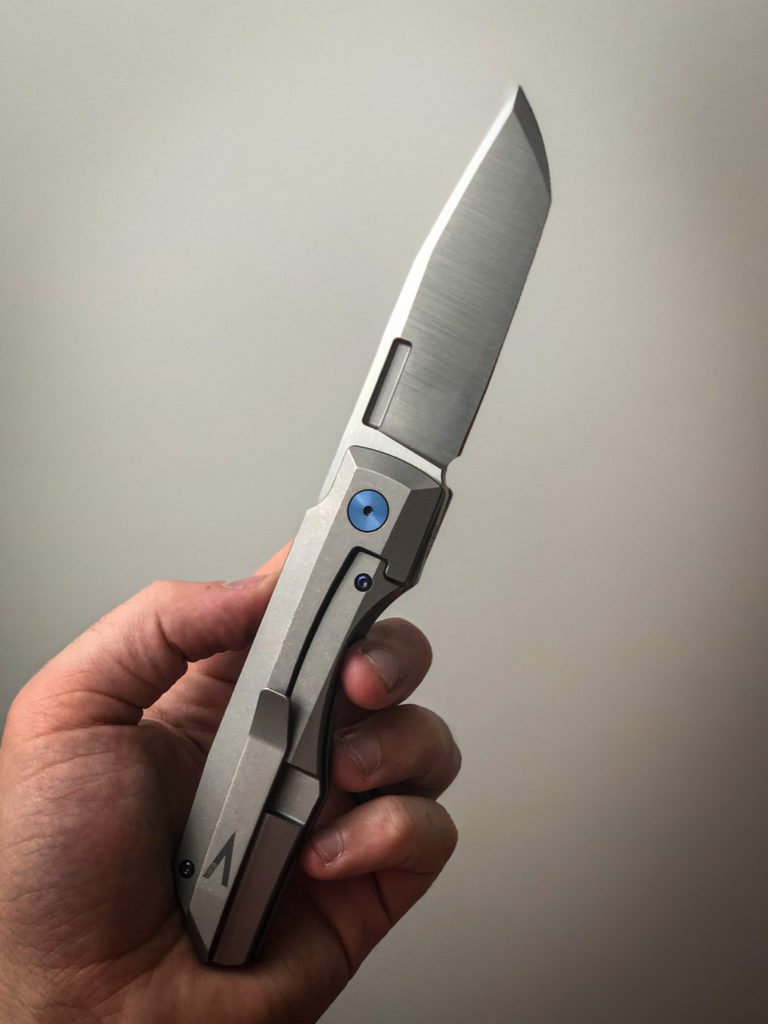 I wouldn't usually classify a stonewashed Ti knife as pocket jewelry but I'll make an exception for Vero Engineering's Impulse because of its plentiful customization options. On my knife I decided to keep it simple, opting to anodize only the pivot and screws but I've seen other options with some seriously bold color combinations and/or beautiful Timascus clips. In all these cases, you'll find that the knife just looks good. This is especially true to anyone who chose Raw Ti handles and hardware with a Timascus clip (which is my personal favorite combination). Below is a small gallery of some of the different combinations you'll find out there (but I promise, there are more.. many more).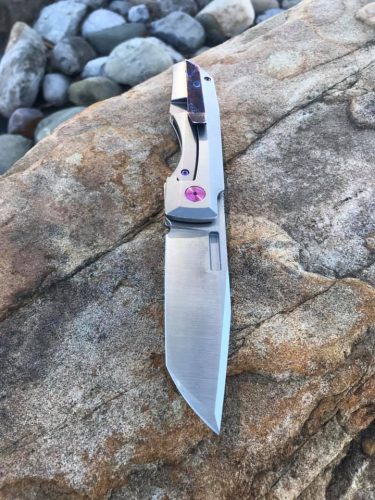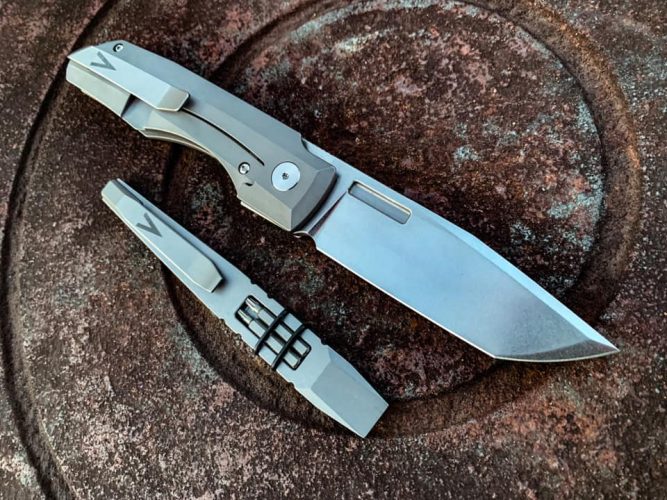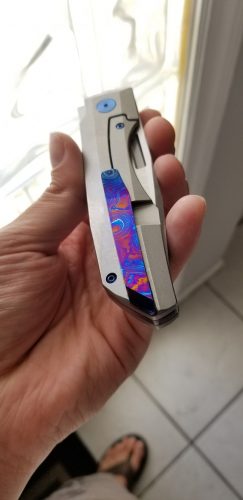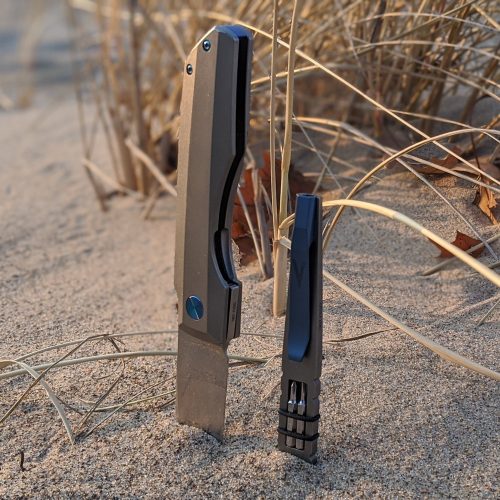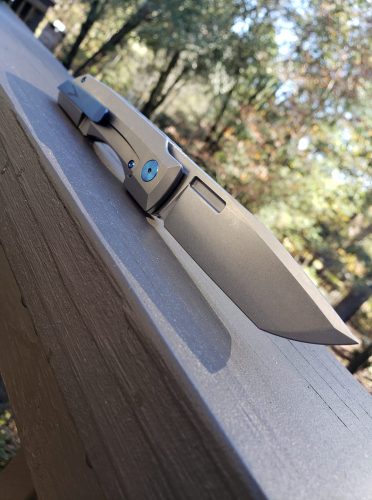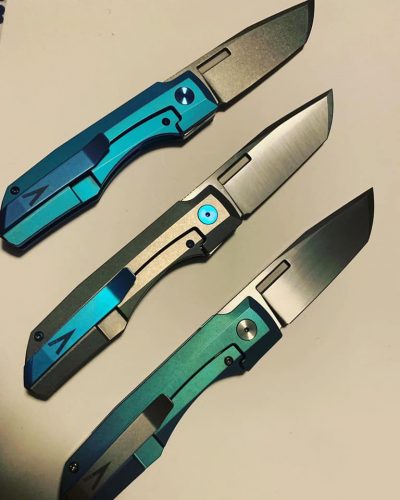 Final Thoughts on The Impulse
Overall, the Impulse is a great large folder with buttery smooth action and an attractive modern design to boot! If you can find them, they're totally worth picking up. Joseph did a fantastic job with his first knife, it'll be really interesting to see where he goes in the coming years.
If you missed purchasing the Impulse, be on the look out. Pre-orders for Vero Engineering's second knife, the Synapse, go live January 31st at 7pm on www.veroengineering.com