Trayvax's Element wallet is a nice middle ground between a rugged and slim wallet design. The wallet is built tough and made to take a beating but also features supple leather that will age beautifully with use. I love the Element wallet for its slim form factor and only wish the attachment point didn't extend so far from the body of the wallet. A perfect wallet to consider if your carry isn't more than handful of cards and a few bills.
Materials: Top grain oil-tanned leather & steel
Capacity: 7-10 cards, 5 bills
Dimensions: 4.5" x 2.8" x 0.5"
Leather Color Options: Tobacco brown, Mississippi mud, Steel grey, Stealth black, Burgundy
Metal Color Options: Black & Raw
Full Review: The Element Slim Wallet by Trayvax
Novel Carry is reader-supported. When you buy through links on our site, we may earn an affiliate commission.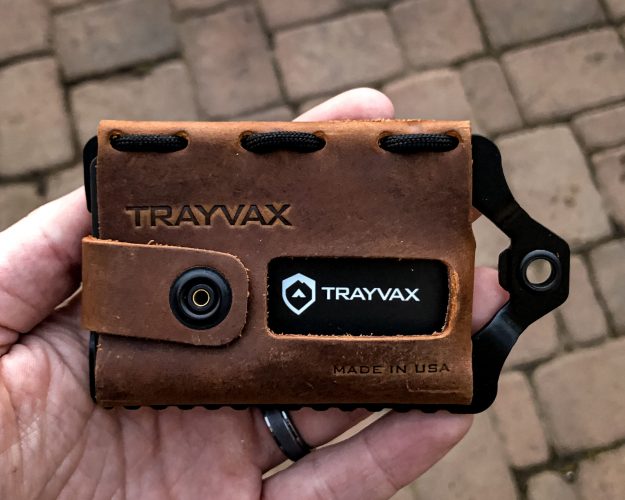 Wallets are funny things – nearly every guy carries them, but they are the most afterthought part of our everyday carry. Though, you'd think differently the moment you put a Trayvax wallet in your hands. Trayvax prides itself in its slim-but-rugged wallet designs that feature a unique blend of metal frames and high-quality leather exteriors. The Element wallet is no different which feels like a gentleman's wallet with a secret tactical side – something that I found super intriguing.
Like many of Trayvax's other wallets, the Element is built with a combination of leather and metal. ­The wallet's design is relatively simple – a metal frame wrapped in top grain leather with a leather strap for card and cash security. This leather wrap essentially creates a 2-side slim cardholder that can store up to 7 cards comfortably (note: Trayvax claims up to 10 cards, but I found it works best with no more than 7).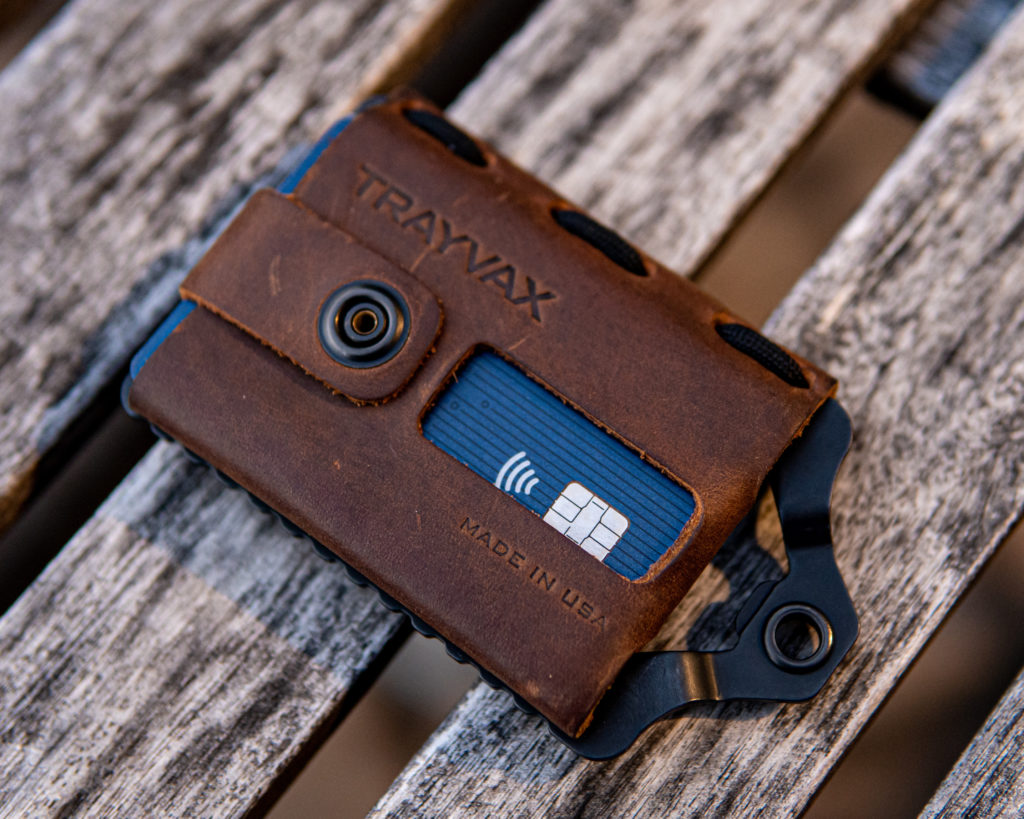 You can purchase these wallets in any combination of black or raw steel and Tobacco Brown, Steel Grey, Mississippi Mud, Stealth Black, or Burgundy leathers. My Element wallet came in a black metal frame with Trayvax's iconic Tobacco brown leather (which is one of my favorite leather tones). A length of thick black paracord binds the wallet together securing the leather to the metal frame.
On the front of the wallet is a small card selection window that provides easy access to your cards. In my experience, the card window was sized perfectly, and I never really had any problems thumbing through my stack of credit cards. Next to the window is a small closure pin and attachment point (which also doubles as a bottle opener).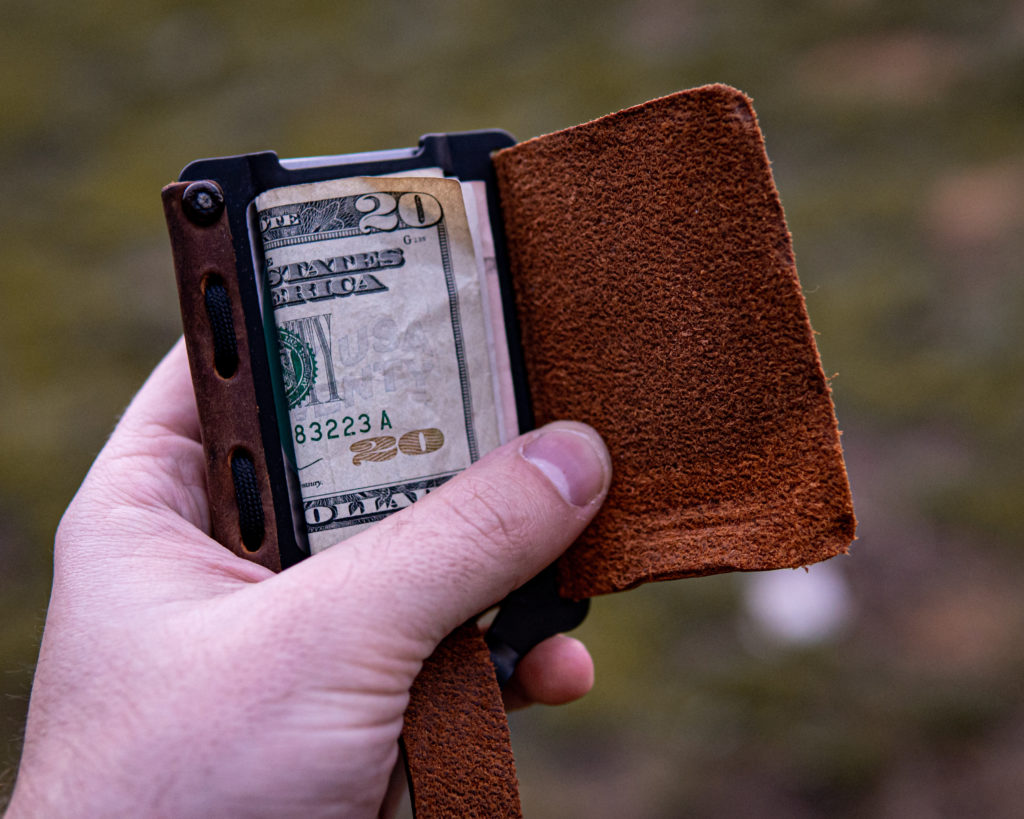 Moving to the backside of the wallet you'll find a security strap that is used to keep the wallet's contents contained. Unclipping the strap on the front of the wallet allows you to flip open a leather flap on the back. Under that leather flap is an integrated cash clip that is large enough to fit 4-6 bills easily. Speaking of cash storage, I was able to fit much more inside this back flap by just folding bills and sticking them on top of the cash clip. In fact, I almost preferred this over the cash clip entirely as it was a tad cumbersome at times to fold bills and stick them under the clip.
In daily use, I found the Element wallet pretty intuitive to use. Though, I must admit that the security strap did take a little time to get used to. One time I actually forgot that I had the wallet open and totally dropped all my cards all over the store floor. But once I became accustomed to the strap, I really enjoyed the extra security it provided. Plus, the way the strap 'clips' into place is really satisfying.
Even when packed to its fullest, the Element is a pretty slim wallet (though, still not the slimmest I've reviewed). The wallet was a bit tight out of the box, but it stretched over time to accommodate my carry (one of the many perks of a leather wallet).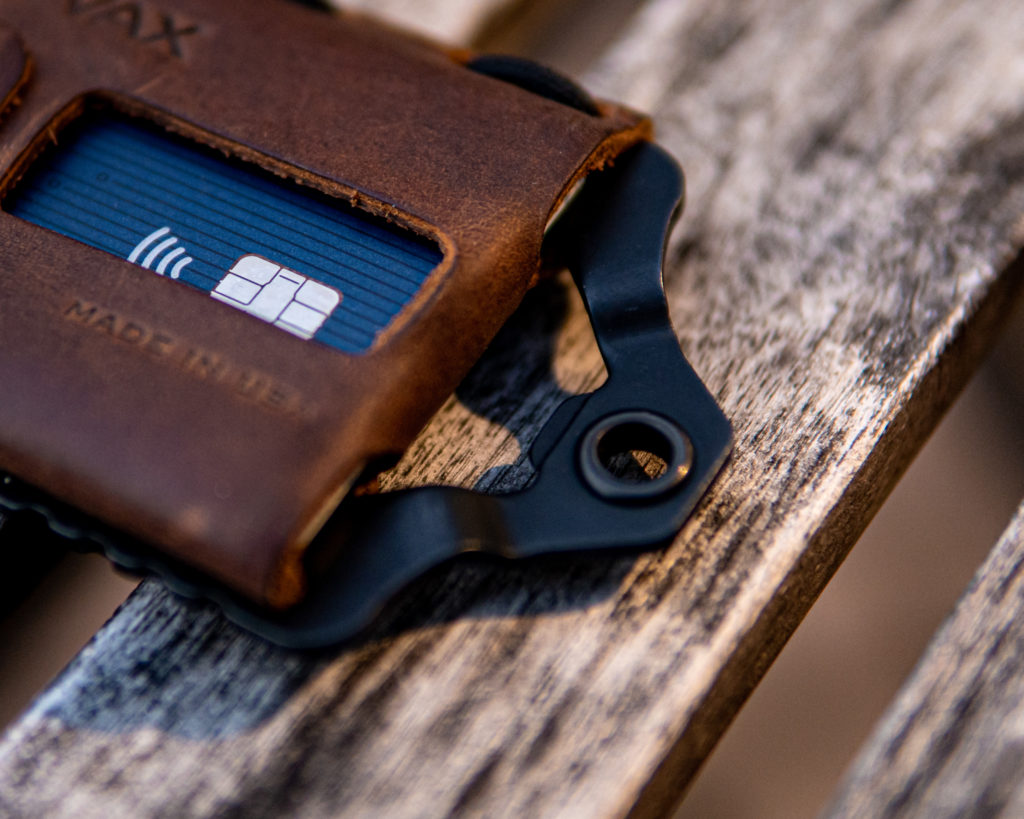 Even though the wallet is 'slim', I was a little frustrated by the integrated attachment point that extends a bit beyond the edges of the wallet. Ultimately, this made the Element wallet feel a little long in my pocket. But I should note that the extended attachment point made the wallet easy to find in a pocket full of gear. In any case, I would have much rather preferred to see Trayvax adopt an attachment point and bottle opener design like their Contour or Armored Summit wallets.
I really love that Trayvax continues to incorporate bottle openers in their wallet designs. I've said it before, but I always feel like a total badass (and lifesaver) when opening a cold brewski with my wallet. There's just something about always having a bottle opener with you.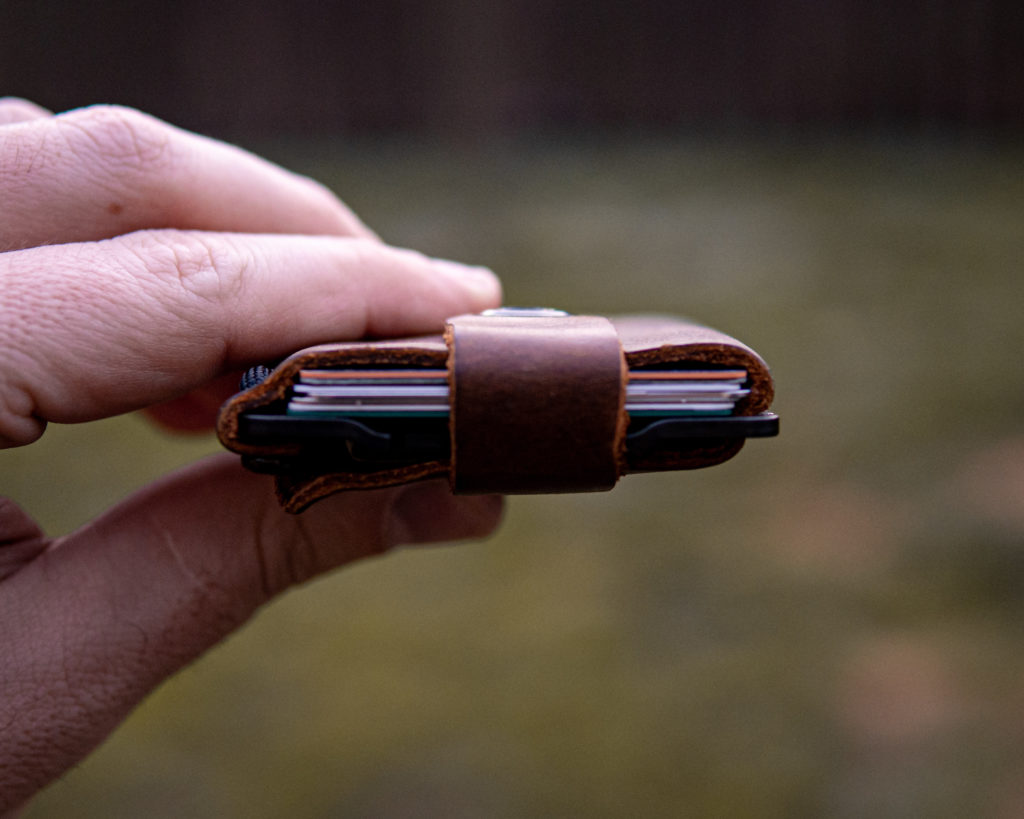 The cash clip was equally easy to use (though a limited in terms of capacity). I like the fact that my cash is concealed (and secured) behind a leather flap. Removing the leather strap to access my cash was super intuitive and I didn't fumble with it past day two of use. Though as noted before, I much preferred to just fold my bills and secure them over the clip instead of under.
Wear and Tear - Made for the Long-Haul!
Build quality is Trayvax's bread and butter. The firm uses high quality (and thick) top grain leather stock that will only look better over time. The deep tan pigments develop a beautiful patina with use. Out of all of Trayvax's wallets, I like the leather design of the Element wallet the most. In only a few weeks' worth of use, the wallet developed some awesome patina.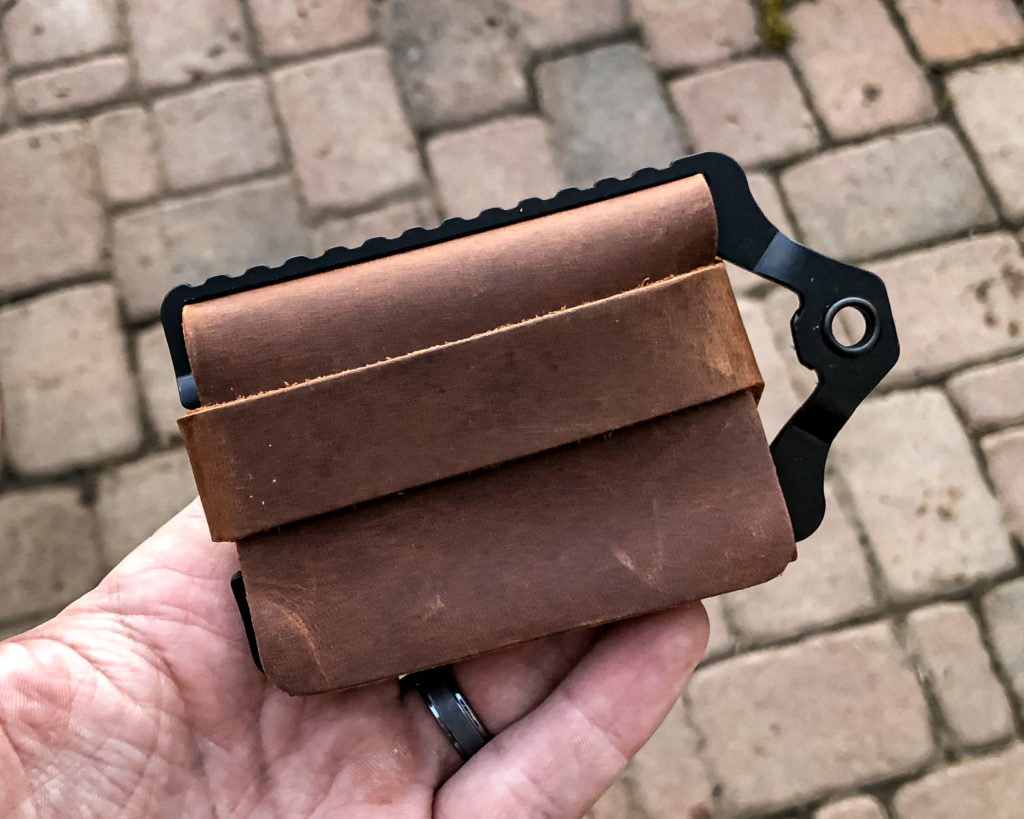 I really love how each wallet wears specifically to its user's lifestyle and carry making it a personal keepsake that can be passed down through multiple generations. In fact, Trayvax doubles down on this notion by offering a 65-year heirloom warranty. These people really do stand behind their products.
Final Thoughts on the Element Wallet
In my opinion, the Element wallet is second only to the Contour (which is Trayvax's most expensive wallet offering). If you're picking between the two options, go for the Element for something a little less 'tactical' looking. Both options are perfect candidates for lifelong wallets and you really can't go wrong with either one. I highly recommend this wallet for the rugged minimalist who loves the way leather looks and feels.