CRKT has some of the most affordable folding knives on the market. The Offbeat™ II is the nylon handled version of its all stainless steel cousin (aptly named just: Offbeat™). The Offbeat™ II follows CRKT's bread and butter by delivering a well-made tactical knife in a budget package. This is just what I expect from CRKT – nothing more, nothing less. A good knife for a beginning collector.
Blade Length: 3.24″ (82.22 mm)
Blade Steel: 8Cr13MoV
Blade Finish: Satin
Blade Thickness: 0.11″ (2.67 mm)
Overall Length: 7.56″ (192.10 mm)
Closed Length: 4.34″ (110.29 mm)
Weight: 3.30 oz. (93.55g)
Handle: Glass Reinforced Nylon
Style: Folding Knife w/Lockback
Full Review: CRKT Offbeat II Folding Knife Review
Novel Carry is reader-supported. When you buy through links on our site, we may earn an affiliate commission.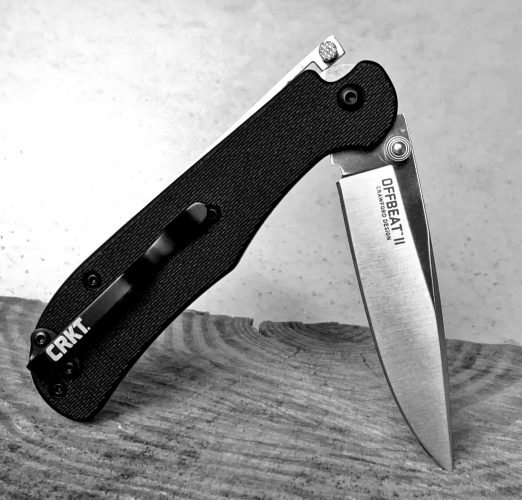 CRKT is known mostly for its set of tactical budget knives that bring a lot of value to the table in a well-made package. The Offbeat™ II sits squarely in the budget knife line up coming in at just under $50. If you're looking for a knife that has premium knife steel, skip this review – this knife is not for you. If you're looking for a knife that'll get the job done at an affordable price, keep on reading this knife is totally worth considering.
The Offbeat's blade comes in the ubiquitous Chinese budget steel: 8Cr13MoV. For the uninitiated, this steel is similar to AUS-8 and is used by many large manufactures (like Spyderco and Kershaw) to fill out budget knife product lineups. This is to say that there is nothing wrong with 8Cr13MoV, just don't expect it to hold an edge forever. Though, this steel is very easy to sharpen which makes it a great material for budding knife enthusiasts who are fine-tuning their sharpening skills.
The handles on the Offbeat II are made of a black 'glass-reinforced nylon'. The handles are stiff and light – I didn't notice any flex during cutting tasks. I really liked the texture of the handles, they were super grippy in my hand but smooth enough to slide easily into my pants' pockets.
Lastly, the pocket clip isn't anything to write home about. It's made with perfectly adequate steel thickness and didn't lose shape during use. The clip is pretty low profile and placed in a nice position on the handles which helped prevent discomfort.
This knife is a really light carry (though, not quite as light as Benchmade's Bugout). The Offbeat's slim profile and light construction makes it nearly invisible in a pocket. There were times that I had totally forgot about it until I had a reason to use it (which is a great quality for an EDC knife).
The knife feels really stiff in the hand and there is no lateral blade play that I could notice. I found the hollow grind drop point blade easy to cut with and its slim shape made it great for delicate cutting tasks.
Lockback knives aren't usually mentioned when people speak of knives that have a 'fidget factor'. That's totally not the case with this Pat Crawford designed lockback knife. To open the knife, you can use the blade's thumb stud to slide the knife open smoothly. Or… you can also pull the lockback to the 'open' position and snap it open with an easy wrist flick (which is really satisfying). To close, you simply open the lock into the open position and close again. It took me some practice, but I did eventually succeed in one-hand fidgeting.
Final Thoughts on the CRKT Offbeat II
CRKT's Offbeat™ II is a great budget knife for a newbie or someone looking for a knife they can beat into submission (and not feel bad). Heck, I'd say even if you're into more 'fancy' knives, I think the Offbeat is worth picking up if you just want something unique. If you buy one of these, make sure you get something to sharpen it with, the steel will have to be honed regularly.