Affordable Automatic Watches for Under $250
Novel Carry is reader-supported. When you buy through links on our site, we may earn an affiliate commission.
The endless array of options out there can be daunting when you start looking into buying your first automatic watch.  With hundreds of watch brands and styles, there are endless possibilities if price is of no concern, but the truth is that affordability will play a huge factor for many of us when deciding which watch to purchase.  I know it was for me about 2 years ago when my now current obsession with watches began as mild curiosity.  Whether you're an EDC fanatic, an ocean adventurer, or a fast-rising company man, we've got you covered with what I – and much of the watch community – consider some of the reliable and versatile affordable automatic watches out there. So, without any further delay, let's get down to it!
Bonus Tip: If you're looking for some affordable NATO watch bands to pair with your existing collection or first automatic watch, check out our thoughts on some new brands to the industry here!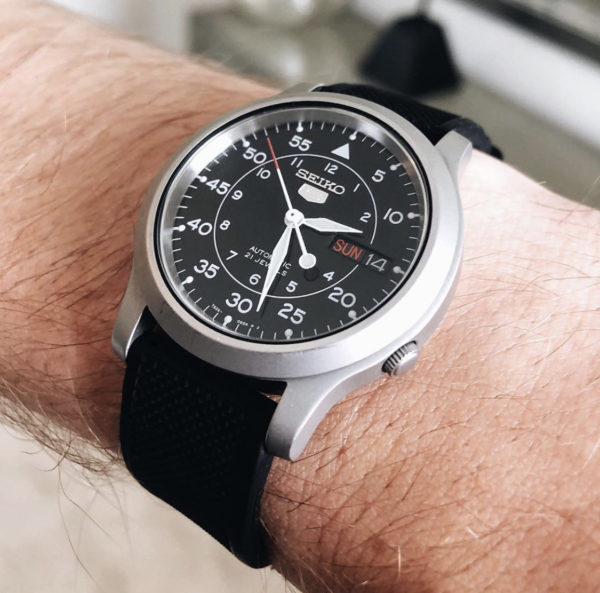 From seasoned watch collectors who own many luxury brands, to those just getting into automatic watches, I have personally seen all types of the Seiko 5 SNK series on many wrists.  This line of watches is often considered one of the most popular and affordable series ever made, and for good reason.  In the words of one of my friends who is extremely well-versed in the world of watches, "the Seiko 5 SNK series offers the best value in a mechanical watch hands down".  I personally feel so strongly about this statement and the value of the Seiko SNK series that I bought a SNK809 watch and gifted it to my brother on his last birthday as his first automatic watch!
The Seiko 5 SNK line comes in five different color options, but I must admit the SNK809 is my personal favorite for its black dial and the red accents on the second hand.  With a case diameter of 37mm and amazingly thin at just 11mm, the wrist presence is subtle and feels just right.  The watches in this line are powered by the tried and true 7S26 movement with a power reserve of approximately 40 hours.  This movement won't win any awards for being the most accurate, but it is extremely reasonable and reliable.  
A bonus lies in the fact that the movement is visible via the exhibition case back, a feature that many watches at this price range do not offer.  The watch also features an easily set day/date function, water resistance of up to 30m, and the always under-rated Seiko lume.  All the features aside, the best part about these watches is the value you get for the price.  At a retail price starting under $100, any choice in the Seiko 5 SNK line of watches is most certainly a watch you can wear year-round without others knowing you own only a single timepiece.
Movement:Seiko Caliber 7S26 automatic movement with about 40 hours of power reserve
Size:
Case Size: 37mm
Case Thickness: 11mm
Strap Width: 18mm
Trim Options: More than you can count…
Materials:
Case: Stainless Steel
Crystal: Scratch resistant hardlex
Strap: Various (ranges between stainless and cavas options)
Water Resistance: 30m / 100ft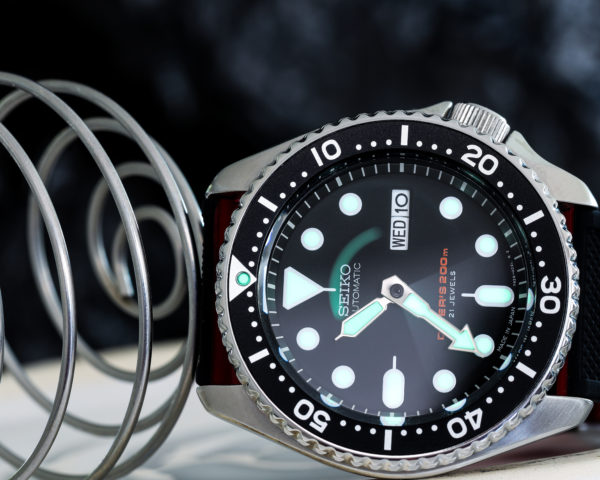 2. The Seiko SKX Diver Series
Wanting to sport that classic diver watch look on a budget?  Then look no further than the ultra affordable Seiko SKX series.  These watches are undeniably Seiko and a much-refined descendant of the earliest Seiko divers from the 1960s.  Despite the very affordable price, these are widely considered classic timepieces and a work horse that every serious watch collector will have in their stable.  The SKX series offers many variants, but the most widely popular is the SKX007.  The SKX007 measures in at 42mm in diameter with a thickness of 13mm.  For those who are unsure about the larger case diameter, the SKX013 version may be for you as it comes in at approximately 38mm in diameter.  The watch is powered by the same 7S26 movement as the Seiko 5 SNK line: reliable, sturdy, and simplistic.  It gets the job done worry-free, which is great when you consider this watch could be used for scuba diving with its 200m water resistance.
The watch can be bought on either a stock bracelet or rubber strap, but let's not get caught up on the stock offerings – the SKX diver is an absolute strap monster!  The watch looks right at home on a premium leather strap, NATOs of all colors, or a higher end after-market bracelet.  Combine that with the fact that the watch literally may be the most easily modified piece in the industry (hands, bezels, dials, case back, crystals, etc.), and you have an endlessly customizable timepiece.
The Seiko SKX is a seriously sturdy watch that sports a timeless and desirable diver look. It is an excellent tool and can be worn at almost any occasion, from the running daily errands with the kids to exploring the depths of the ocean.  For anyone who is looking for a dive watch that is affordable, strong, uncluttered, and reliable, look no further than the Seiko SKX series.  I would note that there have been rumors circulating that Seiko may be discontinuing the SKX series soon, so I would offer that there is no time is better than now to grab one of these up.  At a retail price of around $225, the Seiko SKX Diver's 200m becomes exceedingly difficult to dislike once you put it on and will last you the rest of your life!
Movement: Seiko Caliber 7S26 automatic movement with about 40 hours of power reserve
Size:
Case Size: 38 or 42mm
Case Thickness: 13mm
Strap Width: 22mm
Trim Options: Various
Materials:
Case: Stainless Steel
Crystal: Scratch resistant hardlex
Strap: Various (ranges between stainless, rubber and cavas options)
Water Resistance: 200m / 660ft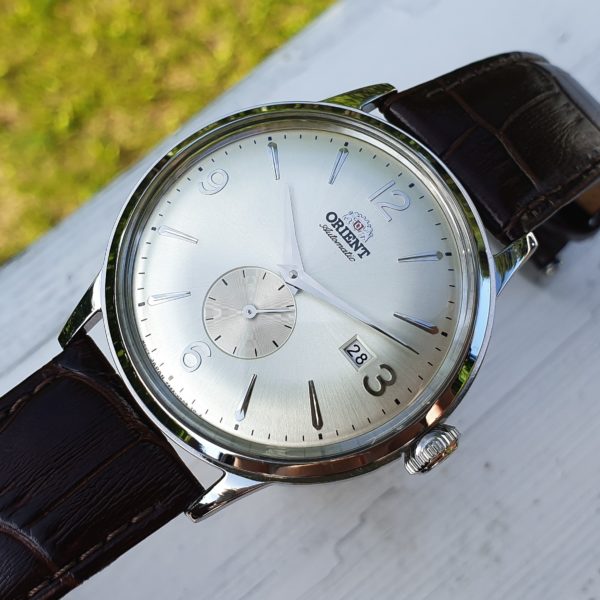 When it comes to dress watches, the Orient Bambino is perhaps the best affordable automatic option out there. The watch is offered in a wide array of styles from the seller and all offer a great timepiece wrapped up in an incredible looking package.  I have had my eye on one for some time as it has all the characteristics of being an amazing starter watch for people looking for a versatile timepiece at an entry-level price point.
Orient watch was founded around 1950 and today is a subsidiary of Seiko.  What does this mean?  You get the value and reliability of a Seiko in a different brand name and style.  My personal favorite in the Bambino lineup is the one that incorporates the small seconds dial.  This version comes in at 40.5mm in diameter and a strikingly thin 12mm.  The brand new F622 movement for this watch is based on another movement in the collection and offers 40 hours of power reserve.  This new movement also brings some new features to the watch in addition to the small seconds complication, specifically hacking and hand winding, things often considered a must by collectors when evaluating modern automatic watches. 
Word around the watch community is that the Orient Bambino in the flesh is an absolute pleasure to wear.  The watch is at home in a suit or at the office, but I'm sure it can be dressed down for weekends with a simple change of a strap.  If you really want to make a splash, Orient offers gold-toned options of this watch lineup as well!  Even if you don't consider the Bambino and every-day sort of watch, at a current retail price of around $165, you will come out ahead in the equation.  If you're on the search a classy dress watches at an agreeable price, I'd take look at the Orient Bambino lineup.
Movement: ORIENT Cal. F6222 Automatic, Hand-winding, Hacking Movement
Size:
Case Size: 40.5mm
Case Thickness: 12mm
Strap Width: 21mm
Trim Options: Various
Materials:
Case: Stainless Steel
Crystal: Domed Mineral
Strap: Various (small seconds trim comes in leather, but other trims offer stainless)
Water Resistance: 30m / 100ft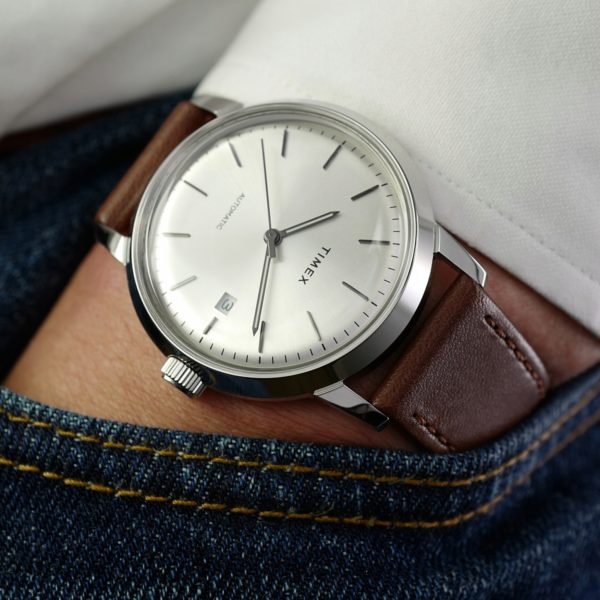 Timex.  We all know the brand.  The slogan "it takes a licking and keeps on ticking" is one of the catchiest I've ever heard!  But what most people don't realize is that Timex offers some great watches at affordable prices that punch well above their weight class.  Case in point, the Timex Marlin.
The original Marlin was released in the 1960s and recently got an aesthetic refresh in 2017. The Marlin was originally billed as the Gentleman's standard and this reissue and offers timeless sophistication in a sleek design.  I must say, that from the pictures, it is stunning.  The watch is presented in 40mm diameter that comes in at a pleasing 13mm thin.  The watch is powered by a tried and true 21 jewel automatic movement that honors the company's watchmaking history at a retail price of around $249.  For those of you interested in latest vintage watch craze, Timex also offers the watch in a smaller 34mm wide by 10mm thick variant powered by a hand-wound mechanical movement.  
I realize this is technically not an automatic, but don't let that put you off. I personally own a hand-cranker and get great pleasure in the simplicity of winding the watch before each use.  This vintage styled offering from Timex allows you to own a piece that stays true to its vintage roots at a very affordable $199 retail price.  No matter which version of the Timex Marlin you choose, you will be getting a sleek, sophisticated watch that is a true piece of Americana.