True to their name, SlimFold's Micro Soft Shell is the thinnest wallet that we at Novel Carry have gotten our hands on yet. This wallet is able to pack a ton of bills and cards in a bifold design while staying remarkedly thin (it's actually quite impressive). I wish that the RFID sleeves were better incorporated into the wallet and that it was a tad taller to keep bills from sticking out of the top for frequent travelers like myself. Luckily, if you need a taller wallet, their original wallet design will accommodate bigger bills with easy.
Micro Soft Shell Wallet - Full Review
Novel Carry is reader-supported. When you buy through links on our site, we may earn an affiliate commission.
If you couldn't tell from the brand name, SlimFold's wallets all feature a bifold form factor in an incredibly slim profile. In SlimFold's lineup you'll find the Micro wallet somewhere in the middle in terms of overall size. It's smaller than their Original design but just a little larger than their newer Nano design (which isn't much bigger than a credit card). The wallet we got our hands on is made of SlimFold's Soft Shell material which is a custom produced fabric that we'll dive into a little later.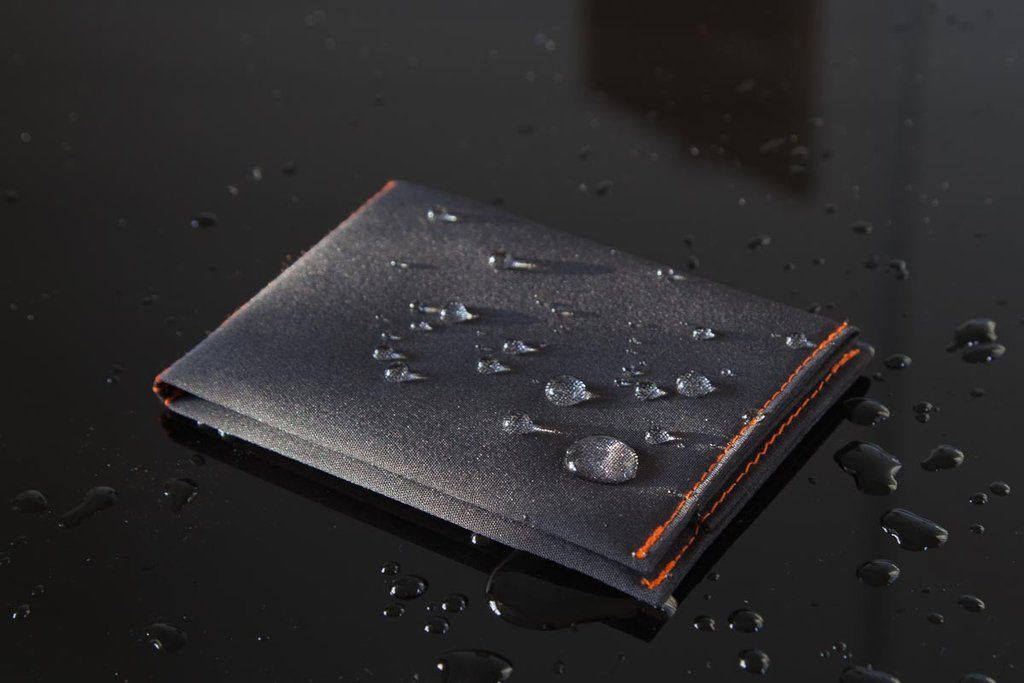 Wallet Design & Build Quality
To put it simply, the Micro Soft Shell features a very minimalistic design with form and function prioritized over ornate styling. If you're looking for something a little more flashy and more intended to be pocket jewlery we would recommend taking a look at wallets similar to the Trayvax Contour. The Micro Soft Shell can be ordered in black or grey with either orange, black, or red thread. If you want more color options, you can purchase the Micro in Tyvek which offers many more trim selections. Branding is minimal and a small SlimFold logo can be found printed on the inner side of the right panel.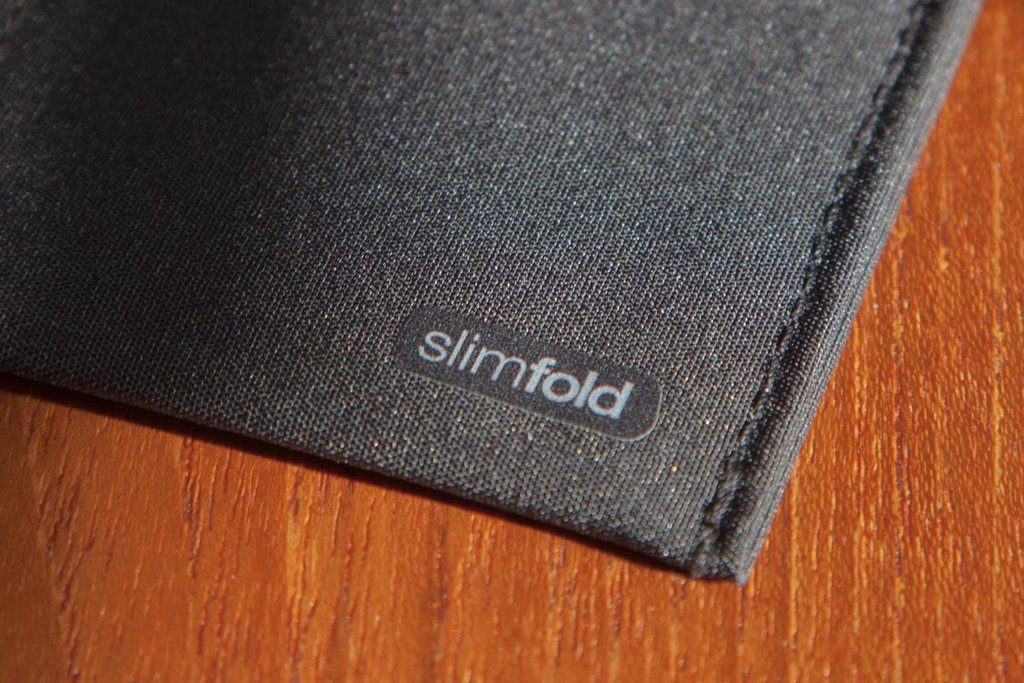 SlimFold describes the Soft Shell fabric as a mix between Gore-Tex® and Kevlar. In fact, the same mill SlimFold sources from also manufacture fabric for other high-quality brands like The North Face, Gore, and Under Armor. The Soft Shell fabric has some interesting properties: it's super thin, waterproof, machine washable, scratch-resistant (sorry patina fans), and very light. In the hands, you can feel that it's textured just enough to provide grip so it won't slip out of hands but not too much to get stuck in pockets.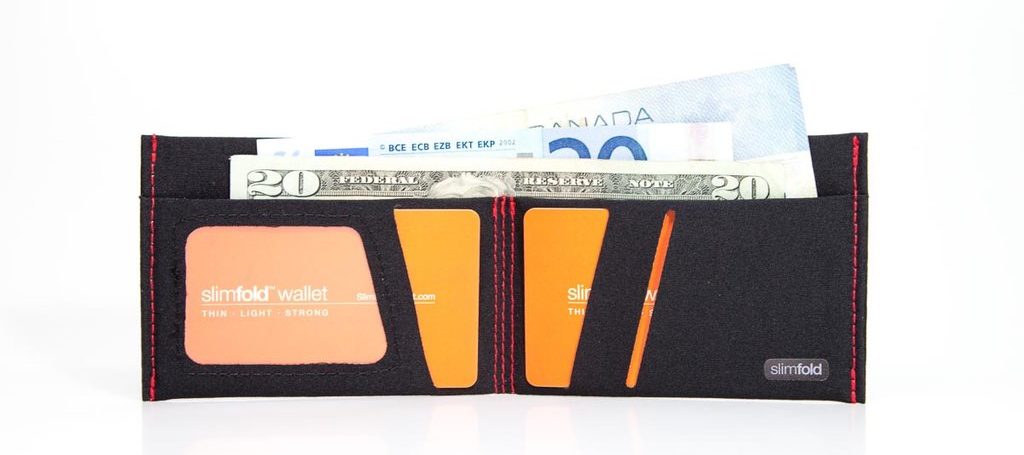 Like other bifold wallets, the Micro Soft Shell meets our expectations of integrated organization features. Upon opening my review unit, I was delighted to see 3 quick-access slots. On the left is a hybrid ID window slot with an integrated plastic window. On the right are two other basic slots to hold a few more cards.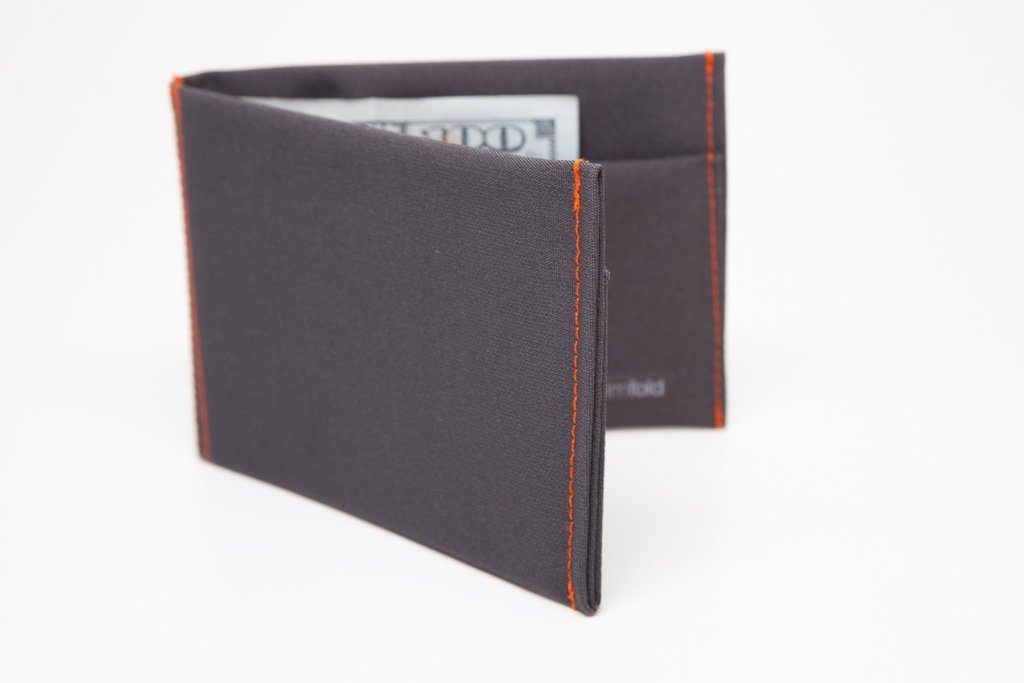 Directly behind the main quick access slots is one full length bill pocket. SlimFold consciously made the decision to keep the wallet smaller (shorter) and optimized the height of the wallet for US and Canadian currency. Those of you who live in Europe will have to fold your bills that are over 20 Euro since they are taller than the height of the wallet (77mm bill height vs. 73mm wallet height). Thus, this wallet may not be the best choice for those who travel internationally frequently and deal with larger bills sizes (Euro, Hong Kong Dollars, Yuan, and Yen). That said, SlimFold's Original Wallet is slightly taller and just as thin which will fit taller bills with not an issue.
In the very back of the wallet (behind where bills are stored) are 2 additional slots. If you purchase an RFID protecting version of the Micro Soft Shell these slots will contain an RFID protective sleeve. Personally, I was a little disappointed in how the RFID protection was implemented. When the sleeve is installed, it's exposed and I worry that it could become damaged over time. That said, the way it's designed does allow for extra storage, flexibility, and organization options for cards… so it's more of a mild annoyance than an actual design issue in my eyes. All in all, the wallet is designed to hold up to 12 cards and many bills, which should be enough to satisfy even the worst pocket hoarders.
Everyday Carry Use & Impressions
The Soft Shell material really impresses when you start to play around with it. When empty the wallet weighs in at an incredible 0.5oz. Moreover, I was delighted to find that the fabric stands up to SlimFold's strength claims. It doesn't have much structure like leather wallets when empty but that doesn't mean its weak. I pulled at the seams and tried to tear the wallet with no success. The Micro Soft Shell gets and A++ for overall build quality – the fabric and stitching is top notch and makes for an ultra-durable and thin wallet that should last years.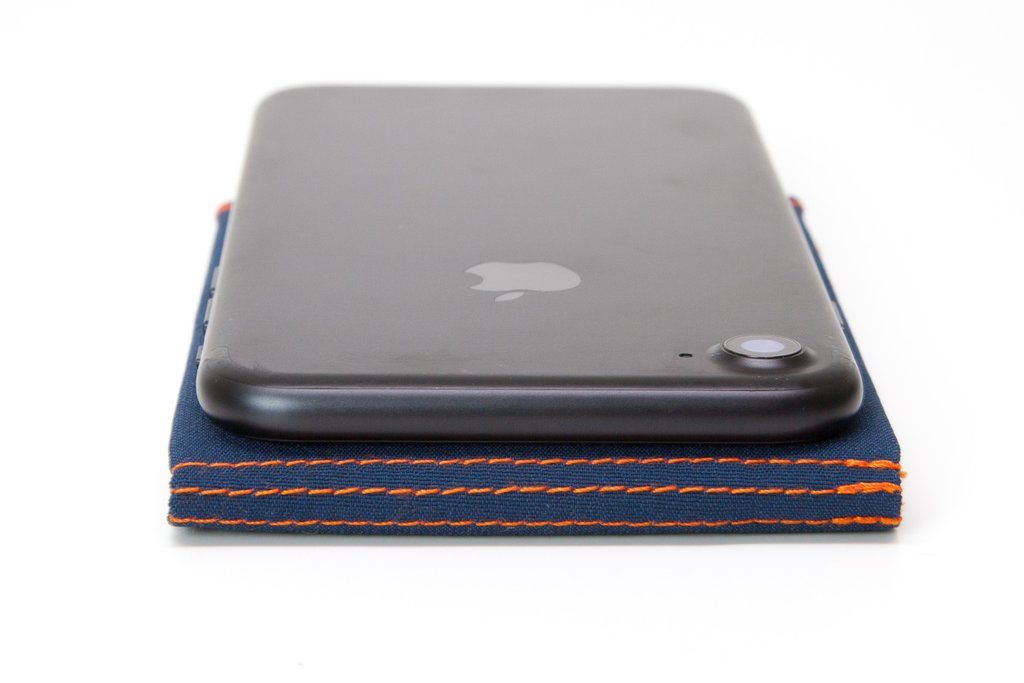 The card slots are sized to fit standard credit cards. The slots don't grip onto your cards much, but they don't have to with how the wallet is designed with cards extending inwards (instead of upwards like traditional bifolds). Accessing cards at checkout is as easy I'd expect any bifold wallet to be. My only complaint is that the height of the wallet doesn't do well for taller international bills. I'm not very fond of folding bills length wise and since I travel internationally somewhat frequently I'll likely use a different wallet which is sized better for larger paper currency.
SlimFold offers a 5 year warranty for their Soft Shell wallets, but personally I don't think many people will have to use it. Josh, one of Novel Carry's other authors, has had a Micro Soft Shell for several years, and it looks nearly identical to the brand new one that SlimFold sent us for review.
Final Thoughts on the Micro Soft Shell
The Micro Soft Shell is one of the thinnest and most durable wallets we've reviewed yet. If you're in the market for a thin bifold wallet, the Micro should be on your short list. Their other wallets are also worth taking a look at which feature same material it other slim designs. Highly recommended!