Best Front Pocket Wallets for Men – (Buying Guide for 2020)
Novel Carry is reader-supported. When you buy through links on our site, we may earn an affiliate commission.
About Front Pocket Wallets
We are always searching for the perfect balance of living hands-free and being prepared for any situation we find ourselves in. What I have noticed is: it's different for everybody. My perfect ratio is not the same as yours and yours is not the same as your friends'. Lucky for us, front pocket wallets have become a trend these past few years and whether you are an avid minimalist or just tired of carrying around a brick in your back pocket this list is sure to give you plenty of great options to get exactly what you want out of your next wallet.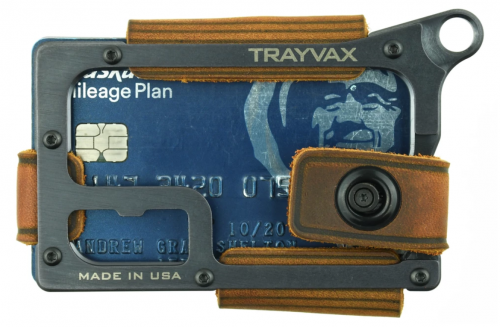 This one is at the top of the ist because it is simply really cool and probably my tested favorite so far. I have said so much about this wallet already; if you haven't seen it before, you should check our my full review here!
For a quick review: The thick leather and PVD coated stainless-steel body of this wallet make it almost as tough as you. The luxurious Horween leather and scratch resistant stainless steel maintain the perfect combination of tactical and sophisticated. It makes perfect sense that it sports a bottle opener to give you one more reason to show it off next time you're out.
Key Features:
Capacity: 13 cards, 10 bills
Warranty: 65-year Heirloom warranty
RFID Blocking: Yes
PVD coated steel plate
Horween leather
Attachment point for lanyard or key ring
Integrated bottle opener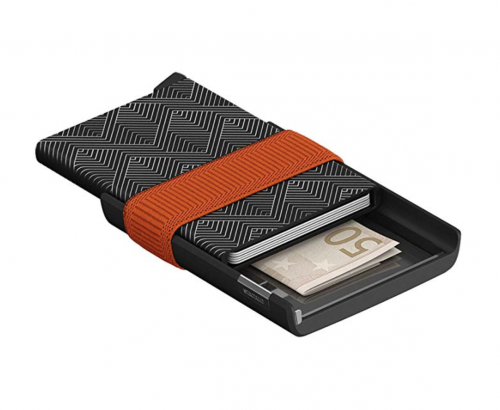 This wallet is perfect for that person who is trying to carry a little bit of everything. Cards and cash are the bread and butter of every slim wallet but what if you also need to carry a house key, some coins for the vending machine and a work badge at the ready to scan you in and out of the office with ease? This versatile wallet has totally got you covered. Its simplistic but ingenious design consists of an aluminum card protector, and a stainless-steel Slide compartment (that can hold any small object) which is held together with an elastic band allowing you to add one more super accessible card.
The card holder has a unique design, in that, when you want to access your stacked cards, you pull the lever at the bottom and they all seamlessly fan out at the top. The card holder can be carried alone or along with the slide. No doubt, the coolest thing about this wallet is the Slide. The Slide is basically a storage drawer that fits perfectly alongside the card protector. Its large enough to fit a few bills in the money clip and you can throw your change and a key in there as well.  The versatility of this Cardslide wallet goes one more step with the elastic band that holds it all together; you can add that one last thing with barely adding any bulk. Things like a movie ticket you only need to hold for a few minutes or subway card that you need to have constant quick access to for a while.
Key Features:
Capacity: 6 cards + space for bills, coins or a key
Warranty: 3 years
RFID Blocking: Yes
Super versatile design
Can be taken apart to make even slimmer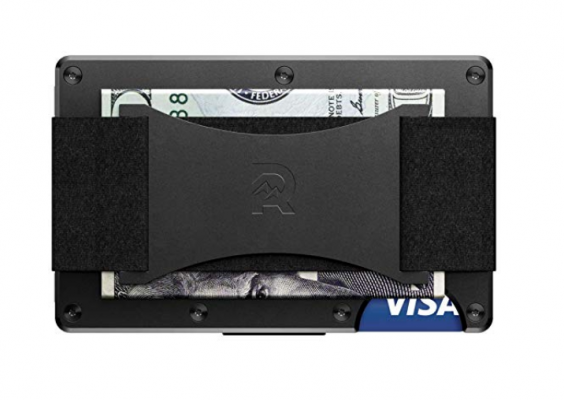 This wallet was designed for the those who are too busy exploring the world to be bogged down with carrying anything unnecessary or worried about keeping their wallet pretty. The epitome of rugged minimalism, the Ridge Wallet's slim aluminum body will hold up to 12 cards and a lifetime of abuse. Just like you, this wallet may get a few scratches and dings but that won't make it fall apart or quit going hard every day.
For being made with two aluminum plates, its incredibly adaptable to each new adventure with its elastic bands easily expanding to hold a parking lot tag you pick up along the way or your girlfriends ID so she can live hands free for a night out. Not to mention the beveled edge at the top to aid in quickly sliding in a new card. However, its super small, credit-card size means business cards sick out at the sides just a little bit and if you want to put bills in the clip or elastic money band, you will need to fold them twice to prevent them from looking sloppy.
Key Features:
Capacity:  up to 12 cards and several bills
Warranty: Lifetime Guarantee
RFID Blocking: Yes
Beveled edge for easy card insertion
Thumb cut-out for easy card selection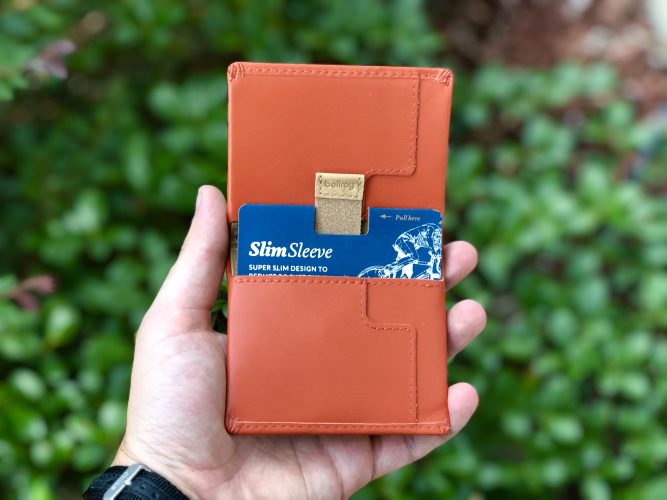 If you really love the look of a traditional bifold wallet but still want a slimmer, more modern take on it then the Bellroy Slim Sleeve is exactly what you are looking for. Its supple leather and plain outer design may make it look and feel just like your grandfather's old wallet, but the inside is a marvel of leather layering techniques.
When you open the bifold you will see a one-card easy-access slot on either side plus a cash pocket and pull-tab section for the rest of your cards. By re-arranging and re-layering the leather pockets on the inside, Bellroy made this wallet cable of carrying everything a traditional wallet can while remaining thin enough to wear in your front pocket.
Key Features:
Capacity: up to 12 cards and some bills
Warranty: 3-year warranty
RFID Blocking: No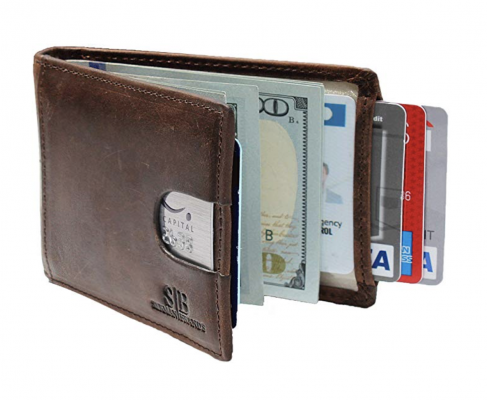 For a traditional look with a noticeable upgrade check out Serman Brands front pocket bifold. It is just as classic as the old school version with twice the usability. "Achieve maximum productivity without ever opening your wallet" is part of their pitch; while that's not exactly true I will say: you can get to one card without opening anything and to your ID and cash quicker than either traditional wallets or most credit card-sized wallets.
You can keep your most used card in the outside pocket, your second and third most used cards in the easy access slots inside, plus you identification in the designated ID slot. Beyond the card slots there is a very thin money clip that sits tucked inside the crease of the bifold which is a really neat design that allows you to slide bills easily without having to fold them up first. Lastly, you  can store any extra cards in the pull-out slot.
Key Features:
Capacity: 6-8 cards and 10 bills
Warranty: 1 year
RFID Blocking: Yes
ID window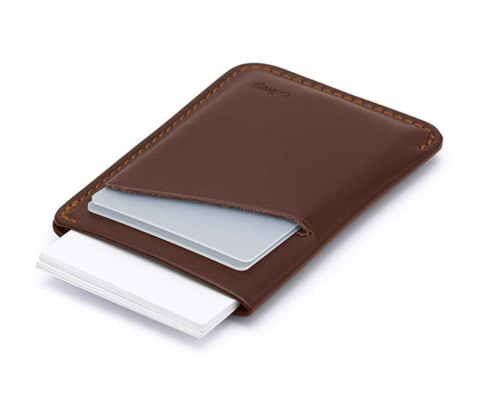 This one is super simple and incredibly thin but that doesn't mean that it wasn't created with usability in mind. From the stitched packaging to the slightly different cuts for the opening of each slot, the customer experience was greatly considered in the design. You have to be a real minimalist to get away with this one but that is exactly who this is made for. Everything about this wallet is made to be as lightweight as possible leaving you to be completely free for more important tasks.
Just like all of Bellroy's products, the card sleeve is constructed of high quality leather and features a creative layout to optimize use. You'll find front and back quick access slots for your mostly used cards and a center pocket (with pull tab access) for bills and lesser used cards.
Key Features:
Capacity: 2-8 cards and a few folded bills
Warranty: 3-year warranty
RFID Blocking: No
Pull tab slot for main compartment
Two quick access slots (front and back)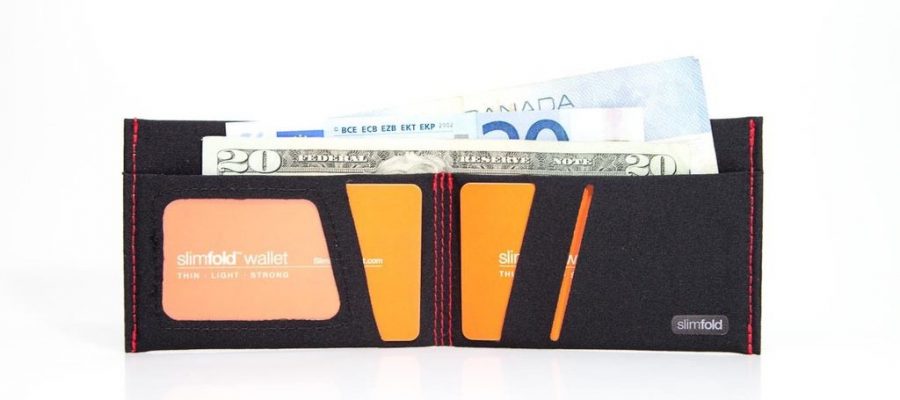 We all have that non-traditional, nonconformist "little brother" type in our lives. This is right up their ally. Unlike the classic elegance of leather or the tactical feel of metal and straps, this self-proclaimed mix between Gore-Tex® and Kevlar is every bit as fun, flexible, and indestructible as our favorite trouble starter.
SlimFold's Micro Soft Shell is made from an amazing material that is insanely thin and light weight yet practically un-scratchable. It's also waterproof and machine washable; absolutely created for those who can't help but go dirt bike riding in the rain. You can store up to 12 cards and still have plenty of room for bills. Again, thanks to their unique material, even after filling this wallet will all your stuff it stays incredibly slim with enough flexibility to make you forget you have it.
Key Features:
Capacity: 12 cards and several bills
Warranty: 5 years
RFID Blocking: optional
Super flexible and incredibly thin
Waterproof
Machine washable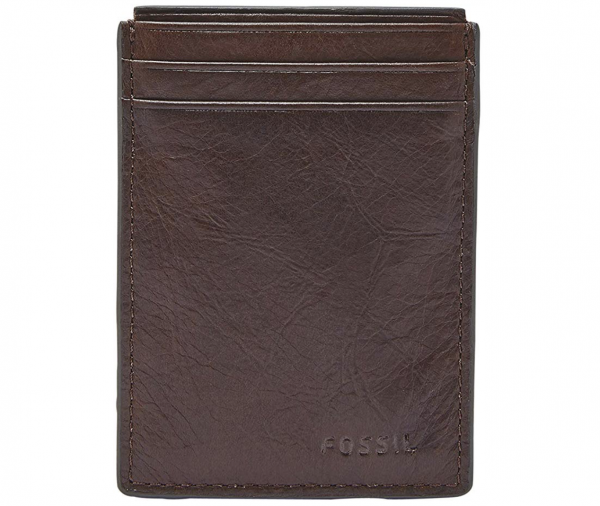 Timeless sophistication is what fossil is all about and with this wallet's all leather exterior and magnetic money clasp you get exactly what you have come to expect from this brand. The classic brown leather reminds you that this is a gentleman's wallet, precisely made for maximum efficiency. When you want to be impressive without trying, you carry a wallet that shows just a glimpse of your elegant taste and appreciation for quality over quantity.
The wallet is just a little bit bigger than the size of a folded bill which allows for only having to fold your money once in order to store it. The large magnetic money clip is super strong allowing it to hold several bill with no worries of it coming undone when you drop your wallet. Besides that, it can hold about 5 cards so truly just the essentials with this one.  
Key Features:
Capacity: 5 cards and several bills
Warranty: 1-year limited warranty
RFID Blocking: Yes
Like a luxury sports car this wallet is both low profile and flashy. It's for those who want to cut out the unnecessary but still leave room for some lavish upgrades. Every detail is designed to feel luxurious while also cutting bulk. Even though this is a slim wallet, it seems almost roomy compared to some of the entries on this list.
Intuitively, Travando designed the wallet so that you can see a little sliver of every card, so you don't have to search for them; it also makes it really easy to slide the card out when you need it. There is also an ID window slot and a money clip inside. Travando reminds you twice how proud they are of their product by leaving a logo emblem on the outside as well as an etched logo on the money clip inside.
Key Features:
Capacity: 11 cards and several bills
Warranty: 3-year warranty
RFID Blocking: Yes
ID Window
Integrated money clip
Who wouldn't love the casual coziness of Herschel Supply Co. This totally laid-back wallet may look delicate, but this is a great everyday carry that will emanate chill vibes. With a plethora of colors and patterns this wallet maintains the sleek but casual, cozy yet functional style across the spread. The stitched-on tag gives the final touch to make this wallet feel personally made for each carrier.
It has a couple pockets on each side and a larger middle pocket with the opening on top. There are no closures or straps – just a no-fuss pocketed style to hold the things you need most. With a medium structure this isn't made for testing durability but will definitely feel nice and firm in your hand with good stretch as well.
Key Features:
Capacity: 10 cards and several bills
Warranty: 5-year warranty
RFID Blocking: Yes