Slim design with multiple accessible pockets – great for organizing your carry. Constructed with weatherproof canvas. Pull-tab slot is convenient and makes holding multiple cards in the center slot easier to access.
Wallet is on the larger side of slim wallets making it difficult to carry in a front pocket. Cash strap doesn't seem secure unless large amounts of bills are stored. Sewing on our review unit could have been better.
The Dash Bando wallet has a unique flat design that has the ability to store many cards in a very slim profile. The pull tab slot is also a really nice touch (I'm a big fan of these in wallets). It however falls short in the finishing department with loose stitching. The cash band holds bills a little too loosely for my liking. I would not recommend this for front pocket carry, it's a bit on the larger side and wont fit well into smaller front pockets.
Materials: PU (animal free) Saffiano leather with nylon lining
RFID Protection: Yes
Capacity: 1-10 cards, many bills
Dimensions 77m x 108mm x 6mm
Color options: Black or Navy
Warranty: 2 year warranty
This wallet is for someone who carries a ton of cash and a cards but still wants a slim profile in their rear pocket. Due to its larger profile it likely will not work well in smaller front pockets. This wallet is a good option from someone who likes to have multiple cards with quick access.
Smaller Dash logo on the front bottom left corner.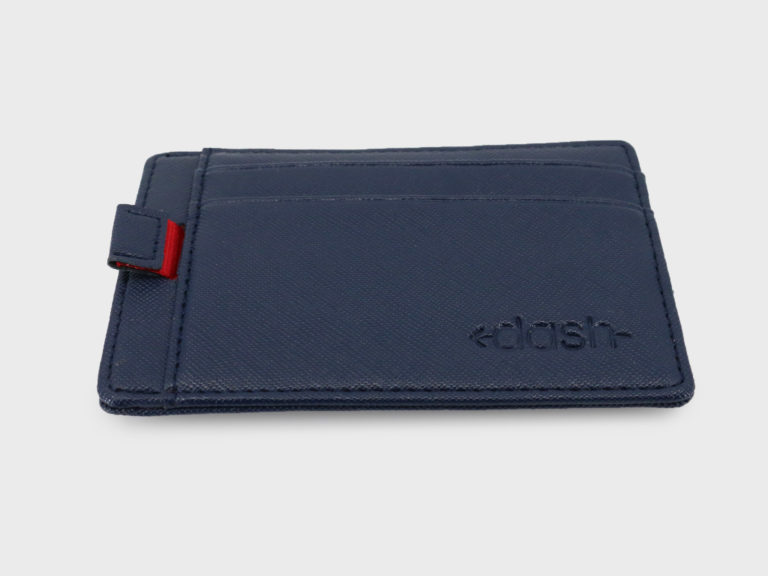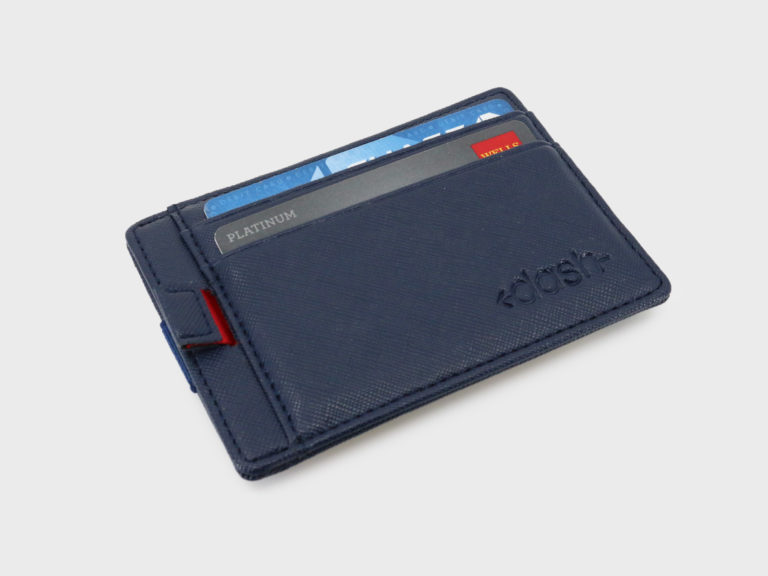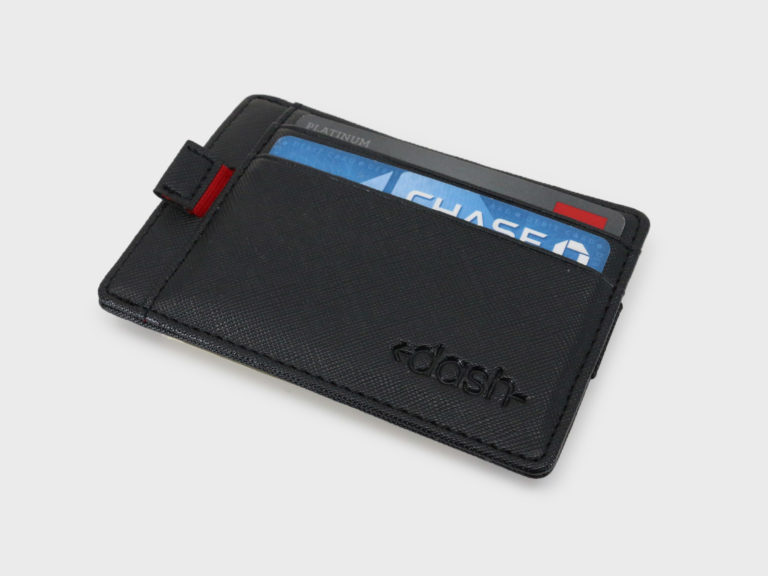 Build Quality & Materials
Those who have used other Dash wallets will find the material in this wallet familiar as it's the same animal free leather with saffiano texturing found in the manufacture's other slim wallets. The pull tab and inner slot liner feature bright red soft material.
Overall build quality is 'okay'. The leather while not real should last at least a year without wearing out. Unfortunately, since the wallet isn't made with real leather, I have doubts with how well it will hold up to full time use and abuse for extended periods of time. Additionally, the threads holding the two halves of the wallet together are loose which gives me further concern of this wallet's viability over longer periods of time.
A stronger elastic band should have been used to hold bills under the cash strap. While cash never did fall out of the wallet during my use, the loose strap didn't inspire much confidence. I do like how cash is folded in halves instead of thirds as it makes using cash much less cumbersome.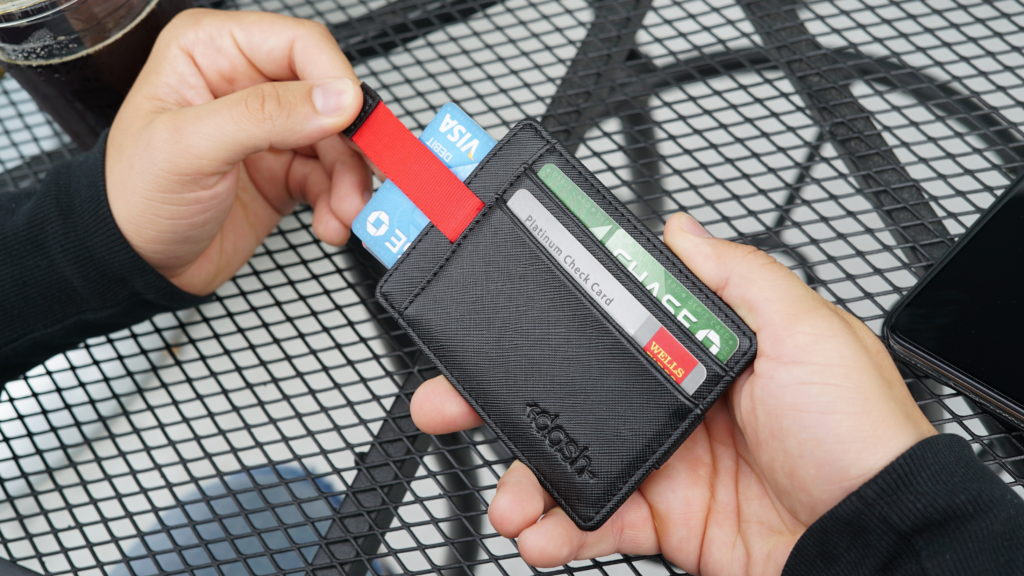 The Bando wallet makes up in the Design and Use category for its shortfalls in the material and overall build quality department. The front of the wallet features two quick access slots while the back features a cash strap and a small slit to store coins and/or a key. The front and back of the wallet are sewn together and lined in bright red cloth to store cards in a center slot. Finally, inside that center slot is a small pull string that ejects cards contained within for easy access.
In practical use, the wallet works great. Cards are held securely but are easily accessed. The center pull tab works as intended with cards being ejected just enough that they can be grabbed easily, but not too much that they risk falling out. Cash is held a little too loosely for my taste, but this shouldn't be a problem under normal use.
The Dash Bando wallet features a great design (although a bit big for my personal tastes). It falls short in build quality due to its loose stitching. Looking at the brand's own review pages, I wasn't the only one noticing this issue either as multiple customers called out the same concerns and a few even had stitches start to unravel themselves. I have a hard time recommending this wallet until Dash addresses their stitching quality.