As long as a few scuffs don't bother you, this well engineered product will make a great addition to anyone's everyday carry collection (especially you minimalists out there). Ridge has recently added a few ultra-premium options like Damascus steel, too.
Full Review: The Ridge Wallet
Novel Carry is reader-supported. When you buy through links on our site, we may earn an affiliate commission.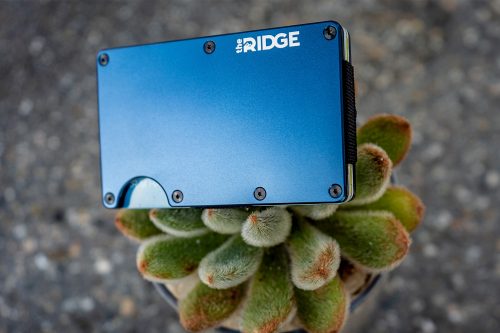 The Ridge Wallet is the epitome of do more with less. This wallet isn't for those of you who want to carry anything and everything all the time. Its for those who want to carry less and carry only what matters. The Ridge Wallet can comfortably carry 12 cards and a nice wad of cash – but that's it. If you're trying to become a minimalist (or already are one), this wallet may be the one for you!
Build Quality & Materials
The Ridge Wallet comes in 3 different flavors of materials: Aluminum, Carbon Fiber, and Titanium. The wallets feel sleek, well built, and carry some heft (ranging 1.6oz to 2.5oz when empty depending on style selected). All in all, the wallet feels like a premium product in the hand. 
When I first got my hands on the Gunmetal Aluminum version 2 years ago, I was initially worried about the durability of the metal sides and elastic bands. I was pleased to find that bands have held up as I tend to carry 8 or 9 cards on any given day (which is 75% of Ridge's suggested 12 card capacity).  But my concerns regarding the metal sides came to fruition.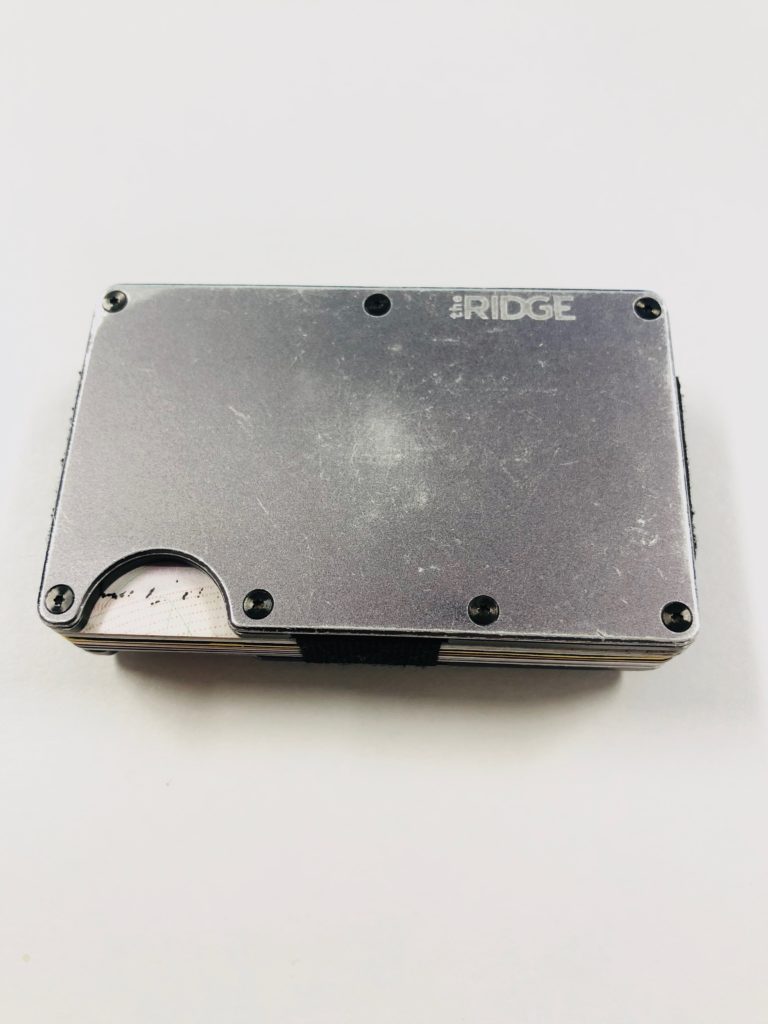 I haven't had quality time with the Titanium or Carbon Fiber variants yet, but at least with the Aluminum variants you can bet that you'll see scuffing and chipping over time. That said, the scuffs and chips don't look bad but they are definitely there. The wallet looks as it should after traveling with me for over 2 years. Unlike leather, metal doesn't become more distinguished with wear and tear, it just looks used. 
Each Wallet is essentially made of 4 parts: two outer covers,  elastic, and either a money clip or strap. The covers are half Aluminum, Carbon Fiber, or Titanium on the outside with the other half being smooth glossy plastic on the inside. One of the covers has a small notch which is used to press cards out of the wallet when needed. Each cover is held together with elastic banding that applies compression to keep cards secure. Lastly, the money clip or strap do exactly what they're supposed to. Personally, I prefer the money clip which I believe is a more secure way to hold your cash.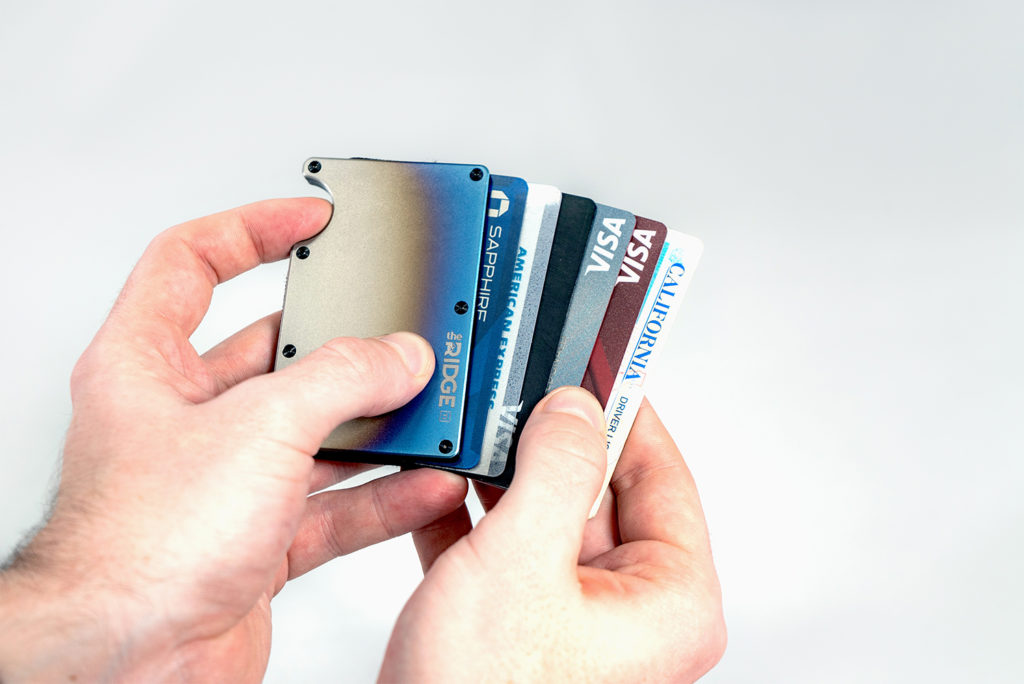 All these design features combined makes a wallet that is simple and elegant but at the same time creates a couple a small problems that must be overcome by its users. First, in order to access the cards you need to press a finger in the notch to push them out of the wallet. You must then fan the cards out to access cards not immediately visible on the front of back. This motion isn't natural and there is a learning curve to do this flawlessly without spilling cards all over the place. That said, once the motion is mastered (it really isn't that difficult), you'll feel like a ninja fanning your cards out (like pictured here) to complete payment. 
Second, the wallet is small.. its the same dimensions of the cards inside. This also means bills have to be folded twice to fit neatly within the profile of the wallet when stored inside the money strap or clip. You could fold bills in half once, but the edges of your cash will extend outside of the top and bottom edges of the wallet's outline.
Final Thoughts on The Ridge Wallet
The Ridge Wallet feels like a premium wallet, costs like a premium wallet, and looks like a premium wallet because it is a premium wallet. While day to day use does have some growing pains to overcome, I think anyone who purchases a ridge wallet would be hard pressed to find a better wallet in this category.