The Ascent is one of Trayvax's most durable and hefty front pocket wallet offerings. This wallet is perfect for someone looking for a super sturdy wallet that'll last multiple generations. Note however, this wallet requires a slim carry lifestyle since it can hold a maximum of 7 cards and a handful of bills.
Materials: Top grain oil-tanned leather & steel
Capacity: 4-7 cards, 5 bills
Dimensions: 3.8" x 2.8" x 0.3"
Leather Color Options: Tobacco brown, Mississippi mud, Steel grey, Stealth black
Metal Color Options: Black & Raw
Full Review: Trayvax Ascent Minimalist Wallet
Novel Carry is reader-supported. When you buy through links on our site, we may earn an affiliate commission.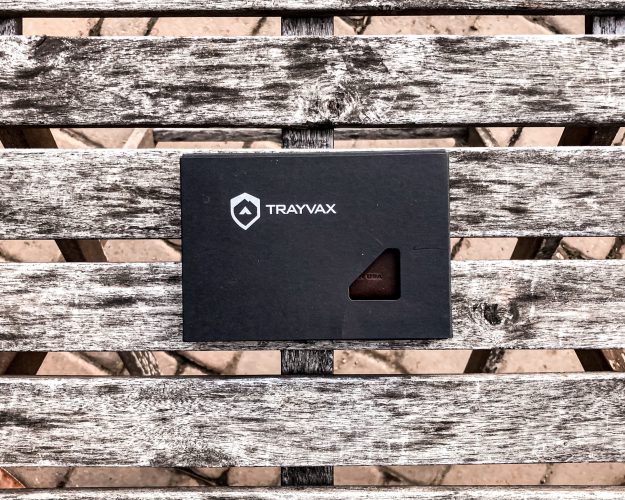 Trayvax is known for their ultra-durable products and they've gone above and beyond with the Ascent as this wallet is built to take a beating while accommodating a minimalist's lifestyle. The Ascent is a perfect option to consider if you've torn through cheaper leather wallets before. Read on to find out why!
It's all about Rugged Design
The Ascent follows Trayvax's tried-and-true steel plate and leather build structure. The wallet's design is rather simple: in the center you'll find a single notched steel plate sandwiched between two pieces of top grain oil-tanned leather that are secured with stitches and brass rivets through the steel plate.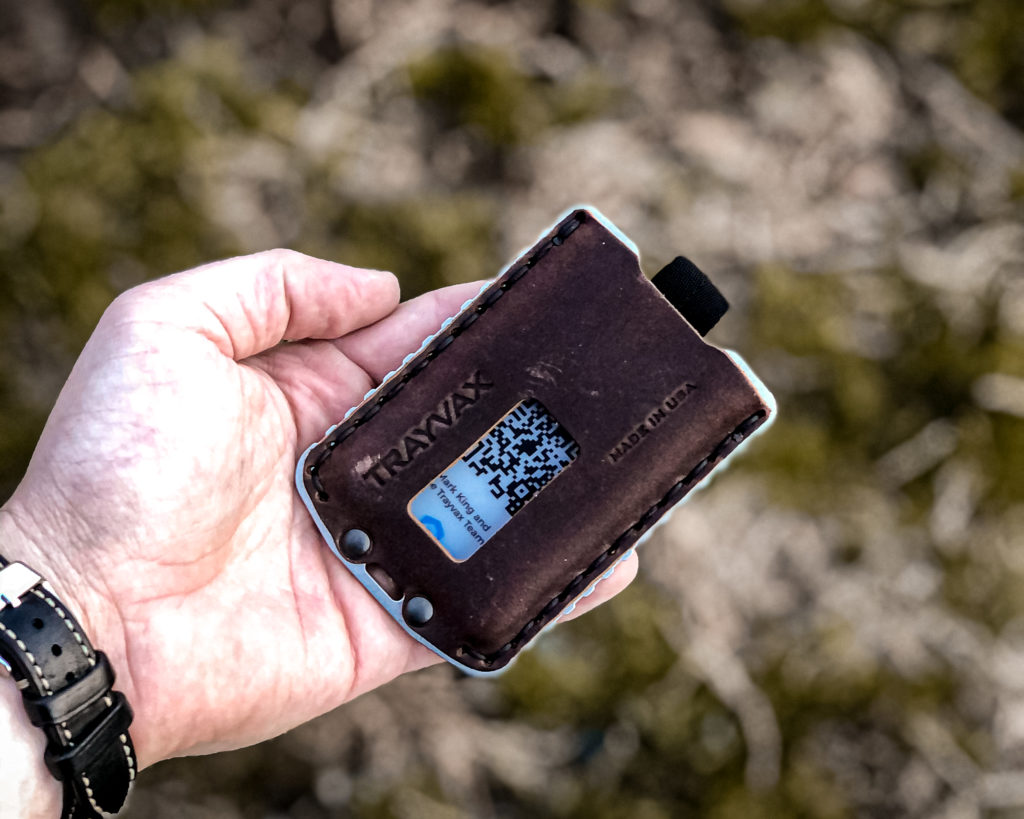 On the front of the wallet you'll find Trayvax branding and a pocket with a card selection window that aids in accessing cards.
On the back side of the wallet is a second pocket with a quick-access nylon pull tab and a small slit in the leather for cash storage. All this combined gives you enough capacity to carry 4-7 cards and 5 bills. While Trayvax says it can comfortably hold 7 cards, I actually found it very difficult to carry more than 5 cards in a brand-new wallet. It can certainly hold 7 cards – just know that it will be a bit difficult to access them until the wallet stretches to accommodate your carry.
The steel plate in the center of the wallet adds significant structure and heft. It's notched along the sides for grip and features a small attachment point toward the bottom of the wallet. The Ascent doesn't include an integrated bottle opener which is unlike Trayvax's other metal wallets: the Contour, Armored Summit, and Element.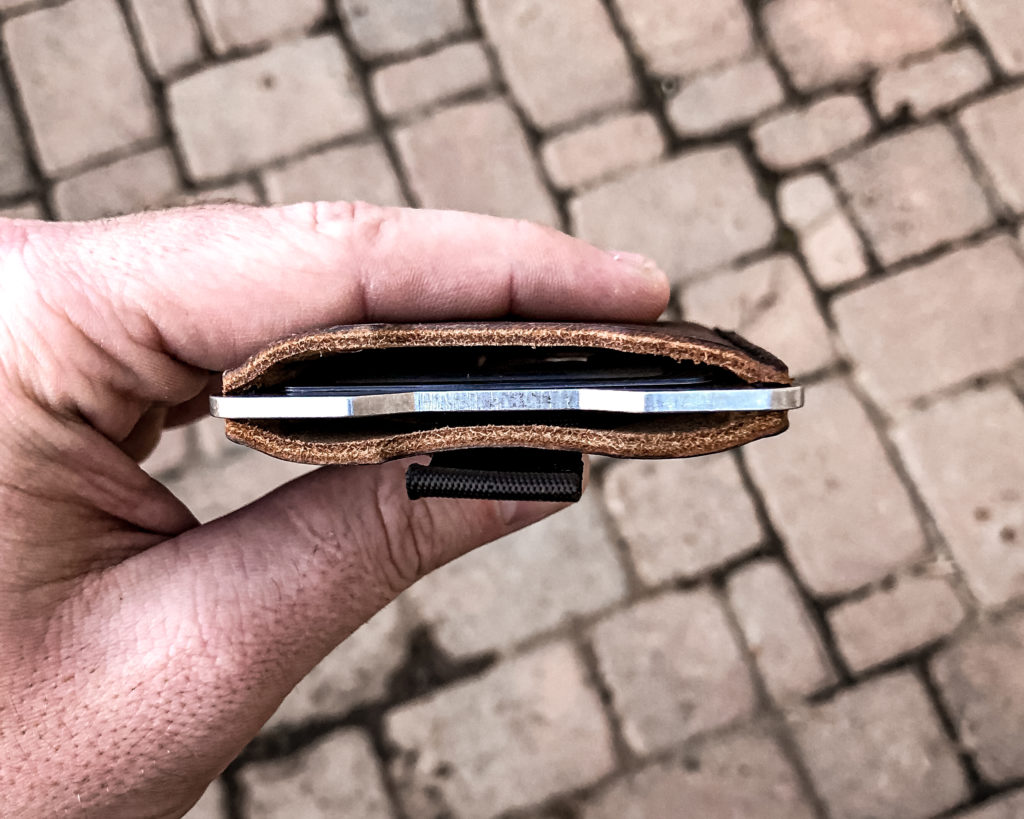 Speaking to the Ascent's heft, this wallet is by no means a lightweight carry wallet. This wallet is minimalist in the sense that you're limited to the number of cards and cash you carry – but not in the sense of a small and slim form factor one might expect for a wallet that can only hold 7 cards and a small bundle of bills. In fact, this wallet is roughly the same thickness of some other bifold leather wallets that can hold far more cards and cash. With this in mind I'd say:
This wallet isn't for you if you're looking to lighten your load-out with a slim wallet.
This wallet is for you if you're looking for a totally bomb-proof product that will last forever.
I never carry that many cards or cash, so I didn't run into any issues with the 7 cards and 5 bills carrying capacity. Out of the box, the wallet will hold 5 cards snuggly, but you can certainly shove a couple more into the back slot. As said previously, at max capacity the cards will be difficult to remove – but this is only temporary until the wallet ages and the leather forms to you usual carry.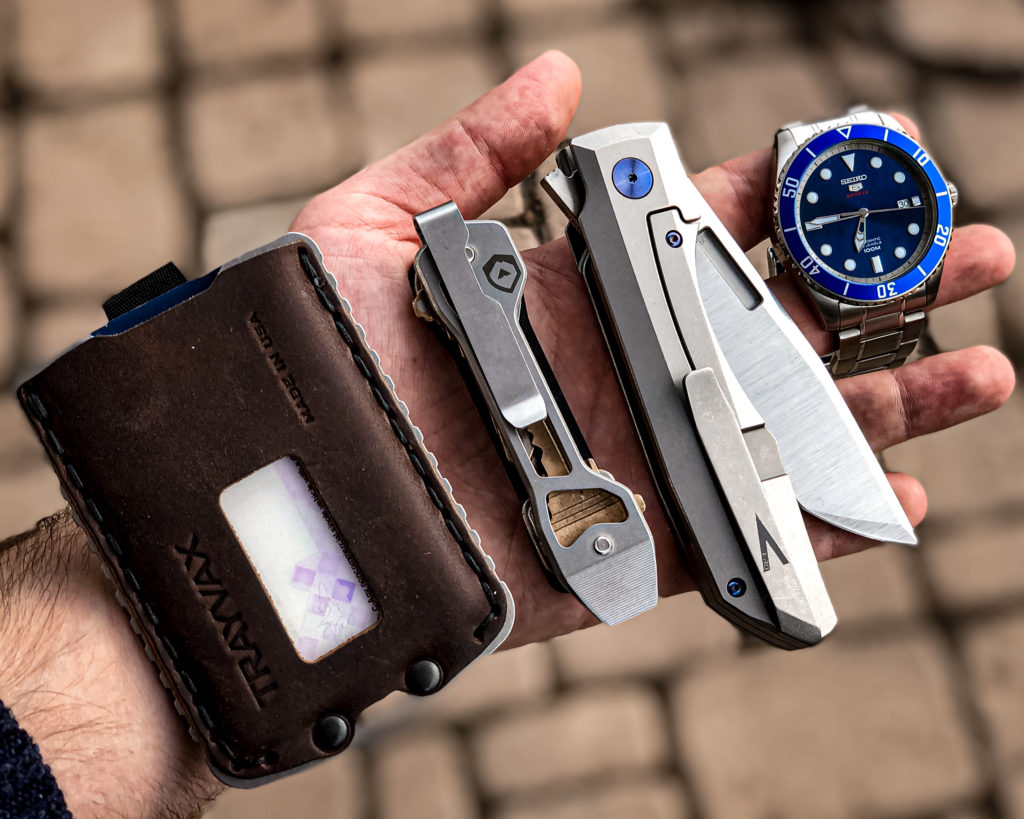 I found it best to keep 2 cards in the front pocket with the rest in the back. It was easy to access cards in the front via the card selection window – but even easier to access the cards in the back slot with its nylon pull tab. Cards are held in firmly and I never had any fall out unintentionally.
One aspect that I didn't care much for was the cash slot. Especially brand new and unworn, it can be a little hard to slide bills into the cash slit on the back of the wallet. This issue started to slowly rectify itself as I used the wallet frequently during my review period – but it still wasn't as good as an integrated money clip or cash strap.
My main gripe about this wallet is the steel plate's notched grips. The notches aren't sharp… but they are prominent enough that I could feel it snagging lightly at the edges of my pocket everytime I took out or put away the wallet. I didn't notice any abnormal wear during my month-long review period, but this is certainly a point that I think Trayvax could improve upon easily. If I had it my way, I'd keep the grip feature but make the notches less prominent and thus nicer to pants' pockets!
Wear and Tear – Made for the Long-haul!
Build quality is Trayvax's bread and butter. The firm uses high quality (and thick) top grain leather stock that will only look better over time. The deep tan pigments develop a beautiful patina over time.
I really love how each wallet wears specifically to its user's lifestyle and carry making it a personal keepsake that can be passed down through multiple generations. In fact, Trayvax doubles down on this notion by offering a 65-year heirloom warranty. These people really do stand behind their products.
Final Thoughts on the Ascent Wallet
Trayvax's Ascent wallet is a special kind of minimalist product. It isn't for the minimalist who wants to slim their pockets and minimize the weight of their loadout. Instead, Trayvax has armed the Ascent to delight the customer who wants an ultra-tough wallet that matches their minimal lifestyle and can last for the long-haul while looking good, too.
If you've read this far, it's worth taking a look at the Ascent to see it for yourself. Trayvax offers a 30-day satisfaction guaranteed returned policy for all their wallets. Click the link below to purchase on Amazon!