Best Chain Wallets (Buying Guide for 2021)
Novel Carry is reader-supported. When you buy through links on our site, we may earn an affiliate commission.
Chain wallets have been the staple go-to for truckers and bikers throughout the years and it's easy to see why. For truckers, miles are money so leaving their wallet at the gas station 300 miles back would be a really annoying occurrence. And of course, bikers would rather be enjoying the ride than worrying about their wallet falling out of their pocket on the open road.
Whether you travel the world on a steal horse, a big-rig or just enjoy the old school greaser look, a chain wallet is not only stylish but is also a secure way to carry around your valuables. Chain wallets are the very practical answer to a widespread need. I mean, honestly, is there anything worse than going to pay for something and realizing you don't have your wallet??
Below are my top picks for best biker/trucker wallets based on style, design and practicality.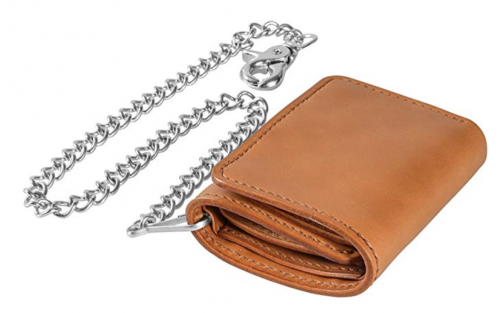 Made from genuine bridle cowhide leather this trifold wallet with a chain is made for durability. This cut of leather has both the grain and flesh side of the leather making it thick and seriously heavy duty. This wallet is sewn together with 1 mm thick, waxed thread so you won't find a weak spot there either and the double snap closure will keep your items safely tucked inside. Included with your purchase is a long, 20′ chain.
When you think of classic truckers' wallets, this is exactly what comes to mind. It has a nice heavy feel to it and a chain long enough to toss your wallet into the cupholder for long drives. The ID slot has a clear window and semi-circle cut out at the top to allow for easy removal if needed. All in all, if you're looking for the timeless classic style of a leather trifold chain wallet, this is a great choice.
Key Features:
Capacity: 7-8 cards, several bills + hidden pocket
Warranty: none
RFID Blocking: No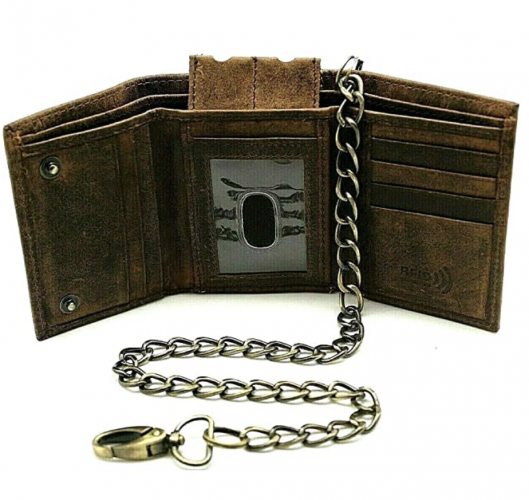 We love how Juzar's chain wallet is made from full-grain, ultra-durable crazy horse leather giving it nice rugged vibes. Featuring a snap closure and built-in RFID protection you can be sure your valuables are kept safe and secure. Inside this trifold wallet, you'll find 9 card slots, 1 ID slot, and a full-length bill pocket which is plenty of room for even the fullest pockets.
While this wallet already looks great straight out of the box, you'll find that the crazy horse leather will develop a beautiful patina over time. This is one of our favorites for those looking for a classic biker or trucker wallet.
Key Features:
Capacity: Over ten cards
Warranty: 100-year guarantee
RFID Blocking: Yes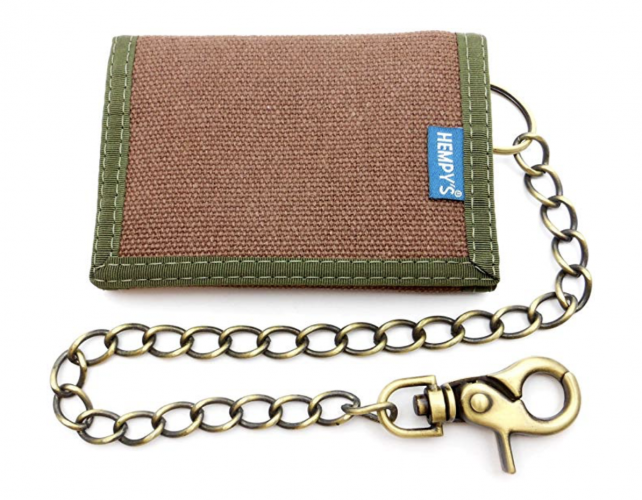 This wallet made in the USA is 100% vegan and made from 100% hemp canvas making it durable and eco-friendly. A classic trifold design and heavy-duty chain make this a trucker wallet, but the tan and green canvas give it a modern twist. Forward-thinking wasn't just left to the design team as the whole company prides itself in putting the earth first with sustainable material and processing.
This is your wallet if you want something that can take a serious beating and wash up well. The durable canvas and secure Velcro closure make this the perfect wallet for an off-road adventure. Whether you're hiking through dense forest or climbing cliffs by the beach you can trust your wallet to be unscathed and securely closed.
Key Features:
Capacity: 2-3 cards, a few coins, and several bills
Warranty: None
RFID Blocking: No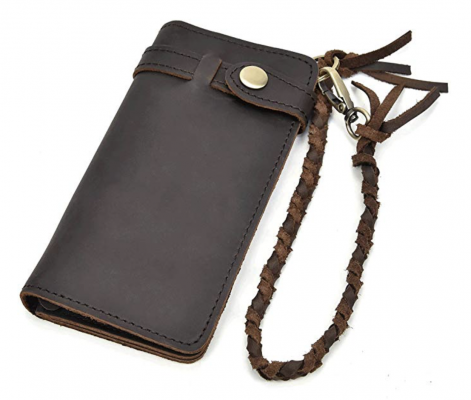 Made from 100% Italian full-grain leather this long chain wallet is the epitome of the luxury class. Italian leather is known around the world for its impeccable quality and this super soft, super durable leather bifold is a perfect example. The rich brown color and belted snap closure give it a nice vintage style, polished off by the braided leather "chain".
As with all the greatest things in life, this leather wallet will only get better as it ages and any scratch will only enhance its attractive patina. The smooth dark exterior is perfectly complemented by the soft tan interior making it beautiful inside and out. The best thing about a wallet that looks this nice peeking out of your pocket is it totally makes jeans appropriate "dress up" attire; your significant other may or may not agree.
Key Features:
Capacity: 6 cards, several bills and coins, cell phone pocket
Warranty: None
RFID Blocking: No
This 100% genuine leather trifold chain wallet is every bit as bold as everything else Harley Davidson sells. Made with black and tan distressed leather and debossed with a Willie G Skull logo and Harley Davidson Script there's no question that the owner of this wallet belongs on a steel horse. The included nickel chain is a perfect match with a lobster claw closure or lanyard hook clasp.
If you ride a Harley, why wouldn't you have a matching leather biker wallet? With plenty of space is this oversized trifold you'll never have to leave a card behind. With 9 dedicated cards slots, a windowed ID slot, bill slot and 3 extra pockets this wallet can hold it all plus a little extra. This wallet was made for the big and bold and designed to catch attention just like the person who purchases it.   
Key Features:
Capacity: 15 cards and several bills
Warranty: None
RFID Blocking: No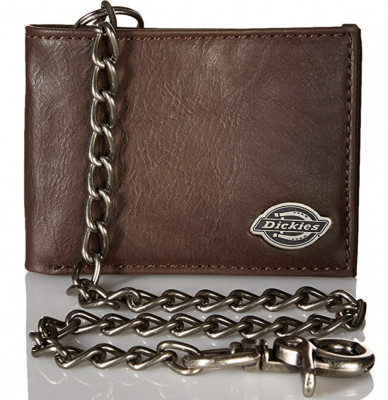 The Dickies name brand tells us this wallet was made to put in the work. The 100% genuine leather exterior means this chained bifold wallet is thicker and more durable. The soft leather and sewn edges give this wallet a classic feel while the metal Dickies emblem and heavy-duty chain add at a touch of industrial to the design.
For the workplace and beyond, Dickies products have a proven history of being made to get stuff done. There is nothing delicate about your work ethic and there shouldn't be anything delicate about your wallet. Instead of being shiny and smooth, this wallet has great texture for an already broken-in kind of look.
Key Features:
Capacity: 7 cards and several bills
Warranty: Satisfaction guarantee
RFID Blocking: No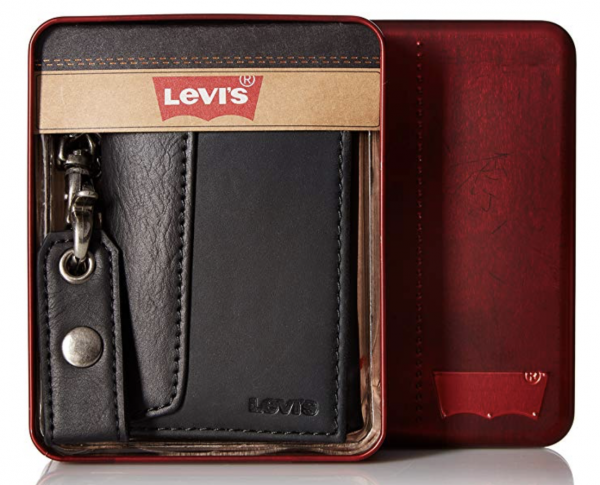 Made from 100% genuine leather, then aged and crafted for sophisticated style – this chained wallet is another Levi's classic. The chain is attached to the wallet with a keyring and the other side is a lobster claw as well as a matching leather loop attachment for a bit of versatility. It holds 8 cards plus an ID, several bills and includes two hidden pockets as well.
If you already love Levi for their jeans, you should give their biker wallet a try too. The different textured leathers on the outside and red plaid on the inside really give this wallet a unique look that you will love to show off.
Key Features:
Capacity: 8 cards and several bills
Warranty: Limited 2-year warranty
RFID Blocking: No
This 100% Napa leather wallet is soft and light with a compact minimalistic design. It features a zipper pouch with several cardholders around the exterior making it easy to carry all the essentials. Bills and coins fit easily in the pouch section and 6 cards plus an ID fit along the outside. Rather than a chain, this wallet comes with a lanyard and a small chain to attach a key; you can just as easily attach your favorite wallet chain instead.
Chain wallets are usually oversized and fit a lot of stuff, but this slim chain wallet brings us a unique twist on the design. For a wallet that can fit in your front or back pocket comfortably, this is a great choice. It is also really secure with a zipper holding in all of your cash and is RFID blocking to protect your cards from being skimmed.
Key Features:
Capacity: 7 cards and several bills or coins
Warranty: None
RFID Blocking: Yes
This leather trifold wallet is made for high capacity. It includes several card slots that flap open like a book when you need them but stay locked in place by a snap when you don't. There is a small zipper pocket plus a secondary coin/small object pouch on the inside that has a snap closure as well. Beyond that, you have two bill slots and the whole wallet locks up tight with yet another two snap closures on the outside. 
The classic black leather and silver-colored snaps are timeless biker style. I can literally hear the thud of heavy leather boots and the slight jingle of the chain right now. And whether or not you have any quarters left for another round of pool or darts, rest assured you have plenty of room to cash in a $5.
Key Features:
Capacity: 8 cards, several bills, and coins
Warranty: None
RFID Blocking: No