REVIEW: Ardor & Forge – Rothrock Juniata
A large majority of microbrand watch companies go to market by utilizing a simple formula: take a timeless watch design from a major brand and add a few unique custom design elements without compromising the original design, thus creating what some would dub a 'homage' piece under their brand name. This strategy probably makes up ~75% of the microbrand watch industry and can be very successful when executed properly. The other 25%, well that's a different story. Occasionally, there's a proverbial black sheep that wants to stray away from the so-called herd. Zack Rackovan of Ardor & Forge is part of the other 25%. He has scoffed at convention and taken risks which has allowed him to create something truly unique with his debut release the Rothrock.
I had the pleasure of meeting Zack at the annual District Time event in Washington, DC held in October of this year. Zack has a background in industrial design from Auburn University and is a passionate guy who has always had an interest in watches. When working on his initial release for Ardor & Forge he wanted to create something that spoke to his passion for outdoor adventure. Lucky for him, he had to look no further than his backyard in central Pennsylvania and the nearby 100,000-acre Rothrock State Forest, which is where the watch gets its name. There are four variants of the Rothrock slated for launch with pre-orders opening on November 19th and I was lucky enough to get to borrow the Juniata which was inspired by the Little Juniata Natural Area. This area encompasses 624-acres of Appalachian forest in the Little Juniata River water gap. The Little Juniata Natural Area is of specific geologic interest for its slope of hard, white, Tuscarora quartzite that was mined until the 1950s. This interesting stone and natural beauty that surrounds this area is the driving force for the color inspiration of the Juniata variant and can be seen in many of its design elements.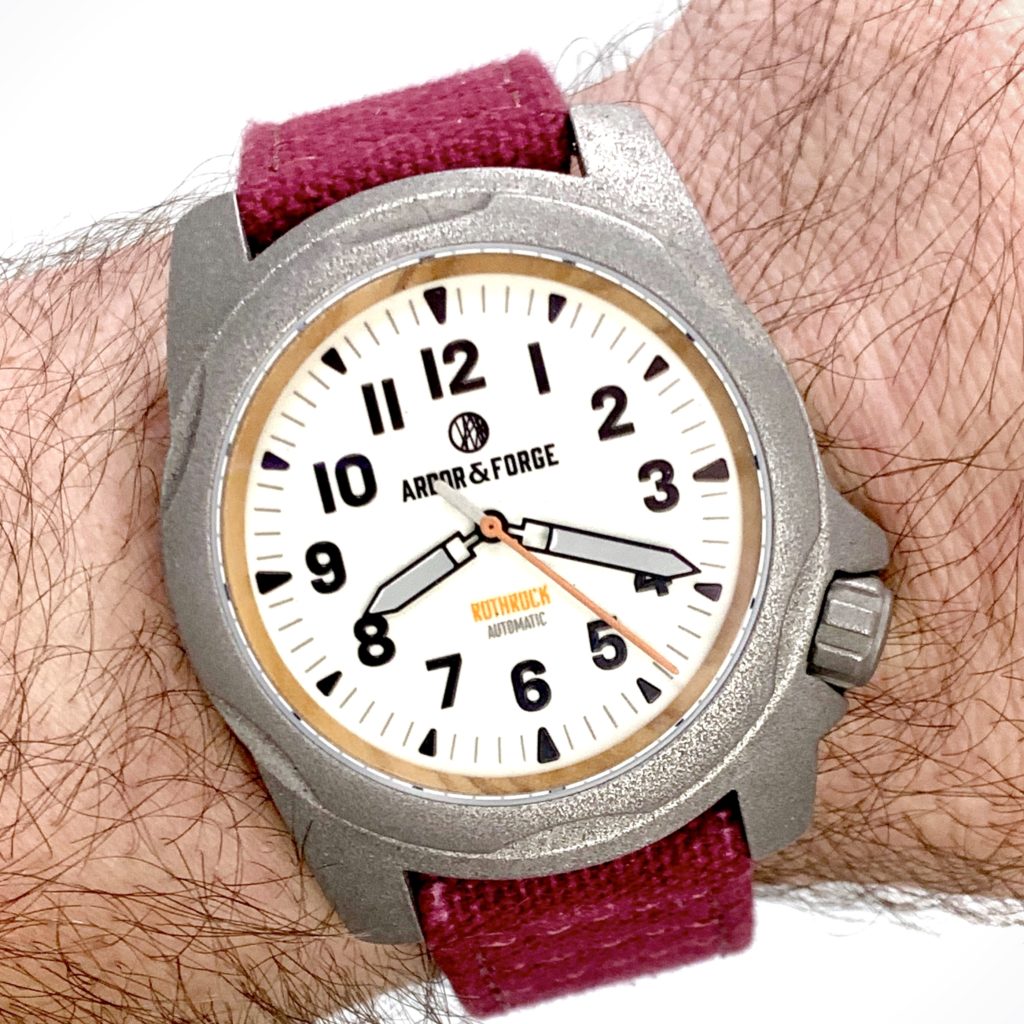 The Rothrock Juniata comes in at 42mm in diameter. This may seem large on paper, but the unique case shape, 13mm thickness, and 50mm lug-to-lug allowed the watch to sit quite nicely on my 7.25" wrist. The case itself is perhaps one of the more interesting design elements of the watch. While the shape is unique, Zack is self-admittedly most proud of the finish on the case for which he used a proprietary four-step sand-cast texturing process. This gives the case an undoubtedly rugged and aggressive look. The finish on the case had me thinking that I could literally throw this watch in a bonfire only to witness the fire burn out before the watch would see any damage to the case. And I believe this is exactly what Zack was looking for when designing a watch suited for outdoor adventure and everyday wear. 
The black outlined hands and orange seconds hand compliment the Arabic numerals on the dial quite nicely and provide a good contrast to the wood chapter ring. That's right people, we're talking real oak that is entirely unique to each watch. The watch also features a screw down crown providing the watch with 10ATM water resistance. And the screw-down crown – well Zack decided to forgo engraving it with a logo and instead embossed it with another subtle wood accent. To be honest, I am usually not a huge fan of wood on watches, in any fashion, but I found that the Rothrock had just enough to make it truly unique without being over-indulgent.
As mentioned before, there are four variants of the Rothrock that let you choose dial colors of blue, olive, black, or in my case, white with the Juniata. The variants have a nice dose of Super-LumiNova on the hands and hour markers which shines bright, but for the Juniata Zach chose to go with a full lume dial. Believe me that when I say full lume dial, I really mean FULL LUME.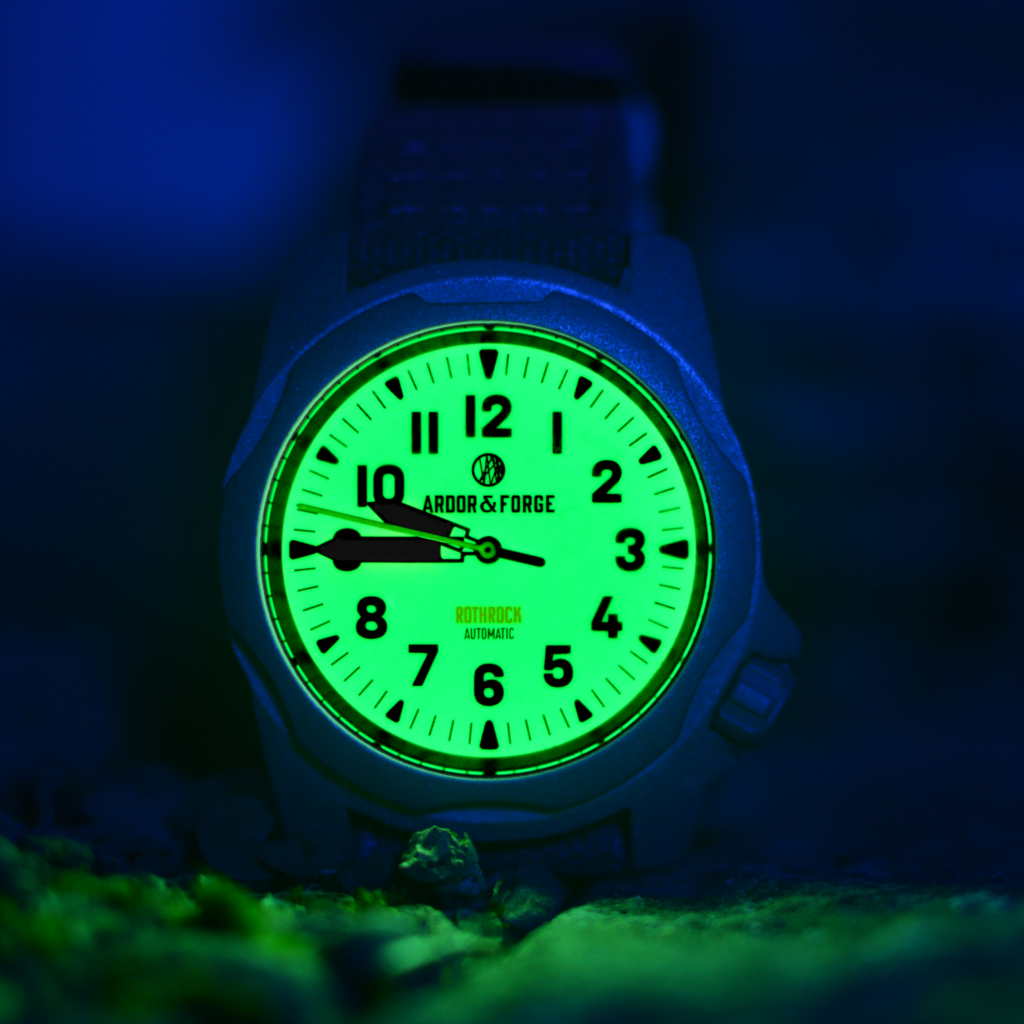 Many entries in this market segment choose to utilize quartz-based movements to power their watches, but Zack once again forged his own path and chose to go with the extremely durable and reliable Seiko NH35 automatic movement. Oh, and remember the oak wood accents we were talking about? Well the rotor itself on the NH35 movement has an applied wood accent engraved with the Ardor & Forge logo which can be seen through the sapphire crystal display back. Another truly unique touch that gives this watch an outdoor vibe.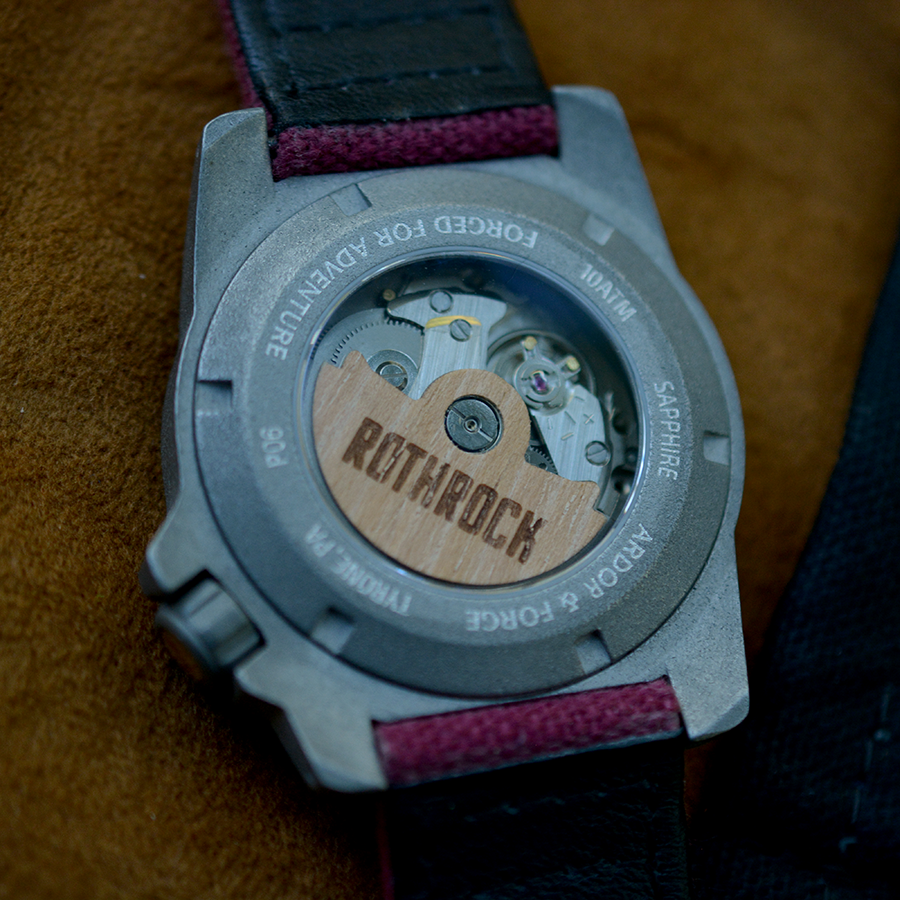 The watch comes with a 22mm wide burgundy colored leather-lined strap with a X-shaped keeper that is fitted to the watch case via drilled-through lugs. For a few dollars more at launch you can get a custom Horween leather strap handmade in the USA, which I would highly recommend as this variant looks great on leather! Another interesting feature that Zack incorporated was the addition of a second set of lug holes hidden within and situated farther from the case which will make fitting straps of all sizes a breeze.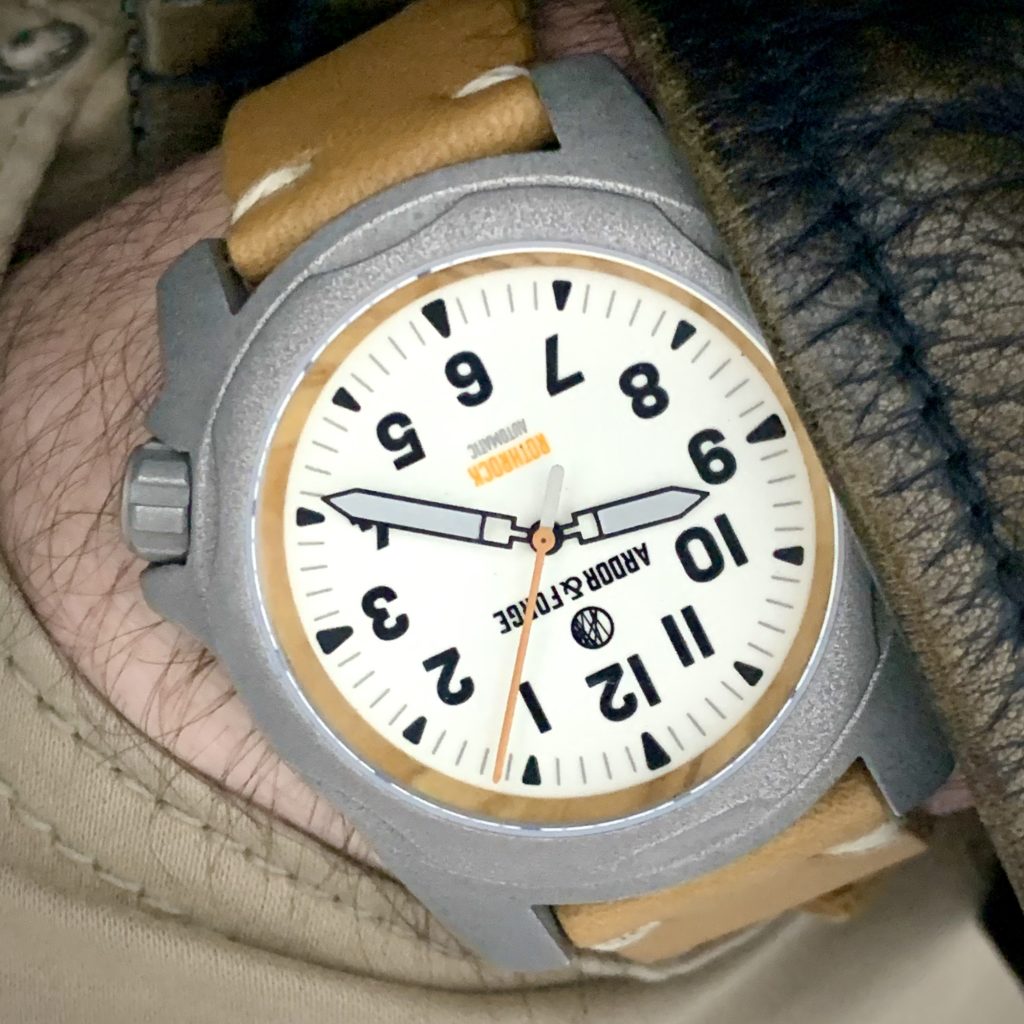 I would have to say that what Zack Rackovan has created with his initial offering from Ardor & Forge may not be for everyone, but those who are looking for a truly unique, rugged, and dependable watch suited for everyday or heavy outdoor use will surely be pleased. The Rothrock in all its variants will be available for preorder beginning November 19, 2019 at a special early bird price of $350. Retail pricing will be $550 following the initial launch, so getting in at $350 is a good bargain in my opinion considering the sturdy construction of this automatic watch. Those of you in the market for a rugged field watch that has personality in spades should give the Rothrock from Ardor & Forge some serious consideration.
Sign up for alerts regarding the launch of the Rothrock at www.ardorandforge.com