Bellroy's Sleeve product line is a colorful assortment of well-made wallets with thoughtful designs and feature layouts. Both wallets are modern takes on the traditional bifold design. It's surprising how thin these wallets stay no matter how many cards, bills, and coins are held inside.
Traditional bi-fold designs packed into a slim profile – all the organization minus the bulk. Leather is supple and high quality, overall construction should last for years of use. Colors are bold and eye catching. Pull tab slot just works.
The bill pockets on both wallets are a tad small. Slim sleeve doesn't come in a RFID protected version.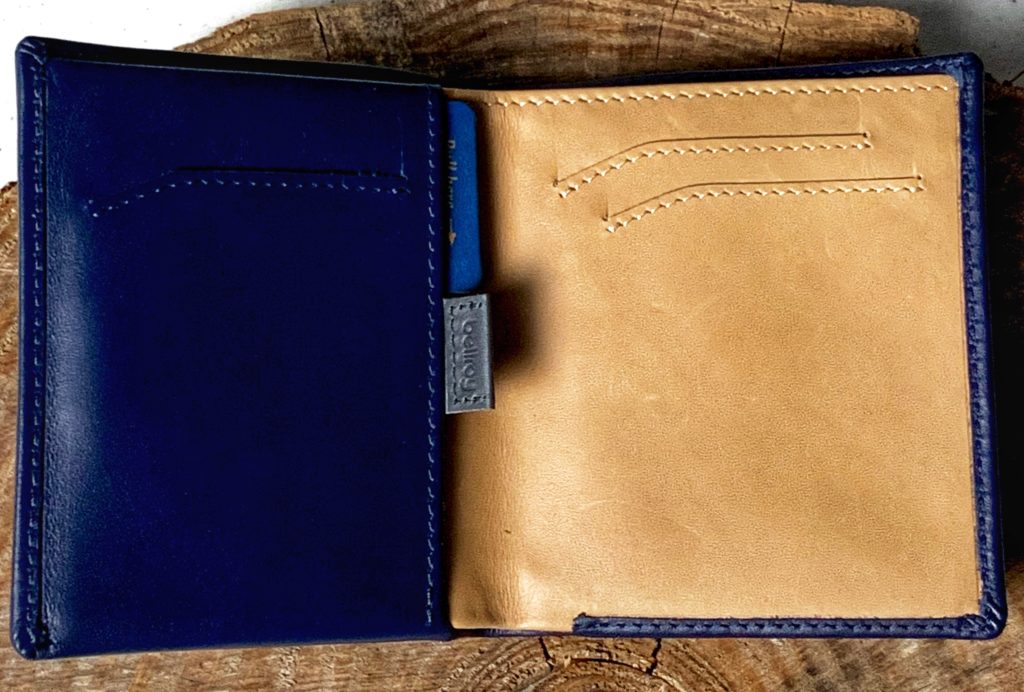 The Slim Sleeve and Note Sleeve wallets are more traditional than many of the other wallets that we've reviewed thus far. They are a true modern take on the bi-fold top grain leather wallet. Think of your father's overstuffed wallet with old photos, receipts, business cards, and expired coupons… Cut out the bulk with a thoughtful design and add a splash of bold color and you'll have these wallets.
The Note Sleeve can be a little large for front pocket carry but fits well in my back pocket. The opposite is true for the Slim Sleeve which maintains its thin profile and fits perfectly in a front pocket even when filled to the brim with bills, cards, and whatever else I can find. Overall, these wallets meet all my main requirements for an everyday staple in my pocket carry but do still have a few quirks.
Wallet Design & Build Quality
If you've taken a look at Bellroy's product pages you'll notice that the company isn't shy to tout their unique layer-limiting design. Traditional bi-fold wallets make pockets and sleeves by stitching additional pieces of leather together. Bellroy takes a different approach and instead takes leather away to accomplish the same thing. This method creates the same amount of organization and features in a much thinner profile (both when empty and full).
Going behind those quick access slots is where we start to see differences between the two wallets. With the Slim, the left panel features a folded bill slot and the right a hidden card slot with pull tab access. With the Note, the right side has no slots behind its quick access panel but does also include a hidden card slot with pull tab access to the left.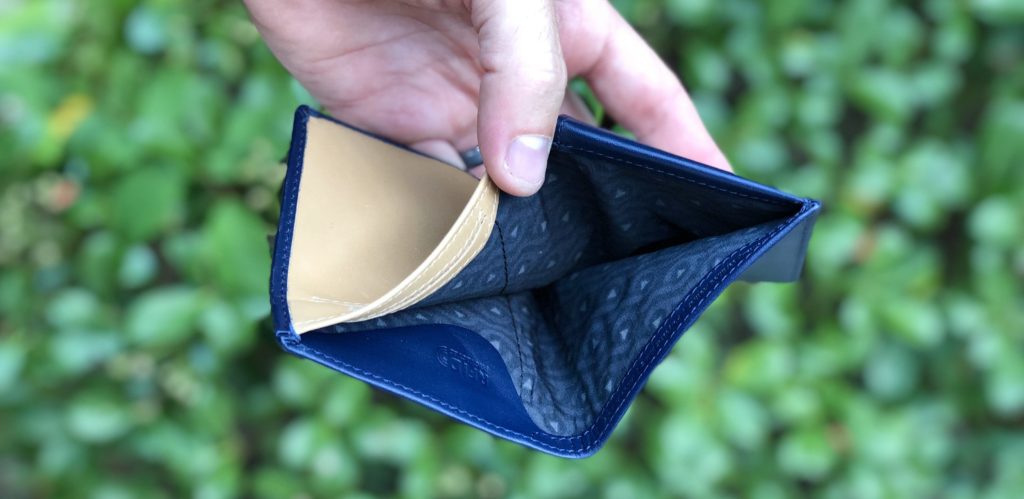 Lastly in the back, the Note features a full-size bill pocket which also includes a hidden coin pocket (that I honestly missed during my first few days of use) that can be used for holding coins or even more cards.
Overall, I found that everything was put together really well. I'm pretty rough with my everyday carry gear and usually, after a couple weeks' worth of use, lesser wallets start to fray and stitching becomes loose. This wasn't an issue with either wallet which I used consecutively for nearly a month's time during my review period. Moreover, Bellroy's leather stock feels like it can certainly stand the test of time. Plus, if you're a fan of patina, these wallets' top grain leather will wear nicely.
Everyday Carry Use & Impressions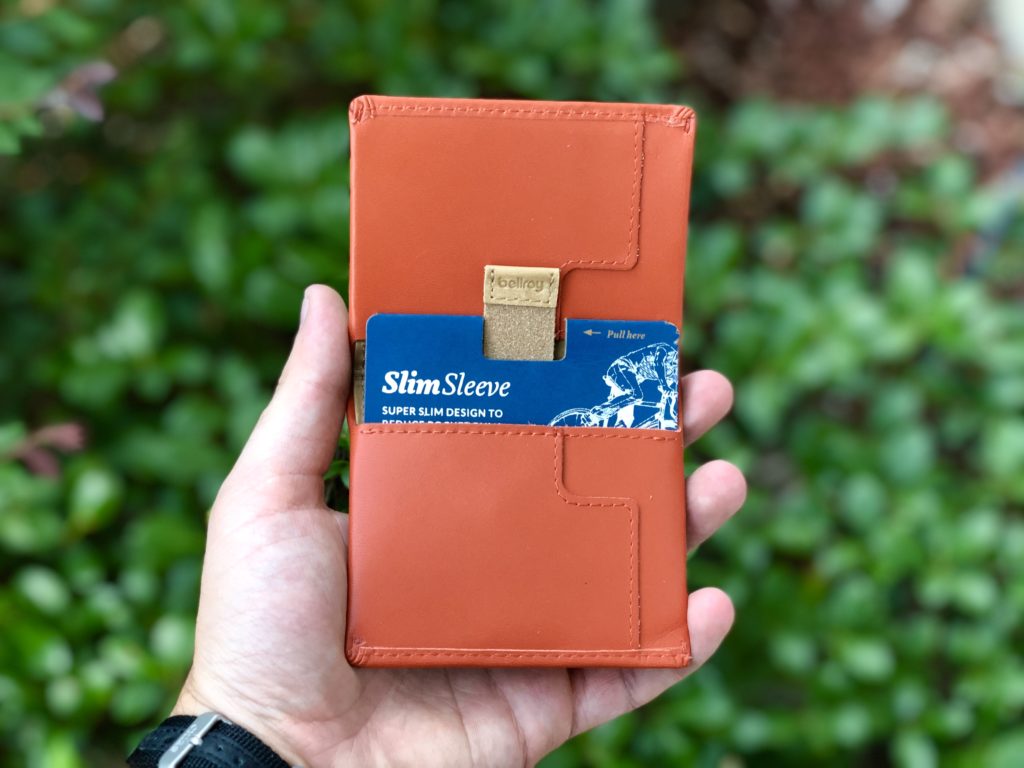 The interiors of these wallets are laid out really intuitively. Your 2 or 3 main cards in the quick access slots and the rest hidden away – out of sight and out of mind until needed. This arrangement worked really well for me and even when I did have to access the stack of hidden cards, the pull tab never gave me any trouble. A simple pull on the leather tab and cards are elevated for easy access.
I don't personally carry coins often, but the coin slot in the Note Sleeve worked well. I was really impressed by how many coins I could stuff into this slot without it being a nuisance in my pocket. That said, I did find that smaller coins like dimes and pennies did get stuck once or twice in the corners of the slot, but this is only a minor frustration for me as I don't carry them often. Plus, I found this slot better used as a separate area to house my seldom used business cards (especially since the cover flap does a good job at protecting what's inside the hidden pocket).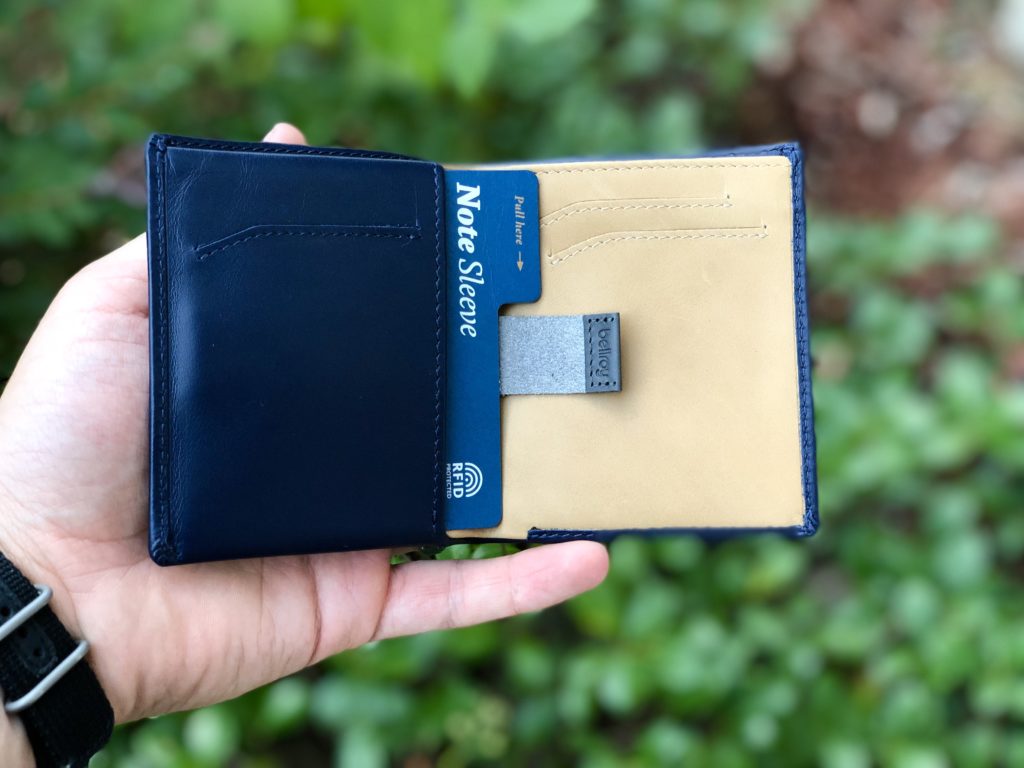 My one nitpick with both these wallets is the way they handle cash. With the slim, you either fold your bills in half or in thirds and then slide them into a dedicated cash slot on left pane of the wallet. Because of how tight this slot is, I found it a little difficult to get bills folded in half all the way inserted and out of sight. Thus, I often opted to fold my bills into thirds which I personally don't prefer due to how cumbersome it makes handling cash at the register.
Moving on to the Note Sleeve's full-sized cash slot, you'll notice that it's narrower than an average bifold. This isn't necessarily a bad thing as it keeps the profile of the wallet smaller. But it does make it slightly more difficult to insert bills since there isn't much room for error. Placing any bills more just slightly off-center will make them not fit properly in the slot.
This was the first time that I've used a leather bifold wallet and felt like I wasn't carrying a huge unmanageable assortment of leather, cards, and cash. Overall, there isn't really much to complain about either wallet. I may have nitpicks here or there, but we can discount those to me just being thorough.