Benchmade's Bugout™ family of knives is among my first recommendations when someone asks me options for their first "nice" folder. From the size, weight, shape, and materials… everything about the Bugout™ is 'just right'. Though, don't expect this knife to be pocket jewelry straight out of the box – there are mods to fix that.
Blade Steel: CPM-S30V
Blade Finish: Satin
Blade Style: Drop Point (serrated options available)
Handle Material: Grivory
Blade Length: 3.24"
Total Length: 7.46"
Closed Length: 4.22"
Weight: 1.85oz
Full Review: Benchmade Bugout™ Family
Novel Carry is reader-supported. When you buy through links on our site, we may earn an affiliate commission.
Benchmade's Bugout™ was originally released back in 2017 and ever since then it's been synonymous in the everyday carry community with ultra-lightweight and dependability. Benchmade hit a ton a checkboxes with the Bugout™ and because of that it's been a best seller ever since its first release. I've put the Bugout™ through its paces the past few months, read on for my full review.
As of writing this review, the Bugout can be found at local knife shops for as low as $140 and on Amazon for just shy of $120 (for the purposes of this review, we will assess value at the full $140 retail price). That puts this knife into an interesting class: it's more expensive than most knives you'll find at Walmart and toward the bottom third of pricing for mass market knives at a dedicated gun & knife shop. This makes it perfect for someone who wants to upgrade their carry from a Walmart beater to an entry-level 'nice' knife. Though, one should note it's not Benchmade's cheapest manual folding knife – that honor sits with the Mini-Griptilian for now.
For $140 you get a 3.24" long blade in CPM-S30V, blue Grivory handles, a deep pocket clip, Benchmade's coveted AXIS® blade lock, and the choice of a plain or serrated drop-point blade. For an extra $20 you can upgrade to ranger green handles (still in Grivory) with a grey chromium nitride blade finish. All this combined, the bugout scores high for me in regard to it's value proposition as a medium-duty folder.
Shame on me, I never took pictures of blade centering right out of the box. That said, 3.5 months of use later, blade centering is still spot on. The edge from the factory was razor-sharp; in fact, in my first night playing with the knife, I took a chunk out of my pinky finger with almost no blade force at all! Overall, my Bugout was put together really tightly.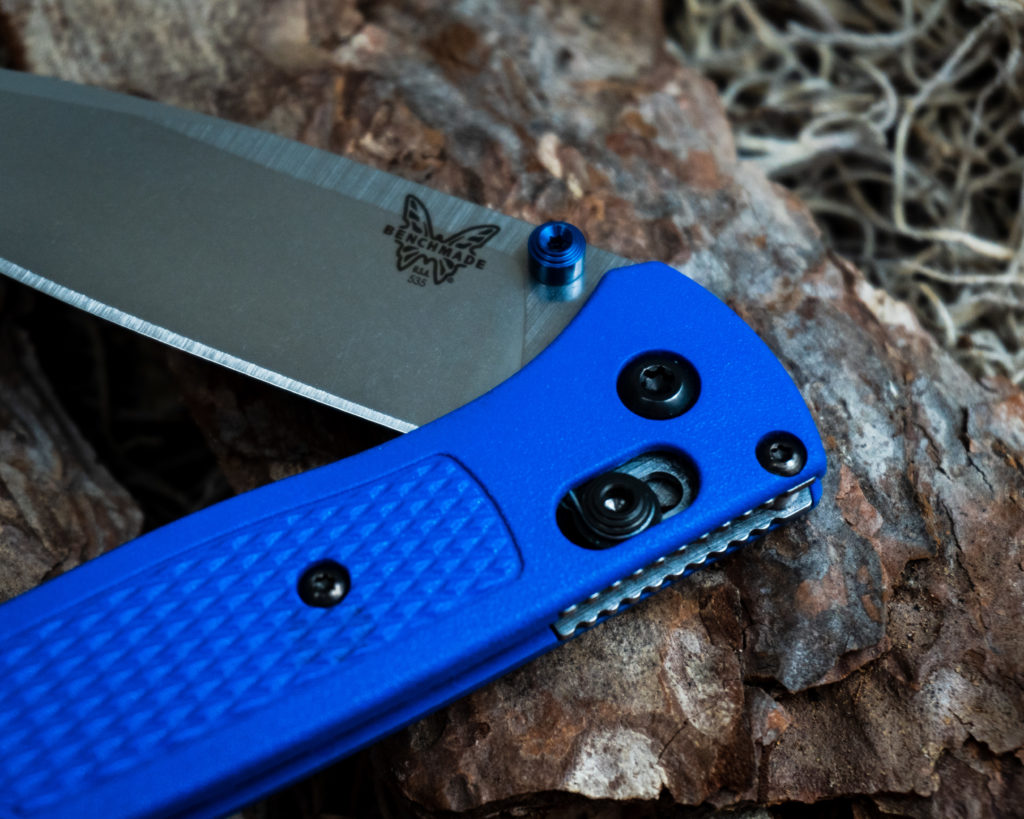 Moreover, there hasn't been any lateral blade flex since first opening the box and all the bits haven't needed any tightening yet. The AXIS lock (which is a personal favorite of mine) works perfectly – my unit doesn't have any lock stick what-so-ever.
Ultra-Light + Medium Duty?
The Bugout™ is marketed by Benchmade as being "designed for the modern outdoor adventurer, incorporating the lightest, best performing materials in an extremely slim yet ergonomic package". For me, this translates to "medium-duty knife". It'll be good for everything you need for it at home and just about everything when out camping or hunting. The blade has a nice belly and thin spine making really it easy to slice with. Whether your skinning a deer or opening packages, you'll be happy with the blade shape.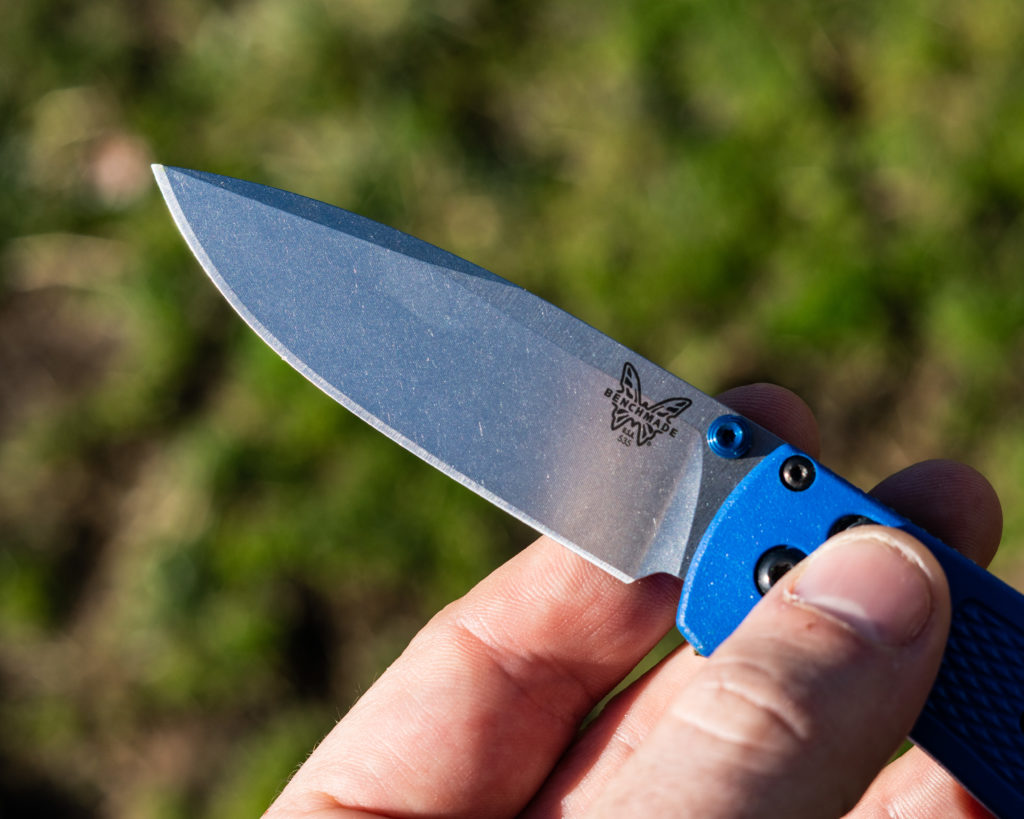 Truly, my only gripe with this knife is the Grivory polymer handles. The scales give the knife its sub-2 ounce weight classification but also introduce handle flex. For instance, when I was cutting through some thicker corrugate and turning the blade to make corners, I was able to feel the handle flex in my hand. That's not to say that I think the handles would break – it's just something to keep in mind. I'll also note that the knife feels really stiff in the hand when making normal cutting motions (slicing in the direction the blade).
As long as you're using the Bugout™ for its intended medium-duty uses, you'll find it fully capable. Plus, if you want to add more robustness and weight to the knife there is a healthy mod community full of numerous options (more on that later).
Due to it's ultra-light weight and slim profile I found that this knife tucked away really nicely into just about any pocket. The knife closes to a modest 4.22″ in length which when combined with a slim profile makes it almost disappear inside a pant pocket. I also found it to be just the right size and weight to be tucked into an inner jacket pocket, too. Other shorter-but-heavier options would be a nuisance living in a jacket pocket where the Bugout was happily carried.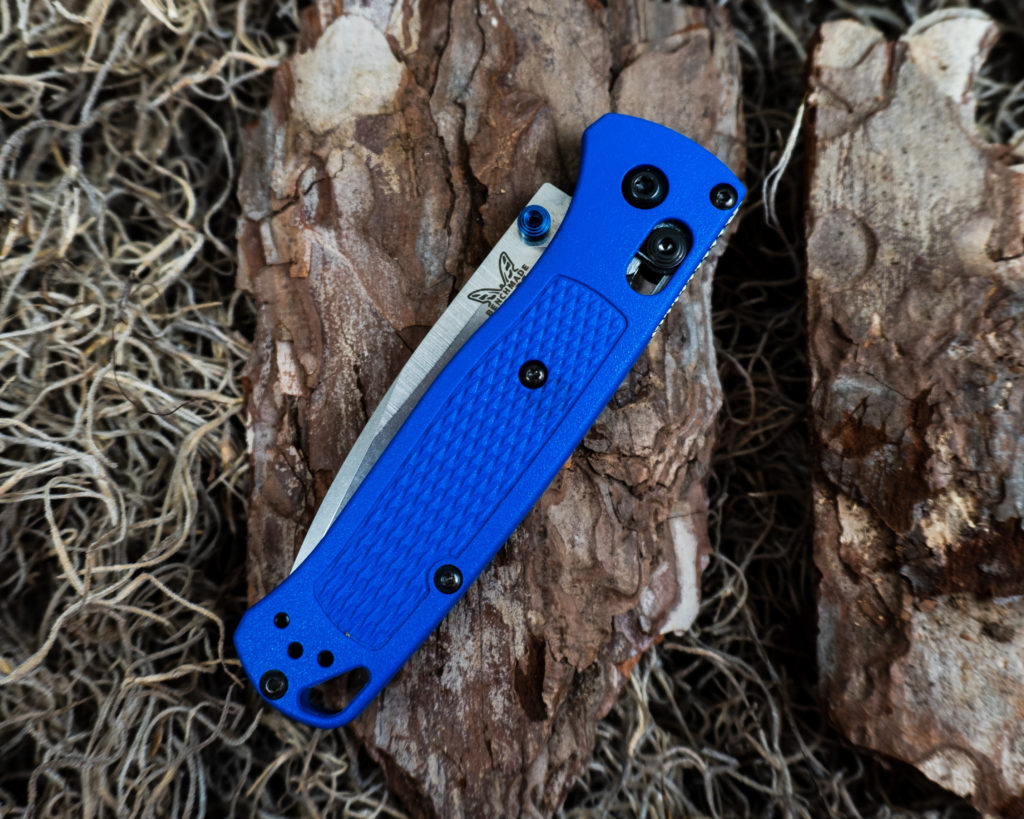 The clip is shaped nicely, and I never really had any issues getting it to slide onto my pants or shorts. Though, I have to be honest, that's where this knife stayed until I needed it because the one thing this knife isn't is pocket jewelry. The ranger green option is admittedly a little nicer looking – but it's a shame that Benchmade hasn't released any other affordable stock options yet (they do have other premium options that are… interesting).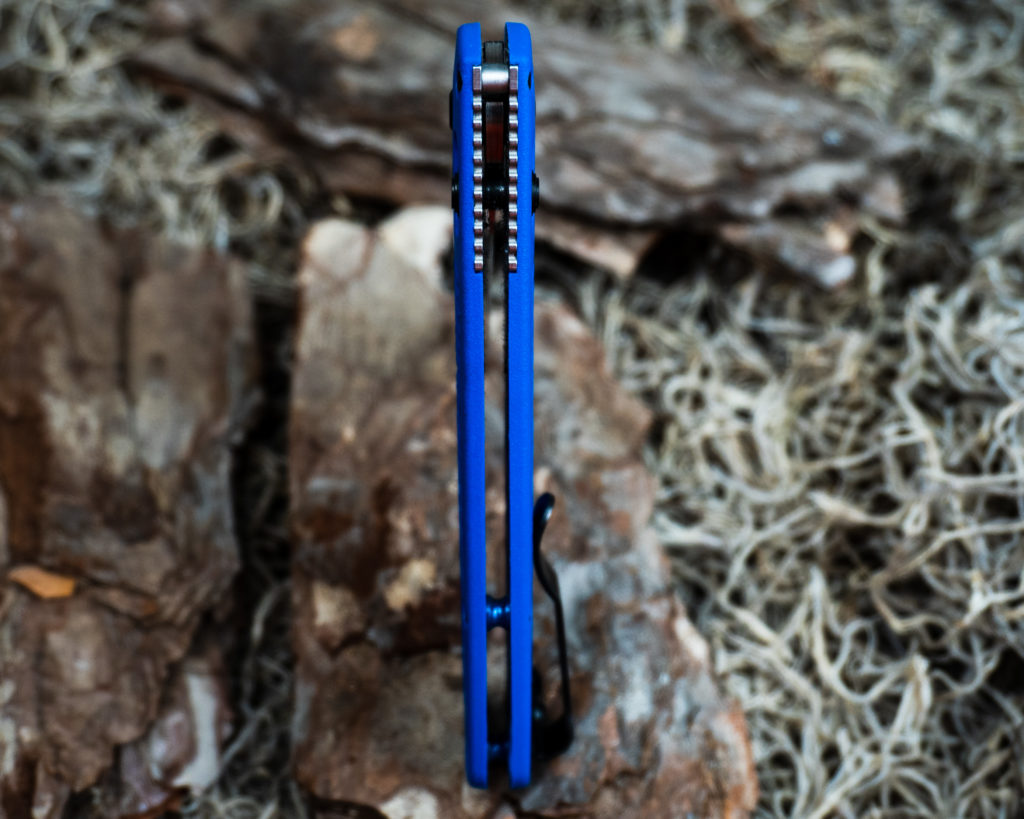 You may not show this knife off to people, but you may find yourself fidgeting with it. In my experience so far, Benchmade AXIS® locks aren't the most satisfying to open – nothing beats the sound and clunk of nice frame-lock folder. That said, the Bugout flies open with ease and closed with a slight wrist flick so I still found myself fidgeting (a lot) with it anyways.
The stock blue handle and thumbstuds on the Bugout™ are something you may not be totally in to – and that's okay! Fret not, there are numerous options from several makers for scales and hardware. In fact, you'll find some beautifully modded Bugout photos among the grails in the everyday carry Instagram scene. One of my personal favorites comes from @patinaedc and is a Bugout in nicely worn brass scales – a total treat!
Flytanium, one of the bigger makers of Bugout knife mods, offers options for several different mods. You can purchase their Carbon Fiber scales if you want to add some stiffness but not much weight. Or if to add more heft and give the Bugout a premium feel, you can opt for Titanium, Copper, Brass, and G10.
**Special Note: Benchmade's warranty is voided if you disassemble the knife for any reason.
The Bugout™ has the ability to be a lot to different people. Whether this is your first or tenth knife, you're likely to be satisfied with the value that it brings to your carry. It's light weight and capable of almost anything you're likely to throw at it. If you're looking for an all-around slicer, the Bugout™ is worth a try.