Rambler Made checks all the right boxes: modern minimalist design, high quality leather, superb workmanship, and an attractive tan that will patina beautifully with use. The Scout wallet will make the perfect match for someone who digs handmade leather goods and takes pride in their minimalist lifestyle.
Materials: Wickett & Craig all natural, eco-friendly Vegetable Tanned top grain leather
Dimensions: 2.75" x 3.75"
Color Options: Chestnut, Medium Brown, Dark Brown, Olive
Full Review: The Scout Wallet by Rambler Made
Novel Carry is reader-supported. When you buy through links on our site, we may earn an affiliate commission.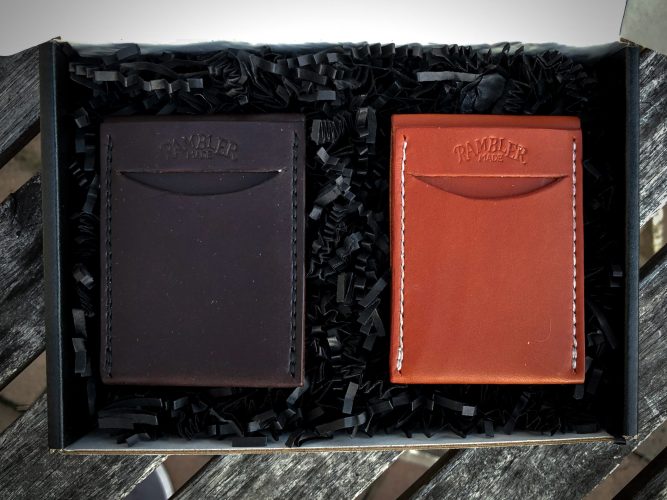 Rambler Made is a handcrafted goods shop ran out of Kansas City, Missouri. As of writing this review the shop now sells 3 different products: The Rabbit, a super clean and robust leather keychain; The Tracker, an attractive leather journal cover; and The Scout, which is the topic of this review today.
Rambler Made's Personal Touch
Rambler Made's entire operation – from product design to manufacturing – is ran singlehandedly by Peter Young. Fret not, this isn't some soulless kitchen counter Etsy wallet shop.
Peter has a true passion for making high quality goods that people will love and use for years to come. He puts the customer and product quality at the top of Rambler Made's priority list. In fact, when I first started chatting with him about his venture I noted that his pricing was spot on but could potentially be more since big brands (such as Bellroy) were in his price range. His response?
"I lowered the price because I had templates made to shorten the creation process and I wanted to pass that on to buyers. Honestly, I just want cool people to carry my goods, money is a bit secondary."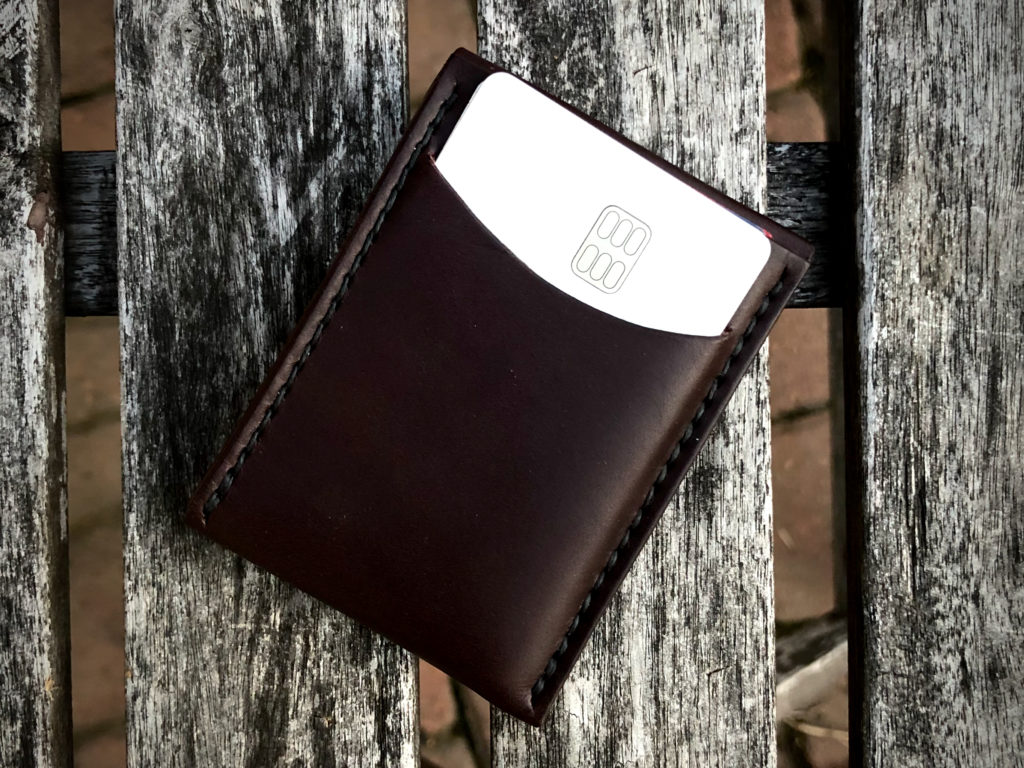 My review units came packed in a simple black box with Rambler Made branding. Inside, I found a typewritten note and two carefully packed Scout wallets. Each wallet was bound with twine and identifiable by a handwritten tag. This may not be the way every order comes packaged but is yet another testament to Peter's pride for his craft and care for the customer.
Let's Talk About Materials
The Scouts are made with some really great Wickett & Craig top grain English Bridle leather. Wickett & Craig was founded in 1867 and originally located in Toronto Canada but has since moved to Curwensville, Pennsylvania making it one of the only specialty vegetable tanneries in the U.S.A. In the leatherworking community you'll find this tannery spoke in equals with other high-quality domestic tanneries like Horween and Hermann Oak.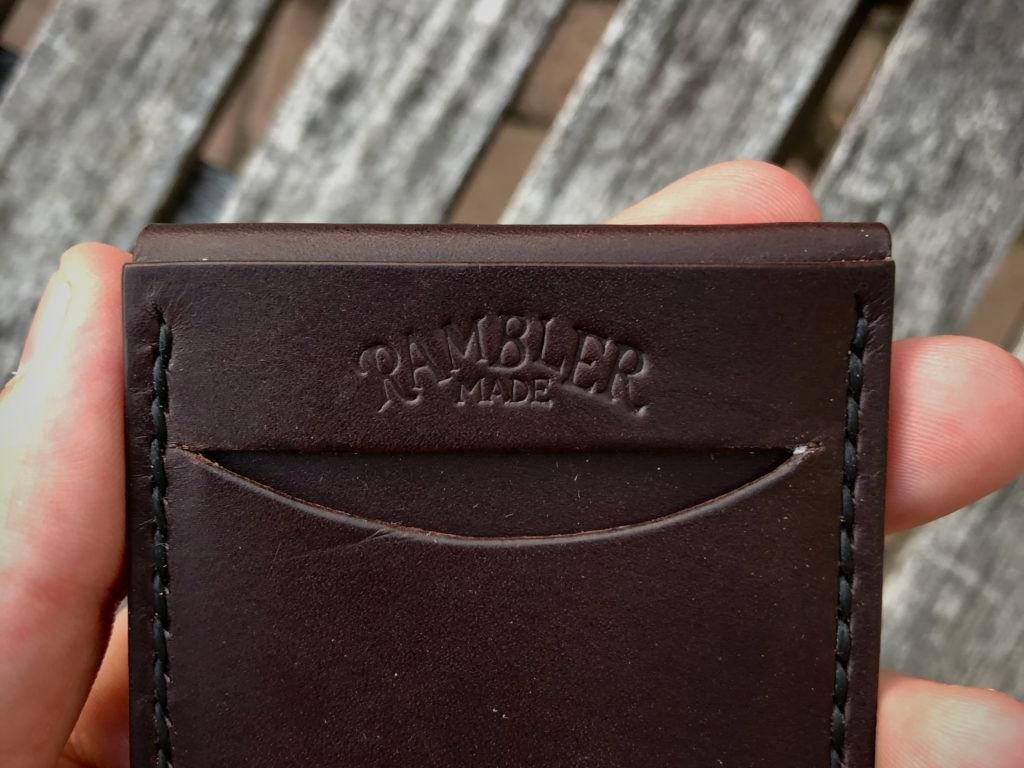 Each hide goes through a 6 week labor-intensive production process which uses eco-friendly tannins and dyes to produce some truly eye-popping colors. You can purchase the Scout in 4 different colors: Chestnut (pictured elsewhere in this review), Medium Brown, Dark Brown (pictured above), and Olive (which is the color of an … Olive). Each color is bold and looks even better in person than they do in the photos of this review.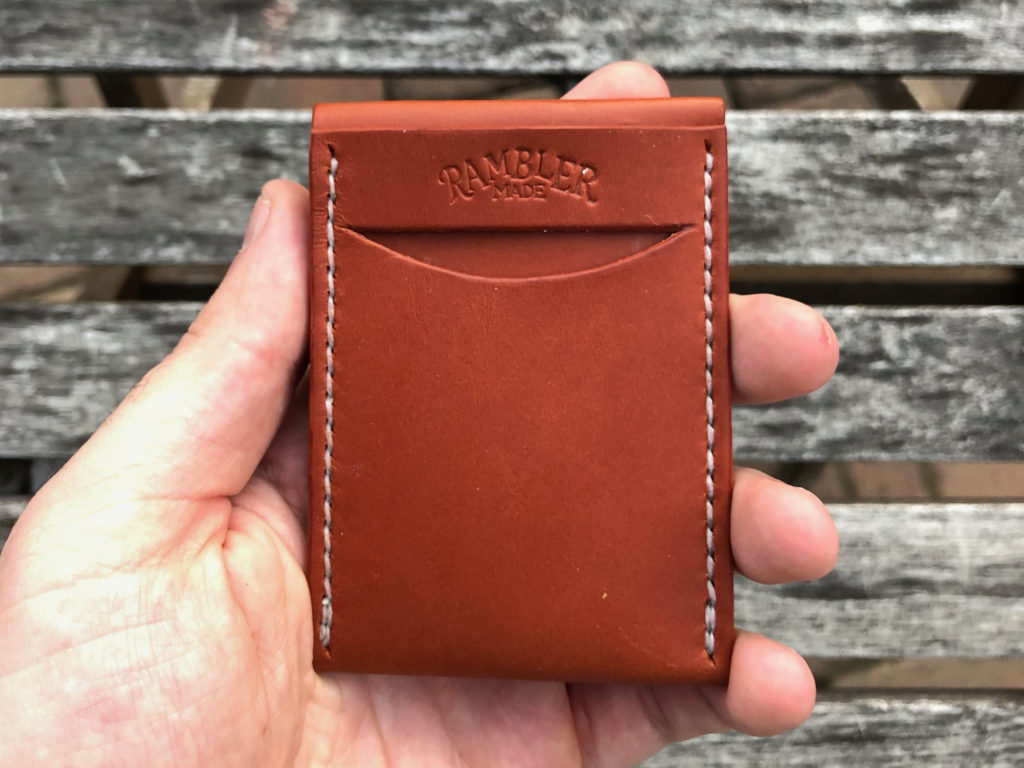 These wallets are held together with saddle stitching (great choice, Peter!) which is a method that can only be sewn by hand. Saddle stitching is known for its durability which utilizes a double row of stitches that doesn't create stress on the thread like that of a sewing machine's lock stitch. Furthermore, even if a thread does break in a saddle stitch, the stitch will hold and not unravel itself.
Designed for the Minimalist 'On the Go'
The overall design of The Scout wallet is simple and consists of three pockets: one front quick-draw pocket, a secondary card pocket, and an open side pocket for cash and/or cards. It can hold 7 cards with ease, but I found that it functions best with no more than 5: 2 in the front pocket, 1 behind that and 2 more in the side pocket. Paper bills are best stored double folded and stuffed into the open side pocket.
The size of the wallet is comparable to other card wallets (which aren't much larger than a credit card). It isn't the thinnest wallet I've reviewed, but that's a tradeoff you make for true top grain leather that will last. My only qualm with the design of this wallet is the secondary card slot. Both front card pockets are equal in depth and thus the top of cards in those pockets are in line with each other. This makes it a little difficult to access the cards in the secondary pocket. Personally, I'd opt for a slightly taller wallet (maybe just an eighth of an inch) if that meant cards in the secondary pocket sat just above the front quick-draw pocket. This would make accessing those cards just as easy as the front pocket and thus you'd have two quick draw pockets instead of only one.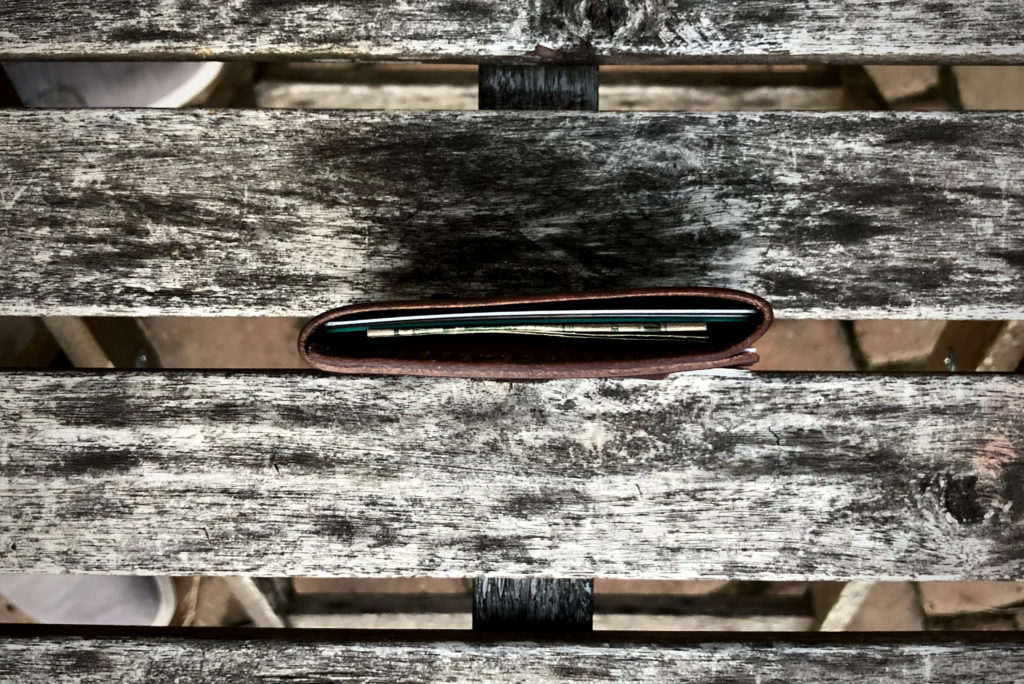 The open side pocket offers a bunch of flexibility. It has space to store a nice wad of cash and several cards. I found this a perfect place to store extra business cards alongside a few bills and an extra couple of lesser-used credit cards.
At the time of writing this review, I've been using The Scout for about a month. In that time, the leather has molded to my usual carry and cards that were hard to access day-one are now much easier grab. Initially, I was worried that cards would become loose and liable to fall out as the leather wore but I'm happy to say that is not the case.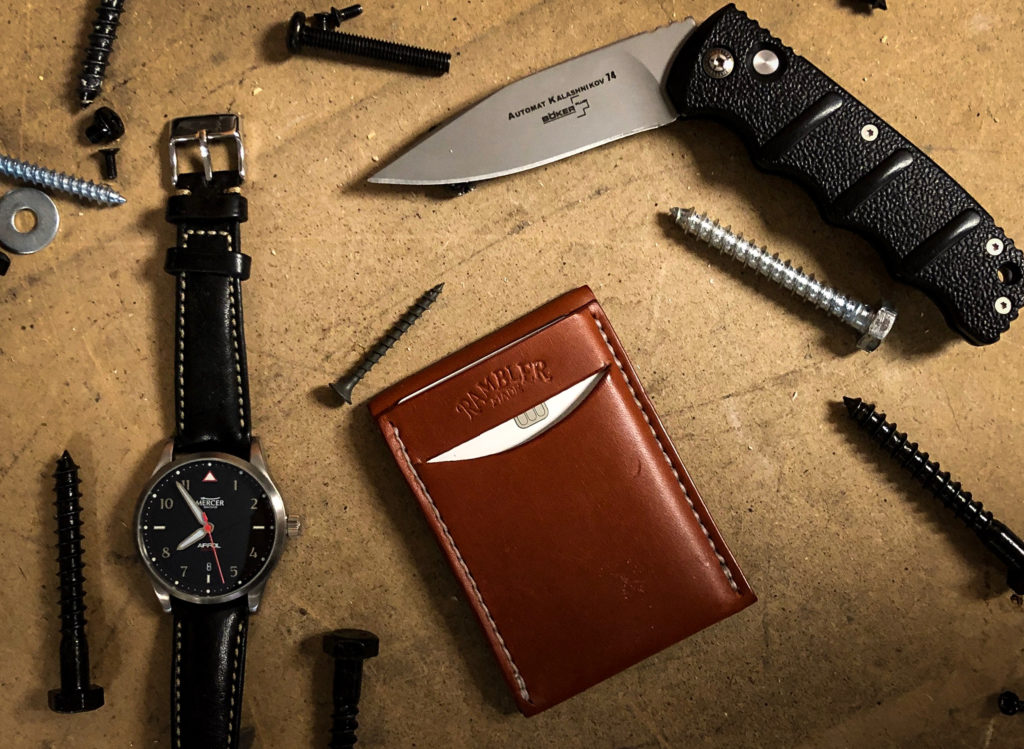 In terms of overall wear and tear, we get to see the fruits of using good leather with this wallet. Leathers dyed with natural colors – like The Scout's various browns and olive green – are certain to age beautifully. Each Scout wallet will wear over time and develop an attractive patina that's unique to its owner's journey. There's something to say about how the wear pattern tells a different story to each person – it's yours and only yours. This is all to say that these wallets should age really well and will look better overtime rather than worse.
Final Thoughts on The Scout Wallet
The Scout is a great minimalist wallet. You want this wallet if you tend to carry modestly and are looking for a good leather wallet that will patina nicely. Peter has a ton of passion for his craft and its evident in the workmanship and quality of his work. The Scout is an easy one to recommend and it's purchasable at Rambler Made's website linked below.
P.S. Peter is a great photographer, too (and not just of his own products). Be sure to head over to his Instagram and give him a follow!