Best TSA Compliant Multi-Tools
Novel Carry is reader-supported. When you buy through links on our site, we may earn an affiliate commission.
Traveling with Travel-Friendly Gear
If you've ever traveled through American airports you already know that airport security (TSA) strictly prohibits knives in passenger carry-ons. Though, that doesn't necessarily mean you need to travel unprepared. While it's true that you're not allowed to pack knives in your carry-on, you can pack and carry TSA compliant multi-tools that have scissors shorter than 4 inches in length plus other tools to keep you prepared.
You will find travel-friendly multitools in all sorts of shapes and sizes. Some are similar to your average Leatherman or Swiss Army Knife while others look a lot like a prybar, credit cards, and keychains. There's a lot of tools out there that may appear to be travel friendly but aren't, so we created this list of the best TSA Compliant multitools to ensure you pick a tool that'll make it through airport security smoothly.

Leatherman's Style PS has everything you love about its bigger brothers (like the Leatherman Wave or Signal) but leaves out the stuff you can't take through security. The Style PS is a keychain sized multitool which makes it perfect for clipping on to your pack or bag for portability. The multitool has 8 different tools and comes in 2 colors (black and red). We were happy to find that the scissors and pliers are still spring action even in this compact form factor.
Included Tools:
Spring-action needle nose pliers
Spring-action regular pliers
Spring-action wire cutters
Spring-action scissors
Flat/Phillips screwdriver
Tweezers
Nail file
Carabiner/Bottle opener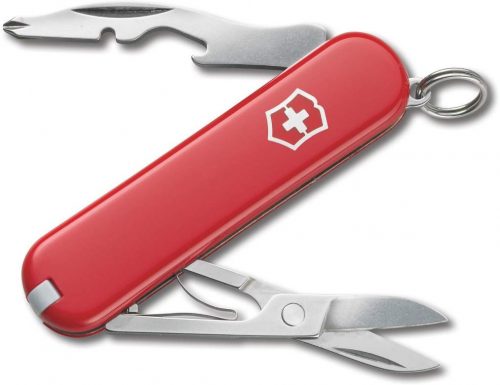 The Jetsetter has Victorinox's iconic external styling with only the travel necessities inside. Similar to the Leatherman Style PS, this tool is small enough to be clipped to your pack or bag and forgot about until needed. This tool doesn't have any pliers, but it does have wire strippers and spring action scissors.
Tools Included:
Bottle opener
Philips screwdriver
Wire stripper
Scissors
Key ring
Toothpick
Tweezers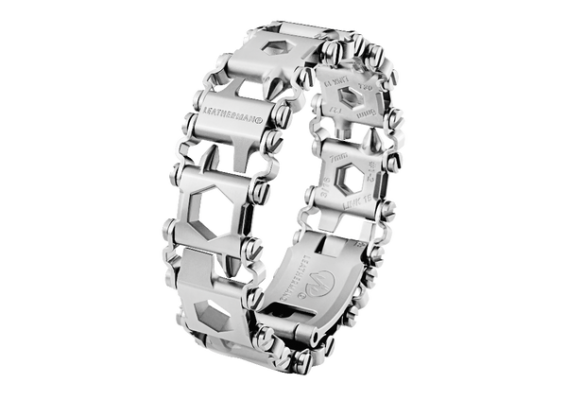 Instead of putting your gear in a pocket or bag, why not try your wrist? Leathman's Tread® LT is a unique wearable bracelet that utilizes each of its 19 links and clasp as different tools. To use each tool all you need to do is take off the LT and bend the bracelet to expose each tool for use. The Tread® LT comes in black and stainless steel options to match your specific style. Also, if bracelets aren't your thing you can pick up Leatherman's Tread® Tempo LT which turns the bracelet into a fully functional dive watch that's waterproof up to 200M.
Tools Included:
#2 Phillips screwdriver
11mm box wrench
#30 Torx drive
7mm box wrench
Safety cutter
#2 Phillips screwdriver
Bottle opener
Oxygen tank wrench
Carbide glass breaker
1/4" flathead screwdriver
5/16" flathead screwdriver
1/8" flathead screwdriver
8mm box wrench
10mm box wrench
3/8" box wrench
16. 3/32" flathead screwdriver
17. 3/16 flathead screwndriver
18. Phillips head screwdriver
19. 1/4" hex drive
20. 3/16" hex drive
21. 5mm hex drive
22. 6mm hex drive
23. 4mm hex drive
24. 3mm hex drive
25. #2 square drive
26. 6mm box wrtench
27. 1/4" box wrench
28. Pick/Sim card tool
29. #29 Torx drive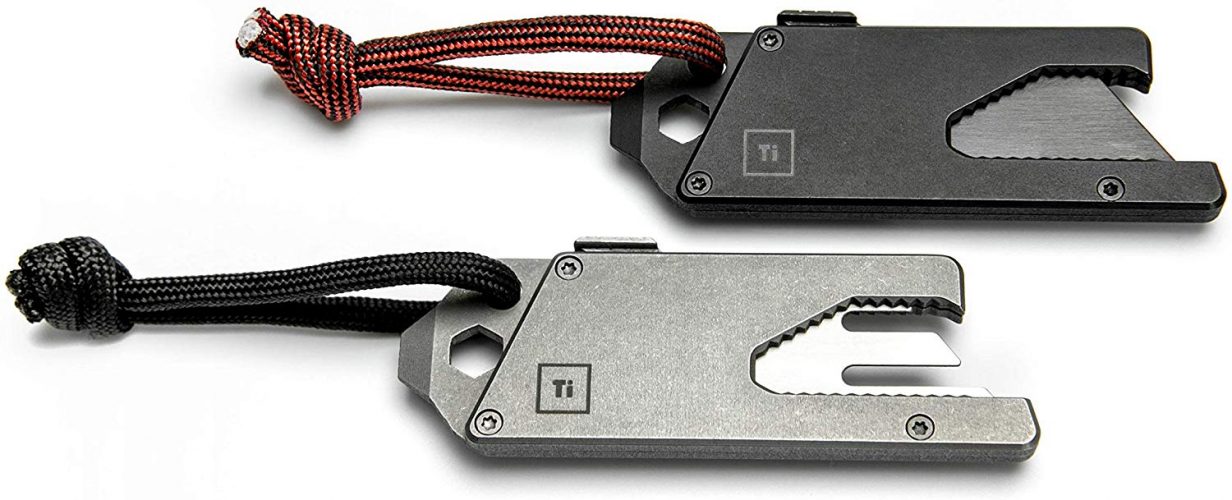 The Titanium Pocket Tool from BigIDesign is a great prybar-like multi-tool that includes some really awesome features. The tool packs 10 tools into a tiny titanium handheld space that feels as good as it looks. The TPT comes stock with a finger-safe carry insert that doesn't have a sharp edge which is perfect for travel. The corner of the insert is great for cutting tape to open boxes or letters. Plus, the TPT accepts standard utility blades so you can swap out their TSA compliant insert with an actual blade when not traveling. We also really like the way BigIDesign implemented their wrench on this tool, their universal open wrench utilizes a single opening to accommodate 15 different socket sizes.
Tools Included:
Mini pry bar
Flathead screwdriver
Wide flathead screwdriver
Measurement cues
Scraper edge
Internal magnet
Package opener
Camping fork
Bottle opener
Universal open-style wrench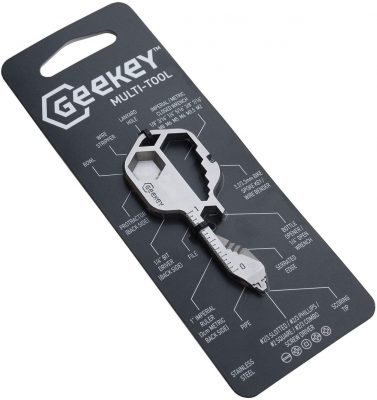 Geekey has you covered if you're looking for something that can really blend into your keychain. As you can see in the photo, this multi-tool is literally the shape of a key and features 16 different functions all contained within its tiny key-sized profile. One of the more unique selling points of this product is that among the more traditional tools you'll find a tiny pipe for getting quick hits of tobacco plus wire strippers and a bike spoke key. Because of its versatility, we think the Geekey is a great addition to not just your travel carry but everyday carry too.
Tools Included:
Imperial closed wrench (six sizes)
Metric closed wrench (six sizes)
Wire stripper
Protractor
Smoking bowl
1/4" bit driver
Metric ruler
Imperial ruler
Serrated edge
1/4" open wrench
Wire bender/bike spoke key
Combo screwdriver
Nail file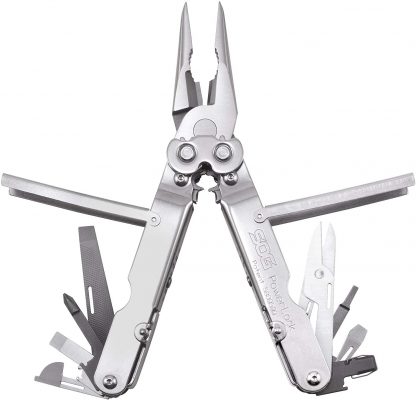 SOG's PowerLock Traveler is similar to the Leatherman Style PS but is full-size instead of miniature. We really like the fact that this SOG's tool provides a solid option to travel with full-size pliers which just work so much better than any other smaller sizes option out there. It's worth noting that a tool this size will raise some eyebrows at TSA. Thus, to make sure you breeze on through security, you should go ahead and open all the tools before sending it through the x-ray machine.
Tools Included:
Needle nose pliers
Bolt grip channel
Hard wire cutter
Blasting cap crimper
3-Sided file
Phillips screwdriver
Large flathead screwdriver
Can opener
Bottle opener
Small flathead screwdriver
Medium flathead screwdriver
Ruler
Scissors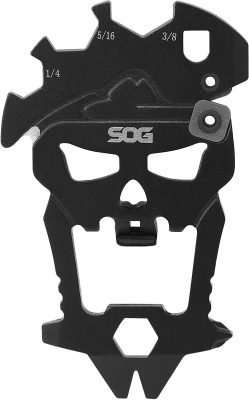 This unique skull-shaped multi-tool is SOG's MacV. It features 12 different tools in a super-compact keychain form factor. The MacV is constructed of stainless steel and includes some tools we haven't seen on other TSA compliant devices such as a carbide sharpener and nail puller.
Tools Included:
Pry bar
Bottle opener
Small flathead screwdriver
Large flathead screwdriver
Small Phillips screwdriver
Line cutter
Blade sharpener
1/4" wrench
5/16" wrench
3/8" wrench
1/4" hex bit driver
Nail puller

Gerber's shard keychain tool is one of the most affordable items on this list. It's one of those tools that you stick on your keychain and forget about it until you need to use it. The Shard is coated in Titanium nitride for extra corrosion resistance and features 6 different tools. Purchase the Shard if you're looking for something that's super cheap and will get you out of a pinch for some basic pry bar tool tasks.
Tools Included:
Pry bar
Small flathead screwdriver
Wire stripper
Large flathead screwdriver
Bottle opener
Phillips screwdriver
There are a ton of credit card sized multi-tools on the market, but we picked this one because it has just about anything you might need when on-the-go. It has a total of 18 tools and even doubles as a phone stand, which is great when all you have is your cellphone for entertainment. The Wallet Ninja is made of heat-treated steel and comes with a lifetime guarantee against rusting, bending and becoming dull. You can also find it multiple colors and styles including white, blue, and black.
Tools Included:
Small flathead screwdriver
Large flathead screwdriver
Eyeglass screw driver
Box opener
Letter opener
Nail puller
Inch ruler
Bottle opener
Can opener
Cell phone stand
Fruit peeler

Six

hex bolt wrenches
The DoohicKey is another super affordable keychain multi-tool. DoohicKey comes with a carabiner clip which makes it convenient to clip on and off keys and packs between uses. The tool is really small making it super easy to carry – whether that be in your pocket among your keys and wallet or in a bag. Nite Ize made the DoohicKey out of stainless steel so you don't need to worry about corrosion or becoming deformed from daily use.
Tools Included:
Ruler
Three wrench sizes
Bottle Opener
Box Cutter
Flathead screwdriver