Why Carry a Money Clip Wallet?
Some men like to carry their entire life, 4 years' worth of receipts, and every credit card known to man in a 4 inch thick bifold. Others opt for a more minimalist approach and carry their cash in a binder clip and cards inside of a rubber band. Then finally, there are practical men somewhere in the middle. These guys want a wallet that looks good, functions well, and will hold up to daily abuse. We can assume that since you're reading this article, you might be looking for a wallets with money clips which are great solutions for the practical guy.
Money clip wallets are a relatively newer innovation in the wallet industry. Since these wallets don't store bills in their full length you'll find that they are typically slimmer and feature smaller profiles. Thus, these kinds of wallets are usually some of the best choices for front pocket carry. 
Our list contains options which include either money clips or cash straps, both of which differ from their traditional bifold and trifold cousins by holding your cash in a single bundle by applying compression. This difference allows the footprint of the wallet to be significantly decreased since it no longer has to hold a bill in its full length. Moreover, a strap or clip helps compress the bills to keep a slimmer profile (less front pocket bulge!).
Wallets that include integrated money clips or cash straps also tend to be more on the utility or tactical side. Products in these categories feature higher quality build materials and often include cleverly designed features such as pull tabs and bottle openers. Some of the brands listed below specialize in these kinds of wallets and do so very well.
Best 6 Wallets with Money Clips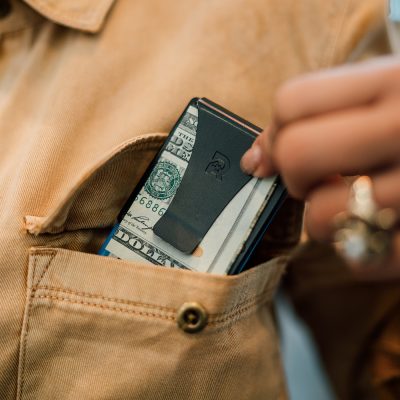 The Ridge Wallet is arguably one of the most popular slim metal wallets in the industry and it's for good reason. They were among the first to manufacture what we call 'stacked card' RFID protecting wallets that hold your cards stacked together between two metal plates. Accessing cards with this wallet takes some getting used to but is easy to master and will leave you looking like a total boss at the register.
The Ridge company makes this wallet in several different materials and colors including aluminum, titanium, and carbon fiber at varying prices so there is a good chance that there is a wallet in their line that fits your personal style and budget. The Ridge Wallet utilizes a traditional folded metal money clip with a felt backing. Over my many years of use, I never had an issue putting money in the clip or having any of it fall out. The Ridge Wallet can also be found in a cash strap form factor for those who aren't too enthused by money clips.
One of the downsides of this all metal design is that the metal plates do become significantly scratched over time. Some guys like the patina that this wear and tear over time makes. If not, at least the Ridge Wallet comes in carbon fiber which is more expensive but much more scratch resistant.
Key Features:
Capacity: 1-12 cards, 15+ bills
RFID blocking
Lifetime warranty
Modular design to choose between cash strap or money clip
Available in aluminum, titanium, or carbon fiber
2. Distil Union Wallet Bifold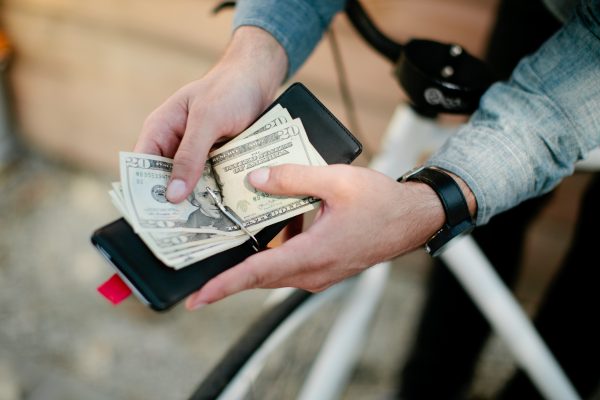 Distil Union's Wally Bifold Wallet is one of the more traditional options on this list. It maintains the bifold form factor but with added features to help keep it slim and manageable for front pocket carry. Distil Union's wallet utilizes a center money clip that holds flattened bills (no folding required!). This makes your cash super accessible and manageable. Their clip's tension is also adjustable which is a nice touch.
The Wally Bifold also includes a few added features that have been carefully incorporated into the design such as a pull tab to access lesser used cards, FlexLock™ pockets that don't stretch over time, and quick access card slots for your more frequently used cards and ID. The wallet is constructed of full-grain leather which is a must have for a wallet that will last a long time.
This wallet differs from the others on this list because your bills are stored in their full length. To keep the wallet slim and easy to carry in a front pocket Distil Union has optimized the profile to fit U.S. bills (and those up to 2.6"). Thus, if you don't live the U.S. we recommend that you check the dimensions of this wallet before purchasing.
Key Features:
Capacity: 12 or 14 cards (dependent on trim selected), 30+ bills
RFID blocking (optional)
Features FlexLock™ pockets that don't stretch over time
Full-grain leather construction
Pull tab card access slot

Optimized for U.S. bills (and those up to 2.6")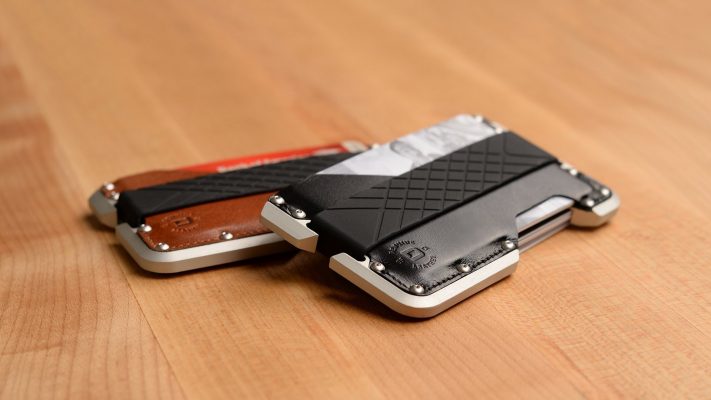 Dango specializes in tactical utility wallets. Their designs are robust, made with high quality leather and metals, and almost always feature bottle openers (a Novel Carry favorite feature). The D01 Dapper Wallet is one of Dango's more affordable options but that doesn't mean it's any less awesome. The D01 Dapper is similar to the Ridge Wallet and holds a stack of cards with compression provided by a silicone band. This same silicone band is also what holds your cash on the exterior of the wallet.
The Dango D01 wallet is perfect for the sophisticated man who wants an eye catching edgy design. This wallet stands out among the others in this list with its contrasted metal and leather design. The wallet is also incredibly slim, measuring just over 0.3 inches when filled with 6 cards. For and added bonus, you'll feel like a total badass at the neighborhood barbecue popping bottles with its built in bottle opener.
Key Features:
Capacity: 12 cards, 15+ bills
RFID blocking
Built-in bottle opener
Constructed with 6061 aluminum, genuine top grain leather, and silicone wallet (cash) band
4. Trayvax Armored Summit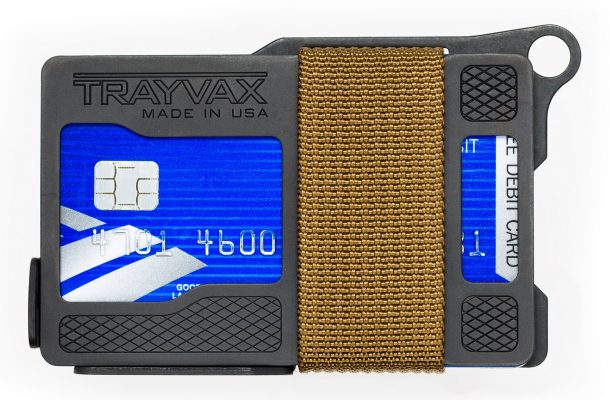 The money clip on this Trayvax Armored summit is among the least flexible on this list (holds no more than 5 bills) but it's also the slimmest. The simplistic design includes a built in bottle opener and the outer plates double down on your RFID protection. The plates are finished with an ultra-durable melonite coating which prevents most scratches.
The two metal plates of this wallet are held together with a nylon strap which has been fed through both plates. As your carry changes over the day you may notice the wallet becomes looser or tighter. This is a mild nuisance though; rather it's something I found myself okay with since it's what gave the wallet its super slim design.
Key Features:
Capacity: 7 cards, 5 bills
RFID blocking
Melonite coated steel plates with nylon webbing
Attachment point for lanyard or security chain/carabiner
Integrated bottle opener
65 year heirloom warranty
Herschel is known for making great everyday carry gear and attractive apparel and this wallet is no different. The wallet features a vertical card holder design with 3 front slots for frequently used cards and on the side you'll find a hidden side slot for those less frequently used cards. This wallet really shines when it comes to the money clip which is robust and features the trademark H.S. Co. logo. The overall design is super simplistic and just works.
This wallet is the least feature packed product on this list – but that doesn't mean it's any less awesome. Herschel's products are built well with good materials and should last you a long time. So, even though you can't open bottles with your wallet, at least you have a wallet that is styled for you and fits your needs.
Key Features:
Capacity: 3+ cards, 15+ bills
RFID blocking
Side access storage sleeve
Robust money clip design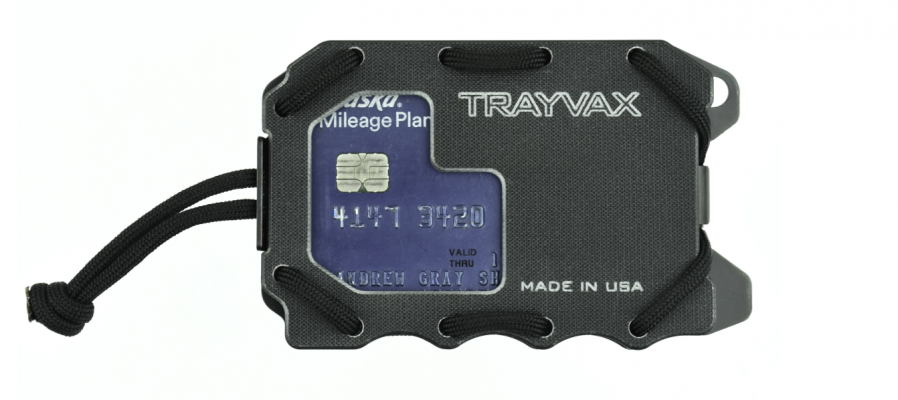 This is Trayvax's most affordable offering and it might be the most bang for your buck on this list. Similar to the Armored Summit, the design features a two metal plate (or G10) construction but is held together with robust paracord instead of a nylon strap. It also features a flexible money clip that can hold a pretty fat wad of cash. For added bonus, Trayvax has iterated on their older designs and included a built in prybar and bottle opener.
Key Features:
Capacity: 15 cards, 5 bills
RFID blocking
Available in G10 or stainless steel/aluminum construction
Integrated bottle opener and pry bar
Attachment point for lanyard or security chain/carabiner
65 year heirloom warranty