Incredibly slim and modern. The weatherproof canvas has a nice Saffiano texture which feels durable and soft in the hand. High quality stitching throughout the wallet. Super convenient side pocket for quick access to your most used cards or ID.
The central pocket is a little difficult to access when storing more than 4 or 5 cards and the weatherproof material tends to stick to cards when first being used.
Designed with the minimalist in mind, the Dash Slim Wallet 3.0 is great if you're carrying no more than 5 or 6 cards plus some cash. The weatherproof canvas and above average stitching quality should last its users years. The quick access slot is implemented nicely and makes up slightly for the difficult-to-access center card slot.
Dimensions: 2.4" x 3.5" x 0.2"
Capacity: 4 – 10 cards, bills folded in thirds
Material: PU (animal free) Saffiano leather with nylon lining
Color Options: black, brown 
Warranty: 2 Year
This wallet is perfect for someone how carries less no more than 6 cards (including your ID) plus a small to moderate bundle of cash. The wallet can carry more, but it really shines and shows off its slim and minimalist design when carrying on the low end of its capacity.

Build Quality & Materials
The wallet is made of PU leather (that is, manufactured animal-free leather) which is a plus for those who try to avoid animal hide and prefer manmade manufactured products. Conversely, this could be a worrying point for anyone who purchases only genuine leather wallets. That said, the PU leather material chosen by Dash feels high quality and its weatherproof processing gives the wallet some good structure that should last a long time. Pressed in is the iconic Saffiano crosshatch texture which gives the wallet a great premium feeling in the hand which.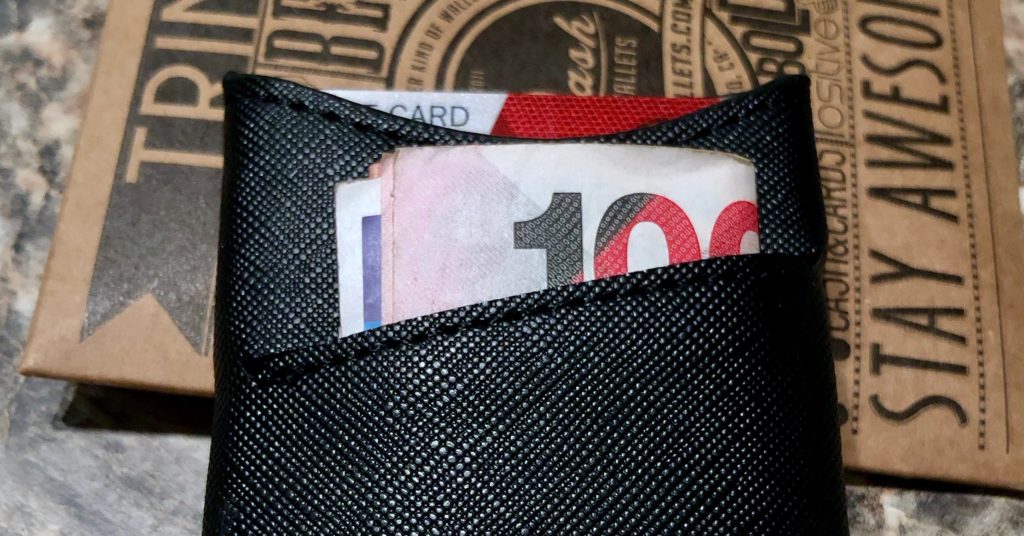 Stitching throughout the wallet is great, no frayed edges, no loose threads upon delivery. After using the wallet for a little over a week, the pockets have expanded slightly (which is good for being able to access the middle pocket) but otherwise everything is the same when I received the wallet from Dash.
The Dash Slim 3.0 wallet features a fairly simple design. On the front you'll find a slot in the leather which is used to hold bills folded in thirds. The edge of the cash slot is reinforced with stitching which is nice to see, I've used wallets in the past that have slot edges that fold over, become loose, or start to tear after longer stints of use. With the reinforced stitching, this shouldn't be a concern here.
Directly behind that is a much larger vertical pocket used to house the bulk of your card carry. I was able to fit 6 cards easily into this pocket but found that they were quite snug and difficult to remove during my review. I expect this to be a non-issue in the future as the leather wears over time making this pocket easier to access.
On the backside of the wallet is a single horizontal pocket which can be used to hold your 2 or 3 most frequently used cards or ID. The cards in this pocket were held nicely and I never felt that they were going to fall out.
There isn't much to this wallet (which isn't a bad thing) – it has 3 pockets which can be used to organize your 2 or 3 favorite cards and cash. I found it best to organize my 3 most used cards by placing 2 in the back horizontal pocket and one in the front position of the center vertical pocket. I had no issues with folding my bills and accessing them in the pocket. Bills slid in easily and felt secure.
My only real concern with this wallet is how difficult it can be to access the middle pocket when its filled with more than 4 cards. The is due to the design which features a small cutout on the front to access the front card but no cutout on the back. It would be nice to see a small cutout on the backside of the wallet which would make it easier to grab the back card when pulling out the whole stack of cards.
Dash does solve this on some of their other designs with a small pull tab that elegantly present cards to you when pulled, but that might not be an option for this Slim wallet which seems geared for the minimalist where less is more.
The Dash Slim Wallet 3.0 is put together well and designed with the minimalist in mind. As long as you're not a heavy card carrier you would be happy with this wallet. Not to mention, this wallet is cheap making it one of my favorite budget friendly minimalist wallets to date.