The Contour wallet is Trayvax's most premium offering. CNC-machined stainless steel plates and thick Horween leather straps construction plus a 65 year heirloom warranty could make this the last wallet you ever buy.
High quality construction and materials. Adjustable design to fit your needs that also includes a bottle opener. Cards are very easy to access. Backed by a 65 year heirloom warranty.
Handling cash can be cumbersome at first. Fit needs to be adjusted overtime as the wallet wears or your daily carry changes.
This is the ideal carry for someone who already is or wants to carry their wallet in their front pocket. Due to its rigid aluminum construction, this wallet would not be a good fit for anyone who prefers to carry in their rear pocket. People who prefer the organization and flexibility of a bifold may have a hard time adjusting due to the stacked card design of this wallet. If you're into other compact wallet styles like card sleeves the contour will be a worthy upgrade.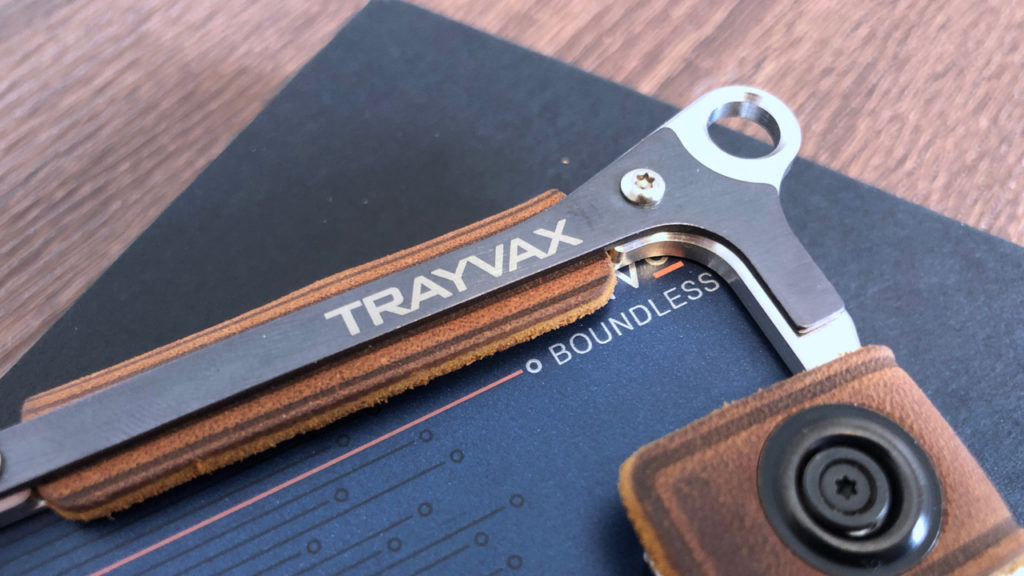 Trayvax is proud of their wallets being made completely in the USA and they show it etched prominently into the front plate along with their name.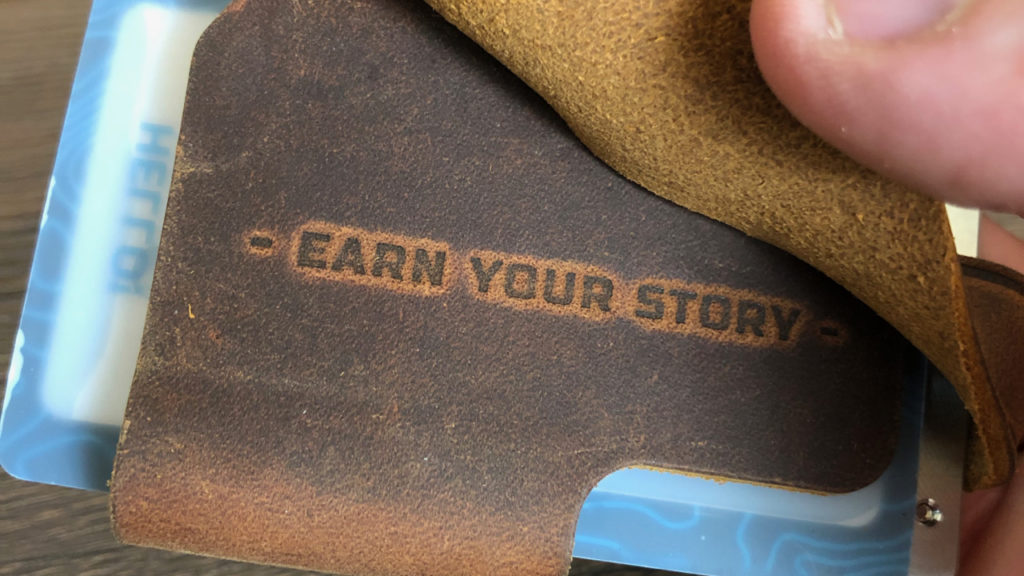 The back sports a small Trayvax logo embossed into the leather with a small message under the cash strap that greats you whenever you access your bills.
Build Quality & Materials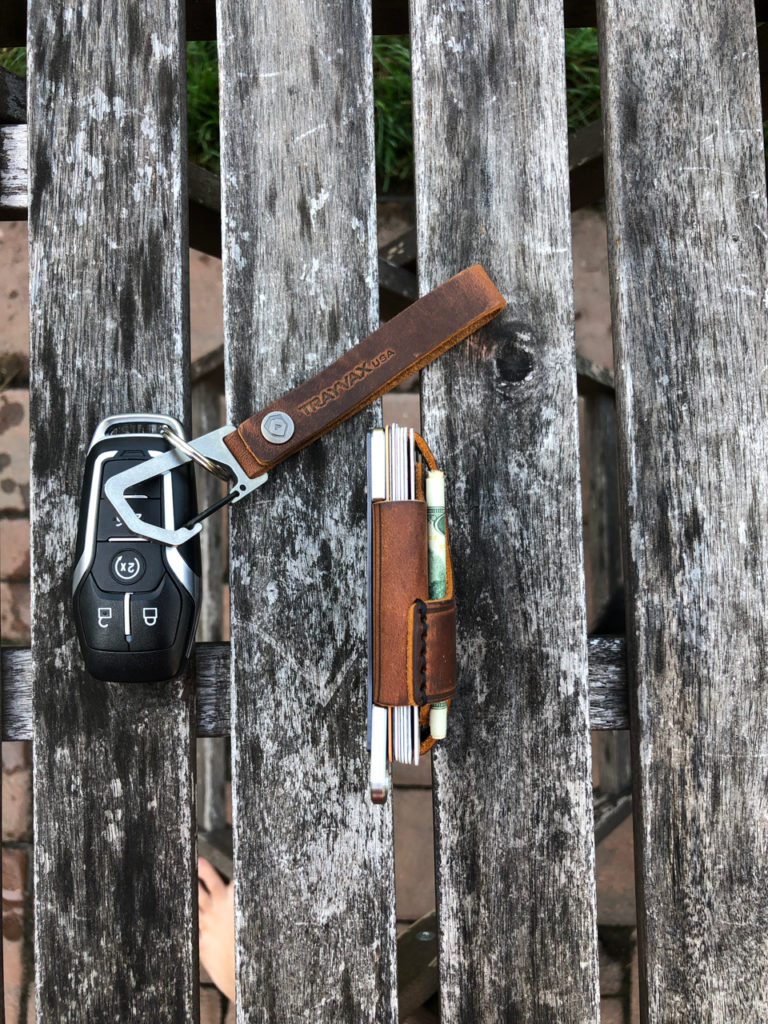 The wallet is essentially made of 3 parts: one PVD coated stainless steel faceplate, one stainless steel body, and one leather strap.
In the past I've been a little weary of metal wallets (see my review on the Ridge Wallet which was scuffed to no-end over 1 year's use), but the PVD coating on this wallet should provide some better scratch resistance. It should be noted however that when PVD coated material does scratch it's more obvious because of the darker coating. That said, something tells me this wallet will only look better as it ages along with its owner – even as the metal scratches.
On the flip side (literally) is a leather strap from Horween. To be honest, I didn't know much about leather till I started to look into why Trayvax spent the time to call out a specific tannery. I officially geeked out on this so you don't have to.. to put it simply, Horween is regarded in the industry for their superb leather quality.
Over half of the professional MLB players use gloves with their leather and they are the exclusive supplier for the NFL football. This was an A+ choice by Trayvax and it shows. Their top grain selection is soft and consistent and thick-as-heck. The uniformity won't last long (as it shouldn't) and it should wear overtime developing a patina that's unique to each wallet.
Even though it may not look like it, the Contour is actually a pretty simple design. Essentially the wallet is just two metal plates held together with torx screws that when tightened down hold the leather straps in place. This all creates a pocket between the leather and metal plates for cards that is then secured with a button clasp.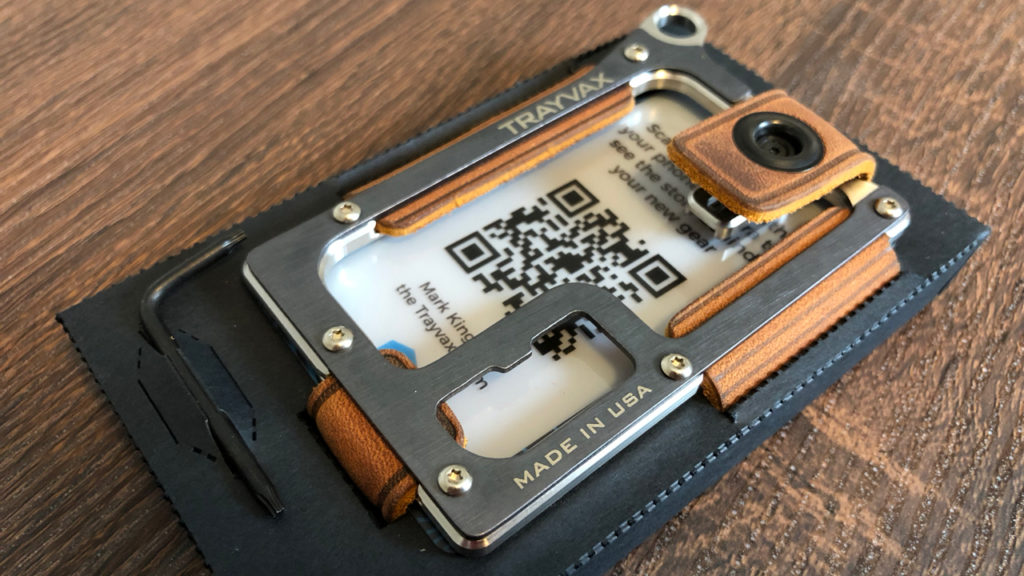 On arrival the wallet's straps may require some adjustment to fit your daily carry. The Contour's max capacity is 13 cards and 10 bills but that's with the straps adjusted all the way out. On arrival mine was set somewhere in the middle of the adjustment which was perfect the amount of cash and cards I usually bring with me.
In order to adjust capacity, you use the provided T6 torx tool to untighten the screws around the frame of the wallet. Once loosened, the top and bottom straps can be tightened or loosened to fit the number of cards you typically carry. I found it best to set the straps so that one or two cards could still be added without it being too difficult to slide cards out for use (more about this later).
Finally, the clasp post (on the right edge of the wallet) needs to be adjusted. The setting is completely dependent on how many items are stuffed into the wallet and user preference. The post can be set further inside to create a really positive engagement (note: a more positive engagement may be difficult to lock when adding more bills/cards throughout the day) or more toward the outside for a loser hold.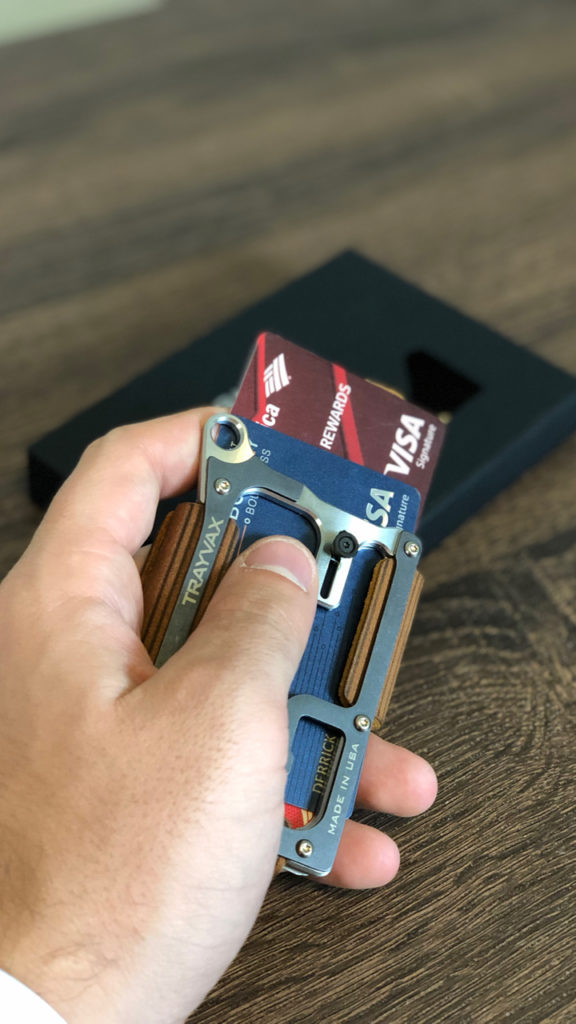 In day-to-day use I found that it was pretty easy to access all of the wallet's contents. Thanks to the large front opening, sliding cards out was intuitive and easy. One hand pushes cards out from the front while the other is used to sort and pick whatever card you're using.
The cash strap took a little time to get used to – unlike a money clip (which you just slide bills under the clip and forget about) the strap's clasp had to be closed. I found it easiest to separate my bills by denomination inside the pocket which made it easier to pull the denomination I wanted out without having to fumble through all my cash at once.
Lastly, you'll notice that that the Contour features a built-in bottle opener in the front frame. This was by far my favorite feature and what I found to be the most useful aspect of the wallet. Because the wallet had such an accessible tool I never had to use another bottle opener. It was always with me and I felt like a total badass whenever I whipped the Contour out to pop the cap off a cold brew.
My only gripe with this wallet is that if your daily carry changes often you'll have to adjust the straps accordingly to make it properly fit your cards. Additionally, if you set the clasp post when there isn't any cash in the cash strap it can get very difficult to close as more cash is added. That said, I was able to minimize these issues by setting the straps so that it could still fit 1 or 2 cards before it was at capacity and the clasp post while a few bills were already in the cash strap.
After a few weeks of use during my review of the Contour, the leather straps have already started to show signs of wear. This isn't necessarily a bad thing though; the wallet is built to show off the patina that is unique to each wallet's journey over time. If this isn't your style you can easily purchase leather straps from Trayvax's website which can be used to replace or customize the wallet.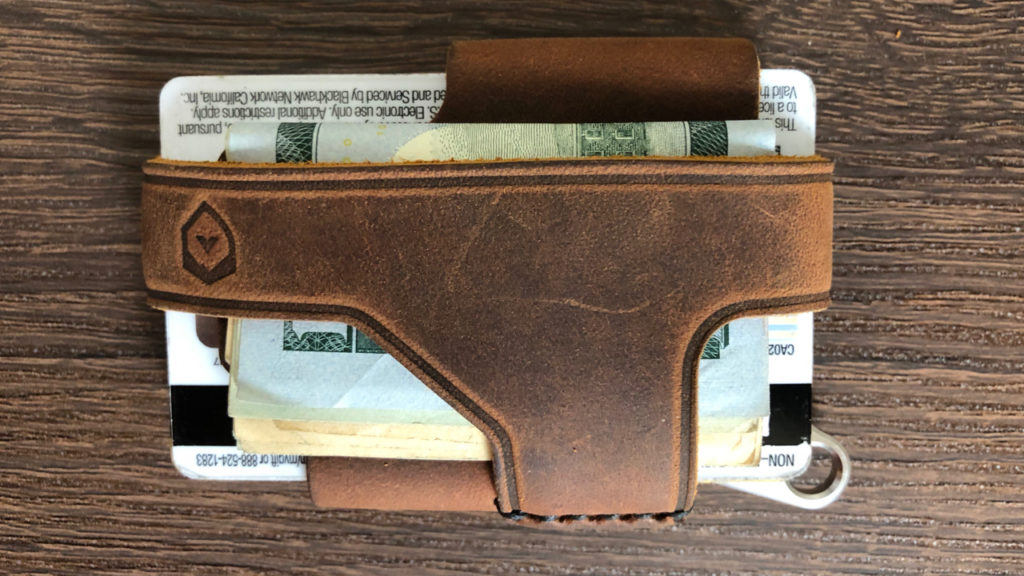 The metal frame has been in a pocket with keys and pocket knife the entirety of the review and hasn't shown any scratches yet. I'll be keeping it in my daily driver rotation for a little longer and report back soon on how the metal wears over time.
Final Thoughts on the Trayvax Contour
Trayvax stands behind their wallet with pride – and it's for a good reason. The material selection and build quality is above average and the design is simple and intuitive to use. Backed by a 65 year warranty (which even offers out of warranty repairs at cost plus shipping) this wallet could easily last someone a lifetime.