Best 10 Slim Wallets for Men
Novel Carry is reader-supported. When you buy through links on our site, we may earn an affiliate commission.
Bolstered by the Kickstarter scene, slim wallets have exploded in popularity in recent years. Week after week, each campaign tried to best its predecessors by packing more features into a thinner profile. We saw the introduction of stacked card wallets, the inclusion of pull tabs slots, and increasingly creative ways to arrange pockets and slots for the ultimate combination of form and function.
Gone are the days when men carry their entire lives inside their wallets. Plus, who likes the front or back pocket bulge that fat trifold wallets created back in the day? In recent years, clothes have become more form-fitting, and pockets have become smaller. Thus, the need for a thin wallet is ever-increasing, and it's never been a better time to join the trend.
The options listed below include a wide range of prices, designs, and features. The truth is, there is never going to be a one-size-fits-all wallet, but with these options below, you should at least have a good starting place in your journey to find the perfect slim wallet for you.
Traditional Folder (Trifold, Bifold)
These wallets feature the traditional trifold (rare) or bifold (most common) designs. The folding wallet design has been a tried-and-true wallet design because it just works. In recent years, these wallets have thinned out the bulk by making better use of materials and arranging pockets or slots in creative ways to collapse more compactly. Some of our favorites in this design category include SlimFold's Micro Soft Shell and Bellroy's Slim Sleeve wallets.
Stacked Card Wallets
Stacked card wallets were popularized by ultra-successful Kickstarter campaigns like the Ridge Wallet or Dango Wallets. Wallets in this category usually feature designs that compress cards together between two stiff plates (usually metal or plastic). These wallets are typically the most compact options of the bunch since their profile is the same size as a card – but they are also the most rigid. Most of these wallets feature integrated money clips to hold cash since the form factor doesn't make it easy (or practical to store bills).
Card Wallets
Card wallets are very similar to stacked card wallets except cards in these wallets are held in traditional sewn wallet pockets like what you'd find in a bifold wallet. The difference between these and bifold wallets is that card wallets do not have any folds at all. They hold just a few cards on one or both sides and cash in the middle or not at all. One example of these wallets is the Herschel Raven.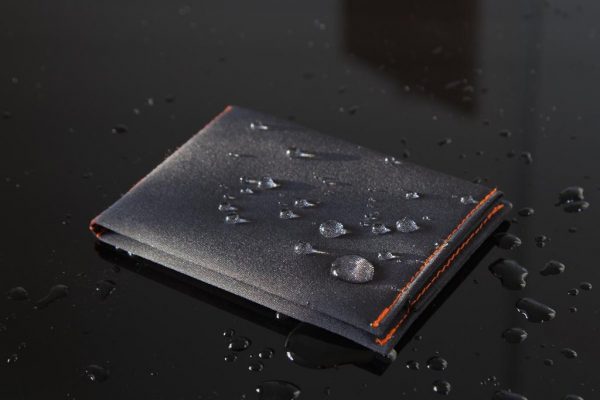 SlimFold has been in the wallet market for several years making ultra-thin folding wallets out of various different fabrics. The Micro Soft Shell wallet is their second smallest wallet and features a traditional bifold design. This wallet stands apart from many of its competitors because of how incredibly slim it can stay even when packed full of several cards and fat wads of cash.
We were surprised to find how durable the soft shell material is. In fact, during our review period, we compared a brand new wallet with one that was over 2 years old and we could hardly tell the difference. In our eyes, the only downside to this wallet is its height which doesn't handle taller international bills very well. That said, if you are a seasoned traveler you can pick up their original wallet which is made in this same material but can fit taller bills easily.
Key Features:
Capacity: 8-10 cards, 15+ bills
RFID blocking (optional)
5-year warranty
Very durable soft shell material
Everything you love about your old bifold without any of the bulk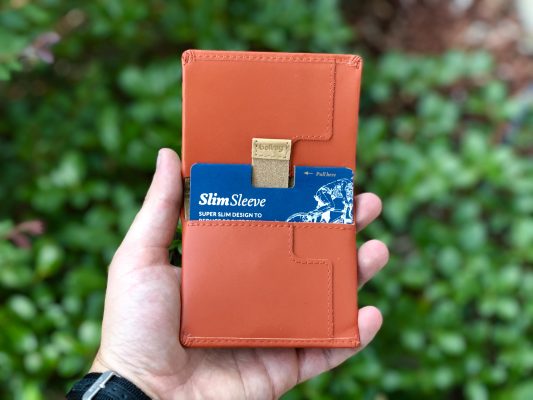 It's hard to design a leather wallet that can hold more than 4 or 5 cards but also be slim at the same time. Bellroy solves this by creatively folding the canvas to create its pockets instead of stitching separate pieces of leather together like its competitors.
The Slim Sleeve features two pick access card slots, one pull-tab slot, and a dedicated cash pocket (bills must be folded into halves or thirds). Truthfully, we were surprised to find a pull tab slot in a wallet this thin. We found it to be a really nice addition because it allowed us to put our lesser-used cards out of sight without making them hard to access.
We are really happy to see Bellroy continue to use high-quality materials in all its products – the Slim Sleeve uses top grain leather and comes in some really bold and natural colors. During our review period, we were only mildly disappointed that we couldn't find with the Slim Sleeve in an RFID protective trim option.
Key Features:
Capacity: 4-12+ cards, 7 bills (as tested)
Constructed with high-quality top grain leather
3-year warranty
No RFID protection option available
Features a pull tab slot for lesser-used cards
Comes in a huge variety of color options for all sorts of people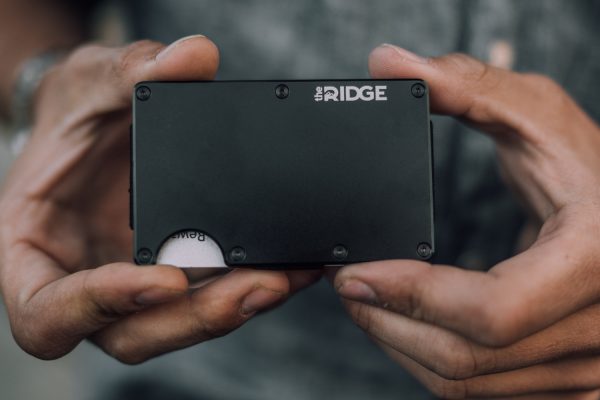 This wallet is one of my personal favorites on this list as it was my first slim wallet. The Ridge Wallet is the first wallet on this list to feature what we call a 'Stacked Card' design. Wallets with this design are essentially two rigid plates with your cards between them. The Ridge essentially introduced the world to stacked card wallets through Kickstarter and ever since then the company has slowly refined its design to be one of the best slim wallets in the industry.
The Ridge Wallet is a really simple design and comes in various premium materials such as aluminum, carbon fiber, titanium, and recently… Damascus steel. The elastic The Ridge uses is very high quality and it never lost strength through my 3 years of personal use. If you want, you can find this wallet without a money clip but we recommend picking their money clip or cash strap options.
The only negatives that I could really identify is how easily the sides of the aluminum scuffed. The titanium and Damascus steel options will likely scuff less, but you can expect this wallet to show some wear after a few months' worth of use. That's not necessarily a bad thing but is something you should be aware of when purchasing this wallet.
Key Features:
Capacity: 1-12 cards, 15+ bills
RFID blocking
Lifetime warranty
Modular design to choose
between cash strap or money clip
Available in aluminum, titanium, carbon fiber, or Damascus steel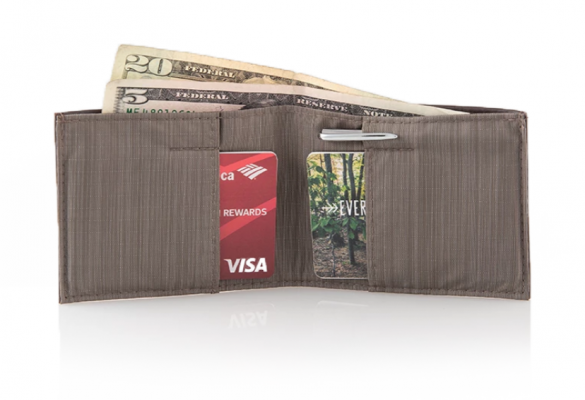 Allet makes various slim wallet designs but we picked this one because of its super simple and effective design. The Sport wallet features two horizontal card slots lined with elastic to hold cards securely plus one full-length bill slot. The Sport wallet can be purchased in Nylon or Leather variants, but we prefer the leather for it's more premium feel. That said, if you're on a budget you can usually find the Nylon version of this wallet for roughly 50% less.
Key Features:
Capacity: 2-10 cards
Exterior made with Nappa leather
Interior made of moisture-wicking Nylon
Card slots feature elastic to hold onto cards securely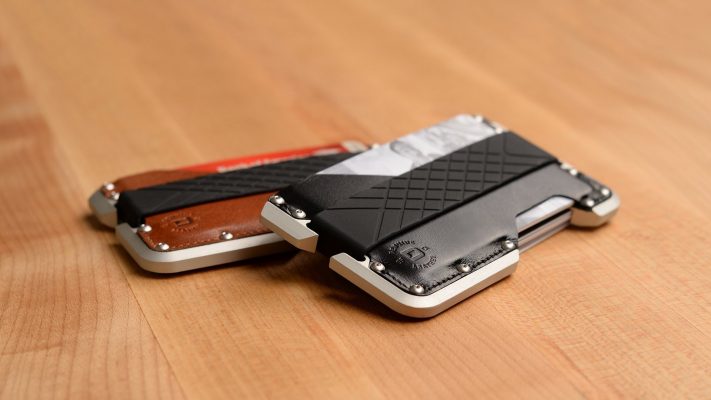 Dango specializes in tactical utility slim wallets. Their designs are robust, made with high-quality leather and metals, and almost always feature bottle openers (a Novel Carry favorite feature). The D01 Dapper Wallet is one of Dango's more affordable options but that doesn't mean it's any less awesome. The D01 Dapper is similar to the Ridge Wallet and holds a stack of cards with compression provided by a silicone band. This same silicone band is also what holds your cash on the exterior of the wallet.
The Dango D01 wallet is perfect for the sophisticated man who wants an eye-catching and edgy design. This wallet stands out among the others in this list with its contrasted metal and leather design. The wallet is also incredibly slim, measuring just over 0.3 inches when filled with 6 cards. For an added bonus, you'll feel like a total badass at the neighborhood barbeque popping bottles with the built-in bottle opener.
Key Features:
Capacity: 12 cards, 15+ bills
RFID blocking
Built-in bottle opener
Constructed with 6061 aluminum, genuine top-grain leather, and silicone wallet (cash) band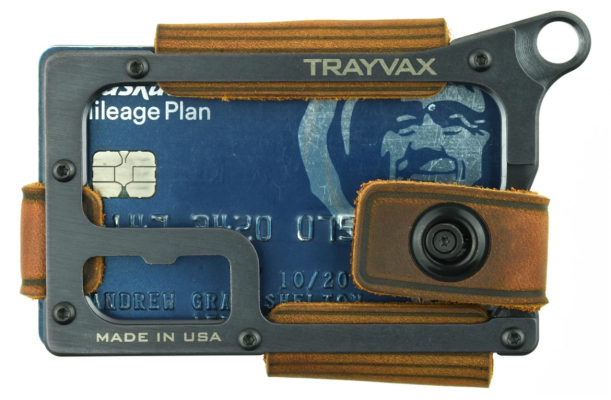 The Contour Wallet is Trayvax's most premium product offering – and to many of those in the everyday carry industry – one of the most premium wallets on the market. This wallet features full-grain Horween leather and two CNC machined stainless steel plates. This is a stacked card wallet by design, but it differs from the Ridge Wallet because it's doesn't use compression to hold its cards. Instead, it uses a leather strap and clasp to surround and hold its contents.
One of the things that makes this wallet so great is the Horween leather. Horween is known for producing some of the highest quality leathers in the country. Not only with this leather last a lifetime but it will look good the entire time, too. Moreover, the outer stainless steel plate is PVD coated which makes it much more scratch-resistant than other metal wallets.
There isn't much to not like about this wallet, but adjusting the wallet as the number of cards and cash you carry changes requires a tool. Thus, if you get rid of a lot of cash when shopping, your cards will feel a little loose until you get home readjust the wallet.
Key Features:
Capacity: 13 cards, 10 bills
RFID blocking
PVD coated steel plates
Luxurious Horeween leather
Attachment point for lanyard or security chain/carabiner
Integrated bottle opener
65-year heirloom warranty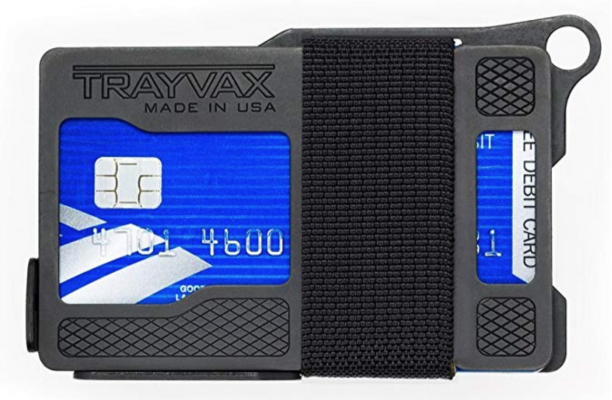 Trayvax's Armored Summit is the slimmest wallet option on this list. Essentially, this wallet is two thin Melonite coated steel plates held together with a military-grade nylon strap. The Armored Summit isn't much bigger than a credit card and is remarkedly slim.
The front plate has one large hole which doubles as an ID Display and a way to thumb through cards. Directly next to that is a smaller hole that is designed specifically to open bottles. The back has a small clip that can be used to hold up to 5 bills (folded in thirds) as well as the buckle to control the compression setting of the nylon strap.
Key Features:
Capacity: 7 cards, 5 bills
RFID blocking
Melonite coated steel plates with nylon webbing
Attachment point for lanyard or security chain/carabiner
Integrated bottle opener
65-year heirloom warranty
Herschel is known for making great everyday carry gear and attractive apparel and this wallet is no different. The wallet features a vertical card wallet design with 3 front slots for frequently used cards and on the side you'll find a hidden side slot for those less frequently used cards. This wallet really shines when it comes to the money clip which is robust and features the trademark H.S. Co. logo. The overall design is super simplistic and just works.
This wallet is the least feature-packed product on this list – but that doesn't mean it's any less awesome. Herschel's products are built well and with good materials and should last you a long time. So, even though you can't open bottles with your wallet, at least you have a wallet that is styled for you and fits your needs.
Key Features:
Capacity: 3+ cards, 15+ bills
RFID blocking
Side access storage sleeve
Robust money clip design
The NOMATIC wallet takes functional minimalism to the next level with a really creative elastic band design. In terms of layout, this wallet is basically a two-sided pocket divided by a pull strap through the center. The genius of the design comes from the dual-action pull tab which exposes cards out of the top and bottom when pulled. Thus, instead of exposing just one (or two) cards like most other wallets, you get quick access to four.
Key Features:
Capacity: 15 cards, 5-8 bills (as tested)
Dual-action pull-tab slot giving quick access to 4 cards
Integrated pocket for cash and other small items
This is Trayvax's most affordable offering and it might be the most bang for your buck on this list. Similar to the Armored Summit, the design features a two metal plate (or G10) construction but is held together with robust paracord instead of a nylon strap. It also features a flexible money clip that can hold a pretty fat wad of cash. For added bonus, Trayvax has iterated on their older designs and included a built-in pry bar and bottle opener.
Key Features:
Capacity: 15 cards, 5 bills
RFID blocking
Available in G10 or stainless steel/aluminum construction
Integrated bottle opener and pry bar
Attachment point for lanyard or security chain/carabiner
65-year heirloom warranty