Dryden Watch Co. Review: Chrono Diver (DCD-1)
There are many choices out there when it comes to buying an affordable watch suited for everyday usage.  You can look to the established brands to get your timepiece, but there are other options out there in the "microbrand" world that many are simply not aware of and these brands can offer exceptional value, unique designs, and upper-tier quality. 
But what the hell is a "microbrand" watch?  The term "microbrand" is widely used to describe any small-scale brand that is likely only recognized in niche communities and among hobbyists.  The first microbrand watches debuted in the early to mid-2000s. With the advent of the Internet, these brands were able to distribute watches directly to consumers without taking on the overhead usually associated with luxury goods such as retail locations, marketing budgets, and other associated costs.  As a result, the prices of microbrand watches are generally significantly lower than luxury-tier watches, despite being produced in some of the same factories.
I own two microbrand watches and think they provide a great value proposition for those looking to enter watch collecting, expand their collection, or simply have a great daily piece.  To shed some light on just how good a value microbrand watch offerings can be, I decided to reach out to one of the newer and more respected brands in the marketplace to see if we could get a sample of their latest watch release to review.  Dryden Watch Co. is an independent watch brand based in Kansas City, USA that prides itself in the "pursuit of classic style, enduring quality, and performance".  Jerry, the founder of Dryden and one hell of a guy, was kind enough to let us sample one of their Dryden Chronograph Diver (DCD-1) watches.  After putting it through the paces over the past three weeks, I have to say that I am very impressed.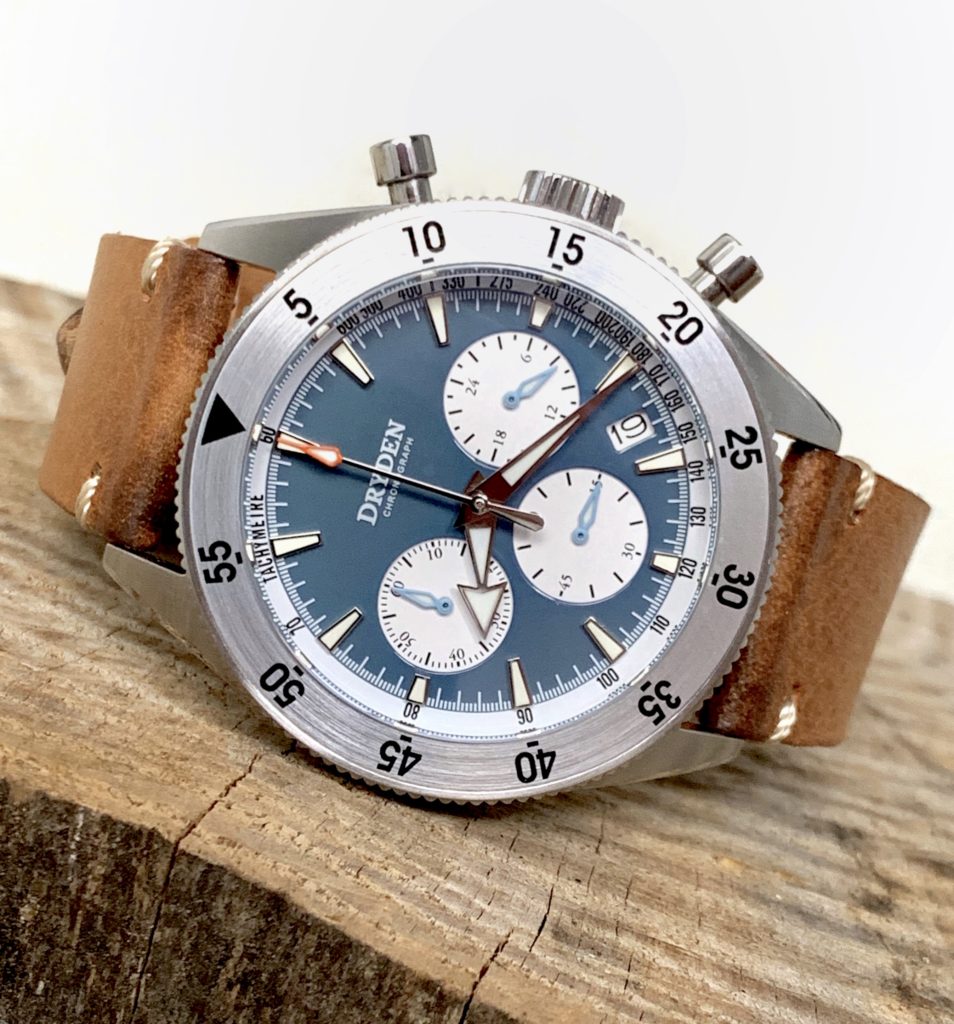 Dryden officially launched in February of 2019 and the DCD-1 "Chrono Diver" is their first model.  The Chrono Diver comes in a wide variety of color and design options; I opted for the Blue Steel variant.  Visually, the watch is very interesting, and I would consider it somewhat of an incognito dive watch.  It has a very sporty look that draws inspiration from vintage automatic racing chronographs, specifically the Omega Speedmaster with its broad arrow design, which I quite like.  But what makes this watch so unique is how it wraps all of this in a modern design package.
The DCD-1 comes in at 42mm in diameter, which is larger than the vintage chronographs it draws inspiration from.  With a thickness of 13.5mm and a lug-to-lug measurement of 49mm, this watch wears surprisingly smaller than its specs would lead you to believe, due in large part to the partially down curved 22mm lugs.  The bezel on my variant has an extremely attractive anodized aluminum look with large black numbers in 5-minute increments. But I will say that it was tougher to operate than many other rotating bezels I have tried.  Not a deal-breaker by any means, but just something worth noting.  The crystal is a double-domed sapphire with AR coating on the inside which offers great protection against daily wear and improves legibility of the dial.  The case back has some nice touches, being adorned with the usual branding and engraved with a picture of a nice little sailboat.  But the dial/bezel combo of this color variant is where this watch really shines.  The dial of my watch had a seriously cool blue-jean hue to it that offers an amazing contrast to the brushed steel bezel.  The applied indices along with the broad arrow hands have a generous application of Superluminova which shines quite brightly in the dark.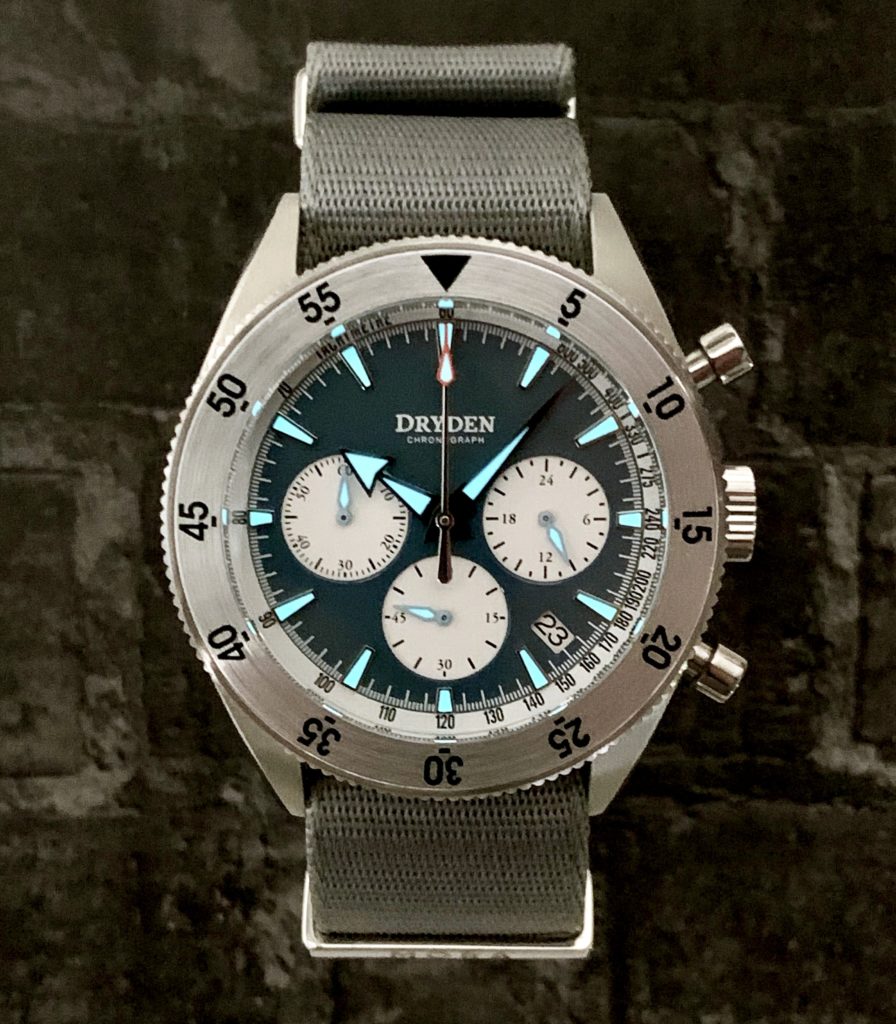 There are three subdials at the 3, 6, and 9o'clock positions: 24-hour indicator, 6 running seconds, and minute totalizer of the chronograph feature, respectively.  My one pet peeve is the date window at the 4:30 position, but that's more of a personal preference than a legit complaint.  The crown is located at the traditional 3 o'clock position and engraved with a "D" for the company logo.  Despite all its racing chronograph stylings, the DCD-1 is a legit dive style and the crown does screw down to a locked position.  The watch offers a water resistance of 100M, which is a great feature as you will never have to worry about taking it out to the lake or the pool, but I doubt any serious divers would put this watch to a deep-sea test.  The crown is situated between two chrono-style pushers which operate nicely with a single click each.  The chronograph hands sweep mechanically in 1/5 second increments and operate in a fly-back fashion thanks to the workhorse Seiko VK63 Mechaquartz movement housed within.  Many watch enthusiasts will tend to shy away from quartz movements, but I feel this Seiko Mechaquartz is a great compromise.  It is extremely reliable and allows Dryden to keep the cost of the watch down to a reasonable level – which I think we are all in favor of!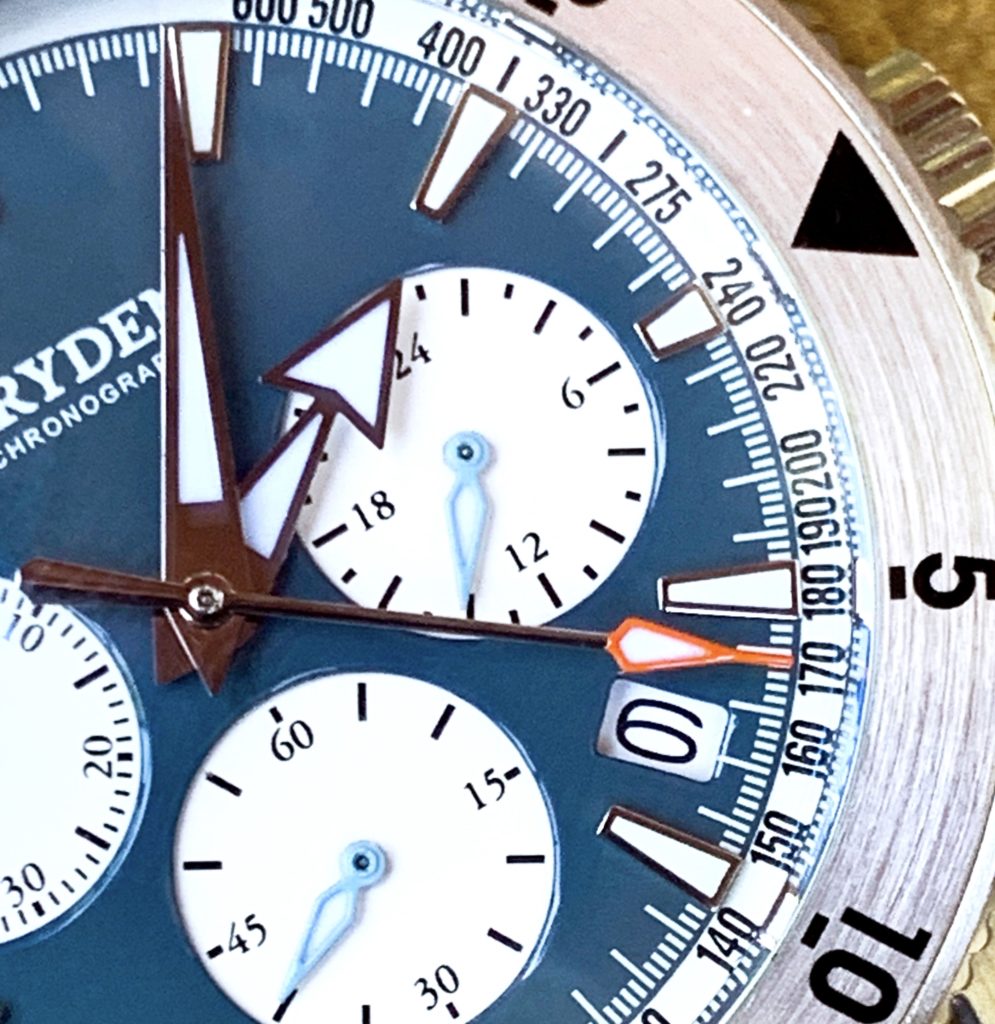 Dryden is offering up a fantastic watch, but where I think they really the ball out of the park is what is enclosed in their standard offerings and method of packaging.  Every time I buy a watch I am often confused as to why it comes with a cardboard box.  If we're being honest, I'm never going to use it again and it will just take up space on a shelf, but Dryden ships their watch in an eco-friendly wood-patterned cylinder complete with a waxed canvas watch roll with pouches for multiple watches.  This is something that is quite useful for those of us who travel and want to bring along multiple watches, straps, and tools. Another nice touch is the fact that Jerry includes a hand-signed thank you card with each purchase that gives you a sense of being part of his family.  The quick-release style leather bands and NATO strap options that Dryden offers at purchase are much more substantial than one would think at this price point and allow you to personalize the feel of the watch based on your own tastes.  I was able to give the watch a great vintage feel when paired with the distressed leather straps and a more tactical feel when I put it on one of the NATO style straps.  While I enjoyed the leather options, I was blown away by the elastic style NATO strap offering, which was phenomenally comfortable!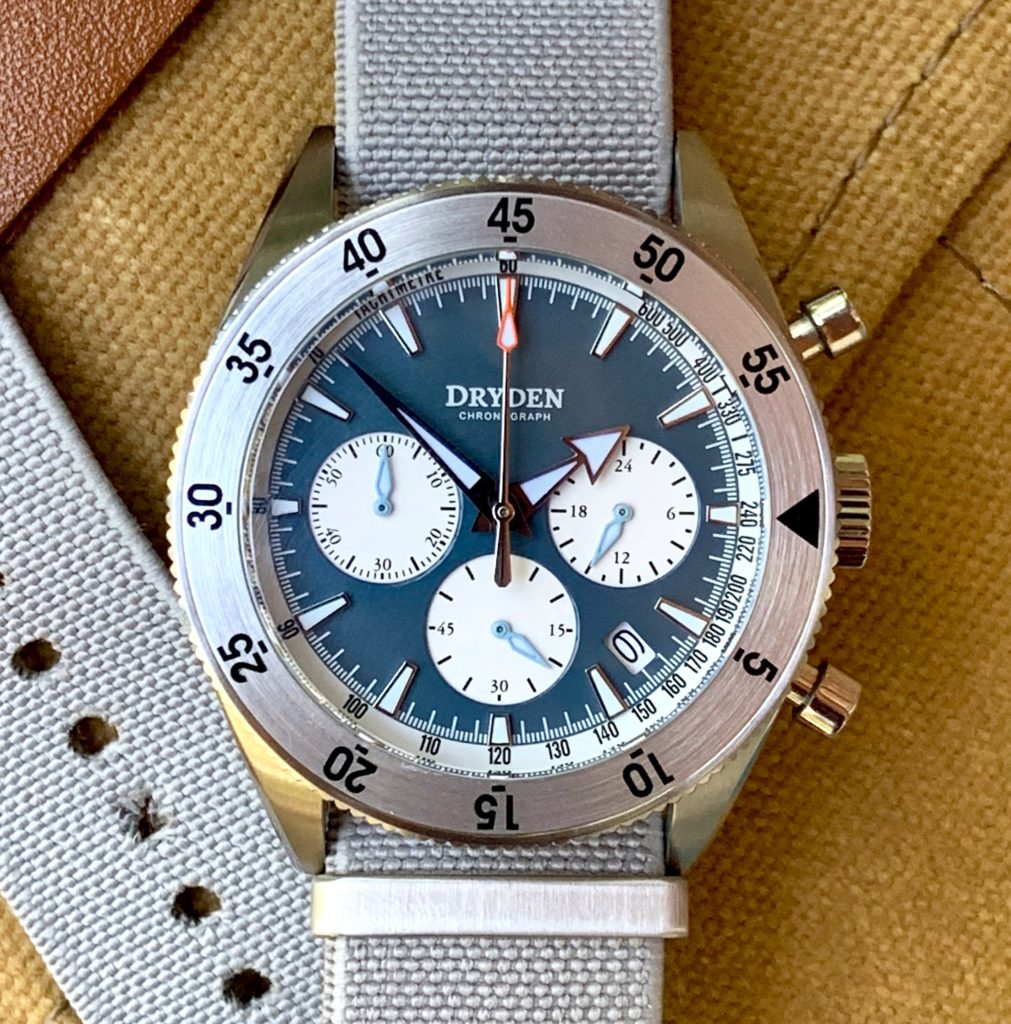 Suffice it to say I was sad to have to return the DCD-1 back to Jerry in Kansas.  Dryden has produced a stellar watch that offers the functionality of a dive watch, the stylings of classic vintage racing chronographs, and a hint of modern flair.  At a suggested retail price of $319, the DCD-1 is a superb choice for a daily watch with some serious style at an affordable price point.  The fact that Dryden backs their watches with a warranty and in-house technician to handle any repairs with potential issues down the road only improves its value proposition and makes the argument to purchase one even more compelling.  I for one am very excited to see what Jerry and Dryden release next!
Bravo, Dryden.  Bravo.