Carry Feature #003
Blair Witkowski
@tech_writer
GIVEAWAY ALERT: We are giving away one a Power Packer & Travel Kit combo this month to celebrate our 2,000 follower milestone on Instagram. Click here to enter for your chance to win!
Novel Carry is reader-supported. When you buy through links on our site, we may earn an affiliate commission.
Welcome to our Carry Feature series where we feature a member from our community and dive a little deeper into who they are and why they chose the items that make up their everyday carry. Want to be featured? Submit your photo here (Google account required)!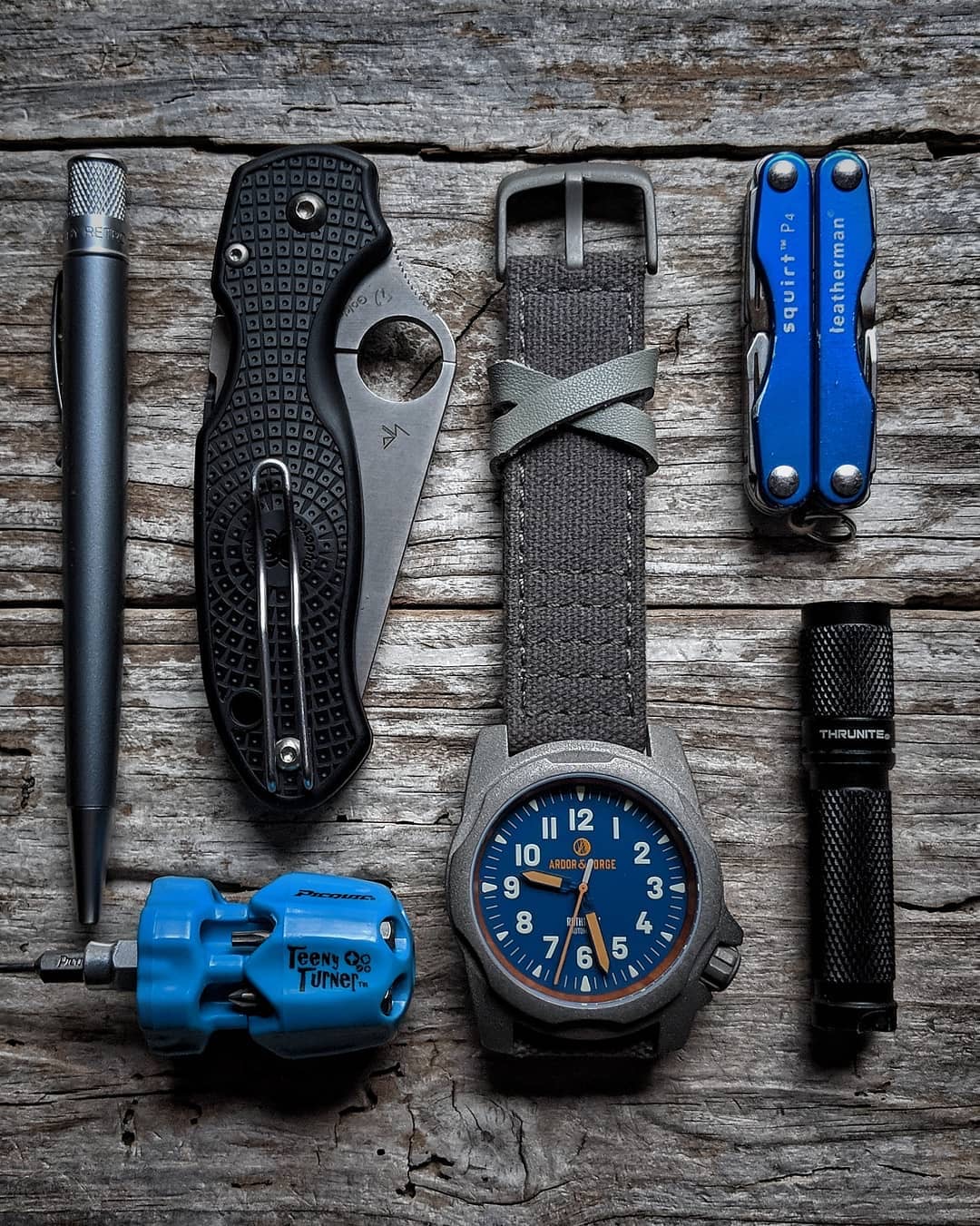 Q: Tell us about yourself. Who are you? What are you doing for a living? Where are you from?
A: My name is Blair Witkowski, and I'm addicted to pocket knives and watches! I am fortunate to live in South Carolina, where knife laws are lenient compared to other parts of the country, so I can carry bigger blades and more interesting knives. I am a dad of nine kids and I really try to prepare my kids to be people of action, fixing stuff, serving others and trying to be prepared as possible… without being a nut.
Besides being gear crazy, my real-world job is in digital marketing. I specialize in optimizing websites for search engines and work mostly with contractors, doctors, and small businesses so they can be competitive online. I also run a travel blog with my wife about Hilton Head Island that we launched last year. I work from home and we homeschool some of our kids, so every day is an adventure and fun!
I may have a desk job, but with five boys, we are all about playing paintball, trail running, epic camping adventures and anything outdoors. Even my girls are super adventurous and like to fish, canoe, and build forts. We all fight over the last bit of paracord!
Q: How did you get into the everyday carry community scene?
A: I kind of fell into it. I have always carried a pocket knife or folder for as long as I can remember. I started with a swiss army knife in grade school like most of us, I would imagine. I never knew there was so much going on when it came to Instagram until I stumbled across some knife pics a few years back. Since then, I have been growing my account and have been really helped along by others on Instagram. Guys like @wristwatchcheckdaily have really helped me with my photo skills. It's easy to look at all these awesome pics guys post and think how do they do it. In my opinion, most of it is in the editing. I use a Pixel 2 and Snapseed for all my Instagram posts as well as on my website and for Pinterest.
Q: What's in your photo?
Q: Many consider you to be the master of the EDC flat lay photo, do you have any tips on how to take awesome photos like yours?
A: Sometimes I feel like the flat lay pictures are cheating when I see how creative others are with their pics. It just goes to show that deep down lots of people want to be organized. I think the key to a good flat lay are two important things, a vibe or theme and a balanced layout… having a ton of gear helps too.
Editors note: Blair has an awesome EDC flat lay guide on his website. Check it out if you want some tips on how to produce great flat lay shots.
Q: If you were stranded on an island, what 3 pieces of gear would you take with you?
A: I have often thought about this question and I would want a satellite phone and extra batteries… but I don't think that's what you meant. I would want a good fire starter, a Skarama Knife and a compound bow with a bunch of arrows.
Q: What's in your dream carry and why?
A: I wouldn't mind a Sebenza or some of the hard to get sprint run Spyderco knives. I think a Grand Seiko GMT would be a nice addition to my EDC rotation! I have really gotten into watches over the last few years, so when it comes to dreaming, there are a lot of pricey watches I would love to have. It may sound lame, but I really just love a Spyderco PM2 with an Alox Cadet and a cool pen and flashlight.
Q: Who is your favorite gear maker?
A: This is tough, I am a gear junkie after all. I've also met a lot of the independent makers and have contact with some of the smaller companies, so I can really appreciate all the effort that goes into bringing something to market. Also, I give a lot of credit to companies that comment or repost their customers' pictures, especially if it's got a knife or gun in the pic. So many gear manufacturers want it both ways, sell to the EDC community, but still act all politically correct. This is one of the reasons I stopped tagging companies that don't support their customers or the community
Swiss Watch Company

– They put out such a great dive watch last year, it's a beauty and something everyone should check out.

H. Goose

– By far, my favorite field watch ever is their Saluda. Their new version just came out and it's fantastic.
Lumintop – They put out some of the best flashlights around at very fair prices. My first pick when I need a light.

Ritche Watch Bands

– By far the best quick release silicone on the market with amazing customer service. I am also a strap junkie and really like swapping out my watch straps. They also produce a great canvas quick release. I think Archer and Ritche are tied on the canvas, I love them both.
Archer Watch Bands – They have a killer seat belt nato strap that I love. As mentioned above, great canvas straps!

Armour Supply Wallets

– These guys have got me hooked on the slim wallets, they are so cool and extremely durable. They also are easy to use, listen, all these wallets out their look cool but are not practical in the real world, it's like they build stuff to look cool and that's it. Armour Supply must have done a bunch of testing and design work because they are outstanding.
Retro51 – Their motto says it all, "life's too short to carry an ugly pen"! I've been into pens for a long time and you may not realize it, but they're like knives and watches… a dark hole waiting to take your money. I have a few from Retro51 and they are wicked cool, some of them are modeled after fighter jets, just so much fun!


Q: What are your go-to #everydaycarry Instagram pages?
A: I spend way too much time on Instagram and follow a lot of pages. It's like the Oscars when asked you forget all the cool people…
There are a ton more and I am definitely forgetting many of my favorites.
Q: Any last comments?
A: Two things here, one, my fellow Instagramers… you need to be on Pinterest! Set up a Pinterest account, link your Instagram to it and start posting your pics there too. I say this because all of our pictures are being stolen by a-holes and being used to sell cheap survival gear or just plain stolen. It's freaking madness. Just go over there and put in "EDC" and you'll be amazed at the thievery. Also, being active on Pinterest is a good way to send traffic back to your Instagram account. It's especially helpful for those that have seen their reach plummet over the last few months.
I also recommend any serious Instagramer to build a website as another place to post pictures and store their digital images. You can't rely on all these platforms and they are always changing the rules. All it takes on Instagram is for a few accounts to complain about your content and your hit with a shadowban or worse.
I am always asked how to get free stuff on Instagram… well first of all, if that's your goal, then you are looking at it wrong. If you want to do marketing collaborations or be a brand ambassador for companies, it costs money… your money! You need to invest in some great gear and show you are the real deal. What can you offer others? That is the real way to grow on Instagram and build up enough to do some promotion for other companies.
Second, if you're more of a "watch pic" only guy, go and follow my other account @watches_at_random I started it as both an experiment and a way to post more pictures of just watches, which are not as popular in my @tech_writer feed.