The Barrage® family of knives is one of Benchmade's long-time best sellers and it's for good reason. The knife feels great in the hand and comes in high-grade steel that will keep an edge for a while even under heavy use. It's on the larger side for everyday carry purposes, but is a good option for anyone looking for a beefy folder with speedy blade action.
Blade Steel: 154CM, CPM-S30V, or M390
Blade Finish: Satin
Blade Style: Drop Point or Tanto (serrated options available)
Blade stock thickness: 3mm
Handle Material: Velox, G10, or G10/Aluminum
Blade Length: 3.60"
Open Length: 8.35"
Closed Length: 4.75"
Weight: 4.31 – 5.20oz (depending on style)
Full Review: Benchmade Barrage®
Novel Carry is reader-supported. When you buy through links on our site, we may earn an affiliate commission.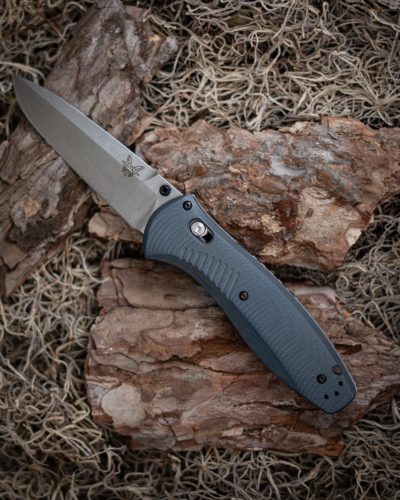 Benchmade's Barrage® family of knives has been around since 2011 and has seen various improvements/upgrades over the years that have kept the knife family relevant. You can find the Barrage® in several different variations – for this review we'll be looking specifically at the 580-2 (grey G10 handles with CPM-S30V blade) but most of this review also applies to all other versions of this knife.
Benchmade Barrage® knives have an MSRP ranging from $160 to $260 making this knife fall into the lower end of the premium-priced knives market. Though, you can find these knives on Amazon for as much as $50 off their MSRP which helps bring this knife into a more accessible price range comparable to other Benchmade best sellers.
As is commonplace with many Benchmade knives, you can order the Barrage in quite a few different build variations. I was delighted to find that the Barrage had buy-up options for blade steel (something that I wish they did for their Bugout™ knives). As of writing this review, the full line up of knives currently includes the following variants:
580 – 154CM blade drop point, Valox handle
580-2 – S30V drop point blade, grey G10 handle
583 – 154CM tanto blade, Valox handle
581 – M390 drop point blade, G10 + aluminum handle
585 – Mini version of 580
585-2 – Mini version of 580-2
586 – Mini version of 581
While the above is what's available directly from stores, it's also worth noting that you can purchase the Barrage® through Benchmade's customization lab which offers vast amounts of customization choices including carbon fiber handles, upgraded steels, and many many more options. In any case, if you like the size and shape of the Barrage®, there's certainly an option out there that can accommodate your style preferences.
Just like every other Benchmade knife I've handled, the Barrage® is an exceptionally well-built product. The knife is built on steel liners which provide superb structural stiffness and are milled out in areas to reduce weight. The scales are then secured directly to the steel liners which makes the knife an interesting (and easy) candidate for mod opportunities.
Right out of the box my knife was razor-sharp, this is something that I've been keen on lately as it's not nice having the sharpen a brand-new knife that just came from the factory.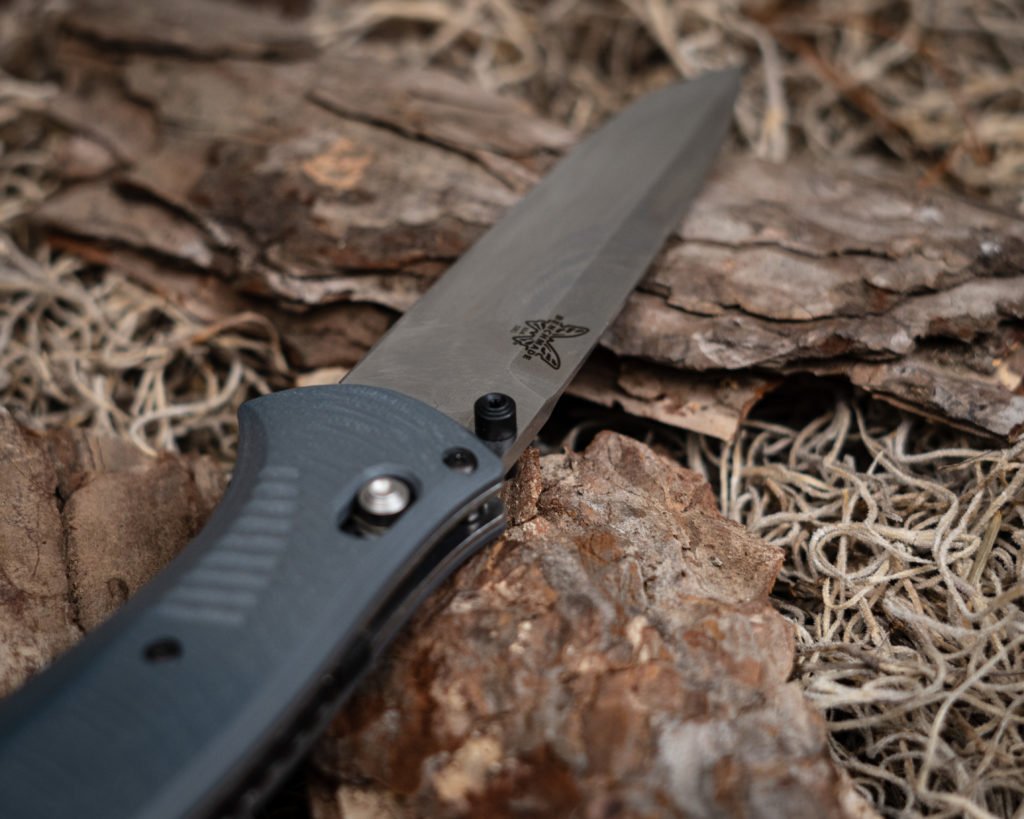 There was (and still is) zero play in the blade when cutting. I've used this knife to cut down heavy-duty cardboard, rope, and many other materials and it has proven itself to be a formidable medium-duty knife.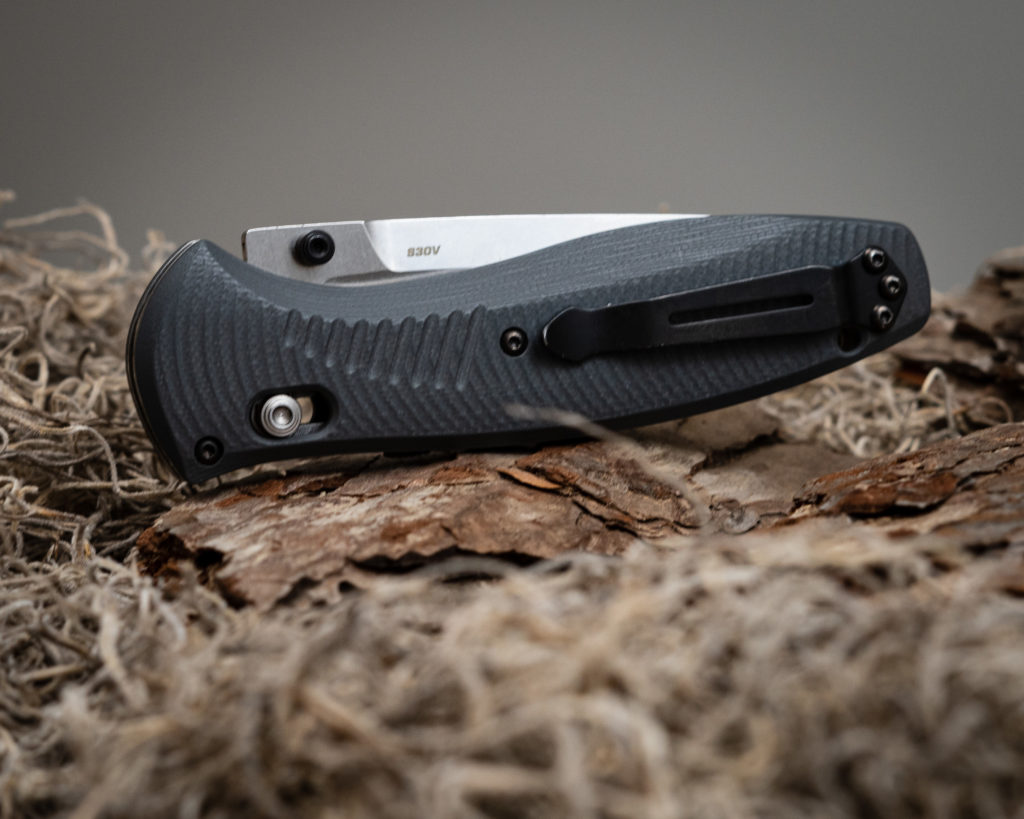 This knife comes with Benchmade's Axis-Assist locking mechanism which is essentially a normal Axis lock with spring-coil opening assistance. Many in the knife community have a love-hate relationship with Axis locks. In my experience, they've been flawless but there have been reports of the omega springs failing. That said, Benchmade has an excellent warranty program, so even if your Axis lock fails you'll have no issue getting it replaced. Note: modifying or disassembling your knife voids the warranty.
Lastly, I found the pocket clip to be on par with the rest of Benchmade's line up of knives. Similar to the Bugout, the clip is reversible for left-handed carry. This in addition to the Axis lock makes the Barrage a truly ambidextrous knife that can be used comfortably by both right and left-handed people without special ordering or additional modifications.
You're probably looking at the Barrage because you want a large knife with snappy knife-opening assist, right? Well, I'm happy to report that if that's the case you won't be let down. The Barrage's open assist mechanism is swift, reliable, and satisfying. The knife opens with speed and hits the front of the locking face with a nice thud that made this knife super fidget-friendly.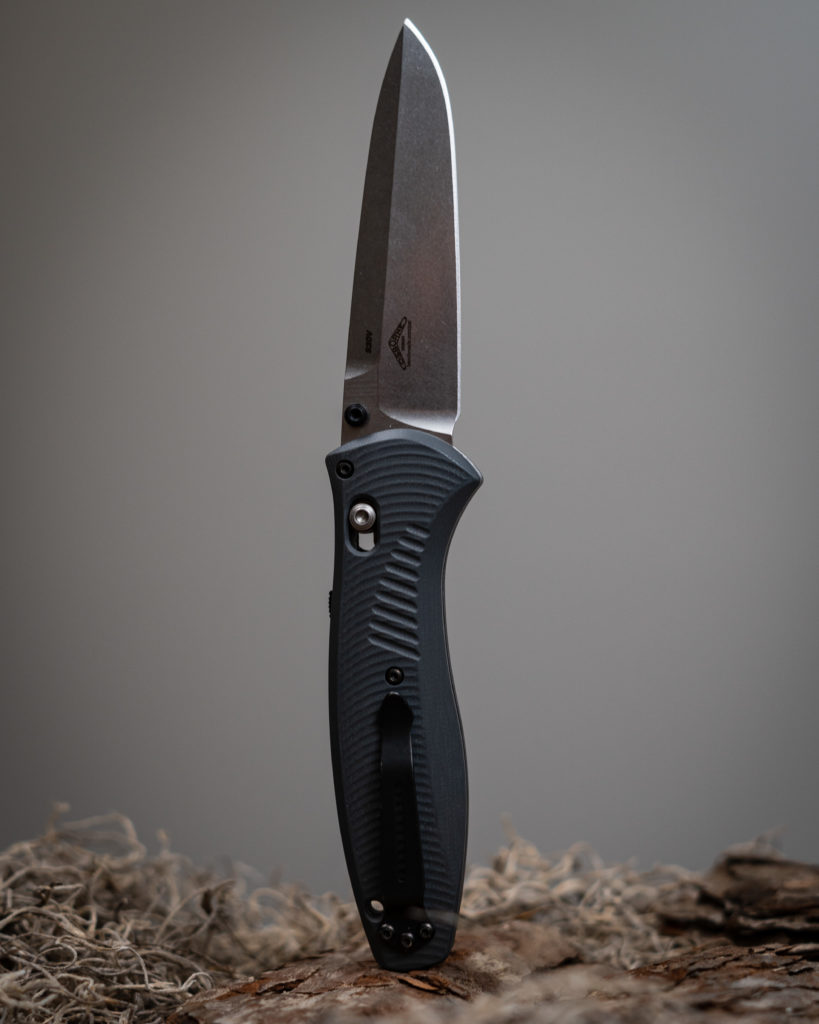 On the backside of the handle you'll find a small safety mechanism that's used to prevent unintended opening. I've always been wary of assisted knives that don't include some sort of safety mechanism. Call me paranoid, but I have a serious fear of a knife opening in my pants cutting important things, so it's good to see that Benchmade cares about blade safety.
The safety lock is in a convenient position making it very easy to access on the fly. I never had a problem engaging or disengaging the safety. Though I did find the safety's action a little spongy – but that's a small concern toward an otherwise really good knife.
The Barrage® isn't for those of you who want something super slim from Benchmade. For that, I'd suggest taking a look at Benchmade's Bugout family (full review here). Dependent on which variant of the Barrage® you purchase, the knife weighs in at between a modest 4.31 to 5.20oz. This puts the knife squarely in the middle of the large-folder knife spectrum. Not too heavy that it's annoying to carry in a pant pocket, but too heavy to be slipped away in and forgot about.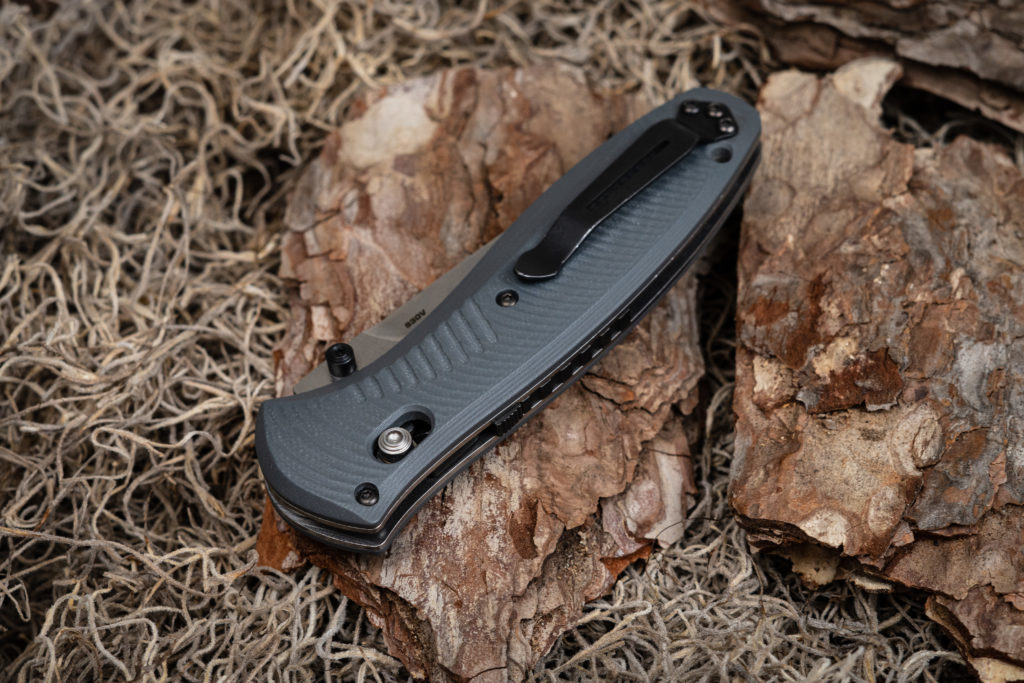 When closed, the knife measures 3.60" in length which means it will extend down pretty deep into your pocket. The knife goes into your pocket tip-up meaning the fattest part of the knife is toward the bottom of your pocket which is nice as it doesn't inhibit you from accessing your pockets.
I found the G10 handles to have a nice grippy texture and I had no comfort issues the entire time I used the knife (which was frequently). I haven't had any hands-on time with the Velox handle version (which is the cheapest in the Barrage® family) but I've seen very mixed reviews. A few people who've purchased the Velox 154CM version have been critical of the handle saying it has a cheap toy-like texture that's not very comfortable in the hand. In my opinion, when G10 is an option to purchase, even at a slight increase to cost, go with that over any proprietary/alternative plastic blend.
Final Thoughts on The Benchmade Barrage®
Overall, the Barrage® is a great medium-duty folder. While its size and weight is a little on the larger side for everyday carry purposes it's totally uncomfortable to carry if you're looking for a large folder. Plus, if you like the aesthetics of the Barrage® but think it's too big for you could always opt for the slightly smaller (and cheaper) Barrage® mini.