Razor thin design and all-metal construction. Steel plates are finished with a Melonite hardening process. Easy to access cards. Integrated bottle opener. 65 year heirloom warranty.
Handling contents can be cumbersome, little flexibility when straps are set. Overpacking wallet causes issues with containing steel plates. Money clip only fits 5 bills.
The Armored summit is a great minimalist wallet. It's one of Trayvax's more affordable options and it's a truly unique design. It does take some time to become accustomed to the strap and 2 plates design. Unlike with the Contour, the front plate is not secured and is liable to fall out when straps are not set properly or the wallet underfilled. You can however adjust the strap compression setting pretty easily (without a tool) which makes this only a mild nuisance.
Materials: Stainless Steel with Melonite Finishing and a Nylon Strap
Dimensions: 3.75" x 2.35" x 0.375" (95mm x 60mm x 9.5mm)
Weight: 3.36 ounces (95.2 grams)
Color Options:
Metals: Black
Strap: Black, Grey, Green, Brown, Camo
The Armored Summit is perfect for the person who prioritizes reduction of clutter in their life. This person needs to be organized as the storage capacity isn't adjusted automatically when new items are added. Minimalism doesn't mean a lack of utility and that's evident with this wallet's design.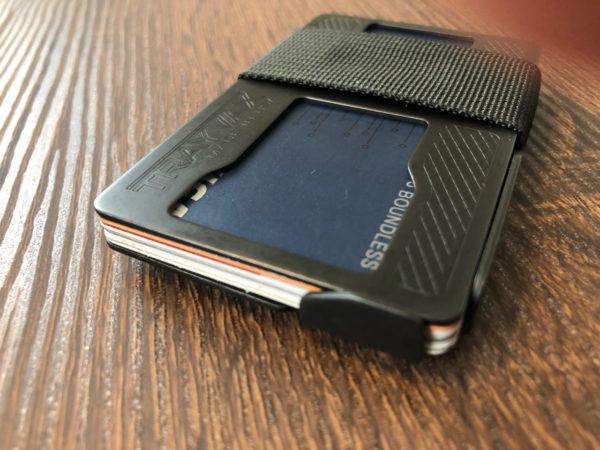 This wallet doesn't boast obvious branding like the Contour, which is its bigger and more ostentatious brother. In fact, it's quite subtle with Travvax's name is just barely visible unless in the right light. You'll find its name on both the front and back.
Build Quality & Materials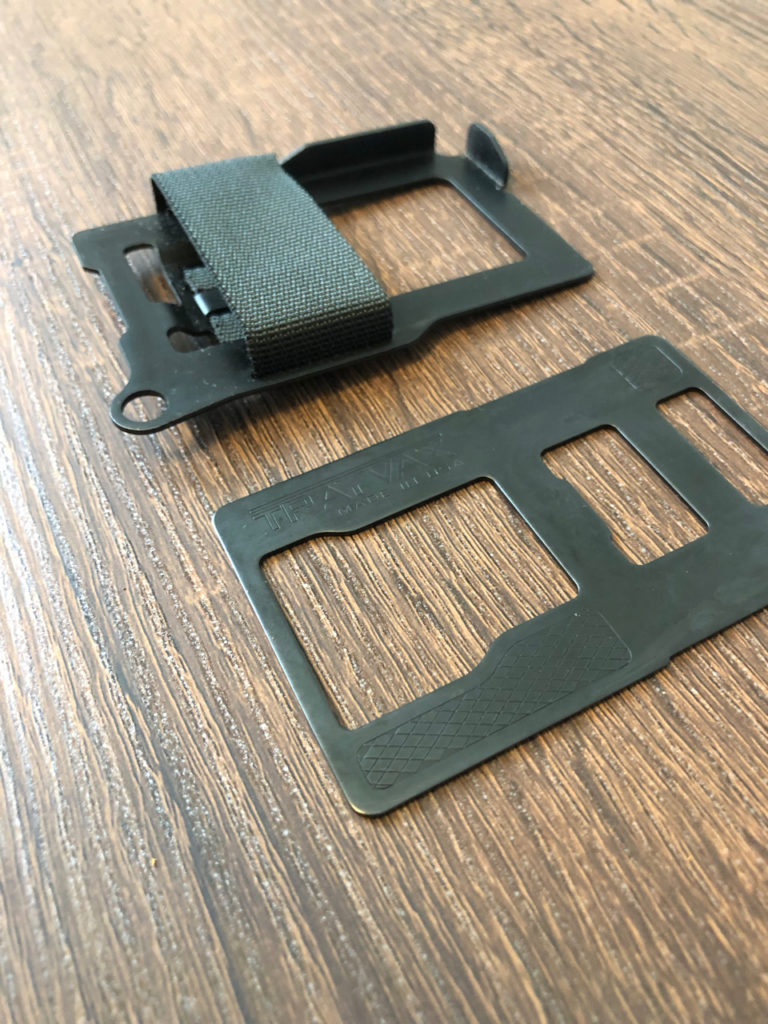 The steel outer plates are roughly the same thickness as a credit card but the plates are stiff and don't bend easily. These steel plates are finished with a Melonite hardening process which makes them very scratch resistant and durable.
The Melonite hardening process can be found on many firearms and other equipment that require hard, smooth, and corrosion resistant surfaces. An additional benefit outside of durability is a very uniform finish. One downside however is how dirty it tends to get. It's an interesting sight actually, the metal is 'clean' but still shows streaks from oils and other residue. This isn't necessarily a bad thing, just something that might brother some people. 
The nylon strap that holds the two plates together are equally as durable as the steel. Not once during my review period did a single strand start to fray. Moreover, the integrated notches created a great synch in the buckel that didn't loosen once unless intentionally loosened by hand. The ends are terminated well (they appear to be burnt, which is good) and I strongly believe the straps will hold to years of abuse.

There isn't much about this wallet when it comes to design. It's really only 3 pieces: two steel plates and one nylon woven strap. On the front plate you'll find several openings, one to access cards and quickly view IDs plus another designed to use as bottle opener. The rear plate houses the canvas strap buckles which also act as the money clip as well as an attachment point for paracord or clips.
In daily use, the wallet acts and feels a lot like the Trayvax Contour. One of the main differences here is that you lose the stretch and give from leather for a strap that doesn't have any give whatsoever. In my experience, I found it was very difficult to overpack which isn't necessarily a bad thing since it the wallet can be adjusted fairly easily to hold more cards.
That said, if you expand the straps too much you'll find that the front steel plate may actually slide out as it can sit above the folded edges of the back plate that are used to contain the cards and the front plate. Similar things occur when you underfill the wallet but don't properly adjust the straps to maintain compression. When you don't have enough compression, the plates tend to slide around too much and cards are liable to fall out. It should be noted that if you stay within the rated capacity (1-7 cards and 1-5 bills) you wont see these side effects as long as you keep the straps set properly for what you're carrying.
Moving on to the bottom opener.. all I have to say is that it just plainly works. Trayvax has selected a great geometry for their cutout and it works every time without fail. Additionally, in the 20 or so bottles that I opened (which lead to a … fun night) not once did I notice any scratches on the front plate (thank you Melonite).
On a final note, the money clip works – but not if you carry more than 5 or so bills. When Trayvax states 5 bills as the maximum they mean it. It barely fits 7 bills (but you can do it if you really compress the bills). Thus, if you typically carry a lot of cash.. this wallet is not for you.
The Armored Summit is a fine wallet. It definitely geared toward minimalists out there since it's design pretty much forces users to carry on the lower end an average man's carry. If you fall within that category, you'll be hard pressed to find a wallet as slim as this one.