Carry Feature #001
Josh Coon
@theedcnurse
GIVEAWAY ALERT: We are giving away one a Power Packer & Travel Kit combo this month to celebrate our 2,000 follower milestone on Instagram. Click here to enter for your chance to win!
Novel Carry is reader-supported. When you buy through links on our site, we may earn an affiliate commission.
Welcome to our Carry Feature series where we feature a member from our community and dive a little deeper into who they are and why they chose the items that make up their everyday carry. Want to be featured? Submit your photo here (Google account required)!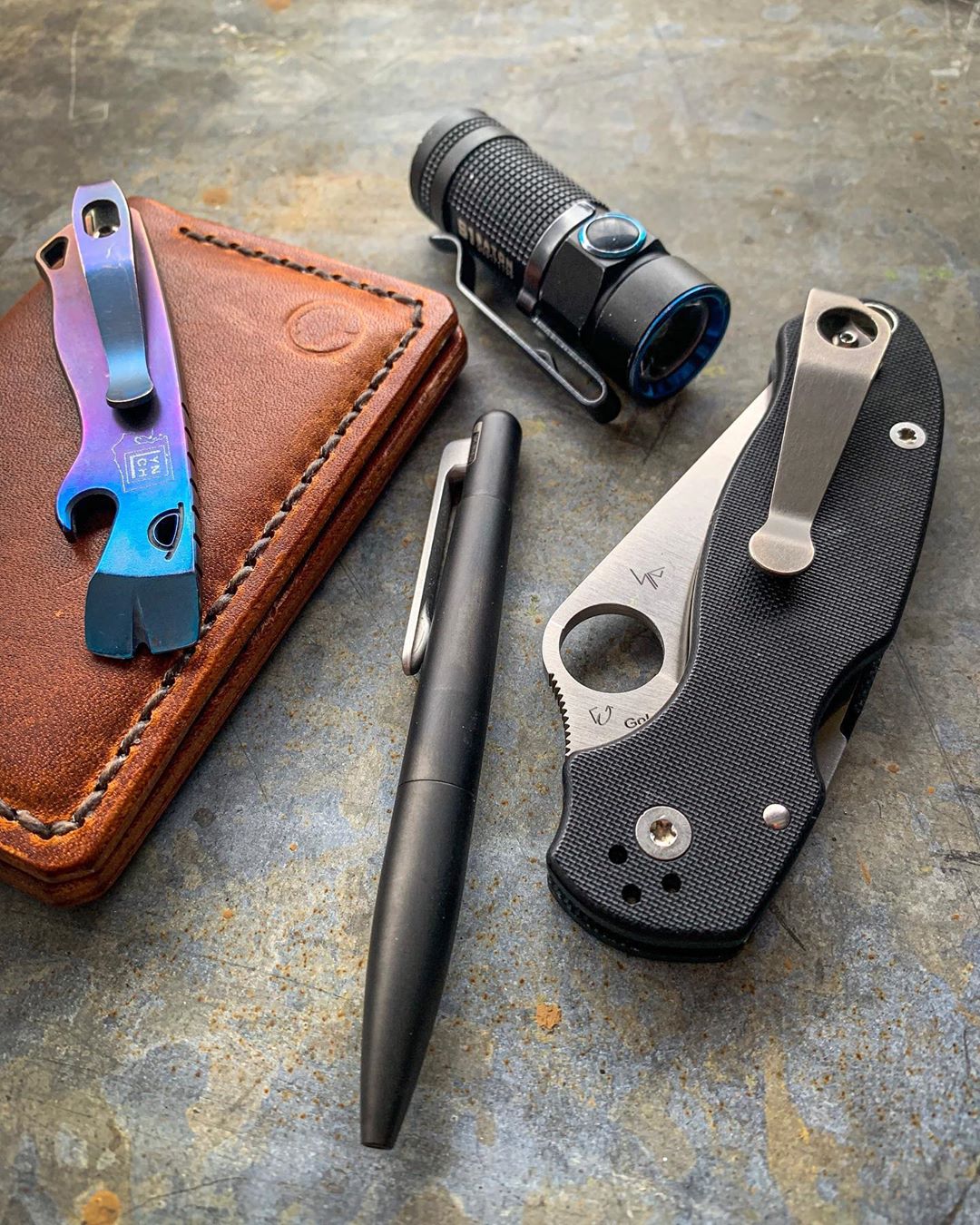 Q: Tell us about yourself. Who are you? What are you doing for a living? Where are you from?
A: Hey there! My Name is Josh and I have been a Critical Care/ICU Nurse for 6 years. I have spent those years working in a small community hospital in Northern Michigan. Besides EDC, I enjoy other hobbies that include hunting/camping and working on classic cars.
Q: How did you get into the everyday carry community scene?
A: I started browsing Instagram about 5 years ago and noticed that people would post pictures of what they carried in their pockets. I was shocked that most of these people carried flashlights and knives and other gear everyday. As a kid I had a pocket knife but as an adult I didn't carry anything besides a wallet and phone. As time went on, I made an account and bought some gear. The rest is history!
Q: What's in your photo? 
Spyderco Para3:


No frills S30V Para3 with deep carry clip from @lynchnw. Simple but very effective EDC knife.

Machine Era Co Pen:




Makerset Field Pen Compact. Small but solid construction with click action. Now discontinued but a great addition to my carry.

Olight S1 Baton:


Bought on the secondary market, this flashlight has a magnetic base and 500 lumens. C123 battery and compliments any of my carry options.

Redeemed Creations Co Wallet:




Front Pocket Bifold wallet (which I carry in my back pocket). Horween Dublin leather. Simple, minimalist design for cards & folded cash.

Casey Lynch AAP (All Access Pass) V2.0 Prybar:

 


All my carry setups have a prybar when I leave the house. In this case, I chose the @lynchnw AAP due to its lightweight, durable design. It also has some amazing colors to accent my daily shots.
Q: As a nurse, what gear could you not live without for each shift? 
A: First off, my stethoscope is a MUST. Without that, I can't assess my patients. Besides that, everything else makes the night much more bearable. I always carry a pen (recently started carrying the Karas EDK), penlight (Foursevens Bolt Mini), scissors (Leatherman Raptors), and a watch (GShock). I also have a pocket reference for medications during code blues and a pair of clamp scissors (hemostats).
Q: Benchmade vs. Spyderco vs. Boker? Any particular reason why you'd chose one of these knife brands over the others?
A: Although my first love was a Benchmade Mini Griptilian, Spyderco steals the show for me. I have many different models from Spyderco and I highly recommend the Para3 for any EDC enthusiast. As for Boker, I do have a mini Kwaiken but it's not my go-to knife.
Q: If you were stranded on an island, what 3 pieces of gear would you take with you?
A: I think for obvious reasons, I'd pick a knife for my first piece of gear for all those cutting tasks. A part of me would also say that a watch would be nice to have. This would give me a sense of time and it would help me keep track of something when getting bored. My third choice would be my phone. Time to sit back and scroll through Instagram aimlessly until I either get found or my phone dies… lol
Q: What's in your dream carry and why?
A: I've been drooling over @ozmachinecompany's custom knife; the Roosevelt. Hoping to get in on his books when he opens again. As for other gear, I'm always open to trying new flashlights & pens. I couldn't say no to another CRK in my collection either! I try to curate a collection of gear that is obtainable to everyone that follows me. It makes me more relatable when talking with others!
Q: Who is your favorite gear maker?
A: Ooooh boy! I'm a big fan of supporting small companies on Instagram and love sharing who's gear I carry. With that being said, I have to give a big shoutout to @redeemed_creations_co who makes leather goods such as wallets, keychains, and bags. Jonathan is a solid dude! I also love a good brass prybar and @875fps does an amazing job. Another company I have enjoyed working with is @nutsac. They make canvas/leather bags and wallets and keep everything made in the USA. There are so many more companies and I'm always looking for others to check out.
Q: What are your go-to #everydaycarry Instagram pages?
A: @mindfuledc has been a newer page I've been enjoying. Elliot is an easy-going guy that has been nothing but nice to me and takes super clean daily shots.
@desk_whiskey has some serious skill when it comes to getting his shots. He pushes the envelope with his backdrops and has some gear that has so much character. Again, down-to-earth gentleman as well.
@mkd9042 – His photography skills and daily hand-dump shots are always gorgeous and on point. I don't hesitate to double-tap his shots during my religious scroll through Instagram.
@wild_bills_blades – I've followed this guy since the beginning, and he's been a serious knifenut ever since. I love that he starts every story video with, "What's up? It's WILD BILL".  I look forward to that every day!
@canadiancanuck11 is also one of those OG pages that I've followed since the beginning and he keeps stepping his game up every day. He's becoming a master of photography! Plus, he's a Canadian! Gotta love your other brothers. Lol
Q: Any last comments?
A: Seriously thank you so much for letting me be a part of this series! I enjoy this platform and community and have been blessed with so many friendships!