Big Idea Design's Ti Click EDC Pen is a premium pen with a premium price that offers a unique adjustable barrel design that you won't find in many other pens. Their design is truly Insta' worthy and feels as good as it looks in photos. The pen is heavy but balanced well for a comfortable writing experience. Buyers who fidget with their 'click' pens should be aware that this pen has a silent toggle mechanism that doesn't provide any audio or tactile feedback.
Materials: Titanium, Brass or Copper
Compatibility: 100+ short or long cartridge refills
Finish Options: Raw, Stonewashed, Midnight Black
Full Review: The Ti Click EDC Pen by Big Idea Design
Novel Carry is reader-supported. When you buy through links on our site, we may earn an affiliate commission.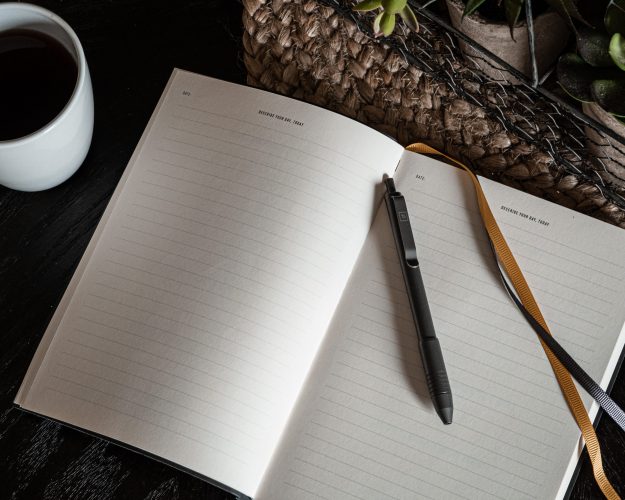 Big Idea Design (BigIDesign) got its start back in 2011 on Kickstarter and over the past 9 years has successfully funded 30 campaigns for a whopping total of 2.6 million dollars. Going back in their history you'll find that the firm hit their stride when they started to focus on developing intuitive EDC (everyday carry) gear. Behind the scenes you'll find two guys: Chadwick Parker & Joe Huang. As said in their about page, their focus "is to bring innovative EDC gear to folks who want to do more and carry less". In this review we'll take a closer look at the Ti Click EDC Pen and see how it stacks up to the aforementioned motto and wheter its worth your hard earned cash..
The Ti Click EDC pen comes in 3 different materials: copper, brass, and titanium. The copper and brass materials are slightly cheaper options with the titanium option priced at $10 higher. For $105 dollars you'll be getting yourself one pen machined out of titanium in either raw, stonewashed, or midnight black (DLC double-coated) finishes.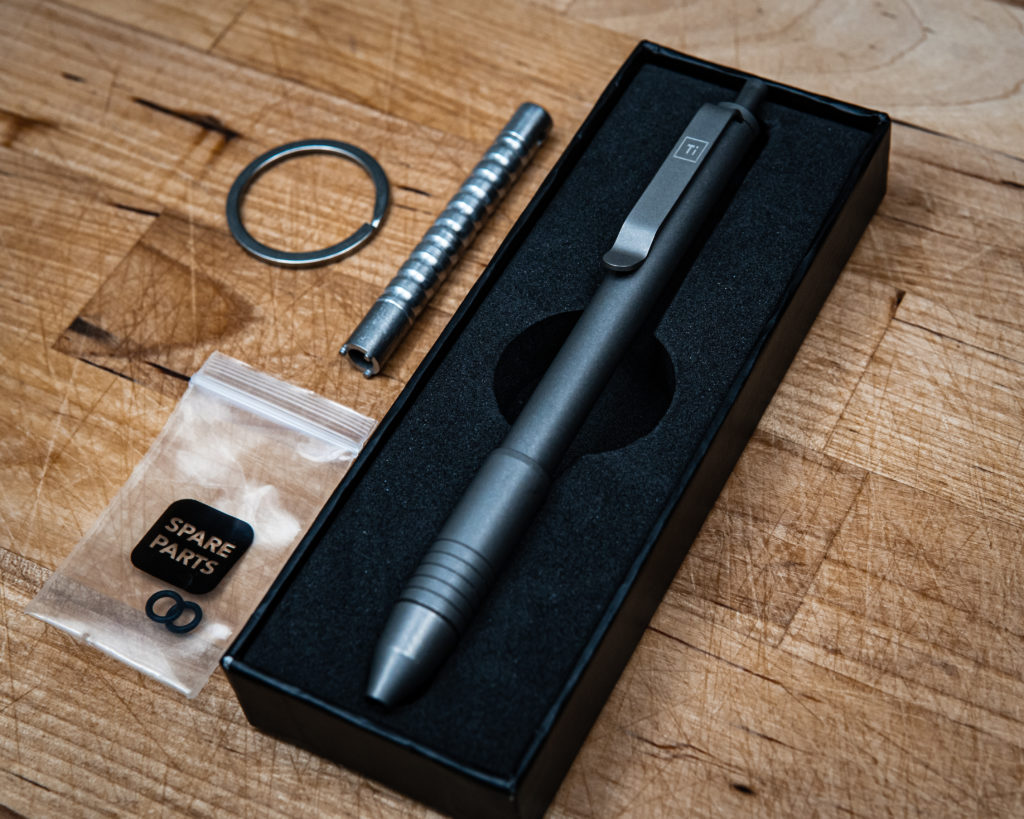 In the box you'll find the pen (with a pre-installed Schnider 0.4mm refill), some spare o-rings, and a pocket clip/pen disassembly tool. I'll be honest, I was a little underwhelmed with the packaging of this pen. For an asking price of $100, I'd expect the unboxing experience to fit the price tag. That said, it's not like the pen will be stored in its box after you open it. I promptly threw it to the side and stuck the pen in my day bag.
Compatible with Just About Everything
This pen's star feature is its adjustable barrel design that allows it to be compatible with over 100 different refills. BigIDesign accomplishes this by breaking the barrel into two halves (much like every other retractable pen out there). You assemble the Ti Click EDC pen by screwing the bottom half (grip side) on to the top half (clip side). You'll notice that the threads are ramped at a steep angle which allows the pen's barrel to be adjusted pretty quickly.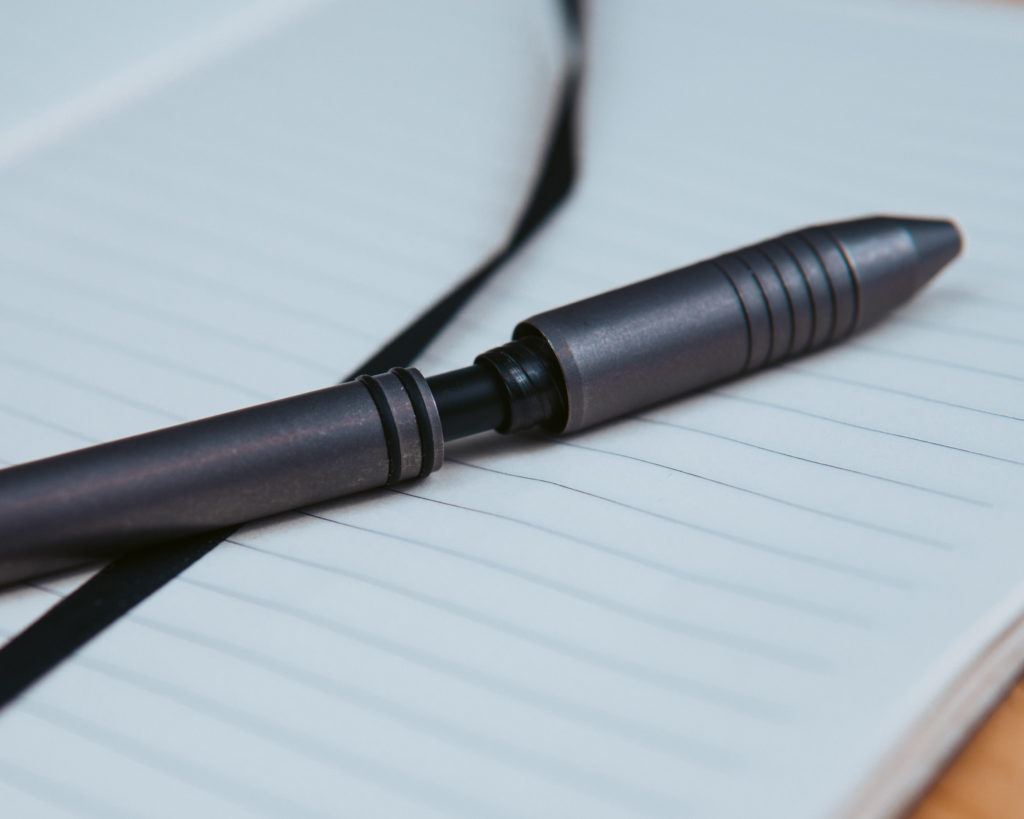 Along the top portion of the barrel are two o-rings that add friction to keep the pen from unscrewing itself during use. I've used the pen over the last month and haven't noticed the pen's barrel length setting changing in my pocket, while writing, or floating around in my day bag. You'd think that the extra space needed to house the O-rings would make the pen feel less solid – but that's not the case. The tolerances are tight enough, and I haven't noticed any wiggle at all.
With all this, you'll find that the pen fits over 100 different pen refills – my favorite of which is Pilot's G2 0.38mm Gel Refill. My only gripe about the compatibility feature of this pen is that it fits shorter ballpoint pen refills by making the overall pen shorter. This is more of a personal preference, but I found this pen most balanced and comfortable to write with when it's using longer refills (such as Pilot G2, Pentel ENERGEL, or Zebra rollerball cartridges). I would have loved to see BigIDesign include a spacer for those of us who want to use our favorite shorter pen refill but keep the longer barrel length.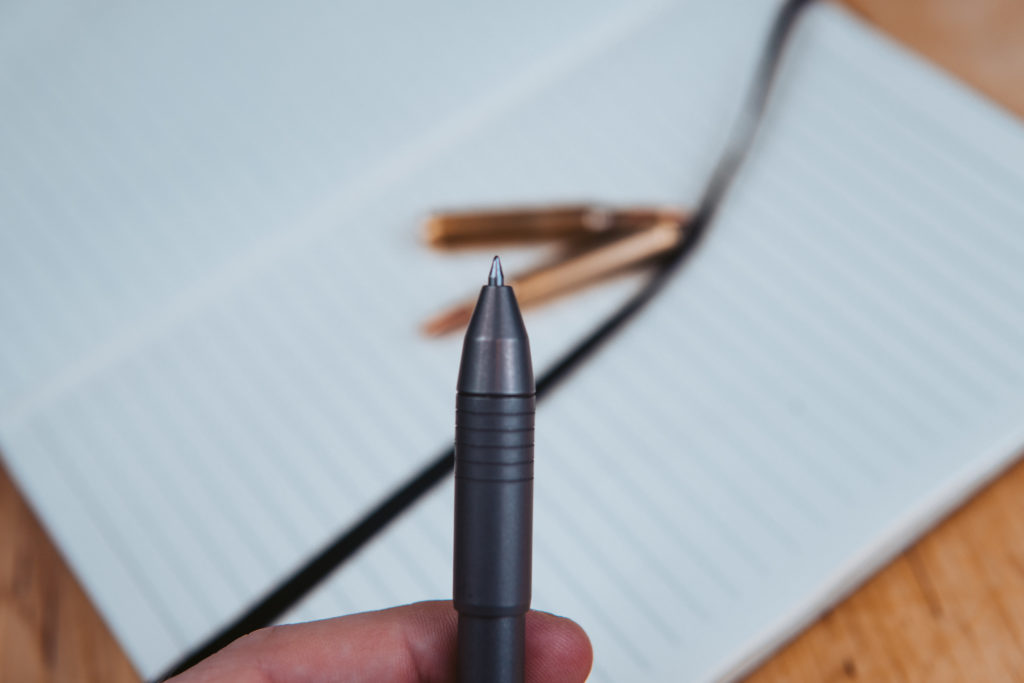 On the point of compatibility, you may have noticed that other pens may be compatible with multiple refills but don't accommodate pen tip diameter. By this, I mean the diameter of the pen's opening may not fit properly on some other pens which causes the tip to 'wiggle' (which makes writing pretty unpleasant). The Ti Click EDC pen solves for this with an auto adjusting collet which helps remove the slop from using different refills. A super thoughtful design feature!
No matter what stage you are in in your life – student, professional, retired – a pen is one of the most useful and understated everyday carry items. We all know what it's like to write with a bad pen. Some people opt to go the ultra-cheap and replacement pen route (often choosing to use BIC ballpoint pens) while others choose to search for their favorite pen and hoard all the office's stock for themselves.
I remember discovering Pilot G2 pens for the first time in high school. It was as if I had discovered the holy grail of writing utensils. The ink just flowed and my ugly handwriting wasn't as bad anymore (admittedly it's still bad, but at least its legible.. sometimes). I immediately protected my Pilot pen stock with my life – hoarding a whole box in my locker and book bag. I even went so far as to make sure I had cheaper pens to give out when my desk neighbor asked to 'borrow' my pen only to lose it and never return it.
This is all to say that Big Idea Design's pens are definitely ones you'll covet. Funny enough, I find myself handing it out to colleagues more willingly now for the simple fact that I want them to experience my premium writing experience. My pen uses a Pilot G2 refill – but the beauty of the Ti Click EDC pen is that it can likely fit whatever your favorite pen uses already. If you really like a certain pen, you can easily disassemble it and put its cartridge in the titanium body of Big Idea Design's product.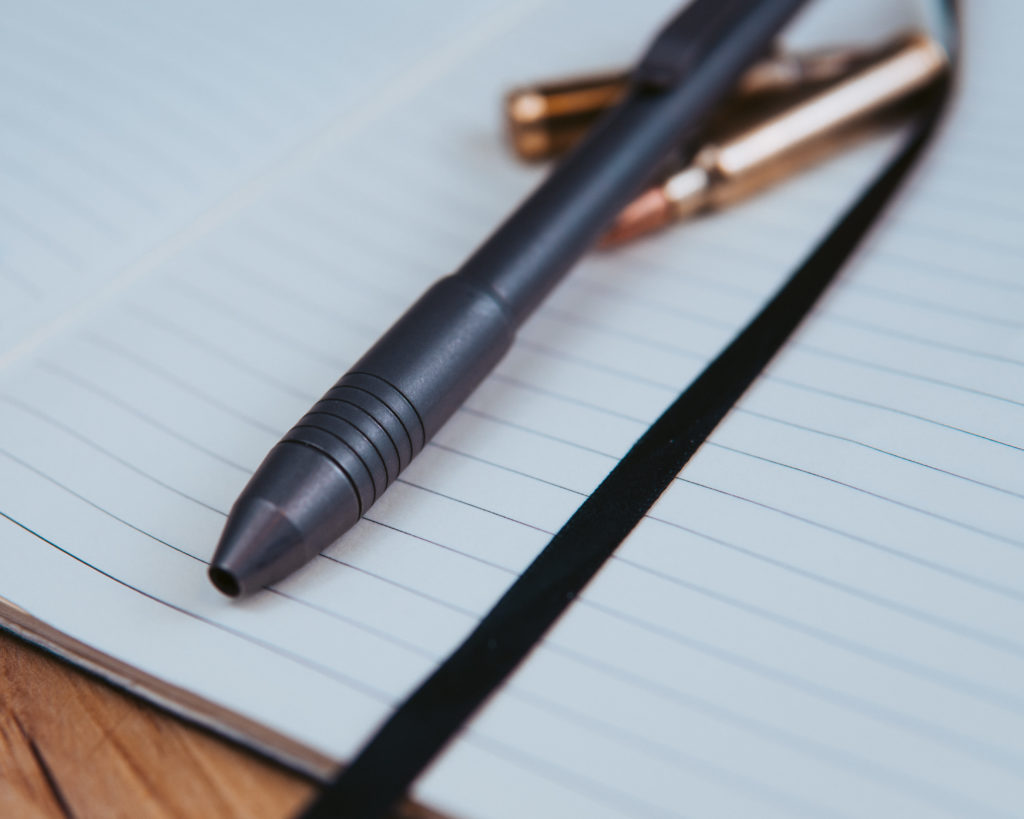 From a comfort perspective, I found the pen to be really easy to write with. It's much heavier than any other pen I've used previously, but its balanced in a way that makes it easy to write with (even for longer writing exercises). The pen feels really solid and sturdy and I didn't miss the weightless plastic body that my pen insert came in.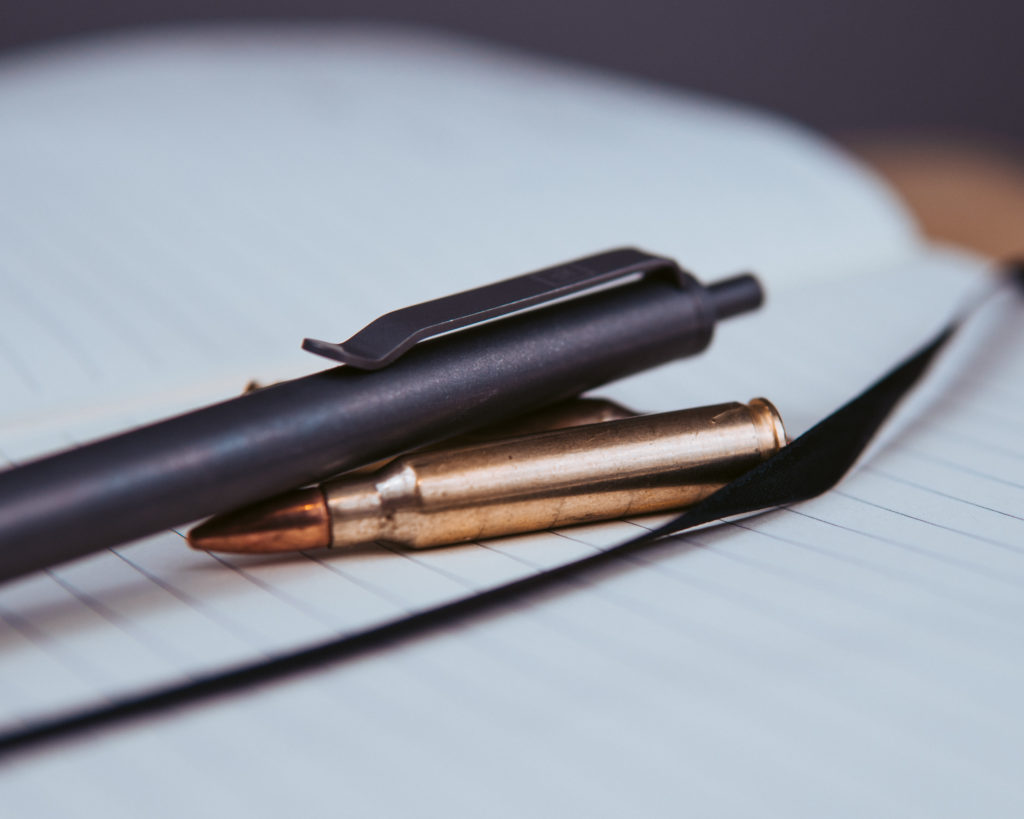 Lastly, I found the clip to be perfectly adequate for everyday carry. It is tight enough to be secured on a sheet of paper and it's entrance ramp is wide enough to easily slide down onto a pocket. Moreover, I really like the fact that BigIDesign included a tool to remove the clip entirely for adjustment. I haven't had to adjust mine yet, but it's cool to know that if the clip lost tension, I could simply remove it and bend it back down for a more secure fit.
If you're looking for a pen that is worthy for Instagram #EDC karma, this one totally fits the bill. The Ti Click EDC comes in 3 materials and several different finishes – each of which is just as attractive as the last. If not for the $100 price tag, I'd certainly buy myself all of BigIDesign's different flavors to match my carry each day. I purchased the stonewashed version for its already worn aesthetic appeal, but the other options (raw, midnight black, copper, and brass) are all just as awesome.
Here are a few #everydaycarry community photos that show this pen is all its glory.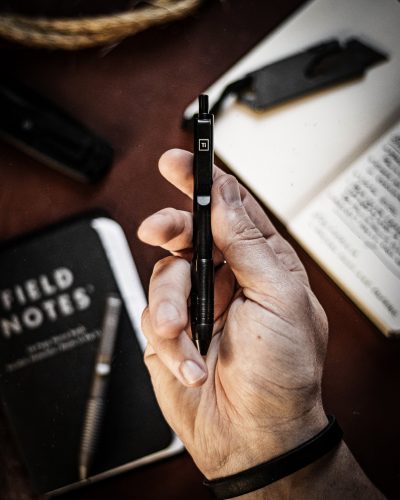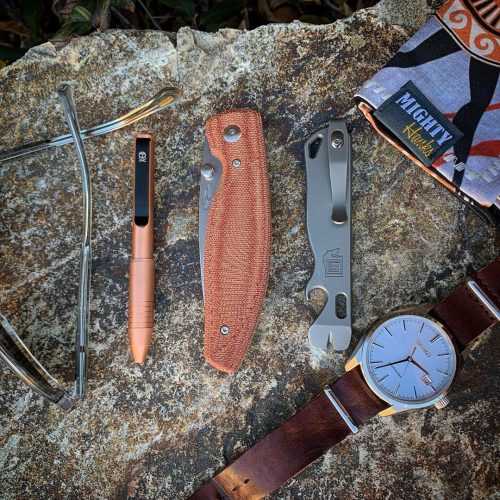 A Quick Note About the 'Click'
Big Idea Design uses the word 'click' to describe the pen type (which is retractable). But buyers should be aware that this pen features a custom designed pen retraction mechanism that is totally silent and lacks tactile feedback. This is not a bad thing by default but is certainly something everyone should be aware of.
I, like many of you reading this review, fidget with my pen frequently. Much to the dismay of my colleagues, I flip it in my fingers and click it constantly during deep thought (or boredom). Thus, when I opened the Ti Click EDC Pen and started to play around with it, I was immediately jarred by the lack of the satisfying *click* and tactile feedback that I had come to love with my other pens. That said, over time I became used to the pen's mechanism and appreciate the engineering that went into it. I'm sure my office colleagues appreciate the new silent pen action.
So, this is to inform you that you should expect this pen to be what it is – a well-designed retractable pen that doesn't 'click'.
Final Thoughts on the Ti Click EDC Pen
Big Idea Design's Ti Click EDC Pen is a great product that hits it just right in nearly every category. I highly recommend taking a look at this product if you're in the market for a premium pen that will last forever and look good doing it. For what it's worth, $100 is just scratching the surface of what premium pens can cost. Thus, I find this pen a good value for what you get.