REVIEW: Orion Hellcat Watch
Say one thing for the Orion Hellcat, say it is a fantastic watch. 
I say this and I don't say it lightly, but I did not want to return this watch – it was that good. I will get into the meat and potatoes of why I like the Hellcat so much later in the review, but first let me set the table with a little background on Orion Watch.
Like many of us, Nick Harris got into watches via an inherited piece, which in his case was a vintage Omega Constellation from 1955 that was handed down to him from his great grandfather (well done great grandfather, well done). By all accounts, it was a gorgeous watch that ran but was missing its crown and stem. As the years passed, Nick's interest grew, and he began researching ways to see if he could repair his old family heirloom. After countless hours of research, he learned one thing, this would be no easy endeavor. Like many, he moved on to buying affordable Seiko parts and honing his skills there, but where Nick stands out is the fact that he took his hobby to a new level and attended a full-time program to become an official watchmaker. 
Orion Watch was founded during his time in school to help pay for everyday expenses and since its founding has produced two watches: the robust and dressy Orion 1 and the extremely capable and stylish Calamity diver. Both watches were very well received by the watch community, so it's no surprise that his 3rd release has been generating quite a lot of buzz itself. After spending two weeks with the Hellcat, I assure you that you can believe the hype. So, let's sink our teeth into what I consider the Michelin Star main course and get on with the review of the Orion Hellcat!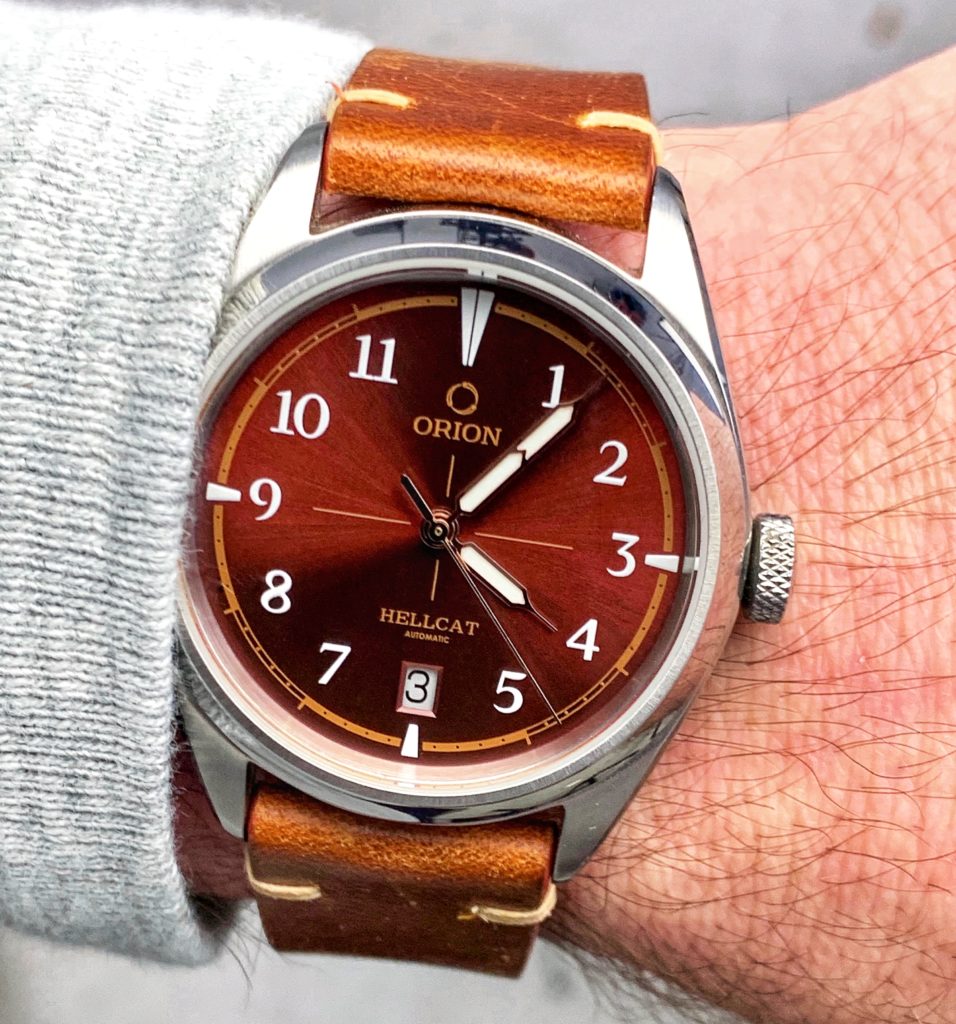 The Hellcat comes in at 39mm in diameter with a thickness of 10.5mm and a lug-to-lug of 47mm. To be 100% honest, this watch is perfectly sized. It felt right at home on my 7.25" wrist. The size and feel on the wrist reminded me somewhat of my vintage 38mm Seiko 7a28 quartz chronograph despite being a fraction larger at 39mm. This can be attributed in part to the curved caseback design that Nick incorporated which helps it form fit to the wrist. The end result – it felt spectacular every time I wore it. The case finishing on the burgundy variant I received is a very well executed blend of brushed and polished surfaces and smooth transitions. At 3-o'clock there is a knurled screw-down crown that offers 100m of water resistance which is more than enough for your everyday needs (and then some). 
As I mentioned earlier, I was lucky enough to receive the burgundy dial version of the Hellcat for my review. While I was awaiting the arrival of the watch, I casually spoke with multiple other Microbrand owners about the Hellcat and was amazed when each of them all stated in some fashion that I would love my time with the Hellcat because "Nick knows dials". I would like to classify the previous as a gross understatement because I cannot say enough about the finishing of this dial! The design of the entire dial is steeped with accouterments of style and finesse. The burgundy dial color plays with the light in magical ways, giving off many variations in hues and tones. It literally could be bright red one minute, then dark maroon or even a reddish-black the very next.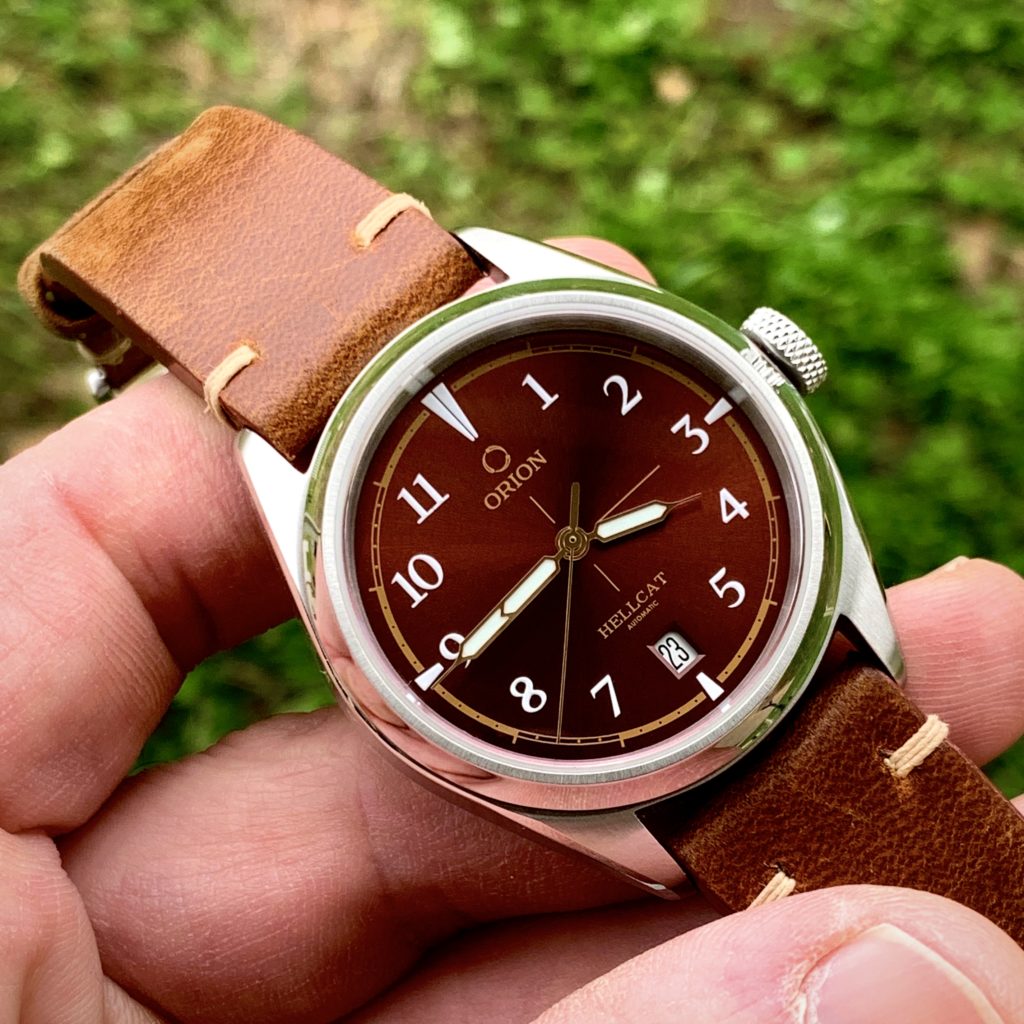 The dial features a gold-colored minute track of alternating design which I quite liked as it gave a unique look. This also helps increase the legibility of the watch in my opinion as it made the watch a little less busy than the typical rail-road style design. The track is highlighted by white trapezoidal indicators at the 12, 3, 6, and 9 o'clock positions as well as a font specifically developed for and unique to the Hellcat itself. This subtle touch is extremely well executed and speaks of higher price points, thus adding to the appeal of the watch in my humble opinion. The center of the dial features a gold crosshair that ties in nicely with the minute track.  The crosshair is juxtaposed by the Orion name and logo at the top and the name Hellcat at the bottom. The 6 o'clock date window has a nice beveled design which is a nice touch and works well with the rest of the dial.  Rounding out the dial are white syringe-styled hands that are segmented in gold and treated with blue Super-LumiNova BGW9.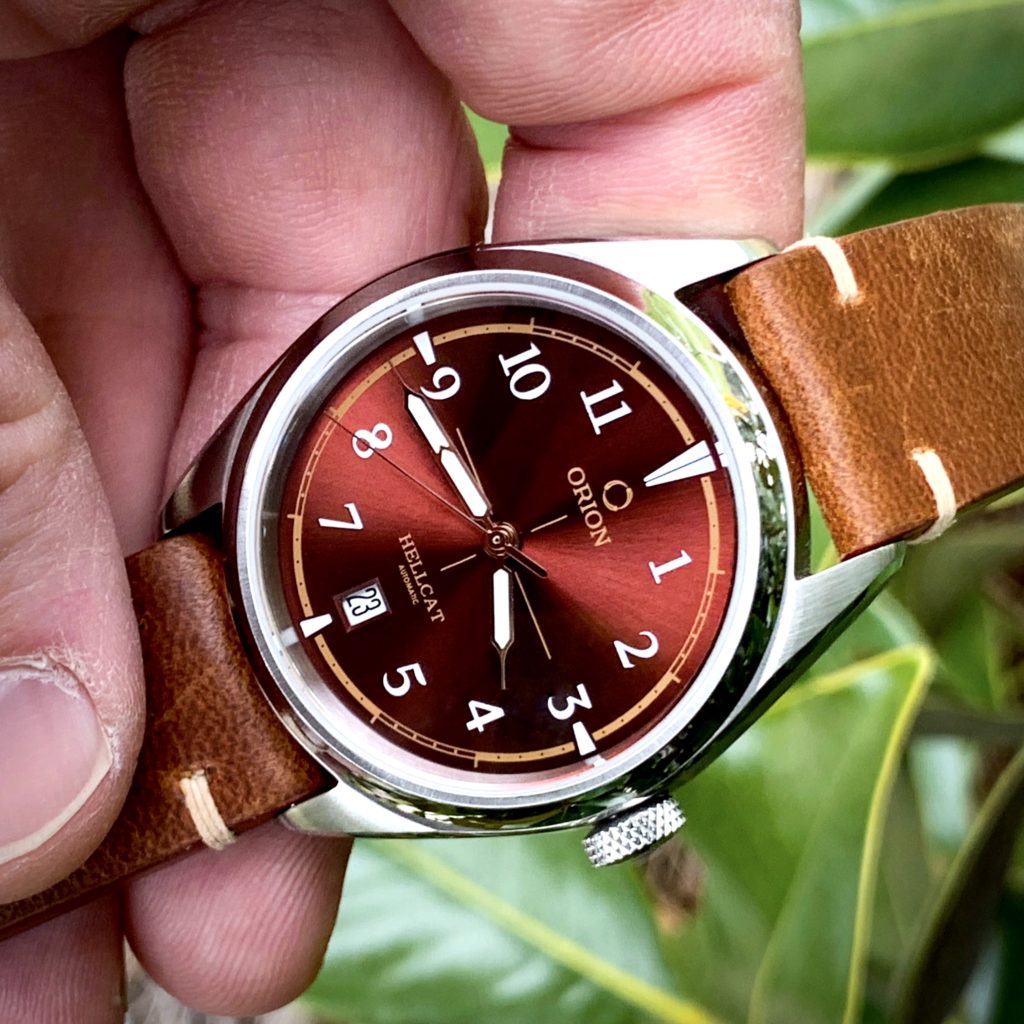 The superb finishing and attention to detail does not stop with the dial of the Hellcat, as Nick also gave careful consideration to the caseback as well. The extremely comfortable rounded caseback that I spoke so highly of before is adorned with an engraving of the constellation of Orion. This is a great design touch in my opinion and a nice break from either large logos or typical movement/serial number details that you see on most watches. The watch itself is powered by a Miyota 9015 movement which beats at a steady 28,800 bph and provides a nice sweep of the hands and an adequate 42 hours of power reserve. While this is nothing to write home about by many accounts, I enjoy this movement and it will certainly be both reliable and make serviceability very practical and affordable.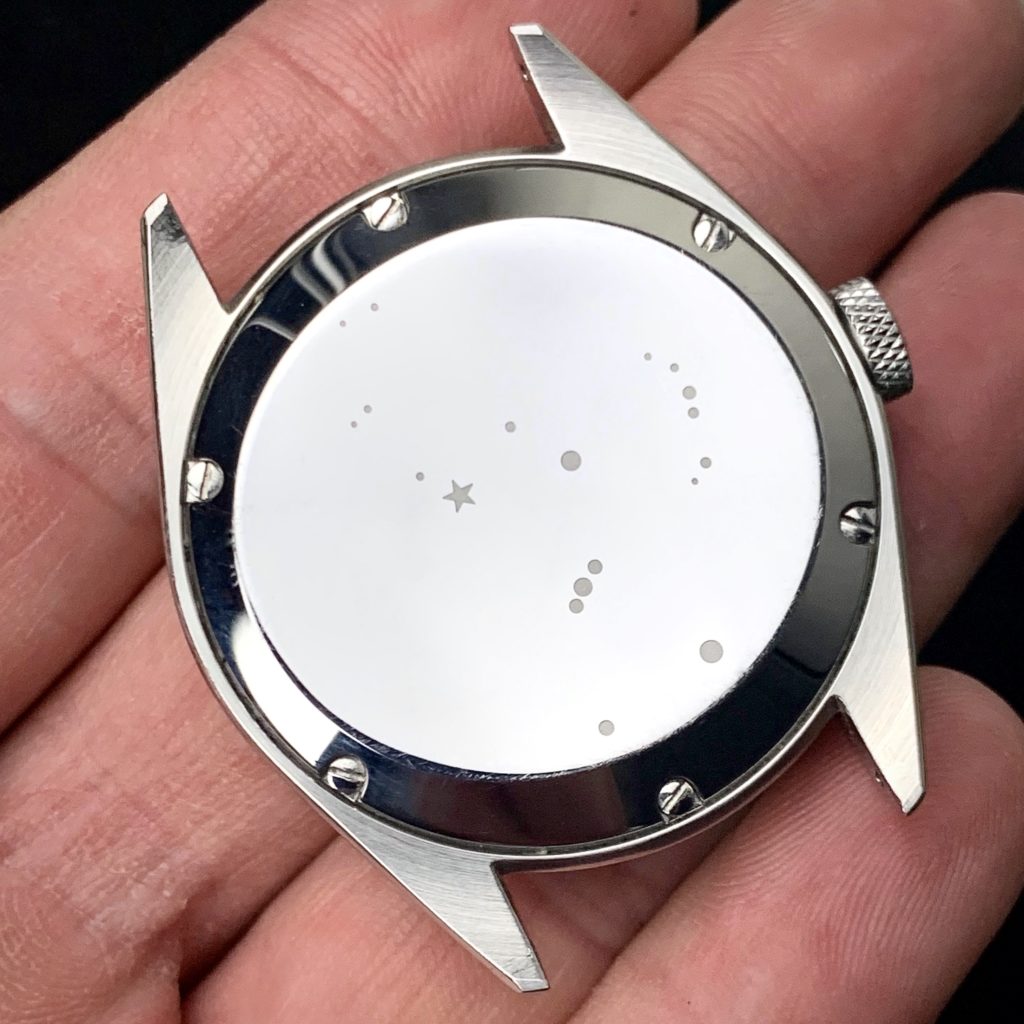 The stock strap that comes with the Hellcat is a leather offering and honestly quite comfortable. It is also available in three lengths at the time of ordering (a nice touch) and feels higher quality than most you receive for other offerings at this price point. To be brutally honest, I am not a guy who would typically go for a red-dialed watch, and for those of you who tend to be more traditional you can rest assured as the Hellcat also comes in a matte-black dial variant. That being said, I found myself really enjoying the burgundy Hellcat. This could be in part to the fact that this little guy is extremely versatile. The lug width is 20mm which allows for a wide range of strap combinations and I can personally attest that it looks good on just about anything you pair with it. I tried it out on leather, canvas, sailcloth, and cork and found them all appealing options. I personally wish there was a bracelet offering, and as it turns out, Nick at Orion is working on just that at the moment!
I must admit that I find myself missing the Orion Hellcat. I spent about 2 weeks with the burgundy-dialed variant and truly enjoyed every minute with it. The size and proportions of the watch are pretty much perfect in my opinion and I think this design will speak to a wide range of watch enthusiasts. Nick at Orion set out to create a pilot watch with the Hellcat, but I think he did something more than that. He gathered up all the necessary ingredients for a gourmet meal and cooked up something truly unique – a watch that has a vintage feel with superb attention to detail and expert finishing. At a suggested MSRP of $600, I can personally attest that you are getting a lot of watch for your money as the Hellcat wears and looks like it should cost much more.  Pre-Orders are available now on the Orion website with an expected delivery of April 2020 (obviously there may be delays – Thanks COVID-19), so if you want a watch that holds its own well above its price point and will turn some heads, I'd look no further than the Orion Hellcat!