Carry Feature #006
Junya
@the.owl.edc
Novel Carry is reader-supported. When you buy through links on our site, we may earn an affiliate commission.
Welcome to our Carry Feature series where we feature a member from our community and dive a little deeper into who they are and why they chose the items that make up their everyday carry. Want to be featured? Submit your photo here (Google account required)!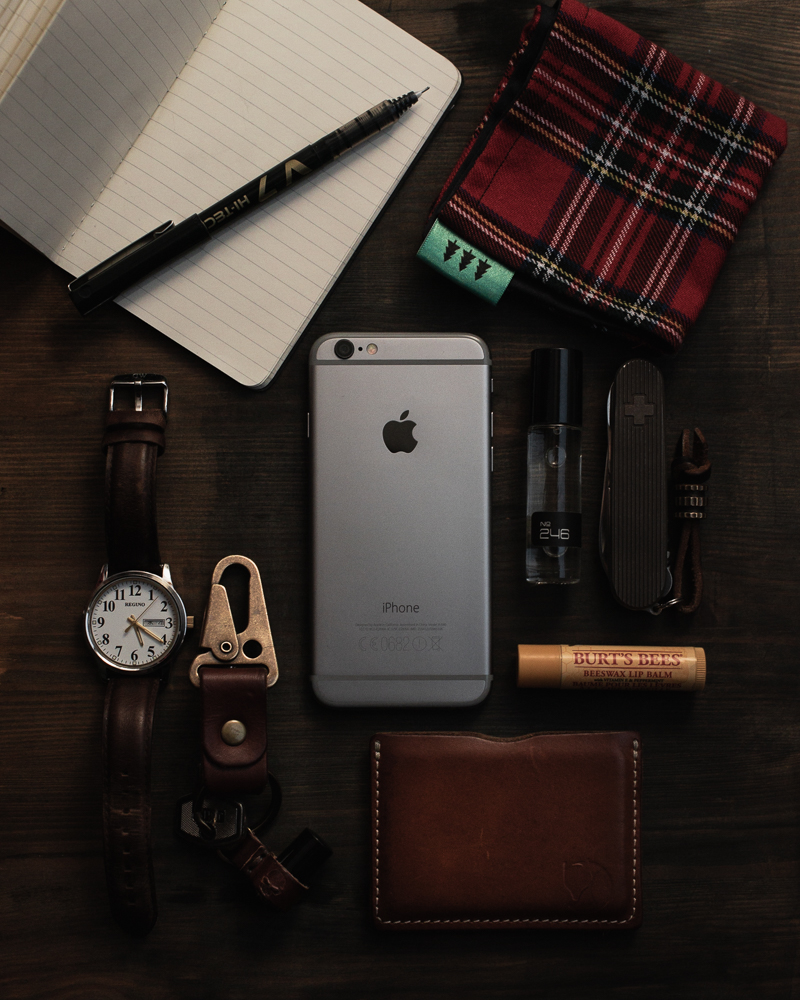 Q: Tell us about yourself. Who are you? What are you doing for a living? Where are you from?
A: I'm Junya, a freelance photographer living in London in the U.K. I've been freelancing for over a year but I am currently in the process of interviewing as a product photographer for a company. I grew up in London but my parents are both Japanese so I've had the fortune to visit Japan quite a few times in my life!
I grew up playing guitar and music is a huge passion of mine; I was dedicated to make it my living, but I didn't enjoy the pressure of creating music to a deadline. About ten years ago, I picked up photography as a hobby but I managed to start making some money from it and decided to try and make it a career. I'm still on that path but moving away from freelance. Being a photographer, EDC became a necessity for me, to be organized, to be prepared for most situations.
Funnily enough, I was sort of into EDC from when I got my first ever knife when I was ten; a Victorinox Camper (which I've since swapped the main blade) from a family holiday in Switzerland and my Gameboy. Ever since then, I would sometimes have the SAK in my pocket around the house (never outside unless camping or hiking).
Ever since discovering the EDC community, I've managed to refine my carry a little bit more and I'm excited to explain why I carry those things!
Q: What's in your photo? 
Apple iPhone 6
Pretty self-explanatory, everyone needs a phone and this is un/fortunately central to my daily needs. The camera on it isn't great so I never use it for my serious photos, but it's better than nothing for taking a snap of a memory!


Rambler Made Rabbit
I had the good fortune of getting to know Peter of Rambler Made through Instagram and he made me a rabbit key clip! He understood that the thing I hate about keys is that if they're in your pocket, they poke you when you sit down (a lot of that in the tube in London) and they're difficult to pull out of your pocket. Having this takes them out of my pocket* and keeps them exactly where I want them until I need them.


Musk and Hustle 246 (Buy Here)
I've been wearing Musk and Hustle nitro musks for a little while now and they live up to the hype. The 246 is new to me but it went straight to my top 3 when I smelt it. Before that, no.24 was my absolute everyday go-to. The nitro pens are very portable and so it's easy to dab a tiny bit (a little goes a looong way) and be ready for a meeting or interview!

Attached to the rabbit, is a new product from Musk and Hustle and it's a keyring holder for their Nitro stubbies. This makes it really easy to top up during the day, even if I'm not carrying the bigger, nitro pen.

Victorinox Compact w/ Daily Customs Shop scales
I won these scales in a giveaway and contemplated for a while before I decided what SAK to put them on. After some advice from the community and my ideas of my own needs, I decided to use the Compact. While I do lose all the neat scale tools the Compact comes with, I really miss the toothpick and tweezers. Otherwise, this sees me through the day quite happily, without the need for any other tools. I tend to use the scissors just as much as the main blade and interestingly, I used the parcel hook for carrying the shopping only about a week after owning the Compact and thinking I would never use it!


Custom antiqued brass bead from @owen_edc
I felt this needed its own bullet point! Ever since creating this account, I have met some amazing people of this community and Owen is one whom I've become very good friends with. He makes brass lanyard beads and some amazing dice too! He has made me two custom one-offs and a pair of dice. I am very fortunate to have him as a friend and the quality of his work is amazing!


Evergreen Hanks red plaid handkerchief
I will usually have a handkerchief in my pocket and it will usually be one from Evergreen Hanks! I was lucky enough to help Sarah (of Evergreen Hanks) prototype and test some microfibre fabrics. She actually has a new type, which I am currently in possession of but it's part of a giveaway package (shameless plug) so I can't actually use it! I find it handy to have a hank to fully dry hands, mop off sweat from my forehead after running for the tube or using the microfibre to clean a camera lens or screen.


Moleskine pocket notebook and Pilot V7 Hi-tec point (Buy Here)
I keep this in my pocket for sudden photo ideas as well as my daily tasks and chores. I find writing something down (usually a to-do) seems to hold more gravity and I will actually go about doing it. I am not a huge fan of big logos so I wanted something plain. Sam a.k.a. @raven_the_pirate recommended the Moleskine notebooks and they're great. It has a little pocket for stuff in the back and the last 15 pages have perforations so they can be torn out neatly! I usually write less permanent things in there, such as shopping lists. I'm shooting out a few different affordable pens and this one is currently my favorite. It's relatively quick-drying, I carry it in my pocket so the fact that it has a lid means it can't actuate in the pocket and it's fairly smooth to write with.


Fjallraven Övik leather card wallet (Buy Here)
I bought this when I used to work in retail. Before this, I was carrying an oyster card (travel card) sleeve as a wallet and it was more than the right time to buy an actual wallet. Before that, I used to carry a bi-fold wallet that got filled with receipts and gave me back pain (carried it in my back pocket) so I needed to change it. The veg-tan leather has patinated really nicely over the years of use and I'm thinking it's probably time to condition it.


Others:


Burts Bees Chapstick

: Chapped lips suck. Need I say more?


10.5 inch iPad Pro

: Not pictured but I use it every day for editing pictures and watching Youtube while I work.
A bigger notebook is also part of my EDC as it provides more space for fleshing out creative ideas.


Q: What is your favorite community photo from someone else's profile? Why? 
A: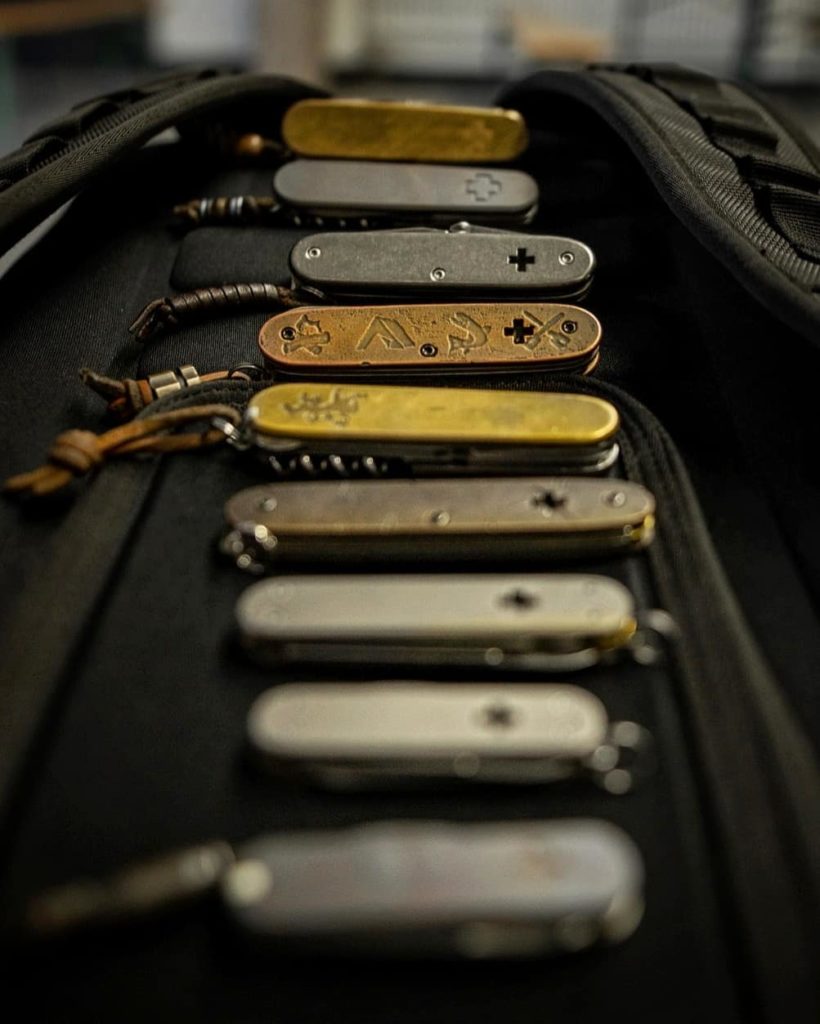 That is a really tough question! I think my favorite photo might surprise you. It's a picture on @sharp_elegance 's feed, taken by @raven_the_pirate. It includes some of their Custom SAKs plus a few from @mac_k_edc's as well. I think about this picture often because it shows our community coming together outside of Instagram and having fun! The thing that I really wish I had the chance to do is to go and meet some of the amazing people I have gotten to know through Instagram and this community.
Q: What's the inspiration behind the 'Owl' in @the.owl.edc?
A: About nine years ago, I had the idea that I wanted a tattoo. I thought that if I was going to get one, my first, it had to be truly meaningful. Having thought about it for a while, I decided I wanted to get an owl, as they are seen as animals of wisdom. So it was to always remind me to make the smartest and wisest decisions where I could. While I still haven't got that tattoo, it seems to have made its way into my decision-making process and so, I wanted to honour it in some way.
Q: What's in your camera bag when you start prepping for shots? Do you have a creative process?
A: The standard kit in my camera bag will look something like: a Camera (Nikon D750), a few lenses (Nikon 50mm f1.4 and Sigma 24-35mm f2), sometimes an iPad, couple of camera batteries, spare SD cards, ND filter and adapter rings, first aid kit, pen, cleaning items, tissues, hand gel, and earplugs.
I don't really have a creative process as such… I just end up shooting what I think might look good and then tweak from there. Sometimes I will have an ambitious idea, a floating picture, for example, and I'll note it down and refine it in writing until I'm happy in terms of composition, colours, lighting, and props.
Q: What's in your dream carry and why?
A: My dream carry? If it were legal to carry locking knives here, I would love to be carrying a Chris Reeve Knives of some description. Either a Sebenza with black micarta/ebony inlays or an Inkosi. I like the idea of carrying two knives so I would carry some kind of traditional or modern slipjoint for cutting food. I'd also carry a custom SAK rambler with Ti scales. I'm fairly happy with my current carry and although there are a few things I would change if I could afford it; like a watch or pen, I like to take my time deciding if I will end up carrying something or if it will end up in a drawer. I'm just happy that I get to carry some awesome gear made by awesome friends.
Q: Who is your favorite gear maker?
A: You might already be able to suss this out from my carry, but @evergreenhanks, @owen_edc, @rambler.made, @muskandhustle, @dailycustoms.shop, and @firefly15_hanks.
Q: What are your go-to #everydaycarry Instagram pages?
A:
@grayscale_carry – He takes awesome pictures of his very monochromatic carry.
@geardiaries – Moody shots of his growing damascus collection.
@raven_the_pirate – Perhaps everyone's favourite photographic EDC feed. Sam is always inspiring me with his creative shots.


Q: Any last comments?
A: If you've made it this far, thanks for reading! I just want to say that this has by far been my favourite community to be a part of. The people are amazing and I have had such a blast meeting people from all over the world and forging new friendships. 
I wish everyone safety and health in this weird time! As a community, we have the power to encourage and support each other. Those more vulnerable are depending on us to fight this pandemic and we have a responsibility to try and keep them and ourselves safe. Stay safe everyone, and be mindful of others!