REVIEW: Marnaut – Dark Surge
I will always have a soft spot in my heart for Microbrand watches. I think this is in part because there are so many different watch enthusiasts out there and the Microbrand realm gives many of these people the opportunity to make their vision for the perfect watch come to life. That being said, I find myself having a very difficult time staying current with all the releases coming out lately.  Field watches, dive watches, sport watches, dress watches – they are coming out in all shapes, sizes, and styles and at an amazing rate lately. Thankfully, I have some good friends in the watch community that do a lot of the leg work for me and this is how I happened upon Marnaut.
Marnaut is a self-proclaimed small, independent watch brand that prides itself on creating a unique product, as aptly stated on their website. The founder Mario admittedly enjoys the styling and versatility of dive and tool watches, which in part is due to his background.  The name Marnaut is a fusion of Mare (sea) and Nautica and is symbolic of both nature and adventure, things that are near and dear to Mario having grown up on the island of Brac in Croatia where he would spend his summers snorkeling for sea urchins.  As it turns out, these sea urchins would be a driving force in helping Mario develop his first release.  Mario wanted to create a watch that blended the qualities associated with dive watches of the past, but also could be considered modern and original and made "for the explorer".  I would have to say that his intent and inspiration is more than clear after spending just a few days with his initial launch, the Dark Surge.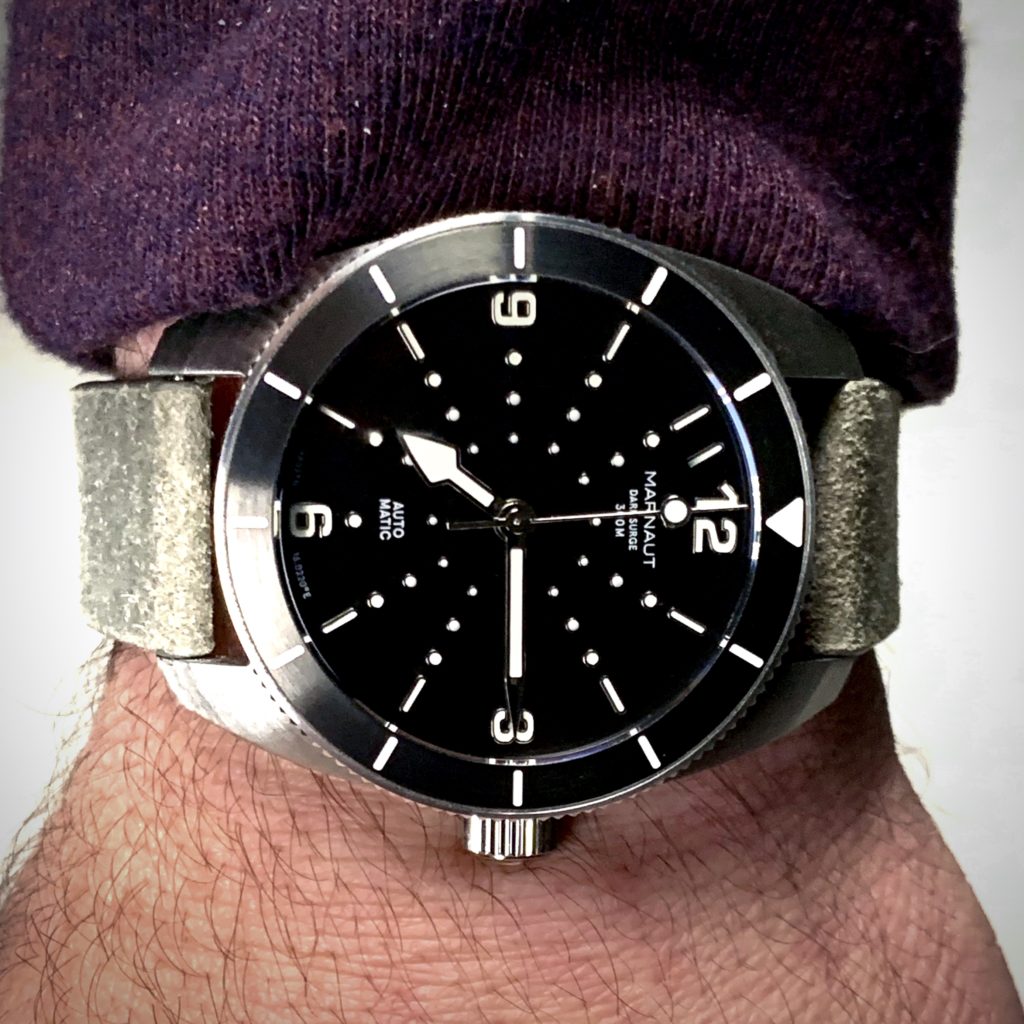 The Dark Surge comes in at 42mm in diameter with a 13mm thickness. The case itself reminds me somewhat of a Seiko Turtle in regards to size and sat comfortably on my 7.25" wrist. While there is no mistaking his design for a cushion case like the Seiko Turtle, the pronounced curve of the lugs helped the watch wear better than one would expect. One of the reasons the watch is able to come in at only 13mm thick is the fact that it is powered by the reliable Miyota 9015 movement.  This movement does come with a date function, but Mario wisely chose to leave this out.  That being said, I did find myself in a "what the..?" moment when I came across the dead position in the crown, but this failed to cross my mind again once I realized the reasoning behind it as the dial is much better off without a date window in my opinion. A domed sapphire crystal is surrounded by a bezel that sports great functionality due to its 120-click unidirectional functionality.  My particular watch had a matte black bezel, but Marnaut also offers both steel and black PVD bezels for this particular watch. A screw-down crown at the 3-o'clock position provides great water resistance and is rated for dives of up to 300 meters. Rounding out the case design is a fully brushed treatment (as any tool watch should be) and a solid caseback adorned with the Marnaut logo.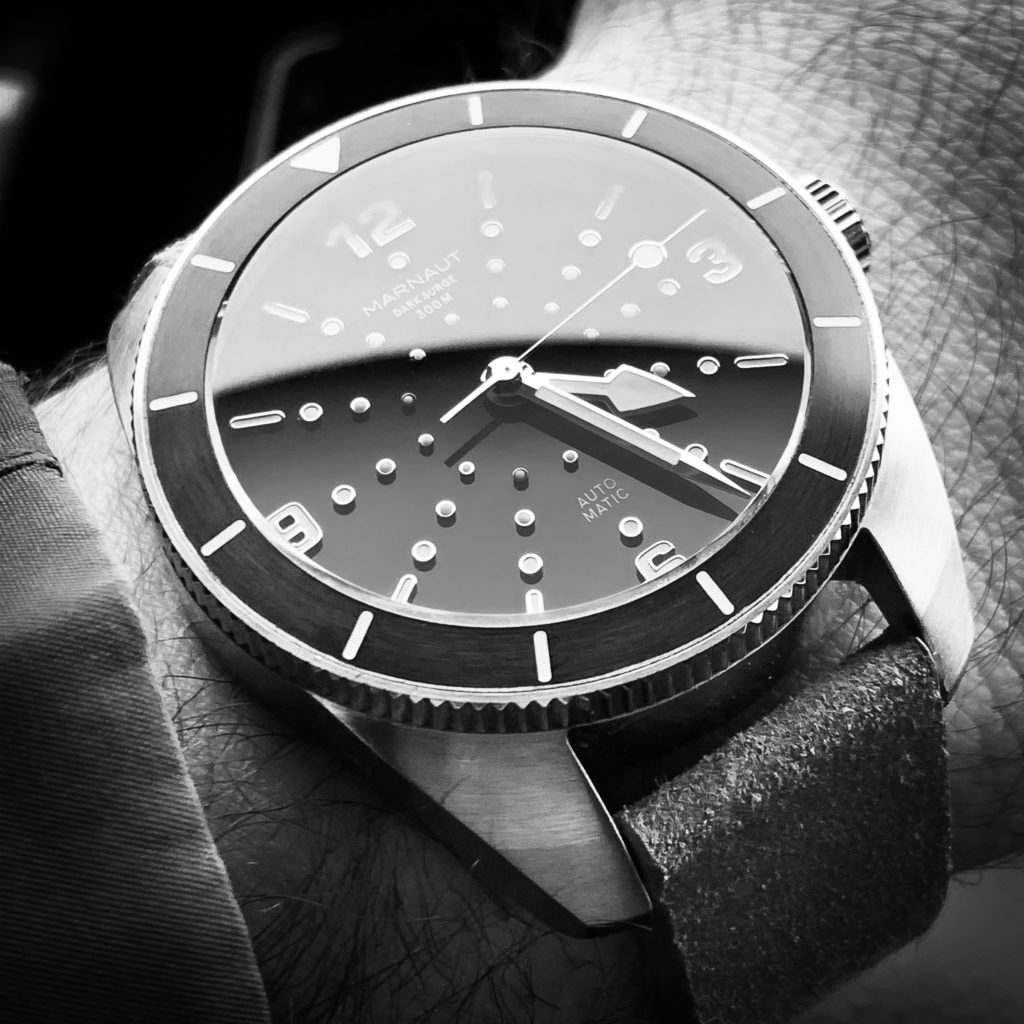 All of my previous comment aside, the star of the show is the dial itself: and what a star it is! The hands themselves seem to pay homage to the Tudor Ranger and the black enamel finish on the dial surface hits all the right notes when it comes to hues in different lighting. Arabic numerals adorn the 3, 6, 9 and 12 positions, but what really sets the dial off is the plethora of additional applied indices that pay homage to the sea urchin. In all seriousness, one would think a dial with 46 indices would be busy, but it simply works – especially so since each one is applied by hand.  They give the dial great depth and play with the light in all the right ways. And in the absence of light, the markers truly shine.  Each marker is coated with a generous amount of Super-LumiNova C3 lume that gives this watch a truly unique and modern feel, which is exactly what Mario was going for.  Let's be honest: There is lume, and then there is LUME – and this puppy shines like a beacon in the dark!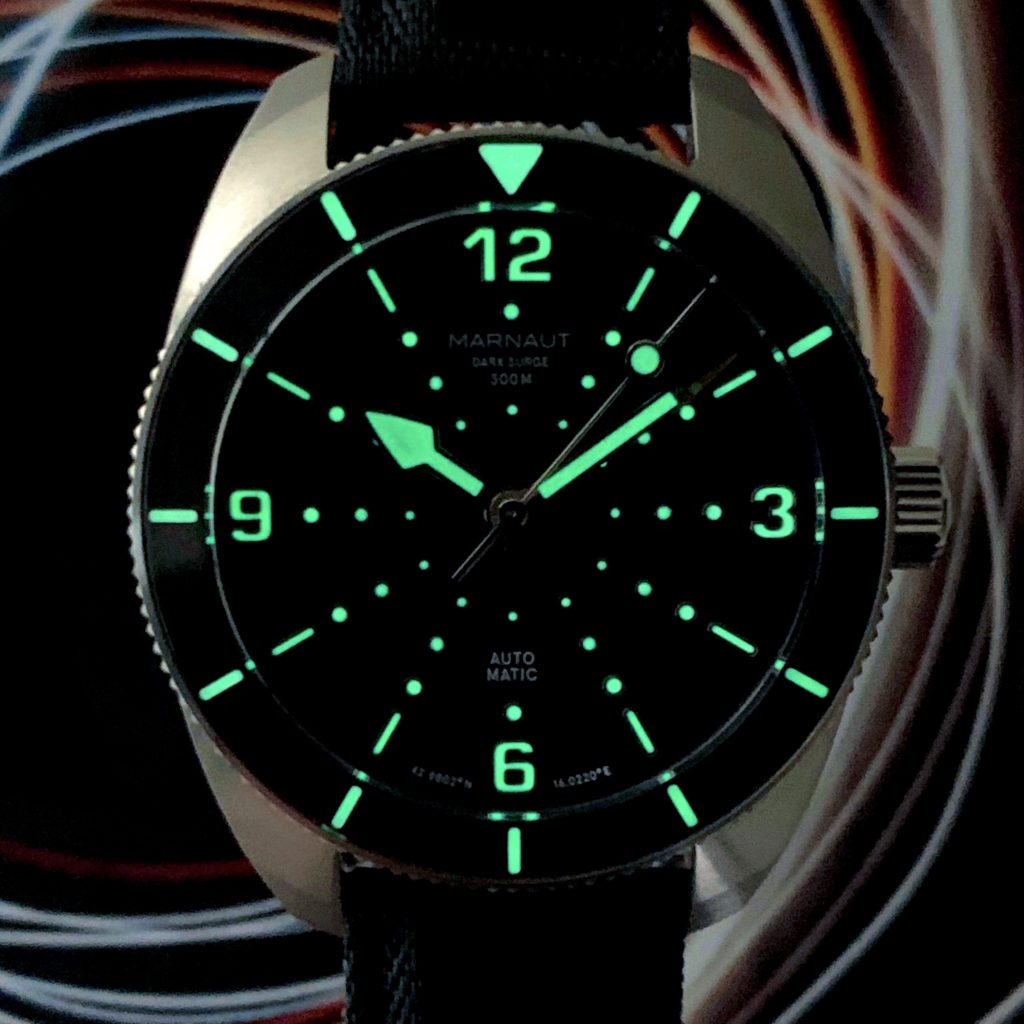 The watch comes in a box adorned with a sea urchin logo, a leather travel pouch, and two stock strap offerings: one a grey suede leather piece and the other a black rubber dive strap. Both are decent, albeit nothing truly to write home about, but don't you worry. Mario chose to utilize a lug width of 20mm rather than the typical 22mm that is usually found in dive watches which allows for a myriad of strap options, and it's a good thing because the Dark Surge is a STRAP MONSTER. From white tropic rubber, to khaki canvas, to black sailcloth, this watch looked great on just about anything I paired it with and will leave you with endless options.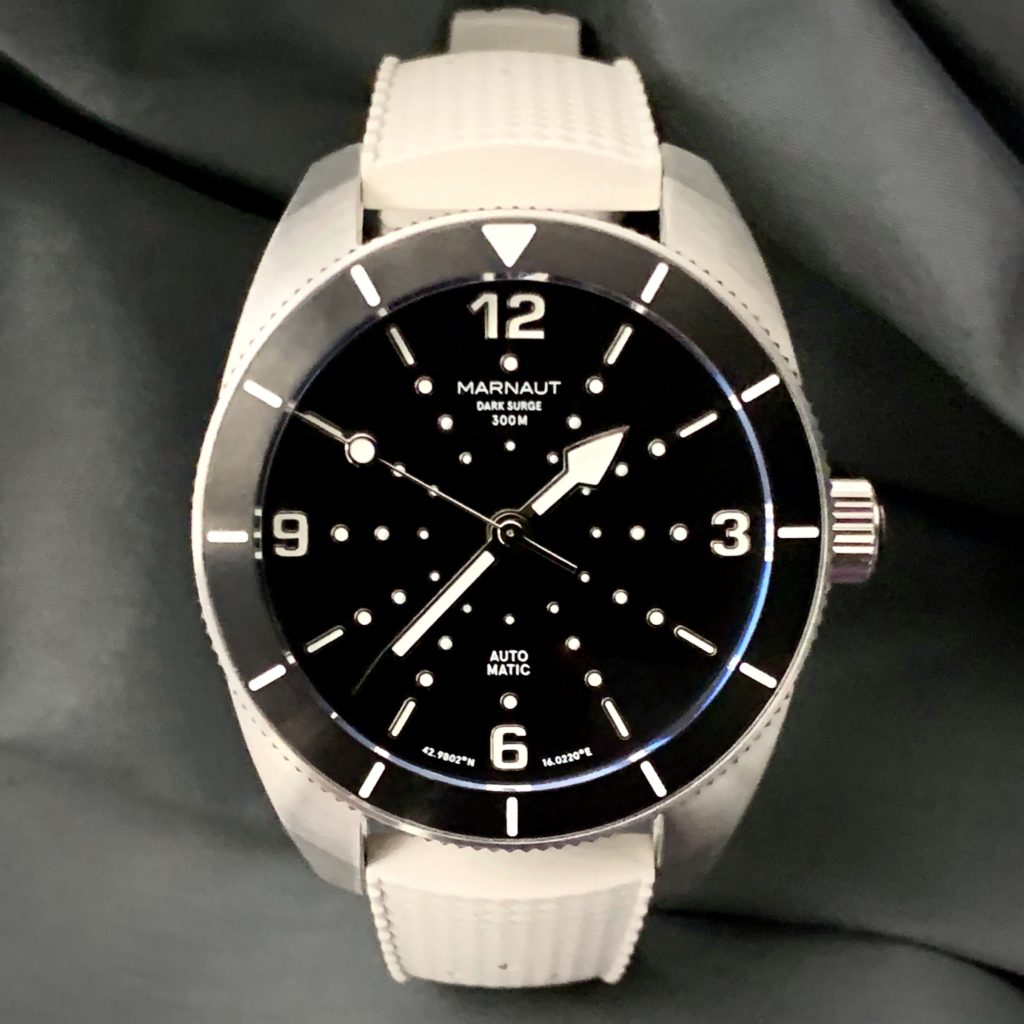 I must admit that I find myself liking the Dark Surge from Marnaut. Some may argue that the size of the watch is a bit on the larger side, but then so are many of the other dive/tool watch offerings out there. It sat nicely on my wrist and got the job done which is the exact definition of what a tool watch should be. Marnaut set out to create something unique in the dive/tool watch arena and has succeeded in my humble opinion.  It's a rugged watch in a no-nonsense case with a creative and extremely well-executed dial.  If you're in the market for a diver style watch that is versatile and will turn some heads at an affordable MSRP of $549, then I would suggest heading over to their website and giving the Dark Surge, as well as Marnaut's newer offerings, a serious look.