Carry Feature #003
Samson Tran
@raven_the_pirate
GIVEAWAY ALERT: We are giving away one a Power Packer & Travel Kit combo this month to celebrate our 2,000 follower milestone on Instagram. Click here to enter for your chance to win!
Novel Carry is reader-supported. When you buy through links on our site, we may earn an affiliate commission.
Welcome to our Carry Feature series where we feature a member from our community and dive a little deeper into who they are and why they chose the items that make up their everyday carry. Want to be featured? Submit your photo here (Google account required)!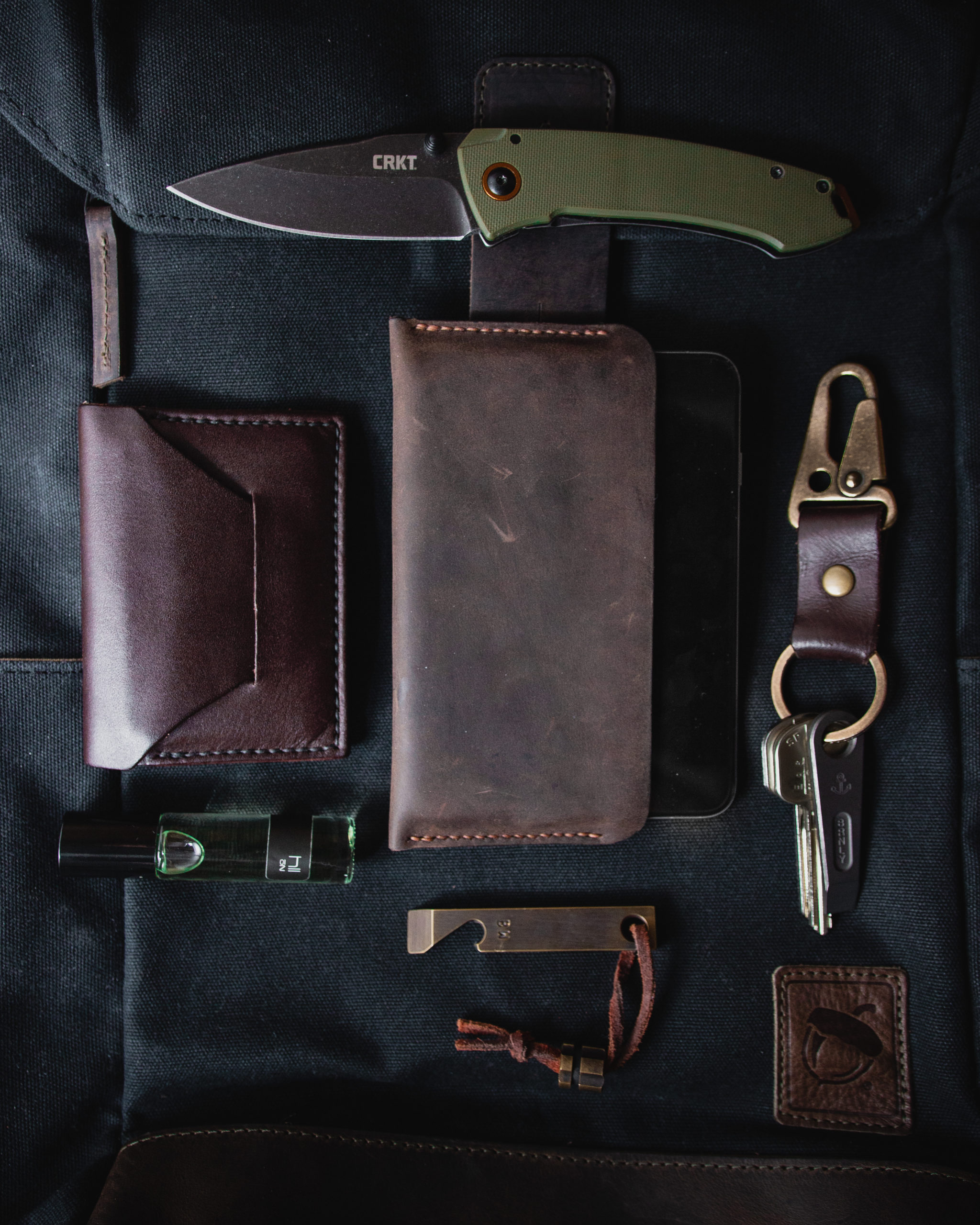 Q: Tell us about yourself. Who are you? What are you doing for a living? Where are you from?
A: I am Sam from Frankfurt, Germany and I work as a mechanical engineer in the aerospace industry. I have been a freelance photographer/videographer and retoucher before, which to this day is still one of my biggest passions. I often get asked why I didn't make my hobby my job, but I honestly enjoy doing both, especially since they are so different. This way I don't risk ruining my passion for either one, and it's great to keep a healthy balance. 
Q: How did you get into the everyday carry community scene?
A: I guess I've always been into EDC, I just didn't know there was a dedicated term or community for it. I've always tried to optimize the things I have with me and my OCD wanted all my gear to match.
When I was a photographer, I used to shoot events and portraits. It was only recently that I wanted to try product photography, so I created an IG account for the sole reason of showcasing these photos.
Soon I discovered that there was a whole community that was also into gear and knives, wallets and all the good stuff. I got sucked in pretty quickly due to the fact that there wasn't only amazing gear to be discovered, but the community is one of the best I have ever been the pleasure of being part of.
Q: What's in your photo? 
CRKT Tuna, Lucas Burnley design


I'm a big fan of Lucas Burnley's designs. This production Tuna was given to me by Lucas himself and is just an awesome EDC knife; super ergonomic, light and a great slicer.



Rambler Made, The Raven


I worked together with Peter from Rambler Made to come up with my dream wallet. He decided to make this wallet for me as a one-off, but after overwhelming feedback of the community, it is now part of his regular lineup.


Rambler Made, The Rabbit
I've always been a fan of these simple key clips. The craftsmanship on these is on point and you can never go wrong with the brass-leather combo.



BRNLY Polly Popless pry bar


A very minimal, yet effective pry bar from BRNLY. It was gifted to me, again, by Lucas Burnley himself.



Sharp Elegance, phone cover


My friend Nick (@sharp_elegance) is super talented when it comes to leather goods. I asked him to make me a leather cover for my phone, that completely covers the phone, which should help me break with the habit of staring at it every 5 seconds.



Brasswerx pry bar


This handmade brass pry bar from John is just beautiful. I carry it more as a piece of pocket jewelry and for its sentimental value.



EDC Bead


This bead by @owen_edc is the perfect match for John's pry bar! They both are pretty much meant for each other.



Musk and Hustle 114


I've been enjoying the Musk and Hustle roll-on colognes ever since I discovered them. Currently, my favorite scent is no.114. Mark and Franki are the nicest, most down to earth people too, so I am more than happy to support them.


Q: Can you tell us a little about your creative process? What's in your go-to photography kit? Do you have any tips for those in the community who are just starting out with EDC photography?
A: I get asked about my photography gear a lot and the answer always surprises people: I shoot on an old Canon t3i with a Canon 50mm 1.4, a Sigma 18-35mm 1.8 and one speed light. The whole kit is cheaper than some phones people are using. It's not the flashiest or even newest gear, but I found ways to make it work for me.
The secret to good photos of your gear isn't a fancy camera, it's a basic knowledge of lighting and composition. I wrote a series on this exact topic that can be found here on novelcarry.com, maybe it helps people to get started or to elevate their shots to the next level.
Editors note: Sam's EDC photography guide is awesome, totally worth the read if you want to step up your EDC photography to the next level.
Q: If you were stranded on an island, what 3 pieces of gear would you take with you?
A: A knife, obviously, so you can fidget with it and fight boredom. Maybe a pen and a notebook so you call for help, or at least write down a list of things you should've brought for these cases.
Q: What's in your dream carry and why?
A: To be honest, I'm pretty pleased with my carry. A lot of my gear is made by incredible makers that I consider good friends. And I am pretty minimal when it comes to my carry anyway, so I don't actually carry that much.
One thing I would love to add to my carry though is a custom Kihon by Lucas Burnley with his rose pattern on tumbled titanium scales and a dark stonewashed blade. Oh man, the things I would do for that knife! I don't think it even exists in this exact configuration, so that's definitely something to dream of!
Q: Who is your favorite gear maker?
A: It depends on the gear. When it comes to knives, definitely Lucas Burley (@burnleyknives). I have been in love with his designs ever since I got into knives. And he's a great guy too!
For all things leather, Rambler Made (@rambler.made) is my brand of choice. Peter is a good friend and his works are absolutely stellar.
Q: What are your go-to #everydaycarry Instagram pages?
A: 
Q: Any last comments?
A: I've said it before and I will say it again and again and again: the best part about this community is the people! I am more than grateful to have met so many cool people, makers, and brands which then turned into friendships!