This bag has style. The waxed canvas and leather exterior just looks like a man's bag. More importantly, it's built to take a beating and last a long time. NutSac's Satchel 15 is a great bag for the minimalist everyday carry but may have a hard time stowing much more than the essentials. Neverthelss, a great bag for the thoughtful packer.
Materials: Waxed Canvas and Full Grain Leather
Zippers: YKK
Dimensions: 15" x 10.5" x 3.5"
Weight: 2.81lbs
Color Options: Tan, Black, Coal
Warranty: Lifetime Guarantee
Full Review: Satchel 15 Messenger Bag by NutSac
Novel Carry is reader-supported. When you buy through links on our site, we may earn an affiliate commission.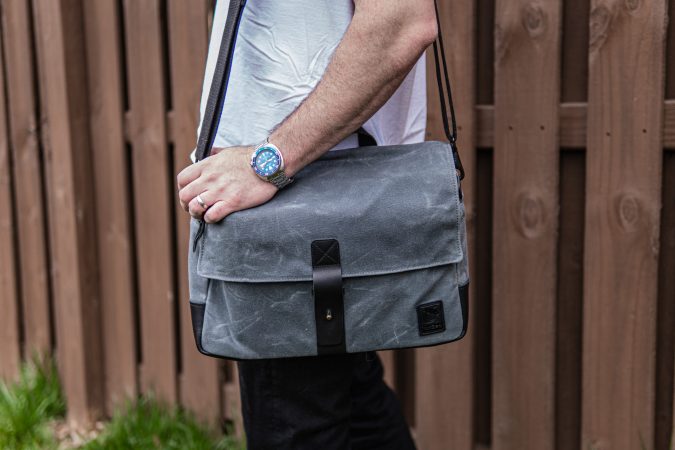 NutSac says they found their name after people said their founders were 'nuts' trying to produce high-quality products made right in here in the USA. After finding success in making disc golf bags, the company ventured into the men's everyday bag scene. Enter the Satchel 15 (formerly known as the Sac-Daddy), a large messenger bag sized to fit 15" laptops. After over a month of using this bag, I've collected my thoughts in the following review. Read on to see how this bag handles everyday use and compares to some of the competition.
Right off the bat, the Satchel 15 looks awesome. This isn't some cheap-looking nylon bag you'd find at Dick's, Target, or Walmart. This thing is made for men and it's made to last a really long time.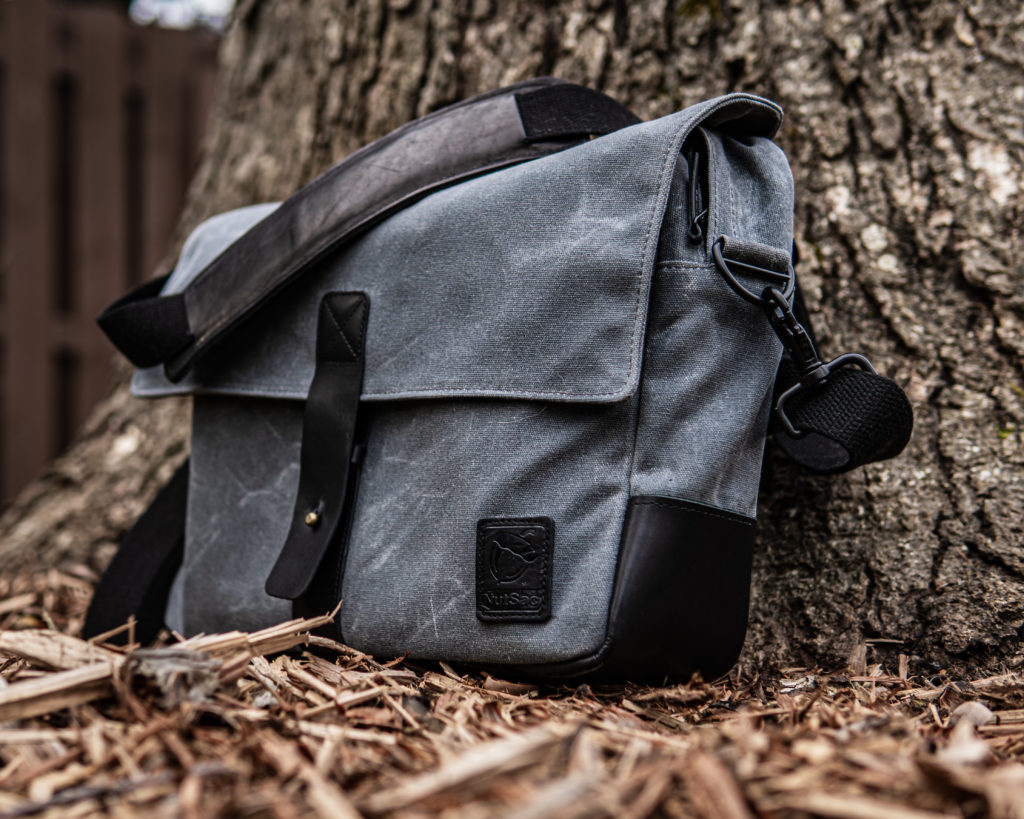 The exterior of the bag is really simple – your attention will be brought immediately to the waxed canvas exterior, but I want to take a quick detour to the shoulder strap and hardware first. The shoulder strap is constructed with some seriously heavy-duty cotton and has a leather sleeve pad for shoulder comfort. It connects to the bag with equally strong clips that are easy to remove if needed.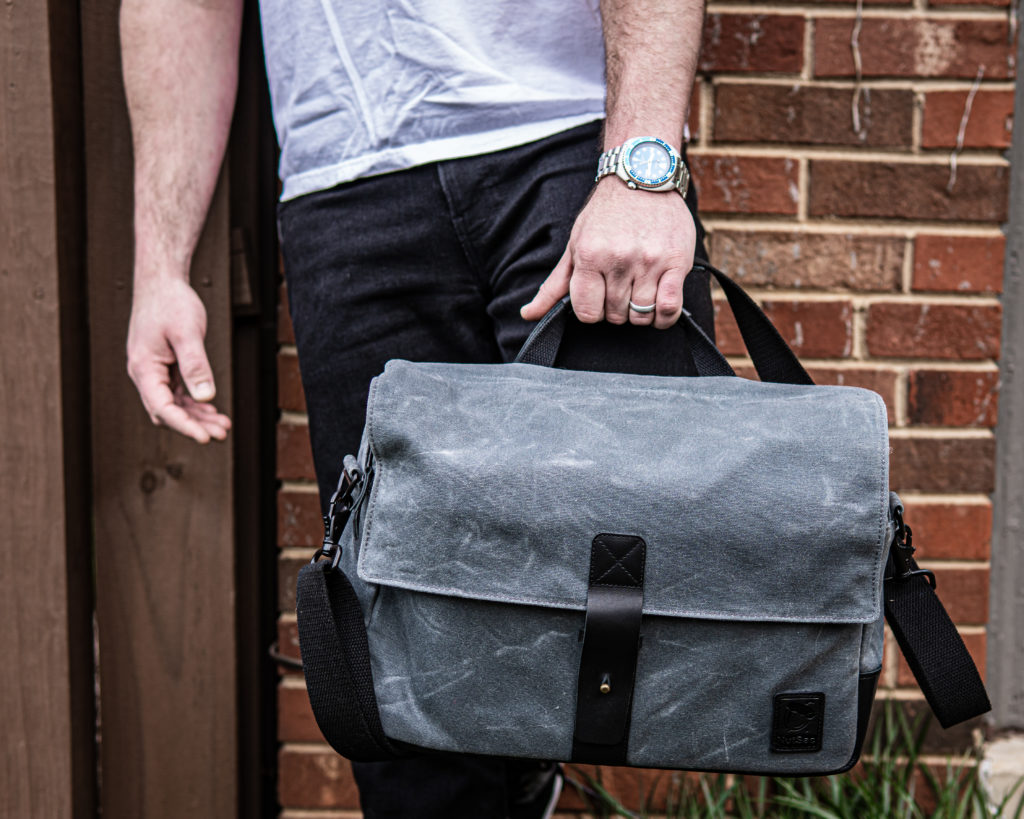 Additionally, the Satchel 15 has a thick leather handle for strapless carry that I found really comfortable to use even for longer amounts of time. I love it when bag makers get the straps and handles right as there have been so many times that a great bag has been ruined by bad hardware.. Kudos to NutSac for getting it right and sparing no expense for our comfort!
Moving on to the rest of the exterior of the Satchel 15, it's hard to miss the waxed canvas and leather accents. You can purchase the bag in Grey (Coal), Black, or Tan canvas, each of which comes with matching leather accents. I chose the grey variant of this bag for my review unit because I really liked the pre-worn look of the canvas.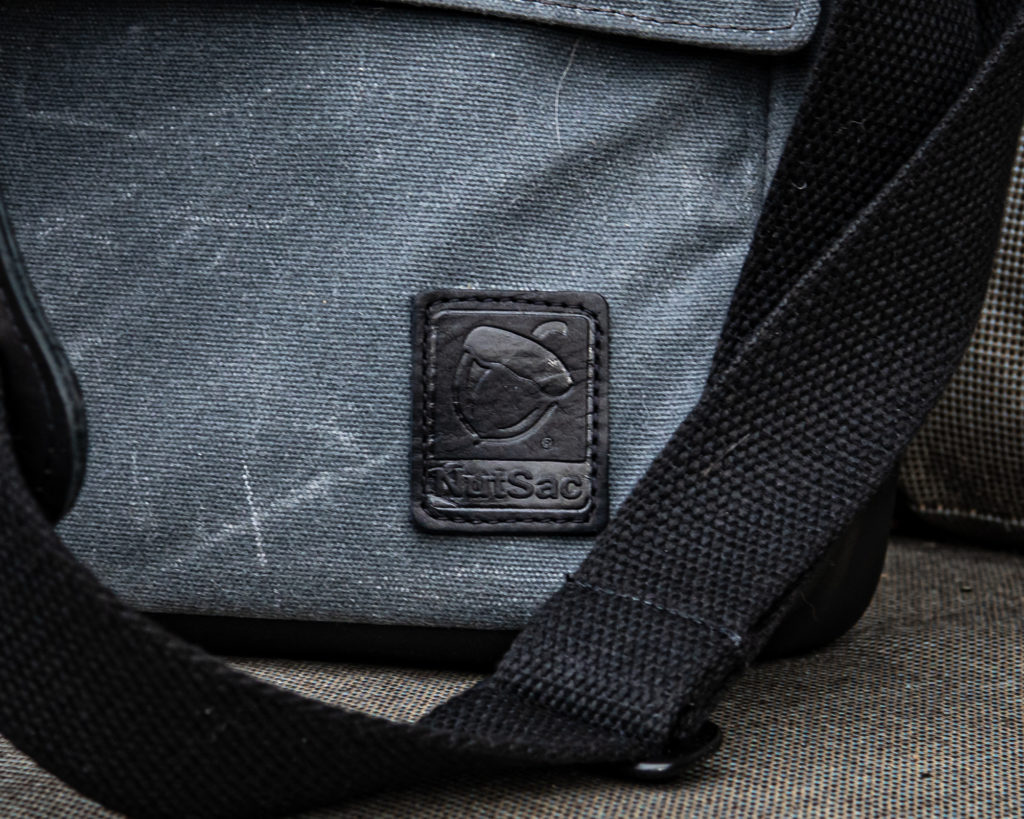 I'll be honest, when I first set eyes on NutSac's products, I wasn't sure how I'd like the waxed canvas construction. Sometimes if this material is used in excess, bags can be overly stiff and heavy. Fortunately, even though the entire exterior of this bag is made of the stuff, I found that the bag was light and had just the right amount of structure.
On top of the bag is a full-length YKK zipper for internal access. When zipped, a small integrated canvas flap covers the zipper which should help shed water the few times you're walking around in the rain. On the front is another full-length YKK zipper, which provides access to an additional storage pocket.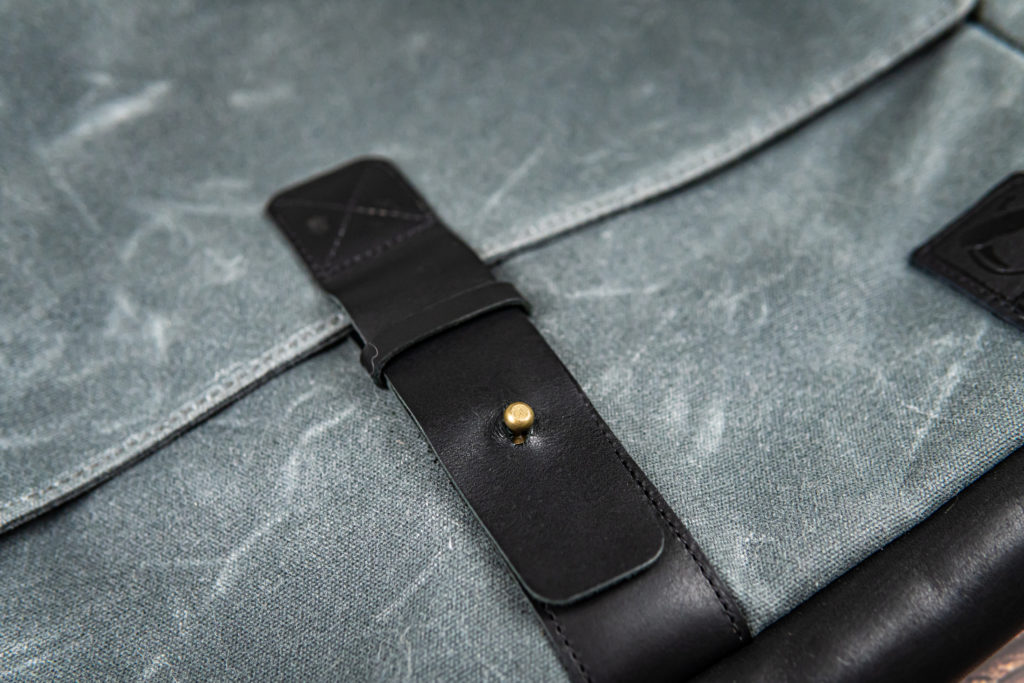 Covering both these compartments is a large canvas flap that is secured in place by pressing a leather tongue onto a brass pin. Personally, I'd prefer to see a traditional buckle, but the pin works well so no complaints here. Lastly, on the backside of the bag is one full-length pocket (no zip) which is an appropriate size for a notebook, thin laptop, or tablet.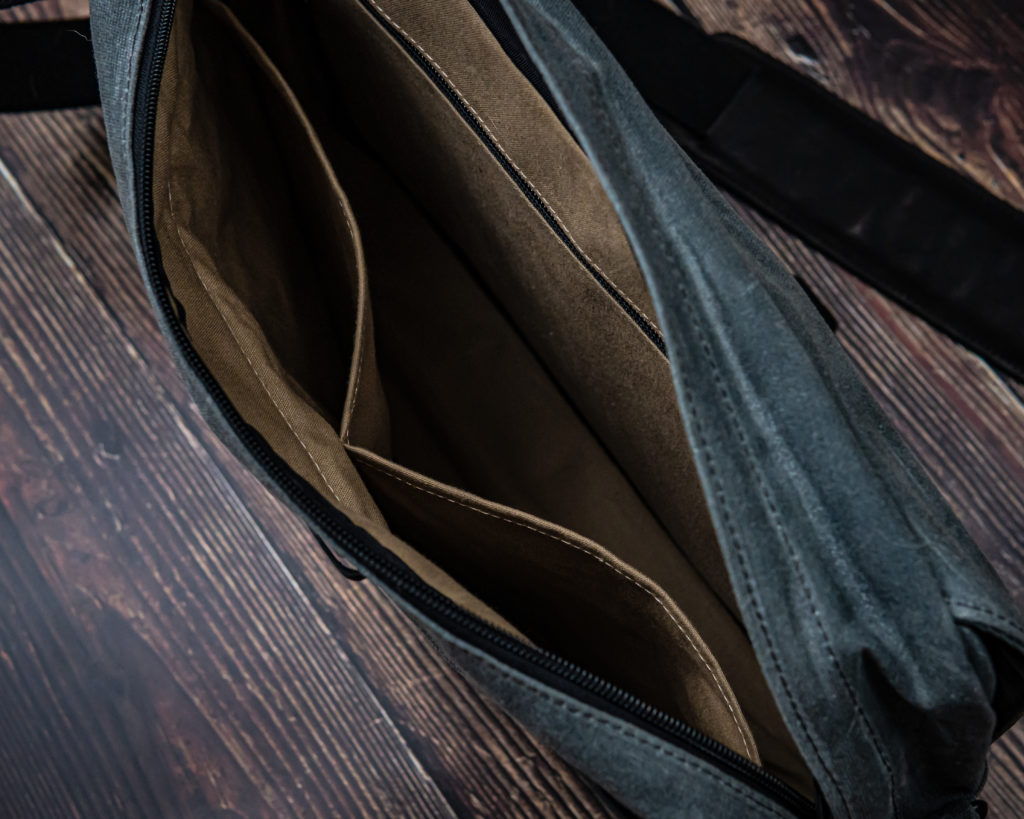 In a similar theme to its exterior, I found the interior of the Satchel 15 minimalistic and simple. Inside the main (and only) compartment are two pockets toward the front and a full-length zippered pocket toward the back. The back panel of the main compartment is reinforced to add some structure and protection for your gear stored inside.
The interior (and other exterior zippered pockets) are lined with soft cotton which is a nice detour from the nylon, meshes, and plastics that have become some common in bags today.
Aside from the one zipper, reinforced back, and two pockets that's really all there is to talk about with the Satchel 15's interior. This is both a good and a bad thing… and it really just depends on who you are. For me, I like to have a dedicated area for my laptop and/or tablet to go. Without a dedicated place, I felt like I needed to go out and get a sleeve just use this bag and not worry about damaging my Mac.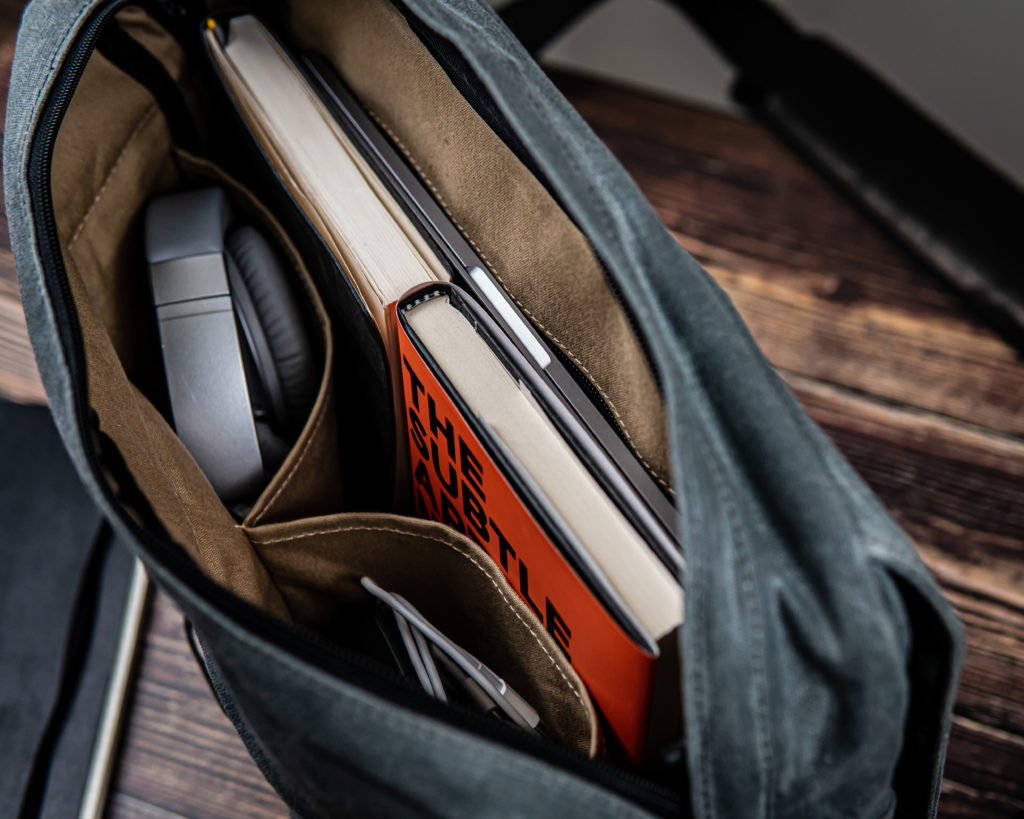 I can see where NutSac was going with the interior design of the Satchel 15. They provide a bag that's a blank slate and provides just enough organization for the typical everyday carry. It is true that you can consider the entire main compartment of this bag a dedicated laptop compartment, but then you waste valuable space that could otherwise be used to house other gear.
The Satchel 15 is aptly named for the fact that it can house a 15" laptop. But know… this is strictly a 15" laptop bag. I tried to fit my 15.5" dell work laptop in the bag and it just didn't fit. NutSac does make a larger bag (the Muy Grande) that can fit laptops up to 17" which may have suited my specific needs better. If you have a slimmer 15.5" laptop, you can probably fit it in the bag, just be sure to check the dimensions before you buy this bag.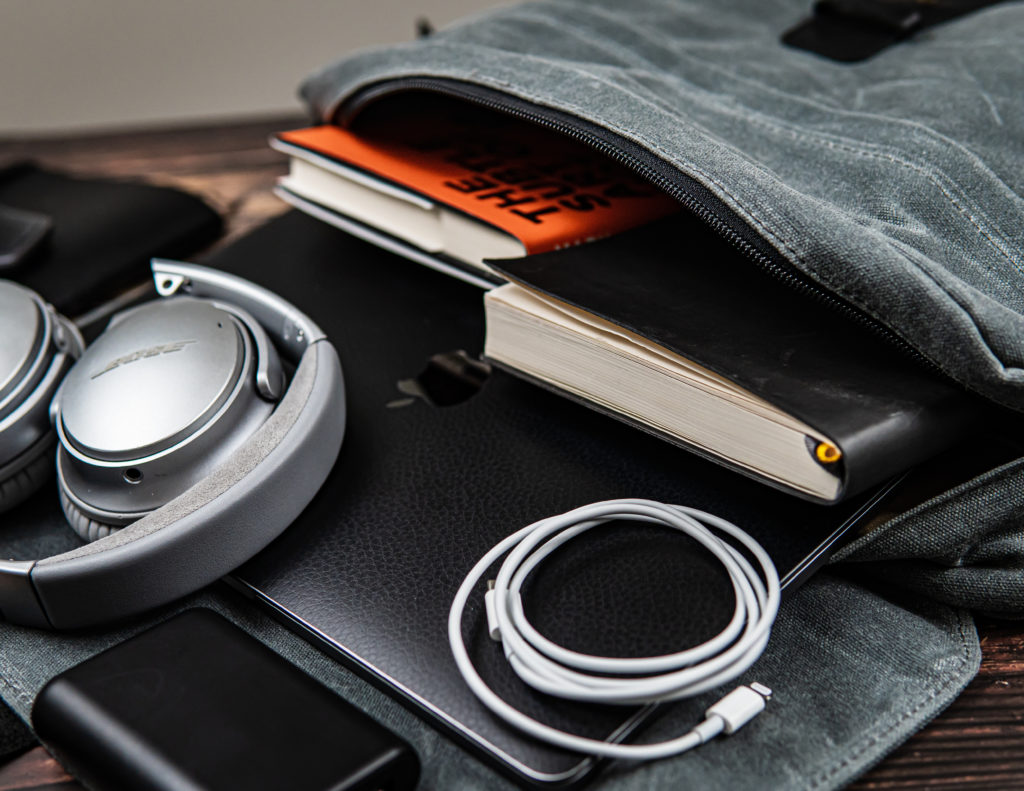 Remember when I said the minimalism of this bag is a good or bad thing depending on who you are? That also goes for the amount of storage space this bag has to offer. Coming from a Tom Bihn Synpase 25, I already knew I was in for a trip trying to make my daily carry fit into a messenger bag. This bag, while made for everyday carry, is totally geared toward the minimalist man (which I am not).
If your intention is to pack all the gear you normally carry in an average-sized backpack, then I'd recommend you skip the Satchel 15 and look at their Muy Grande messenger bag or Rucksack backpack. You will find out quickly that this bag is sized to carry the everyday work essentials, but not much more.
Planning to carry more optimally, I was able to fit everything I needed into the bag with ease. Packing to the bag's constraints, I was left with a very optimized carry that made its contents easy to access. With that said, if you already pack minimally or are coming from a similar-sized messenger bag, the Satchel 15 is totally worth considering. This may not be the right bag for me but I can totally see it being the perfect bag for someone else!
Final Thoughts on the Satchel 15
The Satchel 15 is an expertly crafted messenger bag for men. I highly recommend this bag for someone who packs efficiently and wants a great looking bag that's built well. If you're looking for a bag that can carry anything and everything, I'd skip this one and take a look at their Muy Grande messenger bag or Rucksack backpack.