Carry Feature #005
Reed Snow
@geardiaries
Novel Carry is reader-supported. When you buy through links on our site, we may earn an affiliate commission.
Welcome to our Carry Feature series where we feature a member from our community and dive a little deeper into who they are and why they chose the items that make up their everyday carry. Want to be featured? Submit your photo here (Google account required)!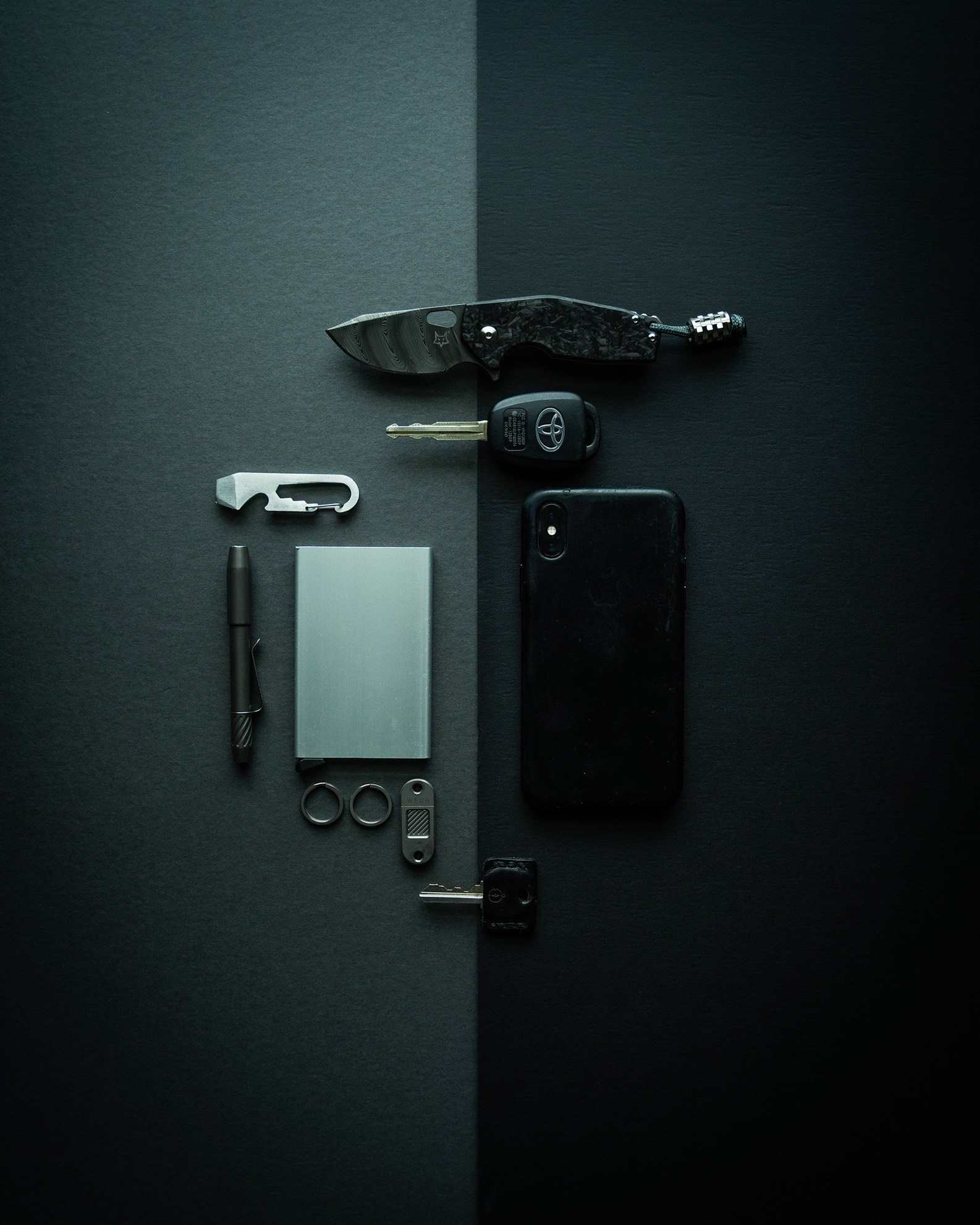 Q: Tell us about yourself. Who are you? What are you doing for a living? Where are you from?
A: Hey guys, Reed here! I'm originally from Paducah, Kentucky and have always had a passion since a young age for photography and cinema! I'm also a pretty big health nut and enjoy bodybuilding as another passion! So the past year has been pretty hectic for me, I just transitioned out of the military in April of 2019 so I've been on the hunt for a career! I worked at a Toyota dealership and our local hospital for a while but decided I need to do something with my life! So I decided to dive in headfirst and go to a 4-year art school and major in commercial photography! I start in the summer of 2020 and I'm more than excited to really hone and master my craft! So that's a little bit about me! 
Q: What's in your photo? 
Fox Knives Vox Suru Damasteel


It took me forever to decide on a new pocket knife. I wanted something that was quality but also premium. Most of the pocket knives I ran into were massive and didn't seem practical to fit in your pocket! When I came across this Suru on UrbanEDCSupply I knew immediately this was the one! It is the perfect balance of weight, size, and style.

TI2 Designs Titanium Twisted Super Shorty Pen


To me, this pen was an absolute no brainer. It fits in your pocket perfectly without being uncomfortable when you sit down. The magnetic cap is hands down the best part, so convenient and is a great conversation piece! Also can't go wrong with Titanium and being made in America!
Secrid Card Sleeve Protector
Another crucial EDC piece is a wallet! The main things I look for in a wallet are minimalism, sleekness, quick accessibility and card security. I only have about 5 different cards and ID's which makes this card sleeve very practical! Plus the lever on the bottom helps you access them with a breeze!
My Keys
So keys are also another extremely crucial component for an efficient and comfortable carry. My main checkpoints are minimalism, low profile, and easy access. I like a very minimalistic key chain that doesn't still out obnoxiously and cause discomfort! 


Prometheus Beta-QR V2 flashlig

ht

(not pictured, photo here)
I wanted something that is small enough to keep on a key chain without being bulky but also packs a bright punch! This little flashlight is absolutely perfect.


Wesn QD Titanium key chain


The center point of a solid key chain is the key chain itself! I love being able to quickly detach my house key off my key ring without having to turn my vehicle off! No brainer!

NiteIze multitool


Perfect little size with a nice pry bar that carries a decent punch and has definitely come in handy!
Dspcht Book Bag (Photo Here)
Made right here in America, San Francisco to be exact! Wherever I go this thing is with me, I'm slowly adding to it so I don't know just yet what all will go in there. As of now, it has an electronics repair kit and a leather journal from Rustico!
Q: What's your favorite community photo from someone else's profile? Why?
A: That's a very tough one, some of my favorite EDC/lifestyle pages right now (shoutouts incoming) are @raven_the_pirate, @petespiratelife, @theowledc, and @grayscalecarry to just name a couple! Love other pages as well but too many to list!
Q: How do you achieve such awesome dark photos? Is there any gear that helps make this look work? Do you have a creative process?
A: I've always been attracted to a more moving, interpretive artsy style of photography. Product photography can be somewhat stale to some people, that's why I try and get my photos to reach out and tap into your emotions! I want people to understand the feeling of my photos, almost like reading a book; I want people to create their own mental interpretation of what kind of perspective or world this photo might belong in.
As far as certain gear goes I keep it very simple! I usually shoot at night and use a simple continuous LED light from amazon! I generally face it straight down and place it right next to what I'm shooting. Light bleeds beautiful across leaving the opposite side dark! The key is to have your camera set up on a boom arm(usually used to mount microphones or softboxes) and set a timer so you can lower the shutter speed to gather enough light in the photo! I usually shoot around 1/50th of a sec which is a nice spot to put it at without a whole bunch of noise. I enjoy incorporating greenery and foliage in my photos to add contrast and add nice moody shadows.
Q: What's the most used item in your gear collection?
A: My pen by far! I jot ideas down for photoshoots when they pop into my head (idea from @raven_the_pirate) all the time! Also Signing receipts is nice in case you don't want to use another person's pen! 
Q: What's in your dream carry and why?
A: I love my carry as it is, but if I had to swap out an item it would probably be a Panerai watch! I'm a huge watch guy and have a huge fascination with luxury watches!
Q: Who is your favorite gear maker?
A: TI2 designs out of Hawaii are an incredible group of guys! They make incredible stuff, I mean have you seen some of the flashlights they have made?? I mean wow.
Q: What are your go-to #everydaycarry Instagram pages?
A:
@raven_the_pirate: love his style, very professional looking! I always admire quality photos!
@petespiratelife: don't have to explain this one! Peter is one of my main sources of inspiration
@grayscale_carry: I love his monochromatic style! It is very soothing to my OCD.


Love other pages as well but too many to list!
Q: Any last comments?
A: I really appreciate the feature guys! The last couple of things I will leave y'all is take a bunch and I mean a bunch of photos, be yourself, love yourself, love others and CARRY STRONG.