Carry Feature #010
James Crichton
@gearetal
Novel Carry is reader-supported. When you buy through links on our site, we may earn an affiliate commission.
Welcome to our Carry Feature series where we feature a member from our community and dive a little deeper into who they are and why they chose the items that make up their everyday carry. Want to be featured? Submit your photo here (Google account required)!
Step up your everyday carry gear game by shopping Novel Carry's expansive catalog of bespoke goods and tools in the Maker's Marketplace.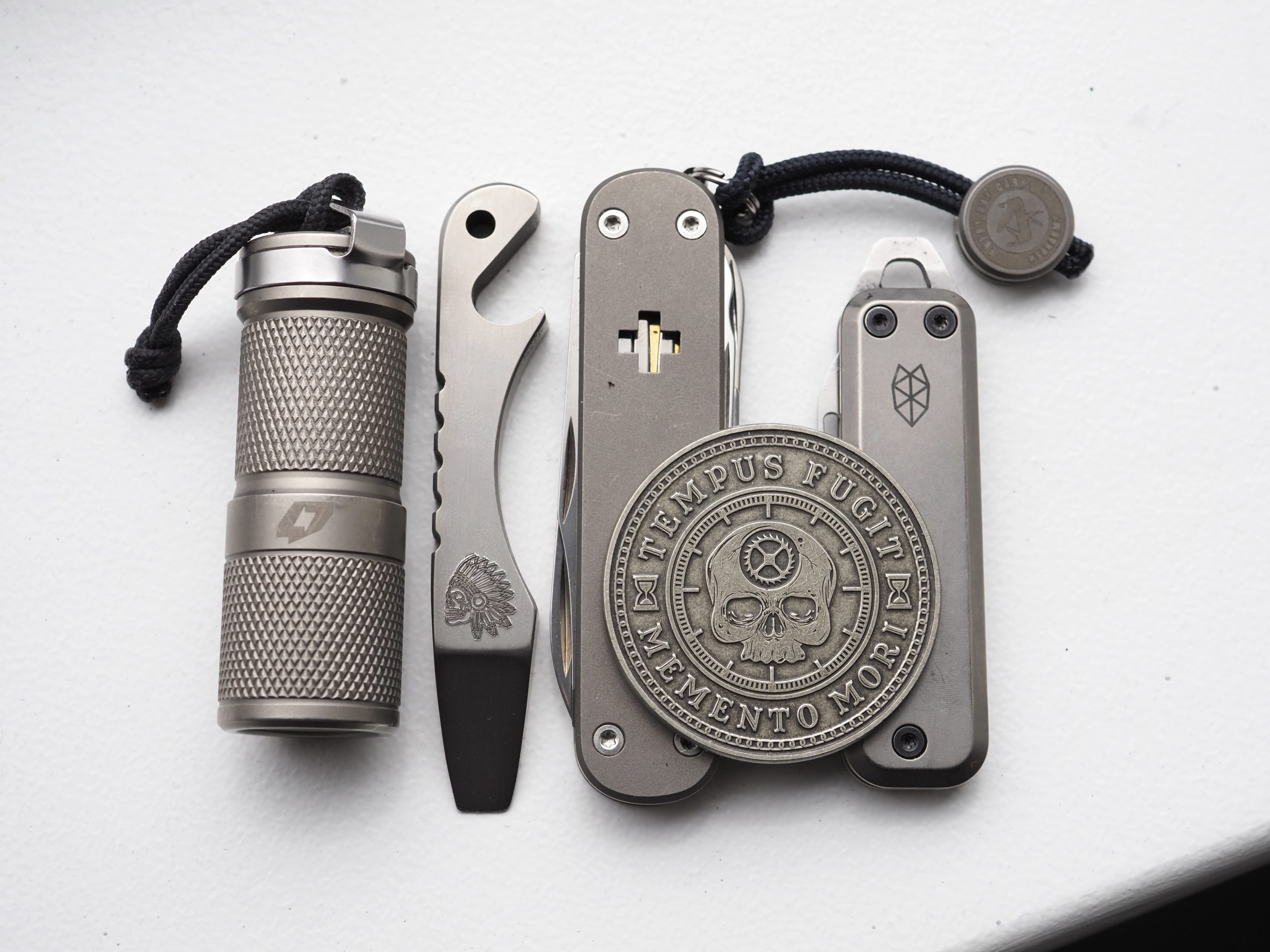 Q: Tell us about yourself. Who are you? What are you doing for a living? Where are you from?
A: I'm James, I'm 37 and I renovate and develop property for a living. I'm a huge geek, and am 'into' many many things; SAK's, EDC gear, Tech, Watches, Outdoor gear, hiking, food, booze, dogs, photography, architecture, history, to name a few.
I'm very much one of those master of none types, and am interested in pretty much everything. I used to work in finance in London, but am very lucky to have escaped that life and now live with my lovely wife and dog down in Bath. I've been posting EDC related stuff on IG for almost 5 years now, and am constantly amazed and delighted by the awesome people I get to meet through it.
Q: What's in your photo? 
Foursevens Mini mk2 in blasted Ti
I don't use cr123 lights all that much for pocket EDC, but for anything where you want some more power the extra kick over AAA is very handy. In my opinion this little stunner is one of the best cr123 lights out there.


Nicholl Knives scalper in Ti
This little guy reminds me not to take things too seriously. Tony is an absolute legend too.


Custom Titanium Victorinox executive (made by Daviz Black
The executive isn't especially popular, but I find the size just suits me so well. My late Grandmother had one in her handbag, and she was a lady that very much had her shit together.



Carpe diem EDC coin


It serves no function whatsoever, but hey, look at it, it friggin epic. They have a Viking travel coin on the way that is next level amazing. A little coin shaped work of art.


Titanium Elko from the James Brand
I loved the Elko from the first moment I handled it. The Ti versions just elevate it to the next level. For such a small knife, it is really functional too.


Titanium SAKArmy Bead from Decustomforge
I'm not much of a bead guy, but this one is a great size, and helps with pocket grabability (it should be a word if its not). And if you hadn't guessed, I'm having a love affair with Ti at the moment.

Editor's note: We lol'd at James' mention of a love affair with Ti. We have also been bitten by the Ti love-bug and there's not turning back.


Q: What is your favorite community photo from someone else's profile? Why?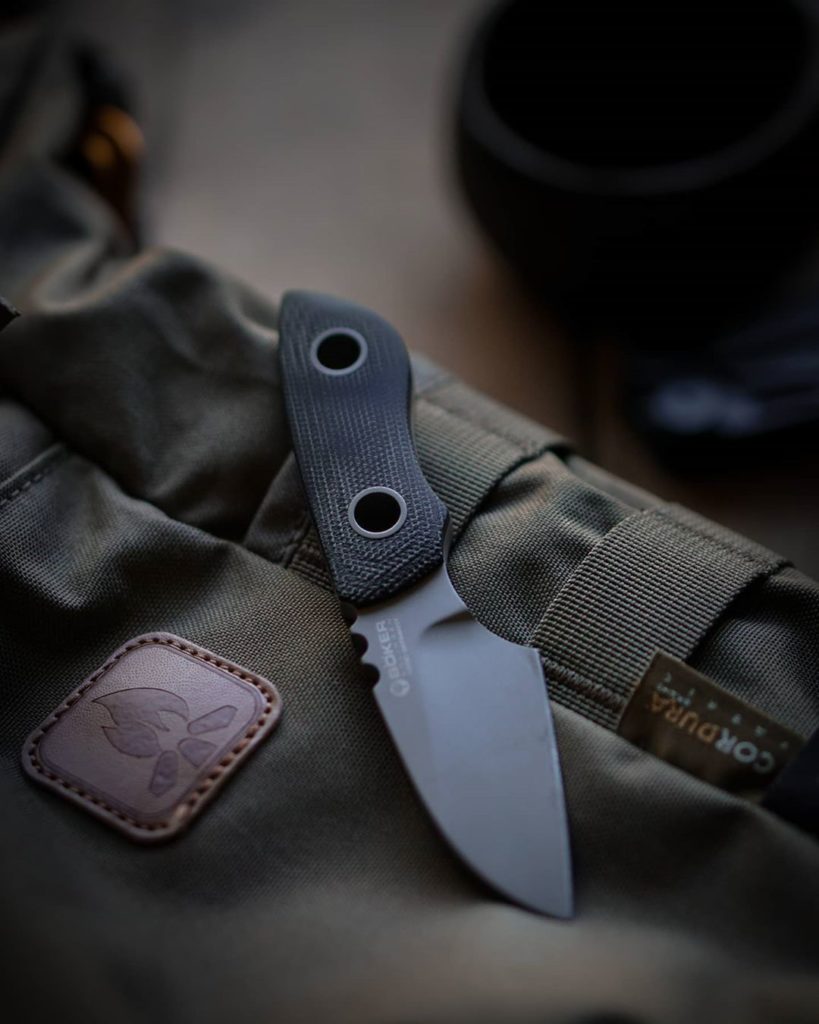 Photo by @solitary_man
A: I'm really enjoying the levels of creativity and evident technical skill that seems to be appearing all over the place in the EDC community now, but a photo that recently stood out for me is this one from @solitary_man.
Q: How many SAKs do you have currently? Is there a color or model that your missing that your searching for?
A: I put it at about 90. I think at the height of my Alox collecting I was up at about 140, so this is a big cut back for me 🙂. The one huge gap that I would love to fill in my collection would be a cadet in Davys grey from Swissbianco. It is such a subtle colour. It constantly irks me, that I could have picked one up when they were first on sale, but for some reason that eludes me now, I just didn't…
Q: Of all your Swiss Army Knives, is there a certain one that is your favorite?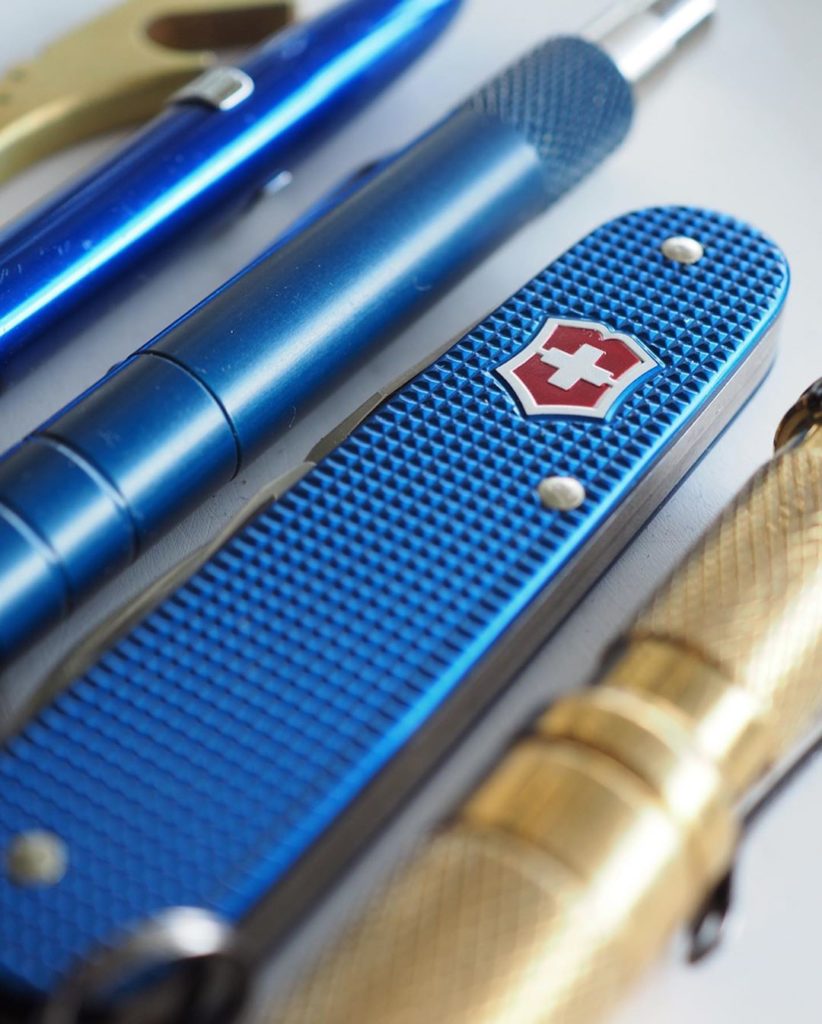 A: I love so many of them, but if I had to choose just one, I think it would have to be this Danish blue with red shield Cadet. I've had it for about 8 years or so and it is just a perfect example of why I love SAK's so much. It's fun, vibrant, and perfectly functional (apart from lack of scissors).
Q: What's in your dream carry and why?
A: Like most, I think this changes all the time, but for me, a simple write, slice, and light made up of custom Titanium scaled cadet X (with scissors), Tain Ottavino (Stunning Ti AAA light), and Ti Mini MIG pen from MarksInnovativeGear.
Q: Who is your favorite gear maker?
A: Damn that's a crazy hard one. Decustomforge, Woroknives, the James Brand, and UrbanSurvivalGear. All make awesome gear, but most importantly they all are run by really great people (check out UrbanSurvivalGear's IG stories, he is building a new workshop at the moment, and the attention to detail and sheer passion involved is truly infectious!).
Q: What are your go-to #everydaycarry Instagram pages?
A: @rockett86: His aesthetic is just beautiful and he has a stunning way with framing his shots. Awesome gear too.
@joda73_: His photos of his gear and environment and family are just perfect. So calming and dreamy.
@ukpocketsedc: He's a fellow Brit and dog lover, has awesome gear, and takes all his fantastic photos on his iPhone. A must-follow for all EDC lovers.
Q: Any last comments?
A: Thank you so much for this opportunity! I'm so sorry it's taken me soooo long to actually get back to you!!
Editors note: Jame's did complete this about a month and a half before we posted it.. we were a little preoccupied launching the Maker's Marketplace. Jame's, Thank you for joining us for our Q&A feature series!