Everyday Carry Gift Buying Guide (2020)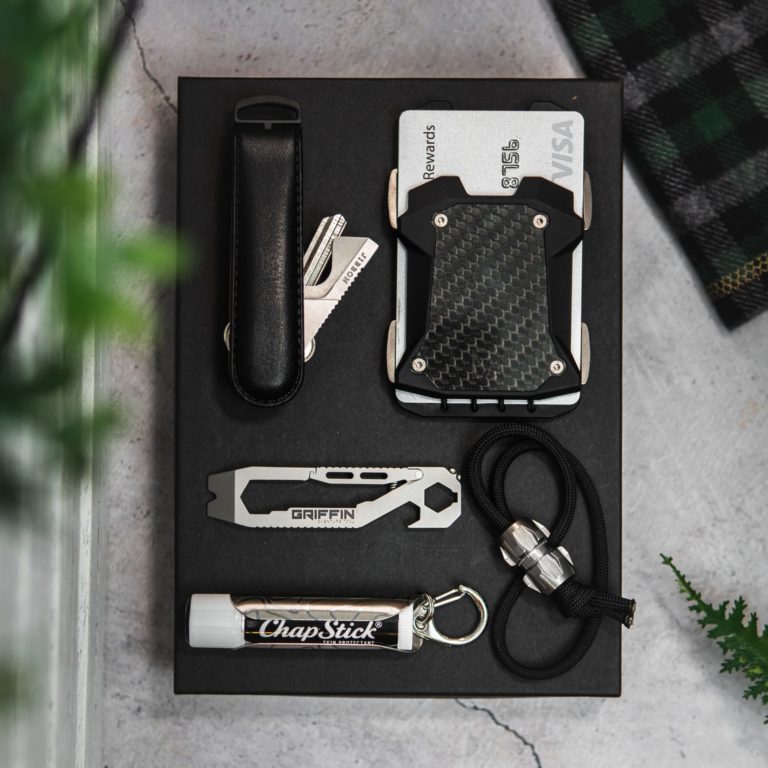 The Woes of Buying Gifts for a Gear Enthusiast
Getting the perfect gift for that special someone in your life can be very difficult at times, and even more so if you share different interests and hobbies. Trust me, I know because I find myself in that situation with my husband quite often.
People who are into what is commonly known as "everyday carry" or "EDC" can be VERY particular about the products they choose. They want their gear to serve a functional purpose (or multiple purposes!), but also take into consideration the quality, brand, and style of their gear as well. And let's be honest – the world of everyday carry gear like pocket tools, knives, and watches is seemingly endless… I often find myself spending hours scouring the internet trying to figure out what my husband might want only to then fail to close the deal.
You shouldn't have to suffer the same indecision and nervousness that I have, so I've made a gift buyer's guide so you can find the perfect gift for the EDC fan in your life! It's even been grouped to narrow down your decisions based on the personality and style of their everyday carry. And the best part – there's plenty of things on the list you can snag for yourself while buying gifts for others!
The gentleman is sophisticated. He is stylish and enjoys the finer things in life, so I've curated a stunning collection of high-end EDC gear that combines both functionality with aesthetic. These items could be found in his pockets when he's wearing a tailored suit in the company board room or taking you out to a nice dinner on the town!
A Gentleman's Handkerchief
A classic handkerchief is a staple to every gentleman's everyday carry. Real Men Carry's Olive Green and Beige hank will match just about any man's style. Looking for something a little different? Check out our full collection here.
Handmade Bifold Leather Wallet
A guy who cares about his style isn't going to want to settle on a cheap wallet.
The Yosemite Bifold Wallet from Wildflower Leather Co. has enough room to carry all the cards and cash a gentleman needs. It's made from Wickett & Craig leather and hand-stitched to last a life-time. Better yet, you can choose the leather and thread color plus add a monogram for free.
In the age of technology, we are all glued to our phones more than ever. A stylish and high-quality phone slip allows you to protect your smartphone while also helping you focus on what really matters. Rambler Made's Hermit comes in several attractive leather colors that will certianly fit your giftee's style.
A Pen Fit for a Gentleman
A nice pen is an underrated addition to a gentleman's everyday carry. If you've ever used a nice pen then you know exactly what I mean when I say that there is a difference. Once you go down this rabbit hole you wont ever be able to go back to cheap BICs ever again. Ti2 Design has an excellent selection of Pens available here, but below is one of our favorites.
Getting rid of the disorganization on my keychains was one of the best things I ever did. Jibbon's Key Organizers are 100% handmade from genuine Italian leather making them as fashionable as they are useful. You can even purchase nice add-ons to add extra functionalities like pry-bars, screwdrivers, and flash drives.
Maybe your gift recipient is a true veteran of the EDC world and seems to have more gear than they could ever use… how on earth do you find a gift for someone that already has everything!? This list on my buying guide is packed full of high-quality, unique, and sometimes exclusive gear that will help you surprise even the most seasoned EDC fanatic in your life!
The Perfect Gear Maintenance Kit
The Raven Maintenance Kit is a great gift for someone who has a nice collection of gear that they like to keep in tip-top shape. It comes with everything you need to maintain sharp things, gadgets, and other accessories your giftee might have. It's specifically made to last a lifetime just like the gear it maintains.
Challenge Coins & Decision Makers
A challenge coin is a relatively new trend in the everyday carry gear space. They don't (usually) serve any functional purpose but are cool gifts nevertheless. A challenge coin is a really unique stocking stuffer. One of my favorites is the 'One More Episode / Go to Bed' challenge coin which is a neat gag gift for that person who tends to binge watch Netflix nightly.
The novice is someone who is fairly new to the world of EDC. Perhaps they've found a few gadgets or tools they like but have not quite taken the full plunge. A well-rounded everyday carry will generally consist of a knife, a billfold, a pocket tool, and a hank. I've prepared a list of items that will help you get the perfect gift for the novice in your life so they start with the pillars of a solid EDC set up!
Wallets are often overlooked, but EVERYONE carries some sort of wallet. Upgrading your giftee's wallet to something made to last for a generation is a gift anyone will love. The El Capitan Bifold wallet pictured below can even be made to your specification with many leather and thread color choices to choose from.
Original GPT® Pocket Tool
The Griffin Pocket Tool (GPT®, for short) is a great multi-tool for anyone just starting to build their EDC collection. The GPT comes in various materials, sizes, and designs, but my personal favorite is the Original which is made of stainless steel and features 12 different tools. The Original GPT® is a great and affordable stocking stuffer for pretty much everyone even if they aren't yet interested in everyday carry gear.
Whether being used to clean gear, glasses, or other things, the handkerchief is a staple for an everyday carry collection at any level. If you want to learn more about why it's a still great idea to carry a hank today you can read our write-up here. Below is a collection of stylish hanks that your giftee is sure to love!
Big beards, burly, and often wearing flannel, the stereo-typical outdoorsman needs no introduction. Whether camping or hiking, this type simply loves being in open spaces and is always ready to tackle the next adventure. This collection of rugged, multifunctional, and practical EDC gear is full of items that every outdoorsman needs!
Trio Leather Pocket Organizer
There's nothing more annoying than losing a tool in the bottom of a bag or not having it on you when you need it most. Pocket organizers are great gifts to help ensure gear is all in one place and ready to go when you are. The Trio Pocket Organizer from Tale of Knives is specifically designed to carry one knife, a flashlight, and a pocket pen so you're always prepared!
Leather Apple Watch Strap
The standard Apple Watch straps are great, but these ones are even better. Bullstrap's leather is sourced from top-class tanneries in Italy and will begin to look even better as they age and patina. They are also super comfortable which is a great benefit for someone that spends a lot of time doing things with their hands.
The lady tends to enjoy products with a feminine touch. The world of EDC products may be geared more to the rugged, masculine type, but that doesn't mean there aren't functional products out there for us as well. I've gathered a list of products that look fantastic and will help keep you prepared for whatever the day can throw at you!
If you are anything like me, your keys are a jingling mess. I purchased one of these Jibbon Key organizers and haven't looked back since. It's so nice having all of my keys in one place and noise-free. This is a great gift for any girl who has a collection of unmanageable keys and wants to get organized in style!
Is there someone on your list that you would consider a techy? They're the type that always has to have the latest and greatest innovations. Well, believe it or not, there are many EDC items out for them as well and I've made a list filled with gear that will be sure to wow your tech-savvy gift recipient!
With the rise of contactless payment credit cards and passports with chips that have NFC (near field communication) enabled, a thief no longer needs to steal your wallet with credit cards and passports. They merely need to brush up against you with a credit card / NFC chip reader and in some instances, they can even employ range extending technologies and not need to get close. The GLITCH Data Blocking Card cloaks your data rendering it invisible and keeping it safe from would-be thieves.
High-Tech Minimalist Wallet
The F22 Titanium Wallet from Vice Hardware is one of the most unique wallets out there. Each wallet is anodized and finished by hand which gives each its own look ensuring that no two are alike. Like a fine timepiece, they are designed to last and be something that could be passed down to the next generation. Like the old saying goes "you get what you pay for" and honestly, you get A LOT here!