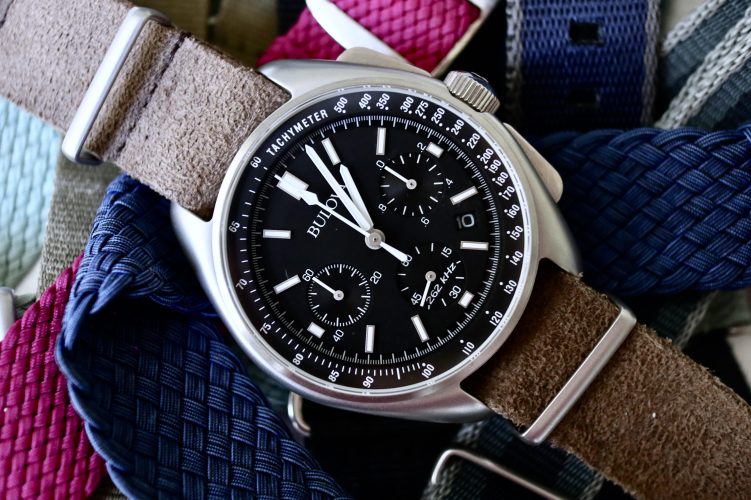 First, Some NATO Strap History...
The NATO-style watch strap began as an innovation made for the armed forces by the British Ministry of Defense in 1973.  The military needed a strap that was versatile, secure, and could handle spring bar failures no matter what the troops threw at it.  The solution: using a one length nylon strap which wrapped underneath the watch case twice that offered resistance against ripping and tearing in the field.
Fast forward 35 years later and NATO watch straps have become an everyday staple with watch enthusiasts that desire reliability and sturdiness. To be brutally honest, it's not hard to see why: NATO straps are cheap, durable, simple to swap in and out, and come in every color, pattern, and size imaginable.  There are many brands out there that provide NATO style straps ranging from budget to premium offerings.  We at Novel Carry could've decided to review NATO strap brands that were already well established within the watch community, but seeing as we ourselves are up-and-coming, we figured we'd reach out to two of the newer kids on the block to get some samples and see how they stack up!
Archer Watch Straps provides a great bang for your buck proposition at a modest $20 price range and is certainly worth your consideration.
MORA Watch Straps are going to take the watch community by storm and make a name for themselves in the premium NATO strap space!
When I first reached out to the guys at Archer Watch Straps about partnering with our site I was skeptical I'd receive a response but was pleasantly surprised when I got an immediate and enthusiastic response about trying out some of their straps.  Archer currently offers a wide variety of strap options on both their site and Amazon and appears to be attempting to compete in the same $20 price range as stalwarts like Barton Bands.  It's a tall task if you ask me, but the company seems headed in the right direction.
I personally received a single premium woven seatbelt NATO strap and two pairs of quick-release straps (one seatbelt and one nylon) from Archer for my review.  The straps themselves come in sleek individual carboard packaging.  The premium woven seatbelt NATO strap is soft and the weave tighter than some of the equally priced NATO offerings I have tried before. The hardware is substantial, and the buckle is embossed with the Archer logo which is a nice touch.  One great thing I noticed is that the loops on the seatbelt NATO strap are placed close which makes tucking the end of the strap back in much easier and more secure than many of its competitors.  
Another positive is that this strap is thinner than many other NATOs I've worn, which makes it sit nice and close to the wrist.  I will admit that the length of the strap is a little short and tends to cause the buckle to rest on the side of the wrist rather than directly at the bottom of your wrist.  A small complaint, but something that I feel could be improved none the less.  The "Bond Style" colorway I received of the premium woven seatbelt NATO strap was right at home with my Seiko 7a28 and I received many compliments from both watch enthusiasts and others during the week I wore it.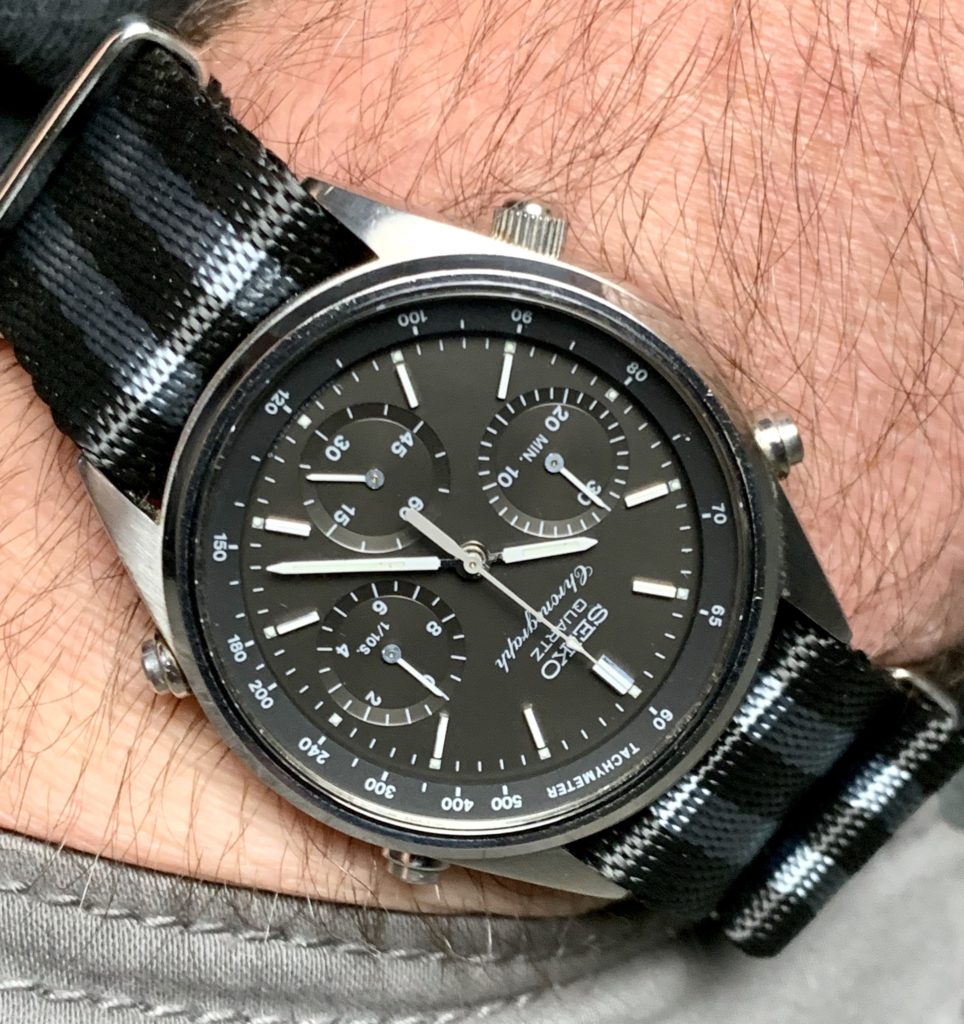 Let me first state that I am admittedly not a huge fan of quick-release straps.  I am not sure why, but I have yet to find a great quality option that feels and looks like it's non-quick release counterparts.  In my opinion, NATO straps look best as a single integrated piece, and while Archer does a good job at attempting to mask the quick-release look, I still found myself wanting to stray back to their single-piece NATO offering.  The quick-release nylon strap was quite stiff and uncomfortable, and it admittedly did not see a lot of time on my wrist.  On the other hand, the quick-release seatbelt nylon strap they sent me was by far the most comfortable two-piece quick-release NATO I have ever worn.
Archer Watch Straps offers a wide range of colors, patterns, and materials like nylon, seatbelt, silicone, and horween leather on their website and Amazon for those who like variety.  Personally, if I had to choose, I would pass on the nylon two-piece quick-release options (unless of course that's your thing) and check out their woven NATO strap offerings.  Overall, I think that Archer Watch Straps provides a great bang for your buck proposition at a modest $20 price range and is certainly worth your consideration.
Founded in 2019, MORA Watch Straps was started with the goal of creating the highest quality NATO-Style watch straps for watch enthusiasts. As self-proclaimed "watch fanatics", MORA states that they know how important the small details are on watches and watch accessories and wanted to create a nylon strap that didn't make any compromises.  The guys at MORA claimed to have obsessed over the details of their NATO-style watch straps for nearly 2 years just to ensure they got everything right – and boy did they ever!
First impressions can last a lifetime as they say, and I was personally blown away when I received and opened the samples from MORA.  Before I even strapped it on to a watch, I had the impression that if I had purchased one of these straps that I would have got everything I paid for – and more.   Each strap comes in natural cotton watch pouch which personifies the company's environmentally conscious stance when it comes to reducing waste like cardboard.  Every piece of individual hardware is also expertly protected from any scratches during shipping.  
Speaking of the hardware, it's all solid 316L and feels heavy and sturdy in your hand – top quality all around.  MORA boasts that they are they are the only premium NATO on the market that utilizes a solid buckle construction meaning that there are no spring bars present.  This not only reduces the risk of failure in the components of the strap but also adds an extremely nice touch when it comes to how it compares quality wise to other straps in the space.  The weave itself is phenomenally tight and THICK, which can be seen and certainly felt on the wrist as these straps are comfortable as all get out!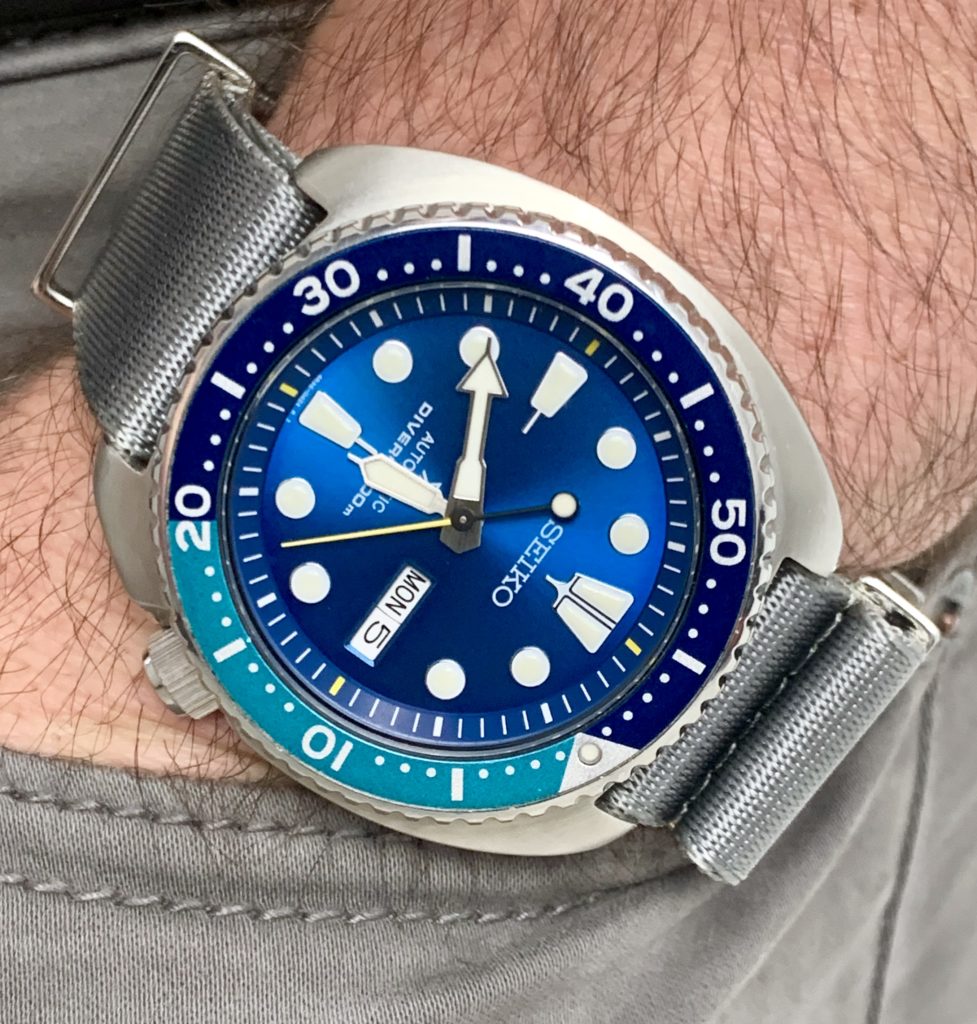 I tried out the two samples MORA sent me on quite a few of my watches and found that they were top-notch no matter what the pairing.  The 22mm Solid Gray strap was right at home on my Seiko Blue Lagoon Turtle and the 20mm Black Green & Red Striped strap paired nicely with my Mercer Airfoil.  MORA currently offers four different strap colors with different hardware finishing options from their web site.  At a current retail price of just $32 with a promotional Buy 2 Get 1 free special on their website, I highly recommend giving these guys a long and hard look.  To be brutally honest, the two straps I received from MORA are going to be mainstays in my rotation for many years to come and it's my opinion that these straps are going to take the watch community by storm and make a name for themselves in the premium NATO strap space!