Side by Side's Power Packer is an essential item for any traveler, commuter and tech junkie who needs to carry gear from place to place regularly. Travelers who carry a ton of cables will find this tech pouch especially useful. This compact pouch is extremely versatile and packs a ton of organization options for all your tech gear. Never again will you have headphones, charger cables, and other small accessories lost in the depths of your backpack.
Full Review: Power Packer Tech Pouch
Novel Carry is reader-supported. When you buy through links on our site, we may earn an affiliate commission.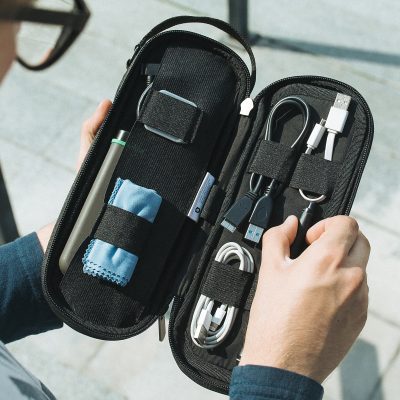 Side by Side is a relatively new member to the everyday carry and travel gear niche. Truth be told, there aren't many people who would recognize Side by Side's name but that will change soon if the company continues to pump out well thought out products like the Power Packer. The compact pouch is named appropriately as it seriously packs a huge punch in the functional organization department. I've been traveling with this pack to and from work, around the country, and overseas for the last 2 months – read on to see why I think Power Packer is a must-have for any techie.
Design: 'Small' but Packing a lot of Power
One of the first things I noticed when I started working with the Power Packer was how long and narrow the pouch is. The bag is essentially 2 outer compartments lined with what Side by Side calls 'compression panels' and an additional inner compartment that is accessible by fanning the pouch open. The compression panels are made of a soft-but-durable elastic material that seemingly continues to stretch and stretch and stretch. I actually ran out of things to stuff in one side of the pouch before I reached the elastic's expansion limit – it's actually quite impressive.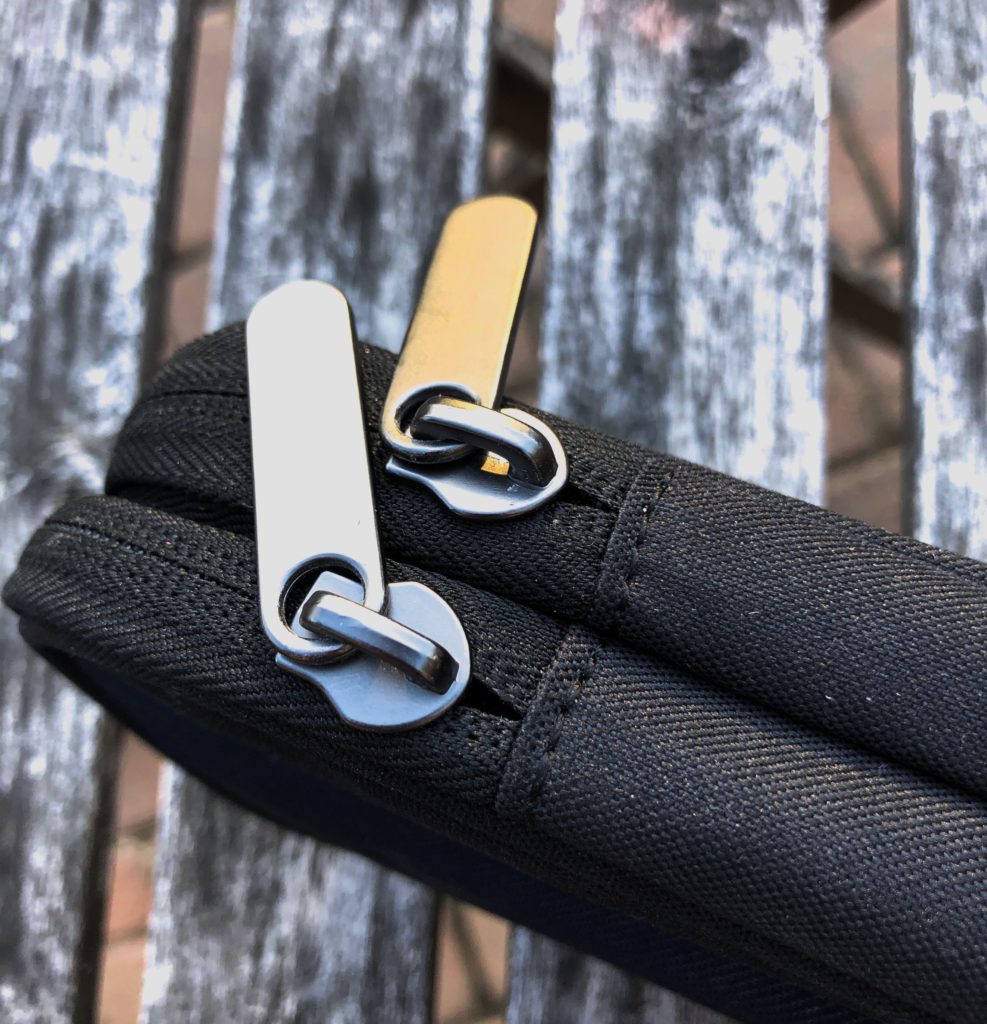 In terms of compartment layout, you'll find two reversed-construction zippers which when closed give for a really clean and sleek look. When the pack is empty, the compact layout of the pack is really deceiving. I wasn't sure whether all my gear would fit inside of it but was quickly proven wrong as I started to stuff my gear inside each compartment.
The sidewalls of the two outer compartments are made with this super stretchy elastic compression material. Other pouches like the Peak Design Tech Pouch, which opt for more rigid construction, do a better job at protecting gear but that also means there is no give to the shape and capacity. Rigid pouches also tend to be pretty large even when they aren't filled up completely. Side by Side's Power Packer resolves these shape and storage issues with compression side panels that allow the pouch to only be as large as it's contents.
When empty, the pouch returns to a super slim form factor but it can also expand drastically to accommodate large items like power bricks and mice like the Logitech MX Master mouse. The only downside that I can see from these side panels is that they don't offer much in terms of protection. Your gear will be safe from scuffs but items in the outer panels will not be protected from drop impacts. That said, most people probably aren't storing fragile items in this pouch so impact resistance is just something to keep in mind when packing out the Power Packer..
Opening the zipper for compartment #1 (the full-length clamshell zip) you're greeted with a compartment containing 3 large cable loops, a mesh pocket, and several smaller elastic accessory storage loops. The 3 large cable loops do an amazing job at storing larger and longer cables such as ethernet patch cords and thick power adapter cables. Opposite the large cable loops is a mesh pocket which is great for loose items like change or batteries. Directly below is an arrangement of accessory loops which are the sizes appropriately for USB sticks, SD cards, and other smaller accessories.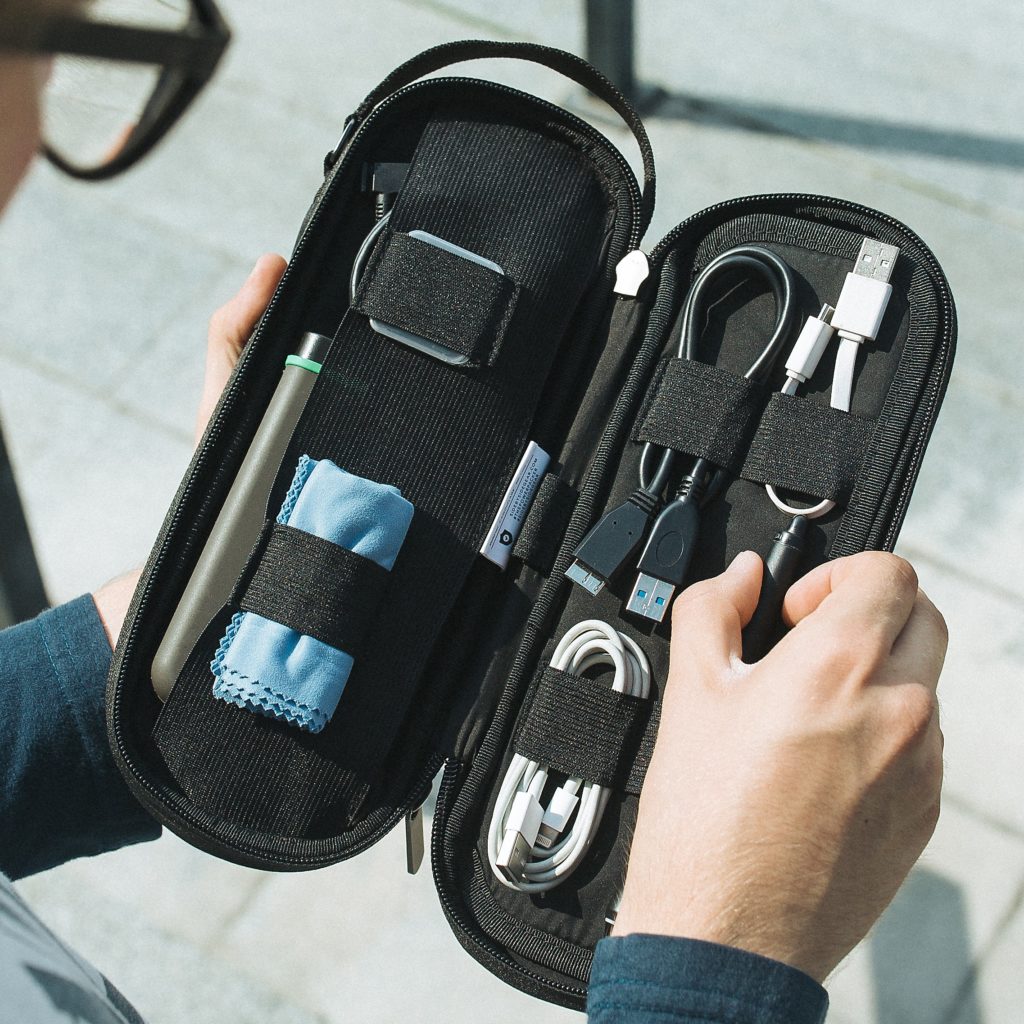 Flipping over the mesh pocket compartment reveals a second compartment which includes several medium and small cable/accessory loops plus a protected inner pocket. These medium/small loops are great for smaller cabled items like headphones, USB adapters, and charging cables. The inner pocket is a great addition for those who carry hard drives, power banks, or something that requires drop impact protection. Though, I actually used it to carry my passport and other travel documents. Down the center of this compartment are a few smaller loops that are specifically designed for a stylus but can easily store a couple of pens as well.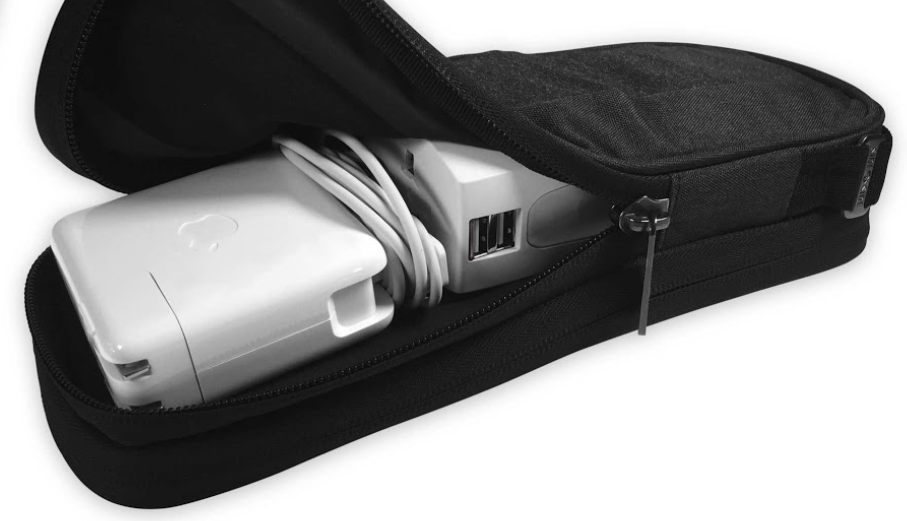 Flipping the Power Packer over and moving on to the final compartment you'll find a zip that gives access to a large padded sleeve lined entirely with a compression panel. This pocket is perfect for larger items such as power bricks, mice, and camera lens. I didn't have large enough gear to test how much I could stuff inside this pocket, so let's just say that if an item fits in widthwise the compression panel will accommodate. The only downside I found to the compression panel is that items with soft-touch plastic (such as my mouse) tended to get a wedged against the side panels making it a little difficult to remove.
The past two months with the Power Packer made travel and commuting a breeze. My tech carry doesn't change much from day-to-day and this pouch made it really easy for me to organize my gear. I found it especially useful during travel out of state and internationally as the shape of the Power Packer was perfect to sit on the top of all my backpack's contents for easy access. Plus, during those long 15 hour flights to China, it fits inside of the flip-up armrests in the economy plus cabin (or directly behind your feet for coach).
You aren't going to be able to fit large noise-canceling headphones in this pack like you can with larger tech pouches, but that's not what this pouch is designed for anyways. This pouch is perfect if you carry a ton of cables, a few larger tech items, other adapters, and various travel gear. It's also worth noting that the zips, while not YKK zippers, are really robust and smooth. Travelers who don't carry a ton of cables may find it difficult to utilize all of the Power Packer's organization features but I don't personally find that a bad thing.
At the time of publishing this review I've used this pouch for the last 2 months which included daily commutes to work as well as international and domestic flight travel. I was initially concerned that the compression side panels would start to show some wear as it was slid across desks, concrete floors, and in/out of my bag. As of now, these panels don't show any wear at all and are the same condition 2 months into use as they were on day one.
Zips are still super smooth and all the elastic loops contained within the Power Packer still hold my gear tightly. The only wear that I've noticed on the pack thus far is the metal pulls on the zips and the Side by Side logo on the carry strap has started to accumulate micro-abrasions. These scratches are minor and don't affect the overall function or look of the pouch. Being metal, I expected them to wear over time but I doubt they will ever fail.
Final Thoughts on the Power Packer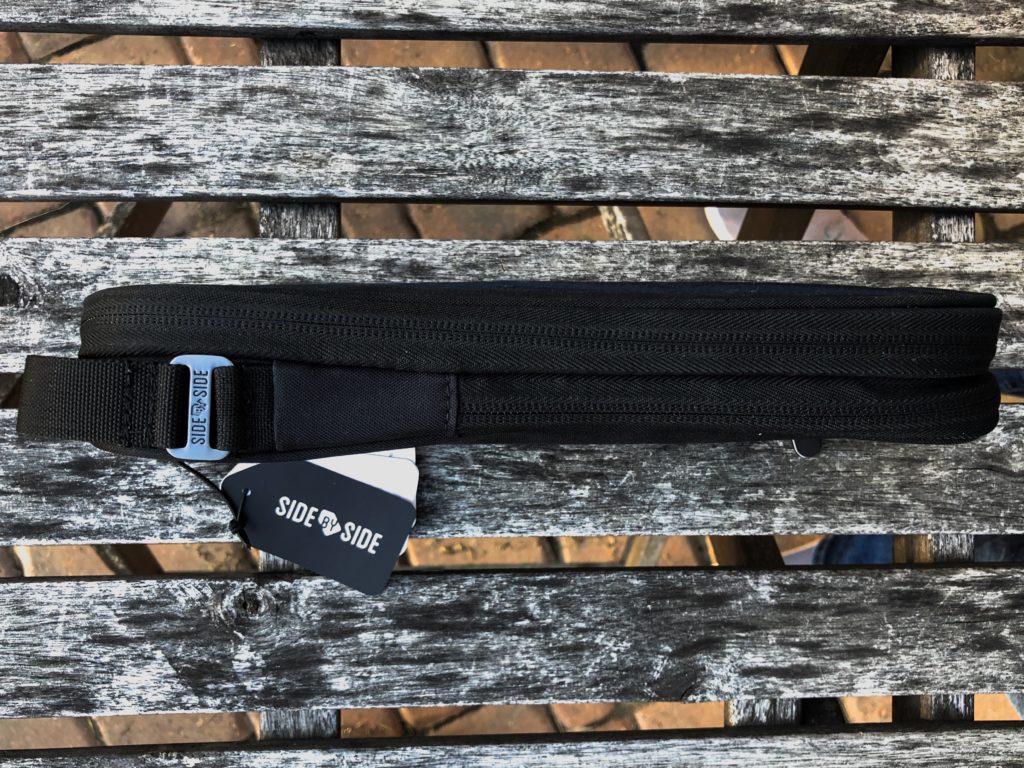 The Power Packer is a great alternative to other tech pouches that are more rigid (and usually cost more). It provides a ton of organization options and is very versatile. At the time of writing this review, the pouch can be found on Amazon for under $40. Overall, Side by Side has done a great job in making a product that makes traveling easier. If you travel with a bunch of cables (which most of us do), I highly recommend taking a look at this product as an answer to traveling more efficiently.